Jacksonville Jaguars: Decision Time for Owner Shahid Khan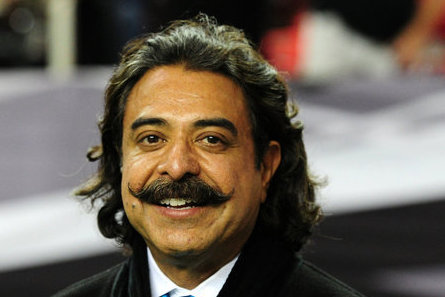 Jacksonville Jaguars owner Shahid Khan.
Coming into the 2012 season, the Jacksonville Jaguars were riding feelings of hope and elation with the hiring of Mike Mularkey, the firing of Jack Del Rio, and new owner Shahid Khan. Even with Maurice Jones-Drew's ridiculous holdout, the fans of the Jaguars were thinking that improvement was well on its way.
To quote Lee Corso, not so fast, Jacksonville.
The Jaguars are now 1-8 with no hope whatsoever in sight for winning another game this season. QB Blaine Gabbert, while arguably somewhat improved from his rookie year, continues to struggle with a less than stellar offensive line and limited running game. WRs Cecil Shorts III, Laurent Robinson, and rookie Justin Blackmon have shown signs of life at times, but the offense's overall performance is pitiful.
Some may argue that it's Mularkey's first season as head coach, but he arrived with his fair share of doubters from the start. During half time of the Jaguars-Colts Thursday night game on November 8, 2012, he remarked that this was the worst offense he has ever seen.
The defense shows signs at times, but overall they struggle from lack of talent and too much time on the field. Defensive Coordinator Mel Tucker must sleep very little these days; his unit is simply overmatched and outplayed week in and week out.
Owner Shahid Khan, when he spoke at his first press conference, stated quite clearly that he wanted to build a winner, and he would do whatever it takes to make the Jacksonville Jaguars a successful organization.
He has his work cut out for him.
What does Mr. Khan need to do? Recently, he stated that he was not into knee-jerk reactions, and he would evaluate the team's needs now and when the season concluded. Clearly this team is not going to the playoffs this season, so the time for making decisions will soon approach.
Let's take a look at what could and/or should be done.
Begin Slideshow

»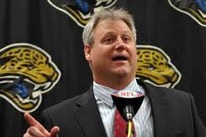 GM Gene Smith.
Gene Smith has overstayed his welcome in Jacksonville. Why Shahid Khan allowed former owner Wayne Weaver to talk him into keeping Smith is beyond any form of conventional wisdom. He has failed miserably.
Forget the fact that most of the free agents and first-round draft picks during his tenure have failed miserably, but when you select a punter, Bryan Anger out of California, in the third round of the 2012 NFL Draft when clearly the team had more pressing needs (and Anger would have been available in later rounds), it is time to have Smith checked.
Clearly, Khan must give Smith his walking papers. The only question is when, during or after this season.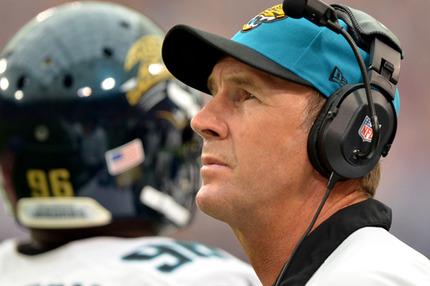 If you ask several Jaguars fans, most will tell you that they were less than thrilled when Mike Mularkey was named the successor of former head coach Jack Del Rio. He had questionable success wherever he had been as a head coach or offensive coordinator, and even with the talent in his current stable winning just one game all season is unacceptable.
Shahid Khan will have to take a long, hard look at the coaching staff in Jacksonville at season's end. Will it be too soon or unfair to launch him after just one season, or will a new general manager demand a change at the head coach position?
Frankly, I think they need to rid the team of the front office leadership and the coaching staff, and start completely over.
The one bright spot on the Jacksonville Jaguars' roster over the past several seasons has been RB Maurice Jones-Drew. MJD has been the heart and soul of this team, and in 2011 he won the NFL rushing title behind an offensive line that was mediocre at best.
That being said, MJD did holdout during the preseason wanting a new contract with a few years remaining on his current. This left a bitter taste in the mouths of many in Jacksonville, and he ended up returning embarrassed with nothing to show for his absence.
Currently, he is out with a foot injury, and some argue it is due to his holdout, but that's up for debate.
The time may have arrived to deal MJD while he holds some value. Clearly, he is unhappy with his current situation in Jacksonville, and Mr. Khan has made it clear that he will not renegotiate the current contract. The question is, as MJD approaches the age of 30, if the time has come to consider trading Jones-Drew and get something before he simply leaves when his time for free agency arrives.
I say yes, the Jaguars should trade him. Again, the team cannot continue to rely on MJD as its only offensive weapon, and if they continue to ride the back of Jones-Drew like they have the past few seasons his legs will be shot in no time.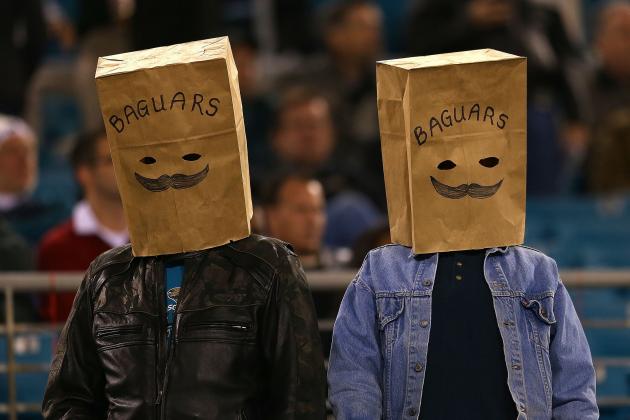 Mike Ehrmann/Getty Images

Fans have started to call themselves "Baguars" and who could blame them? Yes, die-hard fans will continue to defend and support whatever happens on the field or any decision made for the team, but the vast majority of season ticket holders and fans have lost all confidence in the team.
The Jacksonville Jaguars need talent and in a big way. No, they cannot buy their way out of this mess, but they can invest their way out. Mr. Khan has a fat wallet and has proved himself a very savvy businessman. The time to show his commitment to the community and team is at hand.
The first place he needs to start is on the offensive line. It will not matter how much Blaine Gabbert improves; if he continues to rely solely on three-step drops, and passes 10 yards or less, this team and his career will never move forward.
Shahid Khan agreed to play one home Jacksonville Jaguars game in London for four straight seasons beginning in 2013. Although he did state that he wanted to improve the team's brand by playing internationally when he bought the team, the move to play four straight years alarmed the fan base of Jacksonville.
Is this a marketing test to determine if there is interest in London, or is Khan really trying to grow the Jaguars' fan base?
John Clayton of ESPN states that Los Angeles will get a team long before London, but one must wonder if things are in the works to move teams to both markets sooner than later.
Los Angeles Jaguars, or London Jaguars? Both sound catchy.