Falcons vs. Saints: Final Grades, Report Card for New Orleans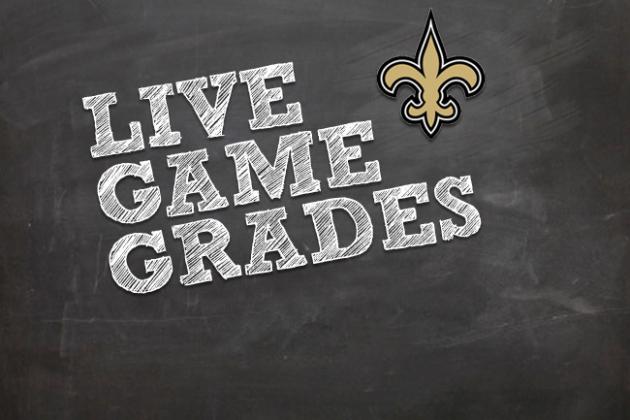 Final
You know what was missing from the New Orleans Saints' game plan in weeks 1 through 8? The running game.
Sunday, the Saints continued to run the ball effectively against an Atlanta Falcons' defense certainly aware of the units' success from Monday night.
Defensively, the Saints did not allow the Falcons to run the ball effectively in Sunday's contest. And most importantly, the Saints' defense made a key stand in the final minutes to secure an emotional NFC South victory over the team's biggest rival.
Begin Slideshow

»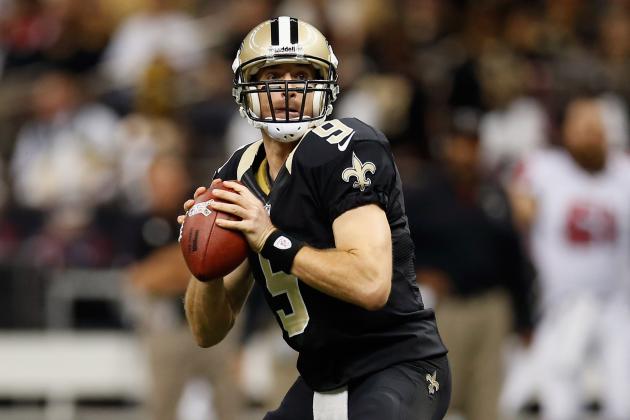 Chris Graythen/Getty Images

Overall Game Grade--B
It wasn't Drew Brees' prettiest game of the year. He threw a bad interception on the first play of the game. But from that point on, he made improvements and played about as well as he has season long.
His play, again, was efficient and timely. His accuracy was nearly perfect. After that interception, you really couldn't ask for better play from Saint Brees himself!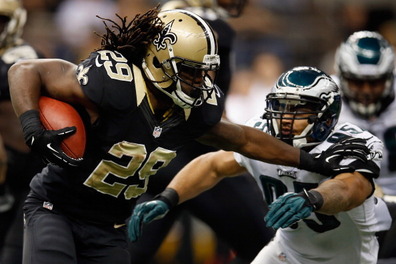 Chris Graythen/Getty Images

Pierre Thomas—Grade—B
Thomas played running back well in this game. It wasn't his best performance—he was outdone by Mark Ingram and especially Chris Ivory—but he was still great in this game. His role was slightly limited too.
Mark Ingram—Grade—B+
Mark Ingram seemed to gain five-plus yards on every carry. He did not, but it really did seem as if he did. His running and blitz pickup were instrumental in the Saints' offensive explosion against one of the better defenses in the league.
Darren Sproles—Grade—N/A
Darren Sproles did not play due to surgery on his wrist.
Chris Ivory—Grade—A
Chris Ivory has proven me wrong. I admit it. His 56-yard touchdown run was explosive and powerful—a combination rarely seen. If he continues this play, some team is legitimately going to inquire about making him their No. 1 running back. He's been that good in two games.
Travaris Cadet—Grade—B-
Travaris Cadet was great in the return game and in one offensive touch. As he continues to play well, he will get more touches.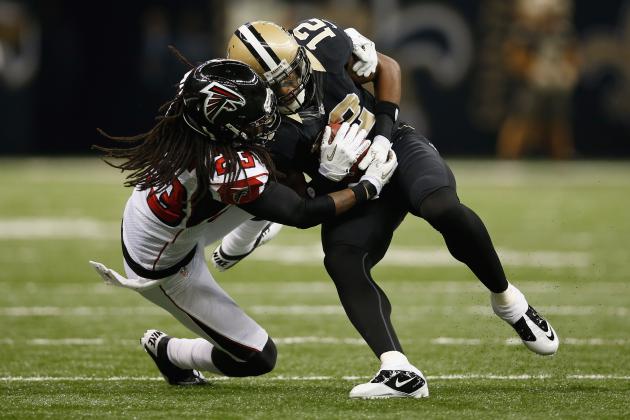 Chris Graythen/Getty Images

Marques Colston—Grade—B
Marques Colston caught a touchdown. He also made a string of other key catches. And he was effective in run blocking tonight. It wasn't as big a game as he's had this season. But it was very much effective.
I should note those were copied comments from last week. He is the model of consistency, isn't he?
Lance Moore—Grade—A
Lance Moore had one of the more amazing catches you'll ever see in this game. As he laid out for a perfectly threaded throw up the seam, Moore reminded us of why he's one of the best natural receivers in the game.
Devery Henderson—Grade—D
Devery Henderson dropped two key passes in this game. Had he caught either one, this game may not have been as close. For a guy who has had some great games as a Saint, Sunday was not one of them.
Joseph Morgan—Grade—Incomplete
Joe Morgan was active this week. But he did nothing of note.
Courtney Roby—Grade—N/A
Courtney Roby did not play in this game due to an injury he sustained last week at Denver. His presence was not lost as much as supposed on special teams.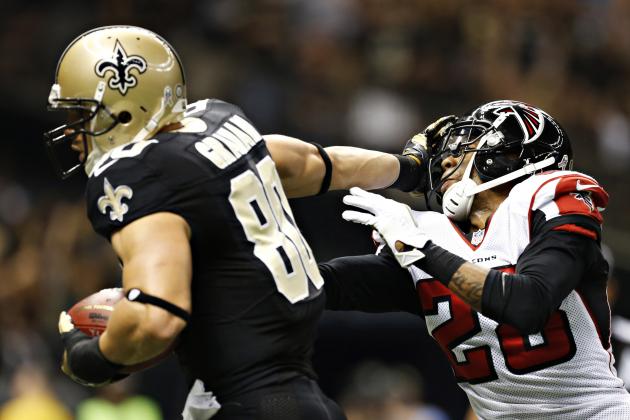 Wesley Hitt/Getty Images

Jimmy Graham—Grade—A-
Jimmy Graham had two key mistakes in this particular contest. But he made up for it in most other instances. His drops and penalties made life difficult on the rest of the Saints' offense. But Graham mostly made life much more friendly for the Saints team.
David Thomas—Grade—B
Thomas dressed but was rarely seen in the lineup and plays where he was even noticed were scarce. That's the same thing I wrote about him last week, and the week before. It should be noted, though, that he was effective as a blocker.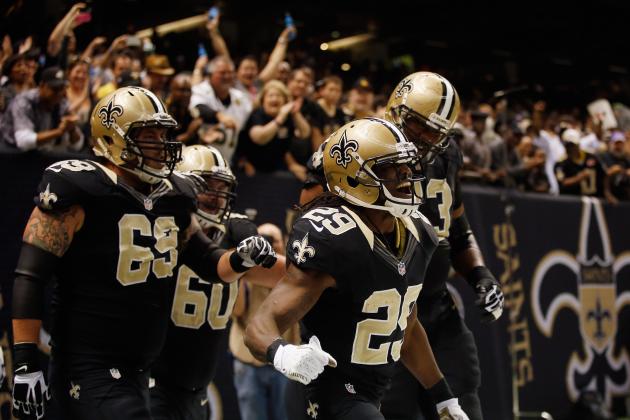 Chris Graythen/Getty Images

LT Jermon Bushrod—Grade—B
Jermon Bushrod was never mentioned on the broadcast. Remember that's pretty much a good thing, when speaking about an offensive line.
LG Ben Grubbs—Grade—B
Copy and paste/read comments from Bushrod here to Grubbs. And no, that wasn't a note I wrote to myself. Those are my actual thoughts. Again, that's the same as last week.
C Brian de la Puente—Grade—C+
Brian de la Puente played well Sunday afternoon. Not much pressure was had up the middle. That is a testament to de la Puente.
RG Jahri Evans—Grade—B
Jahri Evans had a key penalty in this game. Aside from that, he played admirably in his attempt to keep Drew Brees upright and open holes in the running game. We saw how effective the team was running to the right side.
RT Zach Strief—Grade—N/A
Strief did not play due to a surgery.
Charles Brown—Grade—B+
Charles Brown took over for Zach Strief in this game, and performed quite well. The running game was effective on the right side of the line. And the Falcons' pass rush was ineffective on that side of the line as well.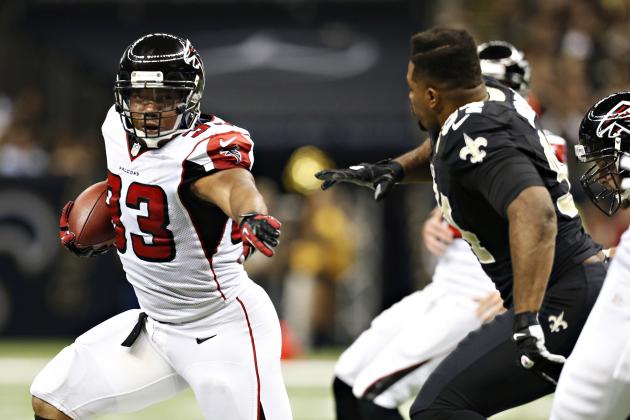 Wesley Hitt/Getty Images

DE Will Smith—Grade—B
Think about how unimpressive Atlanta's rush defense was. Think about how New Orleans' defense swarmed to the football in the run game. Recognize that most of that penetration arrived from the outside of the Saints' defense. Insert thought that Will Smith played well (here).
DT Brodrick Bunkley—Grade—B
Brodrick Bunkley never has been a pass-rushing threat. In this game he was not either. He did make a few plays, though. Bunkley will gladly get credit for some tackles he probably didn't deserve.
DT Sedrick Ellis—Grade—N/A
Sedrick Ellis was noticeably absent from the lips of ESPN Play-By-Play announcer Mike Tirico on Monday night. He made zero impact on the football game—good or bad. It is becoming more and more clear that Ellis' time in New Orleans is nearing its culmination. Only once did he really make a big play.
DE Cameron Jordan—Grade—A-
Cameron Jordan wasn't quite as good as Monday night. But he was all over the field on Sunday against Atlanta. He even made a tackle on the edge on Michael Turner without a helmet on his head. He was a beast again Sunday.
DT Tom Johnson—Grade—C
Tom Johnson played better again in this game. He was constantly getting penetration in the running game, and making things happen otherwise. This was the kind of effort Saints fans expected out of Tom Johnson based on the way he played earlier in the year.
DT Akiem Hicks—Grade—B
Akiem Hicks did not make a ton of plays in this game. But his play was consistent. That's about all you can ask for from a young rookie defensive tackle.
DE Junior Galette—Grade—N/A
Galette did not play in this game.
DE Martez Wilson—Grade—B
Martez Wilson was awesome on Sunday. He was all over the football field. He put constant pressure on Matt Ryan and did a nice job against the run and in special teams.
Needless to say, Wilson is putting in a nice effort this year, and Sunday was merely a continuation of that.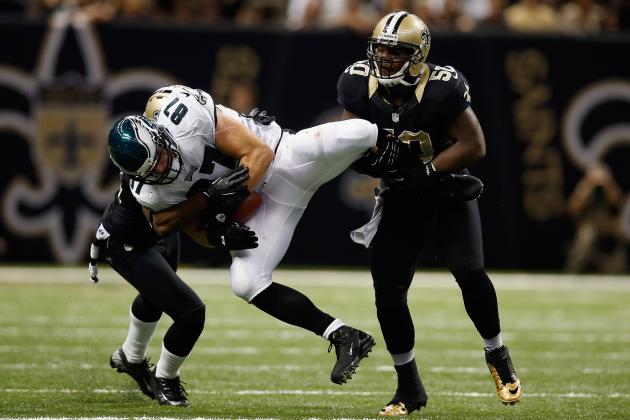 Chris Graythen/Getty Images

MLB Curtis Lofton—Grade—B
Curtis Lofton did not play very well a week ago. Sunday he played inspired football against his former team. He was regularly around the football and made plays both in the passing game and against the run.
OLB Scott Shanle—Grade—N/A
Scott Shanle did not play in this game, at least not often enough to warrant a grade.
OLB Will Herring—Grade—Incomplete
Herring didn't play enough to warrant a grade.
Jonathan Casillas—Grade—B
Casillas was seen making plays Sunday. That is more than could be said of him for most of this season (perhaps minus Monday night against Philadelphia). Let's hope Casillas continues playing so well in the nickel packages.
Jon Vilma—Grade—B+
Jon Vilma played very well Sunday. He wasn't necessarily dominant but he played well helped the defense stay consistent Sunday.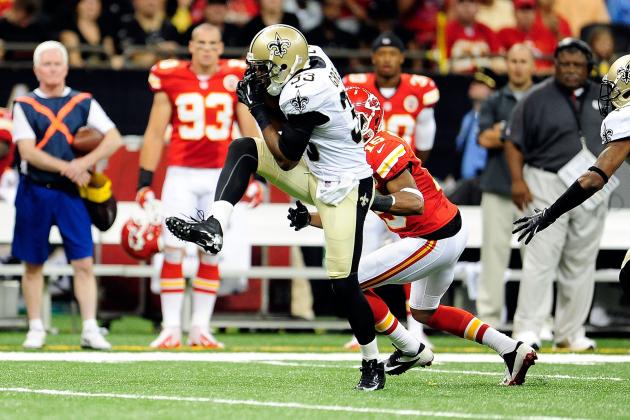 Stacy Revere/Getty Images

CB Jabari Greer—Grade—B
Jabari Greer was a bit inconsistent on Sunday. He gave up some big plays in the passing game. But he also made some stops on the goalline. Ultimately those stops would seem to outweigh the negatives from 20-to-20.
CB Corey White—Grade—B
White is improving each games he plays. He had an interception in this contest, on what was essentially a punt in the first half. But he left in the second half with an injury that prevented him from returning to action.
CB Patrick Robinson—Grade—B
Patrick Robinson was never really thrown at. That's actually not a bad thing. It means Matt Ryan determined he'd rather take his chances with Jabari Greer. Perhaps, at least in Matt Ryan's opinion, Greer has turned a corner and become a consistent corner.
S Roman Harper—Grade—B
Roman Harper made some nice plays on the ball, especially in the red zone. He had a few other plays out in the middle of the field where he could have perhaps made a more impactful play. Nonetheless, his play was meaningful and appreciated by the coaches and fans.
S Malcolm Jenkins—Grade—B
Malcolm Jenkins made some big plays on the ball, especially in the red zone. His play there was key to the team's victory. Otherwise, he found himself around the ball quite often. And his passes defensed Sunday proved he played a good game.
S Isa Abdul-Quddas—Grade—B
Quddas made a few key plays on the football. What more could you ask of him? He was beat by Roddy White on an almost big pass play. But Quddas continued to do some nice things in coverage on Sunday.
m.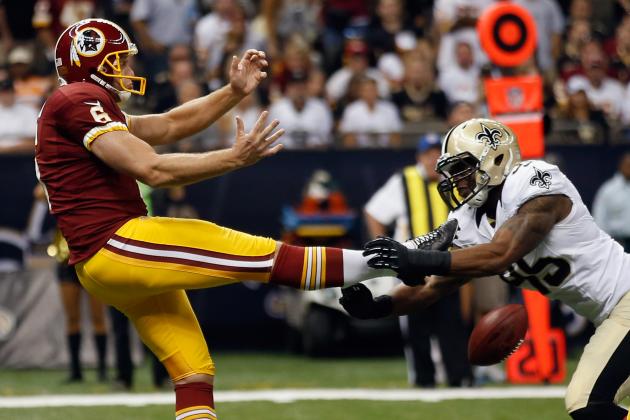 Chris Graythen/Getty Images

Overall Game Grade--B+
You really have to love the way Thomas Morstead punted the football in this game. His directional punting was one of the keys to winning this football game.
Garrett Hartley also helped kicking a key field goal.
And the Saints' return games actual performed better than usual in this one.
P Thomas Morstead—Grade—A
Thomas Morstead continued his outstanding punting from a week ago. His directional punting was so crucial to the team's victory Sunday. The team could not have asked for more from him.
K Garrett Hartley—Grade—B
Hartley did his job on extra point attempts. He made a key 31-yarder that extended the teams' lead to a four-point margin. Without that, who knows how this game would have turned out. Hartley did his job.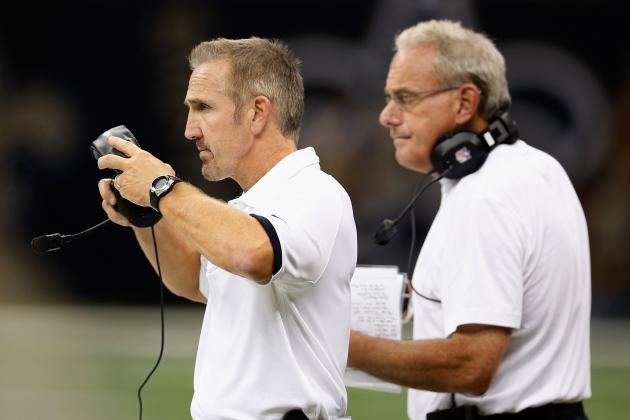 Chris Graythen/Getty Images

Overall Game Grade--B
The Saints' coaching staff did an excellent job of preparing their team on Sunday. Not only did the defense rise up when it had to, but New Orleans stopped Michael Turner. And offensively, the team also dominated in the trenches, which was obviously the key to the game.
Offensively, Pete Carmichael ran the ball with frequency and kept it going. He was faithful to the running game, and that was more than crucial to the team's success against the Falcons on Sunday.
Going forward, staying with the running game will be crucial to the team's success.