Houston Rockets vs. Memphis Grizzlies: Live Score, Results and Game Highlights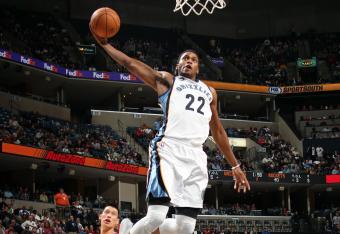 The Memphis Grizzlies got the better of the Houston Rockets in the FedEx Forum on Friday.
Final Score: Grizzlies 93, Rockets 85
Check out the Live Blog below for game details and analysis.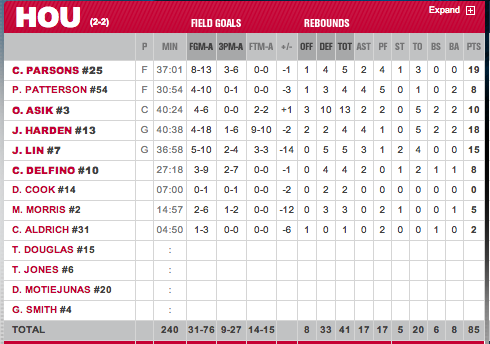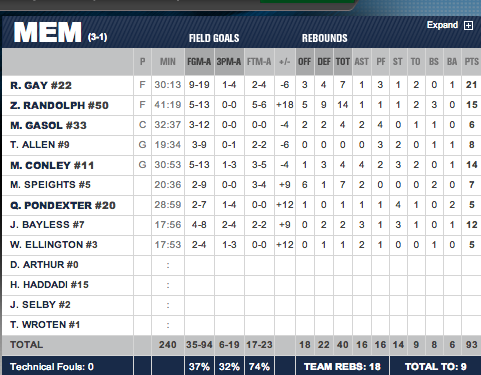 Post-game Notes
For Memphis:
The Grizzlies advance to 4-1 while Houston drops to 2-3. Memphis is looking like every bit of a Western Conference contender.
Zach Randolph recorded his fifth straight double-double. Rudy Gay was Memphis's leading scorer, chipping in 21 points in 30 minutes.
Also, the questionable bench of the Grizzlies showed up in a big way. Led by Jerryd Bayless's 12 points, the second unit punished Houston and got the crowd's enthusiasm at much needed junctures.
On the flip side:
James Harden was absent for most of the second half after a strong fourth quarter. Jeremy Lin reappeared late with a couple of key steals and transition buckets. Yet, their collective effort was not enough to overcome the consistently sloppy play the Rockets.
On a positive note, the Rockets role-players showed up a bit tonight, highlighted by nice performances from Patrick Patterson and a double-double from Omer Asik.
Turnovers proved to be the biggest issue for Houston, who let an early lead slip away with second-half carelessness.
A few wild three-point misses by Lin and Harden will seal the deal.
Memphis wins its thirteenth straight at home despite shooting less than 40 percent from the field.
A big three from Mike Conley grants the Grizz a five-point cushion. Houston is struggling to keep Memphis's from collecting on the offensive glass.
As if he's heard me questioning him all night, Rudy Gay steps up with two important offensive rebounds and a subsequent bucket.
It's not over, but it sure looks like Houston will not have the firepower to overcome their sloppiness on this night.
Grizzlies 92, Rockets 85
Jeremy Lin has the Rockets back in it folks. After converting on a three-point play on a steal, Lin swiped another to cap a big Houston run.
Rockets back to within two points with just over two minutes remaining.
Rudy Gay does not have his shooting stroke tonight. The Grizzlies' small forward is shooting 8-17 from the floor but a poor 1-4 from downtown.
Gay does have 18 points, but his most recent possession (dribble around the perimeter, pull up for a long two and miss) is not what Memphis needs with such little time remaining.
Memphis has seen its lead balloon to double digits halfway through the final period. Make or break time for the Rockets, who can't get out of their own way.
On Houston's nineteenth turnover, the Grizzlies score their eleventh consecutive point. The Grizz will now look to clamp down with a 12 point lead.
Grizzlies 87, Rockets 75—4:56 remaining in regulation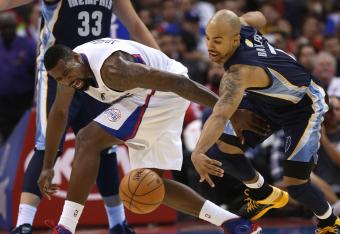 The Grizzlies' second unit is kicking the team into high gear once again.
Their efforts are accentuated by the fact that Memphis has outscored Houston 25-2 on turnovers and 19-0 on the fast break.
Houston is hanging on for dear life, aided by a deep James Harden three that crashed through the net.
Grizzlies 81, Rockets 75—6:16 to play
On a side note, where the heck is Jeremy Lin?
The Rockets' point guard has been virtually invisible since his strong start, still with only seven points.
And James Harden hasn't recorded a field goal in the second half either.
On the other side, Zach Randolph is taking over. The headband came flying off, much to the enjoyment of the home fans, as Zebo banged around for another possession in the paint.
Grizzlies 76, Rockets 72 with 8:07 remaining in the game.
Grizzlies fans are on their feet as the Rockets turn it over for a startling seventeenth time. Something is going to have to change for Houston or good teams will capitalize on their carelessness.
Evidence? The Grizzlies are leading this game despite shooting only 39 percent from the floor.
Zebo is on the floor with with 10:30 remaining in the fourth. It appears he and the coaching staff have faith in his physical condition following offseason knee surgery.
And right now, Randolph is pounding it home in the post. On two consecutive possessions the power forward got an easy lay-in and a trip to the free throw line.
Grizzlies 75, Rockets 71—9:00 remaining in regulation
We have a tight one on our hands folks!
Memphis carries a one-point advantage heading into the fourth.
I've decided to rename "crunch time" to "superstar time".
With the game on the line and everyone watching, one or two players will shift the outcome. Does James Harden have some new-team magic in him tonight?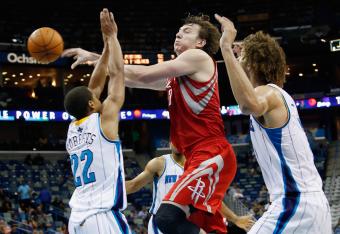 Houston has gotten good play from second-year man Patrick Patterson, whose most recent three gives him 13 points on the night.
If the Rockets are to experience success late into the season, the teammates around Harden and Lin will have to step it up. For Rockets fans, the play of Patterson, Asik and Parsons tonight has been encouraging.
Memphis calls a timeout with 3:13 remaining.
Grizzlies 65, Rockets 64
Chandler Parsons got caught committing a clear-path foul on Rudy Gay.
The penalty? Two free throws (only one converted) and possession for Memphis.
Still no points for Harden in the third!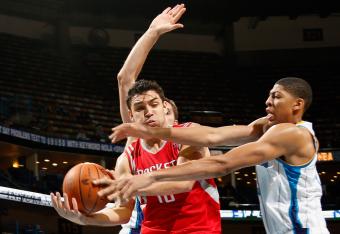 Tony Allen got really tied up with a long-striding James Harden in the lane resulting in a jump-ball tossed up by referee Danny Crawford.
Houston's Delfino converts on the following broken play to tie the game up at 54.
Here goes Memphis!
The Grizzlies are off to their biggest lead of the night behind a steal and transition lay-in by Tony Allen.
Allen, fending off foul trouble, stripped Harden and converted on the other end.
Grizzlies 54, Rockets 48—8:15 to play in the third quarter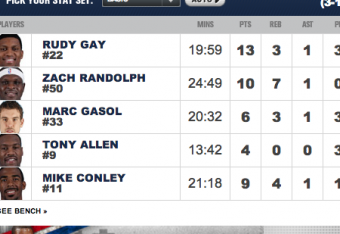 And Memphis: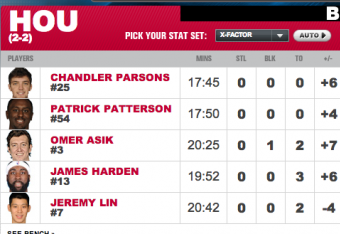 A quick peek at how Houston's starters have played tonight:
Maybe he heard me!
Rudy Gay for three to start the second half with a bang.
Grizzlies 47, Houston 46—10:59 remaining in the third
First Half Analysis:
For much of the first 24 minutes of the game, Houston was clearly in control. A strong backcourt performance from Harden and Lin, as well as clutch bench play by Delfino had the Rockets out front since the starting gun.
The Rockets successfully executed their strategy, dictating the pace and keeping Memphis uncomfortable on the offensive end. Harden has cleanly executed the pick-and-roll so far, resulting in 12 first half points.
On the other side, Memphis struggled to gain any type of rhythm or to establish any defensive strategy to slow the penetration of Houston's guards. Harden reached the line for eight free throws and converted all of them.
Zack Randolph has led the way for the Grizzlies, twice showing off his motor on the offensive glass. Zebo's hustle has kept Memphis —and the crowd—in this ballgame.
Rudy Gay is shooting only 4-11 from the field. Looks like we are still awaiting the arrival of his superstar alter-ego.
Carlos Delfino threw in an impressive eight points off the bench in the first half. A Harden half-court heave draws front iron with the clock winding down.
At halftime the score is:
Rockets 46, Grizzlies 42
Upon further review, Zebo's headband is "stars and stripes" themed.
Regardless, Randolph is doin' his thing right now with ten points and seven rebounds.
Memphis is leaning on its big man right now to keep them afloat. Otherwise the Grizz are looking outmatched on their home floor.
A first half "uh-oh" for Memphis: Tony Allen is in foul trouble with three early fouls.
As if to rub it in, Harden takes the ball right down the lane to score as Allen hits the bench.
Rockets 37, Grizzlies 31—4:15 remaining in the first half.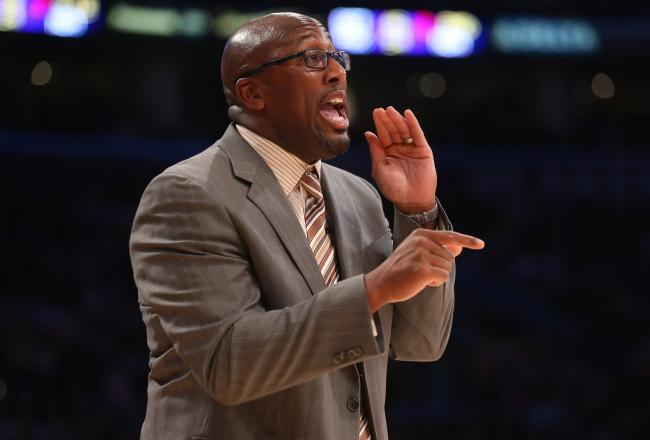 As we head into another timeout, ponder this:
Mike Brown is the 1st NBA head coach to last 5 or fewer games to start a season since Dolph Schayes of the Buffalo Braves (1971-72).

— SportsCenter (@SportsCenter) November 9, 2012
Former Lakers head coach Mike Brown got fired today. If Los Angeles doesn't get it together soon, can Memphis put together another threatening postseason run?
Rockets 33, Grizzlies 29 with 5:28 remaining in the second.
Meanwhile, Harden back to the line on the other end. Can't anybody keep that man out of the paint?
If you're watching, please tell me what you think of Zack Randolph's ridiculous camouflage headband?
Guess it doesn't slow him down too much. Zebo with a transition dunk!
This article is
What is the duplicate article?
Why is this article offensive?
Where is this article plagiarized from?
Why is this article poorly edited?