Catching Up with Jackson's MMA Series Headliner Anthony Birchak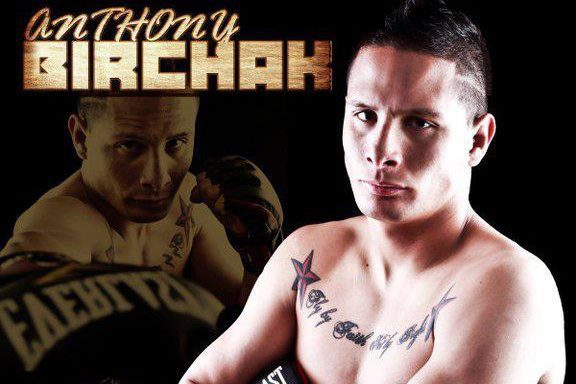 Bellator Vet. Anthony Birchak
I had the privilege to catch up with top bantamweight prospect, out of Arizona, Anthony Birchak as he gets ready for his headlining bout for Jackson's MMA Series on December 1 against 9-2 Matt Leyva. This bout has a lot riding for Birchak as it will be his third bout of the year, and it can give him the opportunity to launch his career to the next level with a decisive victory over a quality opponent.
First off, after two fights not coming in fruition for you, one for COC and the other for Mexico Fighter, how does it feel to get a main event slot against a tough opponent backed with one of the best gyms in the game, seems this fight can have some huge implications towards a big deal with bigger promotion (*cough cough*) MFC?
Birchak: It's a great big Christmas gift as I see it! I'm just glad something finally came through and is going to happen for sure. As far as him being a Jackson's guy? I'm not too worried, I think he's a tough guy, but I see a lot of things I can exploit and hopefully implement my ground game. With an impressive and decisive win over Matt Leyva, I think I'll be able to really make a bid for any large organization. MFC has expressed a great deal of interest, and I would love to be part of that unveiling of the 135 lbs division and make a run at that new shiny belt they're making!
As expected you will make Apex MMA your main gym for camp for this fight, tell us how training is going, especially with Joey Rivera fresh off the TUF house, George Roop being at your weight now (135 lbs) getting ready for Alcantara, Ed West getting ready for Bellator on Spike, and, of course, all the other elite fighters at Apex, and let's not forget Chris Cariaso.
Birchak: Its been going great man there is so much great energy in the room and everyone is training with purpose. Joey came back and started showing some cool stuff he picked up, George is getting on his grind, although he hasn't been one of the main guys for this camp due to his height, he is still providing good insight. Ed is the one that's been working my mitts rounds and leading the shark tanks leading up to this fight and designing the game plan to which we will be using come December 1st. I've actually been fortunate enough to have some training at Xtreme Couture and looks like I'll be doing some final touch ups on my game there in Las Vegas the week before I leave.
Begin Slideshow

»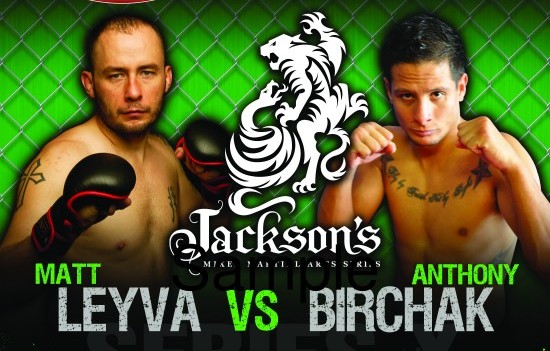 Leyva vs. Birchak Main Event for Jackson's MMA Series
Let's talk about your opponent (9-2) Matt Leyva, he is a heavy-handed bantamweight and is a fighter that is willing to stay in the pocket. In my opinion, he is one of your toughest opponents you've faced so far along with Roman Salazar and George Clay (145 lbs); how is your prep going into this fight knowing he has home-field advantage and how are you planning to deal with his stand up?
Birchak: Matt's tough no doubt about it, but I got too much momentum going into this fight! I'm going to look to just out "ATHLETE" him. I'm better in scrambles, I'm better on the ground and my striking's getting better by the round. He likes to stand in the pocket, I like to stand in the pocket…lets face it, this is going to be an awesome fight! I'm going to make Leyva miss his shots and capitalize on his open areas.
Speaking of Leyva having home-field advantage, your training partner is 2-0 against Jackson MMA fighters, we know you'll be looking to make it 3-0 for the Luta Elite boys, but the question is will you be wearing the white MMA gloves for the fight?
Birchak: Home-field advantage isn't necessarily a great thing to have in fighting. He's got all the pressure on him, I'm going in with a clear head and the handful of fans that are driving out to support me. He has all the weight of the world on his shoulders in his home town, and I'm just a guy looking to get in and get out with that "W!" And, yes, I will be wearing those white gloves, they got a good streak on them, I'm going to try and keep that going.
You are coming off two impressive TKO wins; has that boosted your confidence in your stand up since you were mainly known for your grappling?
Birchak: Yes, of course. It's all really just the best Birchak on its way to being a complete package. I've always been a threat on the ground. I just want to be a threat anywhere the fight goes. Finishing Roman Salazar, who's a striker, and finishing John Green via head kick is really just a testament to all the great training partners I have who are putting their own little style into mine.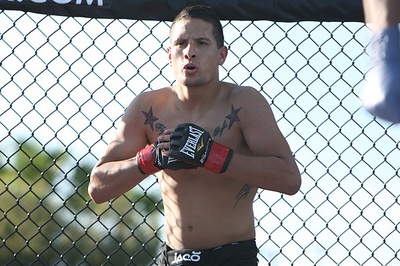 Bellator and MFC could be in Anthony's future.
How do you see this fight going down on Dec. 1?
Birchak: I see me coming out on top for this one. I'm going to bring too much speed, funk and athleticism to this fight for Leyva to stop. I'm going to look to finish by TKO or Submission, like I have been as of late.
I remember in a previous phone interview we had is that you wanted to fight for a big league this year, and it seems Mark Pavelich has shown great interest in bringing you into MFC new Bantamweight division, not overlooking Matt Leyva, how is the possibility of fighting in Canada for such a big promotion (one of the biggest in Canada) feel for you; showing the progress you made from fighting in Nogales, AZ., your first fight, to being possibly in Edmonton, Alberta, Canada in 2013?
Birchak: It's been a journey, man, it really has. I started into this sport just thinking I'd try it a few times to say I did this thing called MMA, to potentially fighting for a major organization and, God willing, a major world title. I've truly realized my potential as a professional athlete and that in turn spells bad news for anyone standing in my way.
I want to wish you all the luck in the world and as a fan since you d'arce your way to being the fighter you are today. I wish you a successful training camp and victory on Dec. 1; any sponsors you would like to thank?
Anthony Birchak: Yes, great people have gotten behind me to support me for this fight! Outlaw Fight Gear, Contract Killer Clothing, Dr. Adam Persky from Fight Dentist, Primate Fight Gear, Sweet Sweat USA, Gamma Labs, Mentom Eyewear, Training Mask, 5 Round Fury creator Dr. Rick Kattouf, Apex MMA, Tim Lane at Xtreme Couture, Mercedes White at Luta Elite Sports Management and LutaEliteMMA.com.
Follow me on Twitter @abirchakmma and Like my Fanpage Facebook.com/AnthonyBirchak
Also New Promo Video just dropped check out my daily grind and Training regimen here's the link: http://lutaelitemma.com/2012/11/promo-video-anthony-birchak-mma-promo-top-unsigned-135lb-in-az/
Anthony will have his hands full when he meets Jackson's MMA and former marine 9-2 Matt Leyva in the head lining bout for Jackson's MMA. It's nice to see more fighters out of Arizona coming out and showing the talent that he is ready for the next big step and ready to follow the footsteps of Ben Henderson and Dominick Cruz.