Anthony Davis' Injury: Why It Took a Week to Return from a 'Mild' Concussion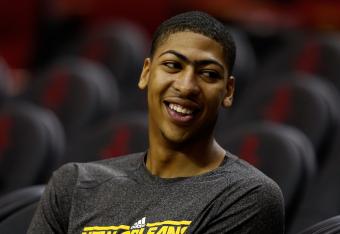 Anthony Davis has been held out of 2 straight games but will start tonight against the Charlotte Bobcats
Scott Halleran/Getty Images
The unibrow is back.
One week after suffering a "mild" concussion, No. 1 draft pick Anthony Davis will return to the hard court tonight.
The injury occurred on November 2nd during the New Orleans Hornets' second game of the season when the former Kentucky Wildcat collided with teammate Austin Rivers under the basket with four minutes, 51 seconds remaining in the second quarter.
The concussion interrupted the rookie's strong start to the season; one that saw him averaging 14.5 points, 6.5 rebounds and 1.5 blocks in his first two games.
Though initial reports stated that tests revealed only a mild concussion, the steps to return to competitive play are the same for a mild concussion as they are for any other.
In most cases, that means missing games.
As Hornets' head coach Monty Williams made clear following the concussion, many think that such a policy is too tough.
It is tough. But it is also necessary.
Necessary to ensure that the concussion does not return, worsen, or refuse to get better.
Admittedly, the hit that caused Davis' concussion was not terribly impressive, at least in comparison to some of the disturbing helmet-to-helmet hits that have become all too common in the NFL.
Highlight showing hit that caused Anthony Davis' concussion (injury occurs at about 17 second mark)
Regardless of how the injury occurs, a concussion is diagnosed when any of the typical symptoms of a concussion (headache, nausea, memory loss and confusion to name a few of the many) develop following a blow to the head.
Once it is diagnosed, an athlete is removed from play and sent to rest.
The athlete should continue to rest, both physically and cognitively, until his or her symptoms disappear. They can then begin the following five step return-to-play process:
1. Athlete has no symptoms for 24 consecutive hours
2. Light aerobic exercise such as walking, biking, or swimming; no strength training allowed
3. Sport-specific exercise such as skating in hockey or running in soccer and basketball
4. Non-contact practice or training drills; can resume strength training
5. Full-contact practice
Each phase is 24 hours long, and if an athlete completes the process without symptoms returning, he or she can return to competitive play.
However, if symptoms return at any point during the process, the athlete is fully rested for 24 hours and then can resume the process at one step below where he or she was when the symptoms returned.
In other words, in the vast majority of cases, concussions will hold a player out of competitive play for at least 5 days, and in many cases, anywhere from slightly to much, much longer.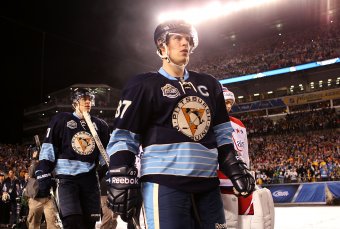 Jamie Squire/Getty Images
There is much more to be said about concussions.
For instance, the NFL has a litany of lawsuits on its hands regarding the league allegedly covering up the link between head injuries and brain damage, and it seems that every week there is controversy about whether a player should or should not be held out of a game.
Fortunately for Davis, he no longer has to worry about any of that.
The author of this article is a soon-to-be Family Medicine resident physician with plans to specialize Primary Care (non-operative) Sports Medicine. The above information on concussions is based on the author's personal clinical experience in the evaluation and management of concussions under the supervision of Sports Medicine physicians and concussion specialists. It can be confirmed by the international Consensus Statement on Concussion in Sport from November of 2008. Additional input is welcomed and encouraged.
This article is
What is the duplicate article?
Why is this article offensive?
Where is this article plagiarized from?
Why is this article poorly edited?

New Orleans Pelicans: Like this team?