Worst 6 Golfers with a Major Title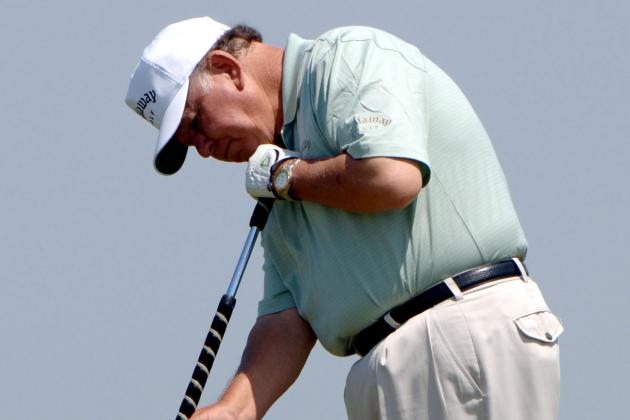 A. Messerschmidt/Getty Images
While Orville Moody became a star on the senior tour, his play during his prime was quite unimpressive.
There's something thrilling about winning a major.
When a top professional golfer puts it all together and peaks at the U.S. Open, the Masters, the British Open or PGA, it means he has achieved a certain level of greatness.
At least that's how the narrative goes. You can't win a major championship unless you're a great player, right?
That's not necessarily true. The greats of the game crave major championships and usually can assert themselves over the middle-of-the-packers, but upsets do happen with some regularity.
Every once in a while, a struggling player can rise from the bottom of the rankings and win a major.
Here's a look at the six worst players to win a major title.
Begin Slideshow

»
It was hard to have a better month than Rich Beem had in August, 2002.
Beem started that month by winning the International Qwest Open, a victory that earned him $810,000. Two weeks later, Beem teed it up in the PGA. He obviously had a head of steam coming into that major and he was victorious once again. That title paid him $990,000.
It appeared as though Beem would become one of the better golfers on the tour, but it did not work out that way.
Beem has won one other tournament in his career. He has played 346 tour events and has eight top-10 finishes in his career. That qualifies him as one of the least impressive golfers ever to win a major title.
It was a memorable story at the time.
After a 14-year career in the military, Orville Moody decided to give the PGA Tour a whirl.
He was a decent athlete and a pretty good golfer, so old "Sarge" decided to declare himself a professional golfer.
Well, it wasn't quite that easy and Moody had to qualify to get on the tour. But once he started to play, he realized the competition was pretty intense. As a member of the PGA Tour, he won one career event—the 1969 U.S. Open.
That's a pretty good one, but Moody was never able to find the winner's circle again. He would finish second five times and third four times, but no more victories.
Moody would go on to become quite successful on the Champions Tour (originally called the Senior PGA Tour), but the '69 U.S. Open was his lone PGA Tour victory.
Shaun Micheel is another golfer who has struggled throughout his career.
Micheel found the winner's circle once, when he was victorious in the 2003 PGA Tournament. However, it's not just about his lack of championship performances. He has one second-place finish and one third-place finish in 375 tour events.
Micheel won one Nationwide Tour Event and another tournament in Asia.
Inexplicably, he also finished second in the 2006 British Open.
He has played 39 tour events in 2011 and 2012, winning slightly more than $300,000.
This was the height of Ian Baker-Finch's career. He shot a 66 in the final round to win the 1991 British Open and was so overcome with joy that he couldn't speak.
It also marked the start of a vicious downward spiral in his career. Baker-Finch seemed like a gifted player coming into the prime of his career when he copped the British title, but it all fell apart right after the win.
He would win two tournaments in his PGA career, but he lost his swing after the British Open victory. He would go through more than 30 coaches (source: SI.com) and never get it back again.
He now plays on the Champions Tour, but he's never been better than third in any tournament.
Jack Fleck was a bit indecisive in his career choice. He didn't turn pro until he was 33 years old.
That was in 1955, and all he did that season was win the U.S. Open. He earned the title by beating Ben Hogan, possibly the greatest player ever, in an 18-hole playoff.
That should have launched Fleck into golf's stratosphere, but it clearly did not. He won two more tournaments in the rest of his career and became a mere golf footnote.
Larry Mize was like a feisty pup throughout his career on the PGA Tour.
He was constantly being seen and heard, but he rarely won tournaments.
Throughout his career, he won four PGA tournaments in the 606 events he entered.
One of those victories was one of golf's most famous moments. He chipped in from 145 feet to beat Greg Norman and deny the legendary "Great White Shark" his victory at Augusta in the 1987 Masters.
He has continued his struggles on the Champions Tour, winning once in 88 events.