The Top 10 Fights of the Past 30 Years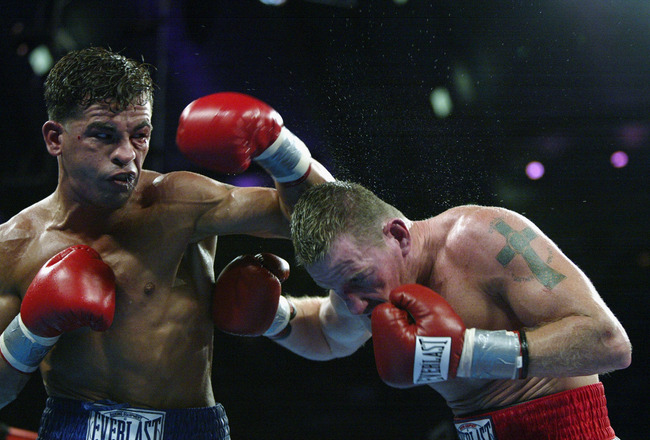 Al Bello/Getty Images
Remember the night when Arturo Gatti and Micky Ward fought the epic that many perceived to be the best fight ever?
What about Diego Corrales and Jose Luis Castillo in a brawl that not only proved who was the legit lightweight champion of the world but also produced possibly the most brutal fight many had seen in ages?
These are the fights that have made many of us fall in love with the sport. For years, fighters like Corrales, Castillo, Ward and Gatti have given us memories to last a lifetime and have left us hoping to see more fights like these.
These are the fights that make the sport of boxing the greatest sport in the world.
For the past 30 years, we have seen many of these epic battles, and now, it's time to re-live them. With that, here's the top 10 fights of the past 30 years.
10. Julio Gonzalez vs. Julian Letterlough, February 2, 2001
This was one of the great fights that made Friday Night Fights the "it" series for the show.
Gonzalez and Letterlough went toe-to-toe for 12 grueling rounds. While Letterlough lost on the cards, there were no losers on this night.
Although both fighters are no longer with us, we can appreciate the style and the brawl that made this fight a classic.
9. Julio Caesar Chavez vs. Meldrick Taylor, March 17, 1990
On this March night at the Las Vegas Hilton, both Chavez and Taylor had given it their all.
Although Taylor was winning on all cards going into the 12th and final round, he had taken a beating for the most part. Then, the bell rung for that final round, and well, history says it all.
I may be slighting this fight a bit, given that it was for pound-for-pound supremacy in the sport as well as for the unified junior-welterweight title. But I'm sure we can all agree it was one to remember.
8. Aaron Pryor vs. Alexis Arguello, November 12, 1982
Nearly 30 years to the day, and this fight still send chills up and down my spine. This fight was what it was built up to be—a war. This was one of the last of the 15-round bouts, as the death of Duk-Koo Kim followed in the next day.
This fight would give both Pryor and Arguello a legacy unmatched today. While Pryor won the fight via a 14th-round KO, nothing could ever take away the 13 previous rounds in which the two gave us a war and one of HBO's greatest fights.
7. Evander Holyfield vs. Riddick Bowe, November 13, 1992
Let's call this fight what it is; not only was it a great bout, but it produced arguably the greatest 10th round in the history of the sport.
In Round 10, Holyfield went down for the first time in his career. He then came back and almost ended the fight with a vicious assault on Bowe that he had never seen coming.
These combatants would have two more classics after this bout, but to this fight and to Round 10, they could not be compared.
6. Micky Ward vs. Emanuel Augustus, July 13, 2001
As shocking as it is, this is Augustus' only appearance on this top 10.
It's definitely not Ward's, though.
As good as Ward's "other" fight was, this was equally good. Voted by Ring Magazine as the fight of the year in 2001, these two went at it for 10 grueling rounds. Augustus was always known as a clown in the ring, but on this night, he proved that he was worthy of being called a true professional prize fighter. Ward was just Ward—heart, soul and guts.
That's what made this fight so special.
5. Marco Antonio Barrera vs. Erik Morales, June 22, 2002
Now, I may be getting a lot of slack for placing this so low, but trust me, No. 4 through No. 1 are memorable fights. But as for the first fight of the trilogy between two of the greatest Mexican fighters ever, I have just one word—great.
Morales came in undefeated and on many of the sport's pound-for-pound list. Barrera was still up there as one of boxing's greats as well, so it made a compelling fight even better. Their pre-fight antics made for even more hype, and this was one of those classics that didn't disappoint. Neither fighter was ever the same again.
And as grueling as this one was, they ended up doing it two more times.
4. Michael Carbajal vs. Chiquita Gonzalez, March 13, 1993
Gonzalez-Carbajal was the greatest flyweight fight in the history of the sport. It was 1993's fight of the year and arguably the fight of the decade.
Carbajal was an silver medalist on the '88 Olympic team, and he was climbing the ranks as one of boxing's best. Chiquita Gonzalez was one of Mexico's finest, looking to put the weight division on the map.
These two put on a clinic that saw Carbajal go down twice. He climbed off of the canvas to knock out Gonzalez in a war among wars, solidifying himself as the best little man in the sport. Gonzalez would go on to defeat Carbajal in the rematch, but nothing compares to the first battle between these two.
3. Micky Ward vs. Arturo Gatti, May 18, 2002
Once again, I will get a lot of slack for this one.
Yeah, I know that Round 9 was one of the greatest ever. I know that the fight itself was one of the greatest. But let's put this in perspective; these two became the best of friends after this fight. Put one in the Hall, and the other should've been in a long time ago.
Gatti-Ward I was a fight that, if you just start paying attention to the sport, made you fall in love with it. We know all about Ward's battles as well as Gatti's battle with Ivan Robinson, but none of those even came close to the brutality of this one. For the first time that I could remember, the late-great Emanuel Steward gave these two a standing ovation after each round.
This fight had it all. It made me, a lover of boxing for more than 20 years, just remember why I fell in love with the sport to begin with.
2. Marvelous Marvin Hagler vs. Thomas Hearns, April 15, 1984
The War—enough said!
The greatest three-round fight in the history of the sport was as brutal as advertised. Not only was it for the undisputed middleweight championship of the world, it was for the winner of the round robin that was going on in the 80s.
While Ray Leonard had retired, these two were the best in the sport at the time, and in front of a worldwide audience, it showed.
Hearns' onslaught to begin the fight was outstanding, opening up a deep gash on Hagler. Hearns won the first two rounds on two of the judges scorecards, and the other two had Hagler up. Going into the third round, it was a worry that referee Richard Steele was going to call a halt to the bout due to Hagler's cut. But Hagler didn't let that deter him, and he nailed Hearns with an overhand right that staggered Hearns. Hearns stayed on his feet until another overhand right nailed him, and Hearns went down for good. The fight was over. It was one of those moments that you could never replace.
As for myself, it was officially the fight that made me fall in love with the sport at the ripe old age of three.
1. Diego Corrales vs. Jose Luis Castillo, May 7, 2005
There is no doubt, no question about what the greatest fight in the last 30 years would be. It was possibly the greatest fight ever.
Diego Corrales and Jose Luis Castillo engaged in an all-out war for the lightweight title. In a close fight throughout, both fighters took a huge amount of punishment.
What summed up the fight was Round 10.
Corrales was dropped twice in the round by devastating punishment coming from Castillo. Corrales was even penalized for spitting out his mouthpiece both times, meaning he was losing the round by three points as it was. After the second knockdown, Corrales unleashed a flurry that will never again be seen in the sport. Starting with a right hook, Corrales sent Castillo back to the ropes and completely unloaded on him, hitting him with lefts and rights that went unanswered.
What ended it? A left hook that knocked Castillo off his feet and prompted Tony Weeks to step in and halt the most brutal bout that I—or for that matter, anyone—had ever seen. It won Ring Magazine's fight of the year and the decade.
Two years to the day after the fight, Diego Corrales lost his life in a motorcycle accident in Las Vegas. His memory will never be lost, and his fight with Castillo will go down in boxing lore as one of—if not the—greatest fights ever.
Keep Reading