Pittsburgh Steelers Pound Kansas City Chiefs in Overtime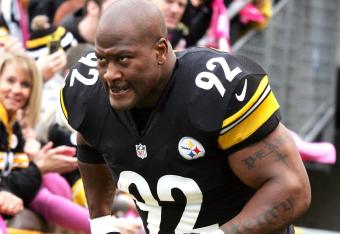 On the second play in overtime, Matt Cassel telegraphed a pass in Dwayne Bowe's direction. Lawrence Timmons pounced on the route and returned an interception to Kansas City's 5-yard line.
Shaun Suisham calmly knocked through the game-winner.
Season statistics are provided by NFL.com. Tonight's box score is provided by ESPN.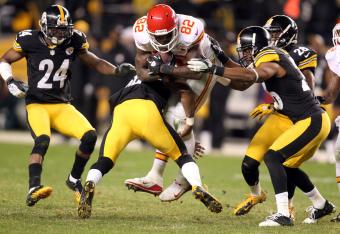 Final Thoughts
When Kansas City and Pittsburgh helmets face each other during pregame shows, records are hurled out the window.
In 2009, a 2-7 Chiefs team clinched a three-point overtime victory over a 6-3 Steelers club.
Same story, different day.
Rain smothered Heinz Field like an angry mob, and a black cloud loomed over the quarterbacks. While Ben Roethlisberger (9-18, 84 YDS, TD) lobbed a touchdown pass, he never settled settled into a groove before an injury derailed his night.
Ben Roethlisberger at hospital. Maybe shoulder will turn out to be separated. But all Steelers have been told so far is it is sprained.

— Adam Schefter (@AdamSchefter) November 13, 2012
Byron Leftwich (7-14, 73 YDS) jogged onto the field for his first regular-season action and captured the lead for Pittsburgh. However, his production left Steelers fans with an uneasy stomach.
But to nobody's surprise, the defense proved why it's the backbone of Pittsburgh's surging success. Although Jamaal Charles (23 ATT, 100 YDS, TD) reached the century mark, Matt Cassel (11-26, 154 YDS, INT) only managed to complete 42 percent of his passes against a stingy Steelers secondary that was accompanied by merciless pass rush.
On 4th-and-15, with the game on the line, Cassel defied the odds by avoiding pressure and stepping up to deliver a 27-yard strike to Dwayne Bowe. But as soon as Chiefs fans sat back down after cheering with joy, they were springing back up roaring with expletives. Cassel's next pass was free of hope, eventually finding a home in the hands of Lawrence Timmons.
Brandon Flowers and Kansas City's trio of play-making linebackers—Tamba Hali, Justin Houston and Derrick Johnson—held Pittsburgh's offense in check, but it wasn't enough.
Neither team returned to the locker room with heads held high.
The Chiefs are 1-8—no need to elaborate.
Roethlisberger was driven to the hospital wearing the emotions of Steelers nation on his right sleeve.
The Kansas City Chiefs will host the Cincinnati Bengals (4-5) next Sunday. Heinz Field will serve as the prime-time backdrop for Sunday Night Football, as the Baltimore Ravens (7-2) travel to Pittsburgh with hopes of cushioning their AFC North lead.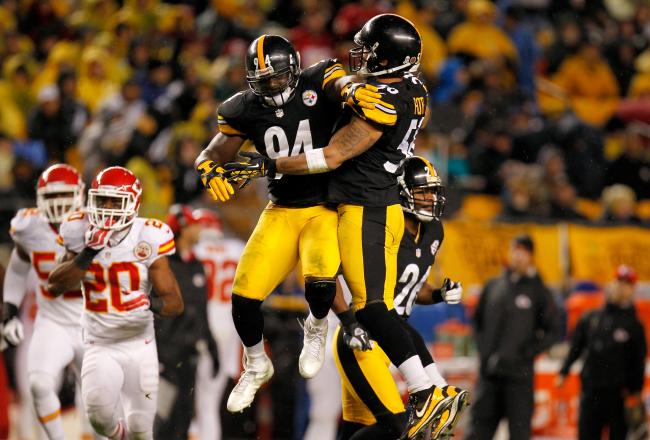 Overtime, 14:09:
April Fools' came early.
Immediately after engineering a doubtful comeback to tie the game, Cassel's next pass—the second play in overtime—was a telegraphed interception to Lawrence Timmons.
Mike Tomlin wipes the (ice-cold) sweat from his brow and chalks up another win.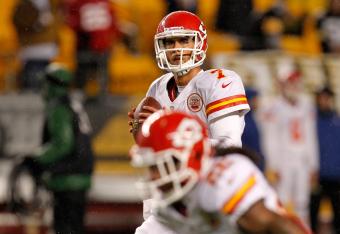 Fourth quarter, :01:
Up until the final drive, Cassel's play had stockpiled ammo for his critics.
But when adversity came calling, he stepped up to the plate.
Fourth quarter, :28:
Penalties stalk the Chiefs like jealous exes.
Unreal.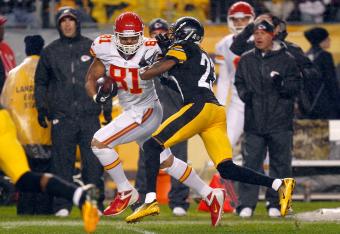 Fourth quarter, 1:35:
Look for Daboll to utilize Tony Moeaki and Dexter McCluster on this final drive.
Both present matchup problems and can stretch the middle of the field.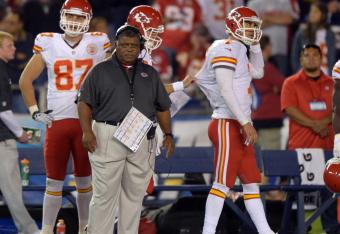 Fourth quarter, 3:30:
If there's one star above the Pittsburgh skyline, Romeo Crennel is wishing upon it and hoping that the Steelers don't extend their lead.
Kansas City doesn't have a quick-strike offense that can air it out and put seven on the board at a moment's notice.
Fourth quarter, 7:30:
On Kansas City's last third down, LeBeau knew what the Chiefs were going to run before Daboll called it.
The Chiefs' rushing success has fluctuated behind the right half of the line. But when Albert and the left side is rarely tested, the opposing defense is going to send a run blitz with Winston's name on it.
Fourth quarter, 8:37:
Update on Roethlisberger:
We texted a Steelers spokesman to ask if Roethlisberger was headed to a medical destination. He said "no"

— Rick Reilly (@ReillyRick) November 13, 2012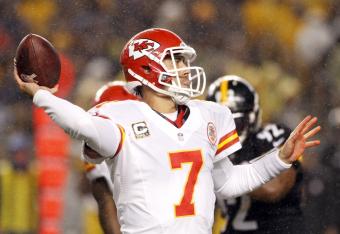 Fourth quarter, 11:30:
That third-down pass epitomized why the Chiefs are drooling for a first-round quarterback in the next NFL Draft.
Cassel's accuracy plummets like Black Friday prices when he's forced to throw over 15 yards. In terms of strength, his arm barely makes the cut as a professional.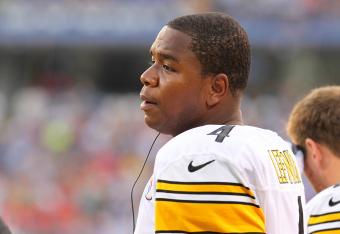 Fourth quarter, 14:11:
The timing between Leftwich and his receivers isn't there and it shows.
But give him credit. In a game like this, a premium is placed on every point—Leftwich just manufactured a trio of them.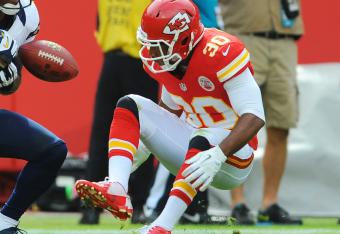 Third quarter, :37:
Following Javier Arenas' departure, expect Leftwich's eyes to place a target reticle on Jalil Brown.
Brown doesn't hold a candle to Brandon Flowers—he constantly gets lit up like one, though.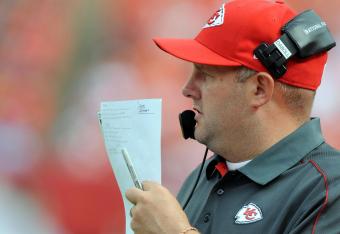 Third quarter, 3:40:
Brian Daboll's play sheet is a conservative blueprint. But Kansas City needs to free the offense from its restraints and take a shot downfield.
Play-action is Matt Cassel's best friend. Dick LeBeau is going to keep stacking the box until Daboll gives him a reason not to.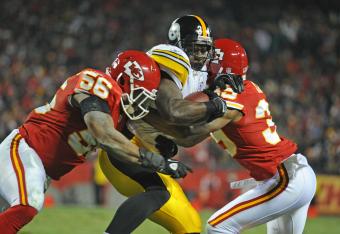 Third quarter, 5:10:
During his stint as Kansas City's head coach, Todd Haley once benched Derrick Johnson. It's safe to say that the message propelled his play.
On 4th-and-1, Johnson morphed into a 242-pound road block and halted Pittsburgh's last drive.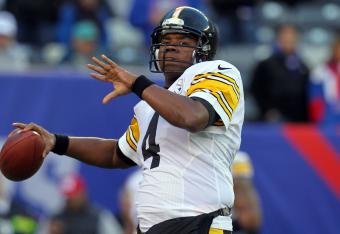 Third quarter, 7:45:
Roethlisberger's number of Twitter followers just skyrocketed after Leftwich's first pass.
With Charlie Batch inactive, Pittsburgh's options at quarterback are dangerously thin.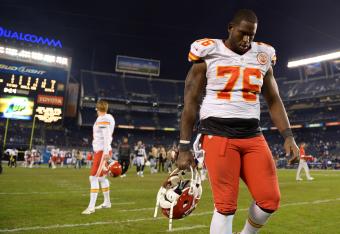 Third quarter, 8:38:
The holding call on Branden Albert—which negated a would-be touchdown for Dwayne Bowe—was questionable...to say the least.
Kansas City can't buy a break in 2012.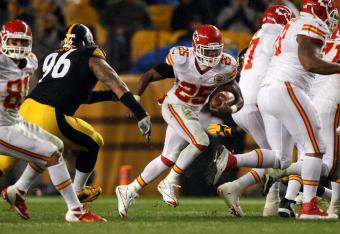 Third quarter, 10:19:
Kansas City's relentlessly pounding the left side of the Pittsburgh defense. Charles has churned his legs for 83 yards on 17 rushes.
One thing is certain: Eric Winston is working for his $22 million.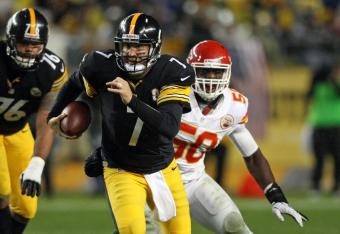 Third quarter, 13:22:
On third down, Roethlisberger was sandwiched between Tamba Hali and Justin Houston, then trotted off of the field favoring his throwing arm.
Byron Leftwich is preparing to take a temporary vacation from irrelevance.
Halftime:
Both clubs have ran 29 plays, and the stats are relatively even.
The Chiefs racked up 154 total yards (72 passing, 82 rushing), while the Steelers gained 142 (84 passing, 54 rushing).
Interesting tidbit:
If the Steelers go on to win tonight, it'll be 4 straight victories + they will have overcome a double-digit deficit in 3 of them

— ESPN Stats & Info (@ESPNStatsInfo) November 13, 2012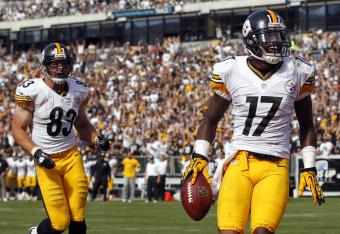 Second quarter, 2:02:
David Blaine's next feat will be trying to recreate Mike Wallace's last touchdown catch.
Spoiler alert: He will fail.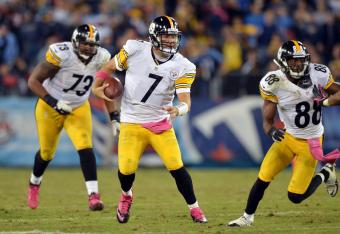 Second quarter, 4:15:
That won't be the last time that Roethlisberger scrambles for a first down tonight.
The Chiefs defense regularly fails to keep containment. In Week 2, Ryan Fitzpatrick—quarterback of the Buffalo Bills—looked like the (much slower, less talented, bearded) ghost of Steve Young and chewed up 34 rushing yards on four carries.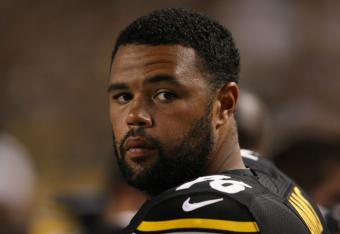 Second quarter, 5:37:
Mike Adams just bulldozed Derrick Johnson like he stole his wallet.
Johnson shines when he penetrates with a head of steam. But when he's stationary, the Pro Bowler struggles to shed blocks.
Second quarter, 7:17:
Kansas City is starting to regress and revert to its 1-7 antics.
The false start on 3rd-and-1 is inexcusable, especially considering that Steve Maneri was a former offensive lineman.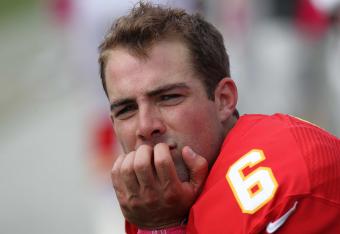 Second quarter, 11:01:
Ryan Succop's misguided kickoff lands out of bounds, and the subsequent drive is Pittsburgh's most effective one of the night.
As expected, rusty fundamentals reemerge for Kansas City.
Second quarter, 13:39:
It's amazing what a lead does for team morale.
Kansas City acquires an edge on the scoreboard, and the defense beams with the emotion that it has chased this entire season.
First quarter, :51:
Role reversal.
Pittsburgh's offense resembles a stagnant shell of what it normally is, and Kansas City's defense forces a turnover.
It's too early to make an "any given Sunday" reference, but the first quarter was disastrous for the home team.
This article is
What is the duplicate article?
Why is this article offensive?
Where is this article plagiarized from?
Why is this article poorly edited?

Kansas City Chiefs: Like this team?