Kentucky vs Maryland: Live Score, Analysis for Barclays Center Classic 2012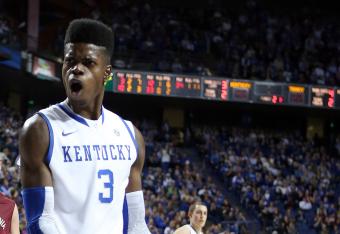 Brooklyn was the center stage for college basketball's season tip-off as the Kentucky Wildcats and the Maryland Terrapins squared off in the Barclays Center 2012 Classic.
The game was a memorable one and resulted in a 72-69 victory for the Wildcats, who outlasted a gritty Maryland team who took this young team to the brink before falling just short at the end.
Kentucky was led by Kyle Wiltjer and Jarrod Polson, who played on last year's title team and had huge plays throughout the game. Wiltjer drained three-point bombs while Polson scored a career-high ten points and kept the team under control during his time at point guard.
Meanwhile, the Terrapins used a dominant front court to obliterate the Wildcats in the post. Center Alex Len posted a 20-10 game and completely outplayed Kentucky's Nerlens Noel, the nation's top recruit. Maryland ended up winning the rebounding battle 54-38.
However, it was not enough to overcome John Calipari's young but talented squad. The win for Kentucky keeps them rated among the nation's elite while also providing a valuable learning lesson for the team's newcomers.
As for Maryland, they proved that they will be a major player in the ACC this season and could surpass everyone's expectations for them this year.
In the end, the Barclay Center played host to a great crowd and a terrific basketball game that kept everyone entertained right through the final buzzer. It was a great way to kick off the 2012-13 college basketball season.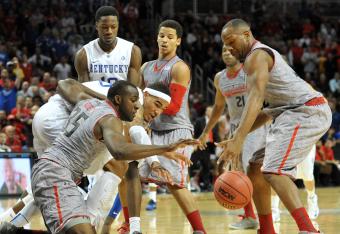 The final score of the 2012 Barclays Classic was Kentucky 72, Maryland 69. The game was a tale of two halves as the Wildcats impressed early on with their crisp, efficient offense and dominating post defense. Archie Goodwin and Kyle Wiltjer led the team to a 49-36 halftime lead.
However, the second half was all Maryland as the Terrapins completely obliterated Kentucky on the boards and caught fire on offense. Alex Len outplayed Nerlens Noel down low and had his way with the Kentucky front line.
In the end, though, the Wildcats saved just enough energy to play an effective final few minutes and they outlasted the Terps. The game means little for both teams in the long run, but short term it told us a lot about each program.
Kentucky is a young team and has a long way to go before they are truly ready to contend for a national championship. Meanwhile, Maryland sent a message that they can play with any team in the country and could emerge as a true player in the ACC conference race this season.
There is lots of Twitter feedback, most of which seems to be centered around UK's Jarrod Polson:
Kentucky had 634 mistakes tonight and beat a good Maryland team. Polson has practiced against pros everyday last 2 years. Was not shook

— Jimmy Dykes (@JimmyDykesLive) November 10, 2012
Maryland Coach Turgeon: "We didn't know who Polson was but he was the key to the game. He was the difference."

— Matt Jones (@KySportsRadio) November 10, 2012
RT @bigjorts55: Good job cats and congrats to my boy @jpolson05 hope he keeps it up and is better than I was! Keep working hard young fella

— EBled24(@EBled24) November 10, 2012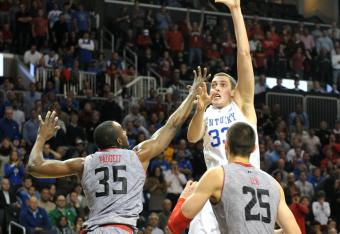 Here is a recap of final player statistics from the game:
| | | | | | |
| --- | --- | --- | --- | --- | --- |
| Kentucky | PTS | REB | AST | STL | BLK |
| Kyle Wiltjer | 19 | 6 | 2 | 0 | 3 |
| Archie Goodwin | 16 | 2 | 2 | 0 | 0 |
| Jarrod Polson | 10 | 2 | 3 | 1 | 0 |
| Willie Cauley-Stein | 8 | 6 | 2 | 0 | 4 |
| Alex Poythress | 8 | 7 | 0 | 0 | 0 |
| Nerlens Noel | 4 | 9 | 0 | 2 | 3 |
| | | | | | |
| --- | --- | --- | --- | --- | --- |
| Maryland | PTS | REB | AST | STL | BLK |
| Alex Len | 23 | 12 | 0 | 0 | 4 |
| Nick Faust | 11 | 5 | 3 | 2 | 0 |
| James Padgett | 10 | 5 | 0 | 2 | 0 |
| Dez Wells | 8 | 4 | 4 | 1 | 0 |
| Seth Allen | 6 | 3 | 5 | 0 | 0 |
| Charles Mitchell | 4 | 10 | 0 | 0 | 0 |
Maryland had a strange final possession to end the game. Here is some reaction from Twitter:
Well, that was a STRANGE final possession. Not sure why Pe'Shon didn't dish to Layman after the screen.
— Alex Prewitt (@alex_prewitt) November 10, 2012


That out of a timeout? He walked the ball up the floor...

— Nick Coffey (@TheCardConnect) November 10, 2012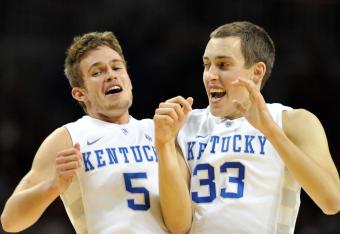 Kentucky 72, Maryland 69 - FINAL
Maryland fails to convert in the end as Howard misses a last-second three-point heave. Kentucky escapes with a season-opening victory over the Terrapins.
Kentucky 72, Maryland 69 - 00:8 remaining 2nd Half
UK's Jarrod Polson converts two free throws to put Kentucky up by three. Here is Maryland's final chance, coming soon after this timeout.
Kentucky 70, Maryland 68 - 00:08.9 remaining 2nd Half
Maryland pulls within one score with offensive rebound and bucket by Alex Len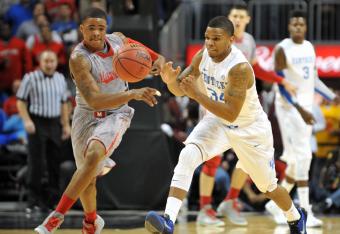 Kentucky 70, Maryland 66 00:10 sec remaining 2nd Half
UK's Wiltjer converted both free throws, Maryland player was fouled on the other end
The Kentucky Effect?
Jarrod Polson is trending nationwide...what a world

— Matt Jones (@KySportsRadio) November 10, 2012
Kentucky 68, Maryland 66 - 00:24 remaining 2nd Half
UK's Kyle Wiltjer just got fouled and will shoot two free throws after a timeout.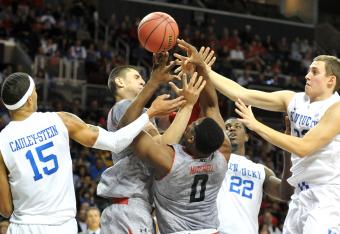 Same score as last update, but Maryland's Dez Wells is going to the free throw line for two shots with 40 seconds remaining.
Kentucky 68, Maryland 65 - 1:46 remaining 2nd Half
Maryland with a tip-in to keep the game within one score. Dickie V is really impressed with the Terps' rebounding edge and physicality. He's spot-on with that analysis.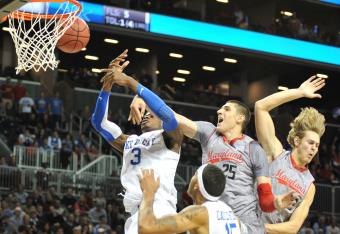 Maryland's offense is starting to stagnate a little bit. It took a lot of energy just to come all the way back earlier in the game. Do they have enough in the tank to finish?
Kentucky 67, Maryland 63 - 3:30 remaining 2nd Half
What an amazing play by UK's Jarrod Polson! After Nerlens Noel missed his second free throw, Maryland grabs the rebound with a chance to tie the game. Instead, Polson steals the ball and converts a reverse layup to put the Wildcats up by 4. Great hustle.
Maryland center Alex Len has 20 points and 11 rebounds. He is definitely the player of the game so far.
This is why I am not worried about UK's rebounding in the long run. They'll be fine by the end of the season:
50-33, Maryland's rebounds vs Kentucky's. Hard to imagine with a 7' and 6'11" on the inside for UK. Physicality, young team. Gonna learn.

— Chip Miller (@UKBIGBLUENATION) November 10, 2012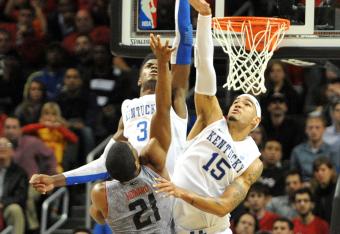 UK's Nerlens Noel just had consecutive big plays. He drew a charge against Maryland's Dez Wells on defense, then drew a foul against Terrapin Alex Len on offense. Timeout on the court.
Who do you all think is going to win? You cannot fault either team for not playing hard. What a great way to open the college basketball season!
Kentucky 65, Maryland 63 - 4:25 remaining 2nd Half
Willie Cauley-Stein grabs a tough defensive rebound and converts one at the free throw line. We're in the home stretch.
Calipari said it, this team is not physical enough and its showing tonight. Cats getting killed on the boards.

— Chip Miller (@UKBIGBLUENATION) November 10, 2012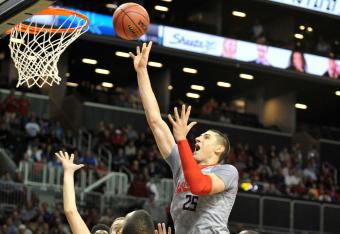 Kentucky 62, Maryland 61 - 6:10 remaining in 2nd Half
UM's Alex Len scores on one end, then Kentucky's Kyle Wiltjer scores in the paint on the other. Back and forth game.
Here is another alarming stat for UK fans:
Kentucky has only scored 8 points in the second half....Maryland on a 21-4 run

— Matt Jones (@KySportsRadio) November 10, 2012
Wow, great statistic just shown on the screen.
1st half: Kentucky's bench outscores Maryland's 17-0
2nd half: Maryland's bench outscores Kentucky's 11-0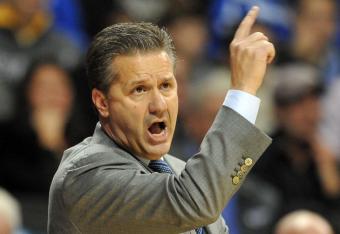 What did Kentucky do well in the first half? Run beautiful offensive sets and play tough interior defense.
What are they doing poorly in the second half? Running any form of an effective offense and are giving up easy buckets inside.
Credit to Maryland for turning the tide. We have a great game on our hands, folks. It should be a great finish.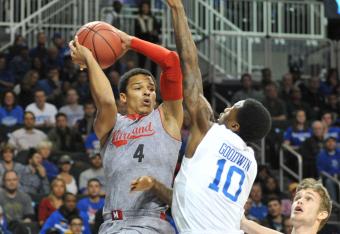 Maryland 59, Kentucky 57 - 8:15 remaining 2nd Half
Seth Allen gives UM the lead with a wide-open 3-pointer from the wing. They have all the momentum going their way.
This article is
What is the duplicate article?
Why is this article offensive?
Where is this article plagiarized from?
Why is this article poorly edited?

Kentucky Wildcats Basketball: Like this team?