Ohio State Basketball: The 5 Biggest Issues That Will Define Buckeyes' Season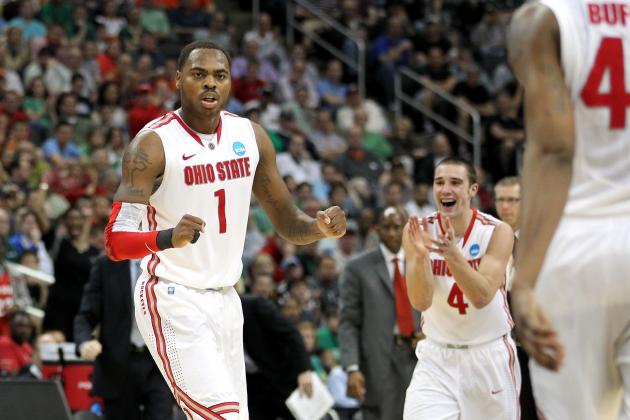 Gregory Shamus/Getty Images

It would be unfair to call the 2012-13 Ohio State basketball season a rebuilding one for the program.
Sure, the Buckeyes lost All-American Jared Sullinger and solid contributor William Buford, but there are plenty of talented horses left in the stables.
It's better to think of this year as more of a transition season—one where the Bucks are still good enough to compete for a conference crown but also one that will see the future start to take shape.
There are a number of issues that will determine whether Ohio State can be considered a success or not in 2012-13. Read on to see which five are the most pressing.
Begin Slideshow

»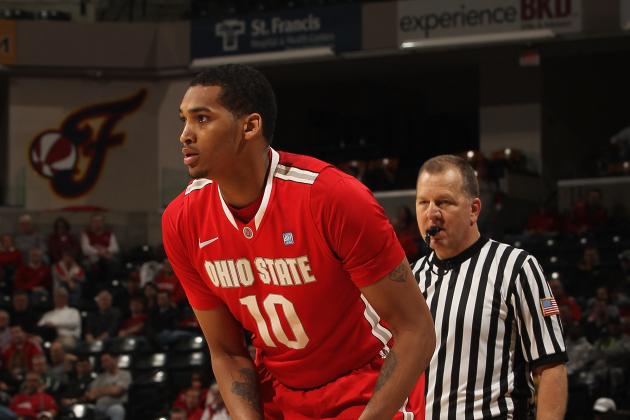 Jonathan Daniel/Getty Images

With 32 points per game departing with Jared Sullinger and William Buford, Ohio State needs a reliable scorer to step up besides Deshaun Thomas.
If Thomas is the only one Thad Matta can count on to put the ball in the basket on a consistent basis, Big Ten defenses are going to key in on that rather quickly.
LaQuinton Ross has the most pure potential and raw offensive talent among the rest of the Buckeyes. He was a highly-regarded recruit coming out of high school, and it wasn't because of his defense.
Ross stands at 6'8"; he can slash the lane off the dribble and hit three-pointers from almost anywhere on the floor. He didn't see much playing time last year because of an early-season suspension, but there is a good chance he will be in the starting lineup in 2012-13.
Matta needs Ross to deliver on his potential when he has the ball in his hands and also develop to the point where he can at least be considered a competent defender.
Elsa/Getty Images

If LaQuinton Ross is important to Thad Matta's offense, then Amir Williams is equally important to the Ohio State defense.
The 6'11" big man will be the anchor of a high-pressure, man-to-man defense that will count on guards Aaron Craft and Lenzelle Smith Jr. to force turnovers. Williams' presence will allow the pesky Craft to take more chances and drive the opposition insane as only he can.
Williams averaged 0.8 blocks per contest last season, which doesn't look that great at first glance. However, he only played 6.6 minutes a night, meaning that he would have swatted almost five shots a game had he played 40 minutes.
But Matta will need Williams to develop some type of offensive attack to match his defensive prowess. After all, he will be the one taking Jared Sullinger's spot on the lineup card.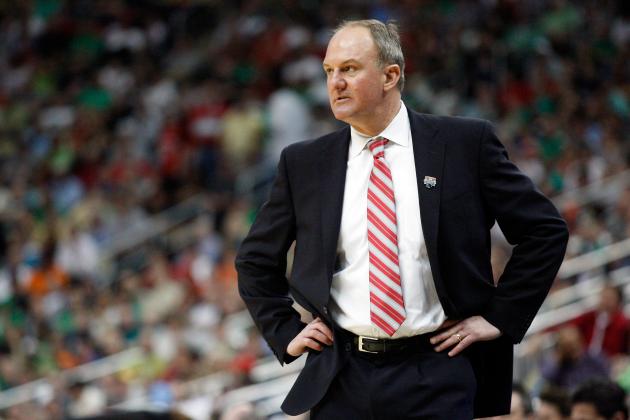 Jared Wickerham/Getty Images

Whether they like it or not, Buckeye fans know the utilization of the bench is always going to be an issue for a Thad Matta coached team.
The thing is, Matta told Sporting News in a preseason article that he plans on regularly going nine or 10 deep in games this year.
It is understandable to feel some skepticism when hearing a comment like that (after all, it's not the first time we have heard that Matta is going to use his bench), but there are plenty of formidable names that litter the Ohio State roster.
Players like Evan Ravenel, Shannon Scott, Sam Thompson and to a lesser extent Amedeo Della Valle should be able to hold their own in most of the games the Buckeyes will play.
In a grueling Big Ten, it would serve this young squad well to have a deep bench this year.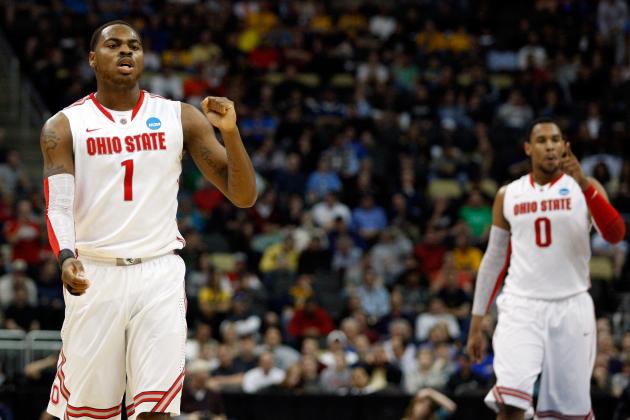 Jared Wickerham/Getty Images

This may be the biggest issue the Buckeyes are facing heading into the season.
Jared Sullinger was such a reliable option one that it was easy to almost take him for granted. He would draw fouls, bang around in the post and kick out of double teams when necessary.
However, that luxury is wearing Celtic Green this season, meaning Ohio State is going to need Deshaun Thomas to fill that go-to guy role.
The 6'7" Thomas is a matchup nightmare since smaller defenders struggle to contain him down low and larger defenders can't really keep up with his ball-handling skills (which could use some improvement) or stop his mid-range game.
Furthermore, he can stretch the defense with a solid three-point shot, although it might serve Thomas well to focus on cutting down his overall attempts from deep.
Thomas definitely benefited from the double teams Sullinger garnered every night last year, meaning that he is going to need to find a way to thrive as the focal point of opposing defenses.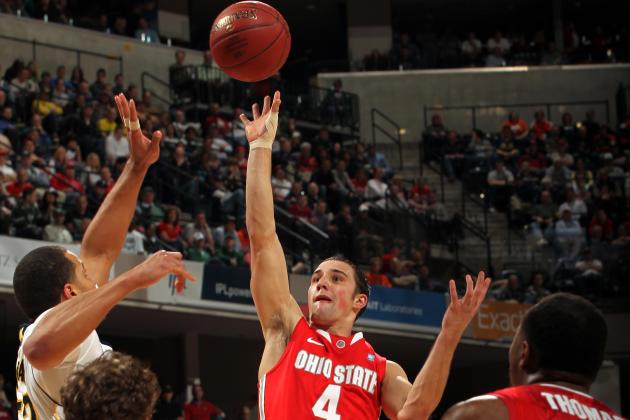 Jonathan Daniel/Getty Images

Even if Deshaun Thomas thrives in his role as the go-to scorer, Ohio State is still going to have a new offensive identity than it did a year ago.
After all, there will be no Jared Sullinger to dump the ball to down low and have everyone else just stand around and watch him score or draw a foul. Part of that identity is going to have to be a better performance from the Buckeye shooters.
Last year Ohio State ranked a putrid 241st in the nation from behind the three-point line. To make matters worse, Sullinger actually led the team's regular contributors in long-range percentage.
The Scarlet and Gray were looking up at powerhouses like Georgia Southern, Mercer and the New Jersey Institute of Technology in this category by season's end.
As for free throws, the picture wasn't much prettier. The Bucks were 146th in the nation from the charity stripe, behind the likes of Cal Poly, Sacramento State and South Dakota.
LaQuinton Ross may be the answer for Thad Matta when it comes to both of these categories, but Aaron Craft is going to have to get more involved in the offense as well.