Should There Be Concern About the Miami Heat's Defensive Start?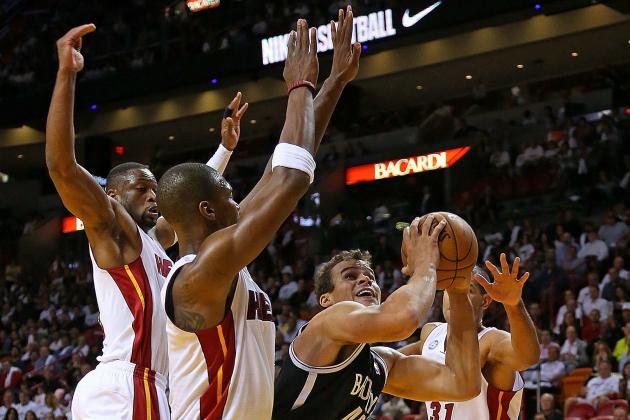 Mike Ehrmann/Getty Images
The defensive effort against Brooklyn looked a little more familiar.
Title defense might not be the best way to term what the Miami Heat has done so far this season.
After winning a championship by frequently playing the committed, stifling, score-thwarting style that has been the franchise's trademark in the Pat Riley era, Erik Spoelstra's squad seemed much more engaged on the other end during 2012-13's first three contests.
It's somewhat understandable to get sidetracked, when you have the sort of arsenal that this team does, with the additions of former All-Stars—and perennial 20-point scorers—Ray Allen and Rashard Lewis to a core that includes three current All-Stars.
Simply, no roster in Heat history has been as offensively gifted as this one, as has been evident with the ridiculous statistics it has registered so far: leading the league in points per game (110.0) and field-goal percentage (52.0), not to mention top-four rankings in three-point field-goal percentage and free-throw percentage.
"We can't simply try to outscore teams," Spoelstra said last Saturday, before his team did, 119-116 against Denver.
So, yes they can. For now. In the playoffs, the pace typically slows, and the burden shifts.
Is Miami still capable, in spite of what it has sometimes shown so far, of caring about—and playing—championship-caliber defense?
(All quotes in this piece were collected as part of the writer's duties covering the team, at practice and games.)
Begin Slideshow

»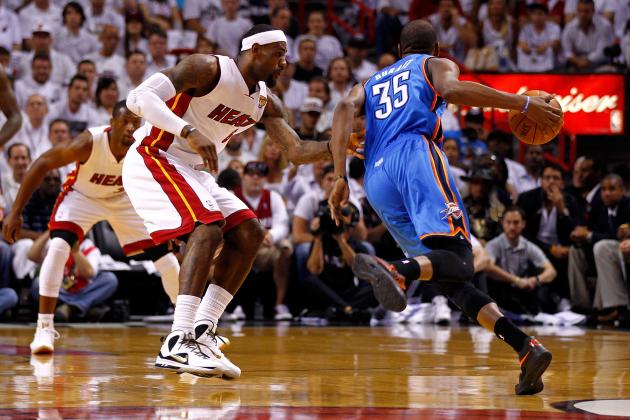 Mike Ehrmann/Getty Images
No one in the NBA covers more ground, from more positions, than LeBron James.
One through five.
That's the nickname that Erik Spoelstra gave to LeBron James last season and—while it isn't as flashy as The Chosen One or King James—it was mathematically appropriate.
James didn't win the Defensive Player of the Year award, undoubtedly because many voters felt the MVP should suffice, but you can argue that no player changed the equation for opponents, as well as his own coach, like James did in 2011-12. One night, it was Pau Gasol. The next, it was Chris Paul. Sometimes, he would run the guarding gamut in a quarter.
And he didn't lose that over the offseason.
Nor did he lose perspective.
Since arriving in Miami, James has fully bought into the Heat's premium on defense, which wasn't a surprise after his time playing for Mike Brown, whose expertise is on that end. Sometimes, James even sounds lot like Alonzo Mourning once did, when Mourning was the Heat's defensive leader, anchor and preacher.
After his team yielded 116 points against the Nuggets, and won, James made it clear he wasn't satisfied.
"It's not sitting well with me," James said. "It's not sitting well with us. It's not us. Good teams find a way to win games, no matter what type of game it is, but we understand we've got a lot of work to do still. We're happy with the win, but we're not satisfied with the way we played."
As long as he isn't, there's no reason to worry.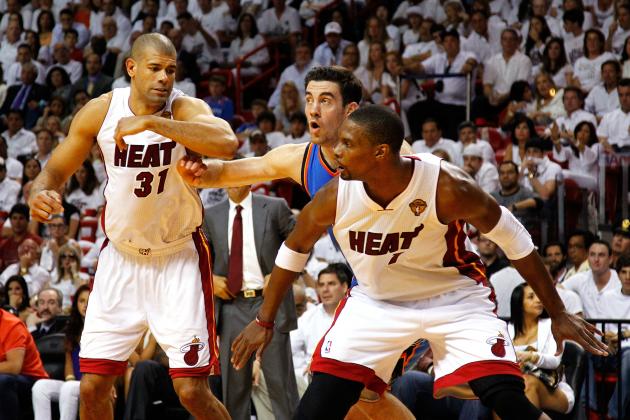 Mike Ehrmann/Getty Images
Bosh and Battier isn't the most physical frontline.
At times Saturday, it was comical.
To get a rebound, Kenneth Faried and other Nuggets didn't worry about Heat players as much as their own teammates.
As a result, at one point, the points in the paint were 40-10 in Denver's favor.
Pat Riley and Erik Spoelstra may not want to call it "smallball," and LeBron James may be tired of hearing how other teams are bigger, but the reality is that there will be nights when Miami struggles to keep physical foes off the boards. For that reason, this Sunday's game at Memphis—and the weighty front line of Marc Gasol and Zach Randolph—presents a considerable test.
After all, Chris Bosh and Shane Battier give up about 35 pounds apiece to each of those matchups.
Can the Heat beat taller, wider opponents to the ball?
Sure.
They will need to. Because you can argue that, by giving Rashard Lewis many of Udonis Haslem's minutes, and giving Ray Allen many of Mike Miller's, the Heat have gone all-in on a rotation that scares people by its ability to lock in—from outside—than box out near the rim.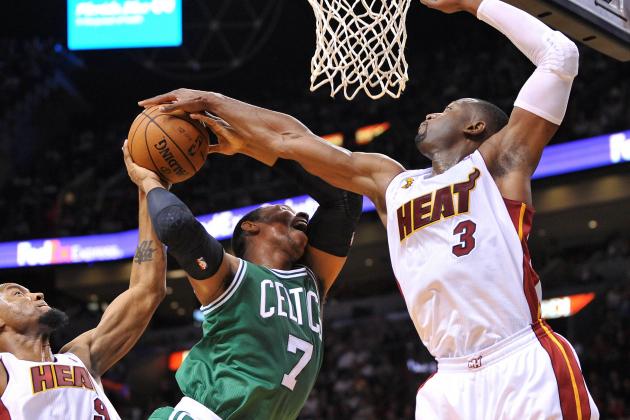 Steve Mitchell-US PRESSWIRE
There haven't been many, if any, better shot-blocking guards.
Dwyane Wade doesn't tend to back down on the court.
Unfortunately, that can sometimes be a problem. When he's taking on officials, after a drive that doesn't result in a call, he can linger too long on the offensive end, and leave the Heat at a disadvantage at the other end.
Of course, when Wade is engaged defensively, there are few guards better, especially off the ball.
Generously listed at 6'4"—LeBron James believes he's two inches shorter than that—Wade has made a habit of swatting centers, as was the case again on the Nets' first possession of Wednesday's second half, when he embarrassed Brook Lopez.
When Pat Riley drafted Wade in 2003, he said he did so because he loved the way the Marquette guard got in a defensive stance. Ever since, it's all been about Wade's defensive mindset.
He appears much quicker on his surgically-repaired left knee, and that should allow him to better stop penetration against point guards and dig in defensively against small forwards, as he will be guarding both at times in the Heat's unusual lineups.
"If we continue to get better defensively and understand that's what's going to win us ballgames, we'll be fine," Wade said.
And the Heat's defense figures to be fine, as long as Wade is focused, which he typically has been, late in games and late in the season.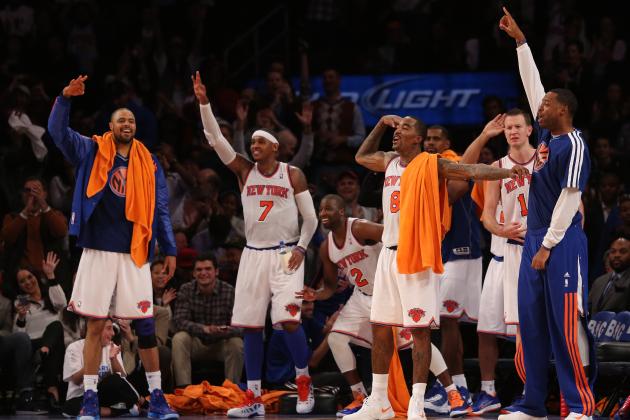 Nick Laham/Getty Images
The Knicks celebrated plenty of threes on Nov. 2 in New York.
Since Pat Riley came to Miami, the defensive philosophy has been to keep one foot planted in the paint, in order to keep drivers from getting easy lanes to the hoop.
That said, players are expected, figuratively, to dive into the second part of the strategy with both feet. That means racing out to the perimeter to run shooters off their spots, or at least make those shooters uncomfortable.
That requires sustained effort.
And sometimes, the Heat don't show it.
That's why the Magic could connect on 17 three-pointers in a game last February, and that's why the Knicks were so frequently open, in sinking 19 of them on Nov. 2.
So far this season, the Heat are allowing opponents to shoot 35.7 percent from behind the arc, which is in the middle of the pack, and a little better than last season, when the Heat were fifth worst at 36.3 percent.
As teams realize that it will be a challenge to beat the Heat conventionally or athletically, more will take to the approach of launching from deep, to try to get three at a time.
Miami needs to do a better job of taking that from them.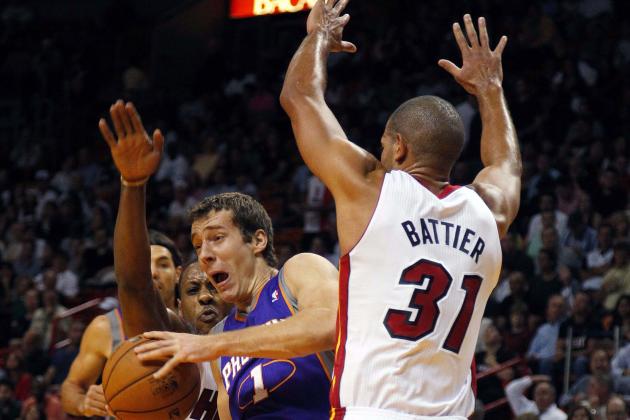 Robert Mayer-US PRESSWIRE
Five on a string often leads to swarming.
It's called "five on a string."
That's been the Heat's defensive approach for ages, and its value has been proven not by the way that the Heat's elite defenders—Alonzo Mourning or LeBron James—have excelled, but by how their less gifted defenders have survived.
Tim Hardway, on a gimpy knee, was not a dynamic defender by the time he got to Miami. Yet, he was at the point of attack for teams that finished in the top five in many categories. Chris Bosh came to Miami with a checkered defensive reputation, but he's improved to the point where many scouts now deem him above average.
It's about emphasis, but also about tactics, and the reality is that Ray Allen and Rashard Lewis—neither coming off great recent defensive seasons elsewhere—will be protected by the scheme.
It's why Shane Battier, one of Miami's better current defenders, called it a "misnomer" when reporters were focusing on whether individual Heat defenders were exceptional.
"As long as you have rules and a structure in place, you just do your job," Battier said. "As long as you do your job, you're going to be an effective defender."
That is all that matters.
"That's the beauty of our defense," Battier said. "This defensive system is a little different. Nobody's asking you to go out there to put the clamps on someone one-on-one. We don't guard guys one-on-one here. You usually have a guy next to you, sliding over, giving you support. And if you don't give support, you're going to hear about it."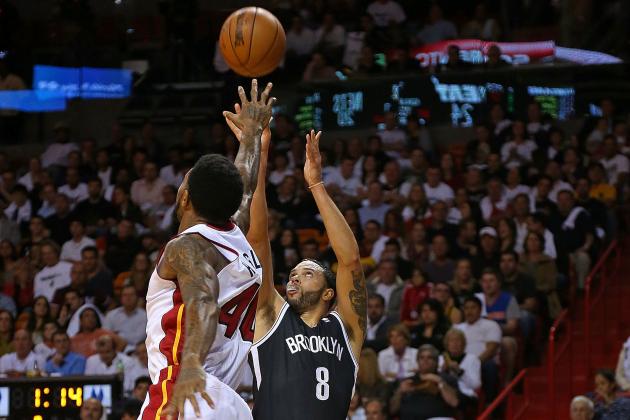 Mike Ehrmann/Getty Images
Even Brooklyn's best player found little space to work.
Following the defensive debacle against Denver, Dwyane Wade promised it would get better.
"But right now, we have to work at it for it to get better," Wade said.
The next two games, against Phoenix and Brooklyn, were much better. Neither team cracked 40 percent from the floor and—while points per game isn't the statistic Erik Spoelstra puts most stock in—it was notable that Brooklyn couldn't even crack 75 points.
So where does Miami go from here?
Probably up, with opposing shooting percentages continuing to go down. The Heat have been in the top five in field-goal percentage against (just over 43 percent) the past two seasons, and have cut the number to 44.8 percent already.
After the Heat gave up more than 100 points in each of the first three games, there was panic, from a press corps that is looking to poke holes in a nearly-perfect team. Because the Heat are pushing the pace this season, there will be future games in which they cede triple-digits.
But, even in some of those contests, the Heat should be fully capable of limiting efficiency.
"We're slowly regaining our identify again," Spoelstra said, after Wednesday's win.
That identity has been defense for some time, and even after an imperfect start, that shouldn't change.