Examining the Hottest Pitching Prospects of the Arizona Fall League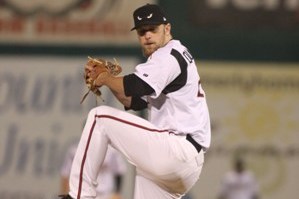 RHP Kevin Quackenbush (Padres) // Courtesy of MiLB.com
After writing about some of the Arizona Fall League's top hitters earlier today, I thought I'd follow up with a look at some of the league's more impressive pitchers.
As I did last week, I've expanded my coverage as a means of highlighting the top starting pitchers and relievers. Because I saw several AFL contests last weekend, including the Rising Stars Game, I received a first-hand look at a majority of the pitchers on this list. Therefore, I've combined statistical analysis with my scouting notes in this week's installment.
Begin Slideshow

»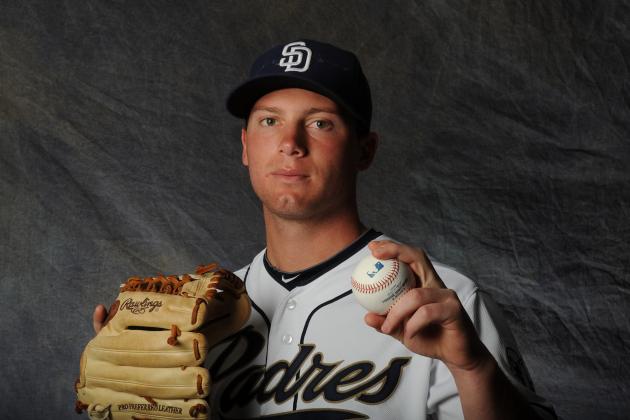 Rich Pilling/Getty Images
LHP Robbie Erlin (Padres)
Seth Blair, RHP, St. Louis Cardinals: 2-0, 17.1 IP, 1.04 ERA, 1.33 WHIP, 20/9 K/BB (5 GS)
His control has never been great, but the right-hander has made improvements this fall.
Robbie Erlin, LHP, San Diego Padres: 1-1, 14.2 IP, 3.07 ERA, 1.09 WHIP, 17/5 K/BB (5 GS)
He mixes pitches well and is highly effective despite having anything above-average. He spots breaking ball low to generate whiffs from both right- and left-handed hitters, and his pitchability makes him a potential No. 4 or 5 starter.
Kyle Kaminska, RHP, Pittsburgh Pirates: 2-1, 23 IP, 1.96 ERA, 0.96 WHIP, 17/4 K/BB (5 GS)
Last two starts: 10 IP, 2 H, ER, 7/3 K/BB.
Boone Whiting, RHP, St. Louis Cardinals: 2-1, 17.1 IP, 2.08 ERA, 1.33 WHIP, 18/6 K/BB (5 GS)
Despite logging only 35 innings this past season due to injury, his command is still as sharp as it was in his excellent 2011 campaign (2.41 ERA, 122/24 K/BB).
Kevin Siegrist, LHP, St. Louis Cardinals: 2-1, 15 IP, 2.40 ERA, 1.07 WHIP, 19/5 K/BB (5 GS; 4 G)
Aside from start on Oct. 24 (2 IP, 6 H, 4 ER), he's been exceptional in other four starts; last two starts: 7 IP, 3 H, 0 ER, 8/4 K/BB.
Logan Darnell, LHP, Minnesota Twins: 14.1 IP, 2.51 ERA, 1.33 WHIP, 15/5 K/BB (8 G)
He struggled as a starter during the regular season at Double-A (5.08 ERA, .308 BAA) and has worked primarily as a reliever this fall. He made his first AFL start on Wednesday: (W) 4 IP, H, 0 ER, 5/0 K/BB.
T.J. House, LHP, Cleveland Indians: 2-1, 22 IP, 2.86 ERA, 1.09 WHIP, 21/8 K/BB (5 GS)
House has had an impressive fall, but was touched up for the first time on Wednesday: (L) 5 IP, 6 H, 4 ER, 3/2 K/BB.
Chase Anderson, RHP, Arizona Diamondbacks: 2-0, 13.2 IP, 3.29 ERA, 1.02 WHIP, 19/5 K/BB (4 GS)
He is a legitimate breakout candidate for 2013; his changeup is an easy plus offering and was one of the more impressive pitches in the Rising Stars Game.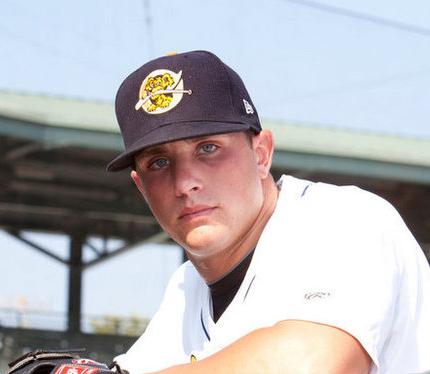 RHP Mark Montgomery (Yankees) // Courtesy of MiLB.com
Tony Zych, RHP, Chicago Cubs: 12 IP, 2.25 ERA, 1.25 WHIP, 4/1 K/BB (11 G)
He could be an effective late-inning reliever, but not a closer; he doesn't miss bats like he should at 95-96 mph with a hard slider.
James Simmons, RHP, Oakland Athletics: 9.1 IP, 1.93 ERA, 0.43 WHIP, 8/3 K/BB (10 G)
He has allowed only one hit this fall over 10 appearances.
Matt Stites, RHP, San Diego Padres: 10.2 IP, 3.38 ERA, 0.84 WHIP, 10/1 K/BB (9 G)
Undersized (5'11", 170 pounds) right-hander is deceptive with ridiculously good command (60/3 K/BB in 48.2 innings last at Low-A).
Nick Tropeano, RHP, Houston Astros: 12 IP, 3.00 ERA, 1.08 WHIP, 17/5 K/BB (9 G)
He was shaky in his appearance on Wednesday, his first in six days: IP, 2 H, ER (HR), 3/2 K/BB.
Trey Haley, RHP, Cleveland Indians: 11 IP, 1.64 ERA, 0.55 WHIP, 3/4 K/BB (8 G)
For a dude with a fastball that sits in the upper-90s, his lack of strikeouts is bizarre; still, he has held opposing hitters to a .065 batting average.
Heath Hembree, RHP, San Francisco Giants: 8 IP, 3.38 ERA, 1.25 WHIP, 12/2 K/BB (8 G)
He has been a little shaky over last few outings, but still is having an impressive fall campaign.
Mark Montgomery, RHP, New York Yankees: 9.1 IP, 0.96 ERA, 0.64 WHIP, 17/4 K/BB (8 G)
He is one of the best relievers in the minor leagues and a candidate to open the 2013 season in the Yankees bullpen. See what I wrote about him yesterday. His last six appearances: 7 IP, 0 H, 0 ER, 12 K/3 BB.
Kevin Quackenbush, RHP, San Diego Padres: 8.1 IP, 5 SV, 0.00 ERA, 0.24 WHIP, 0 H, 13/2 K/BB (8 G)
He was exceptional during regular season for High-A Lake Elsinore (27 saves, 0.94 ERA, 70/22 K/BB) and has yet to allow a hit this fall!
Carson Smith, RHP, Seattle Mariners: 11.2 IP, 2.31 ERA, 0.77 WHIP, 12/2 K/BB (8 G)
I liked what I saw from Smith on Nov. 5. He is a 6'6" right-hander with a plus fastball-slider combo.