7 Adjustments the Washington Redskins Must Make During Bye Week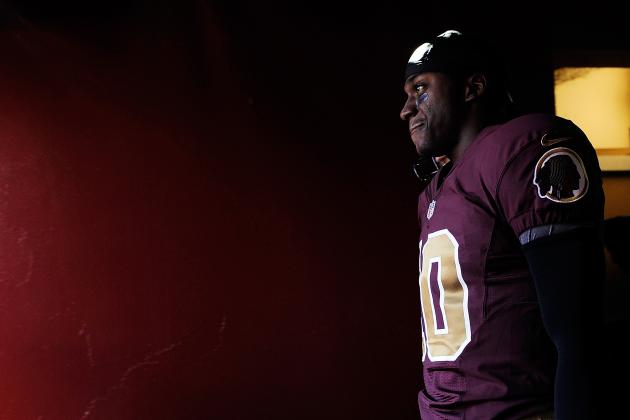 Patrick McDermott/Getty Images

Finally, a week where the Washington Redskins can't possibly let their fans down with another hard-earned loss. The 'Skins are on their bye week, and if any team could use it, it is the Redskins.
Their game plan is flawed, their roster is falling apart and they need more than a week off to get everything in order for the second-half stretch.
To think that a team that has fallen into a serious rut can make everything better all at once is absurd, but that doesn't mean the Redskins brain trust can't make a few adjustments to make the most of the final seven games.
Here are some of the things Washington can do to right the ship, get back on track or just make their season less painful for all concerned parties.
Begin Slideshow

»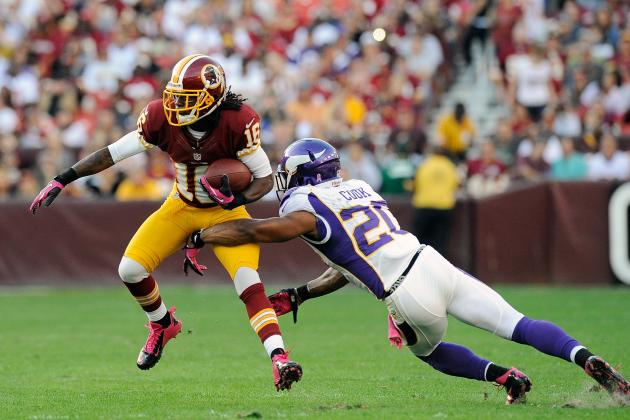 Patrick McDermott/Getty Images

The Redskins special teams, specifically return "specialist" Brandon Banks, are unremarkable in the return game. They are dead last in yards per punt return with 5.9 and middle of the pack in yards per kick return with 22.9.
If it has been said once, it has been said a million times, Banks is not working out as a returner, and the Redskins need to explore other options.
Banks is too much start and stop when returning punts, and he doesn't read blocks well, let alone stand up to contact. The Redskins don't have a ton of options for returners, but it wouldn't hurt to throw anyone and everyone out there for the bye week to see who can give them positive yards on a consistent basis.
Preferably someone who can also legitimately contribute on offense the way Banks was supposed to when the season started.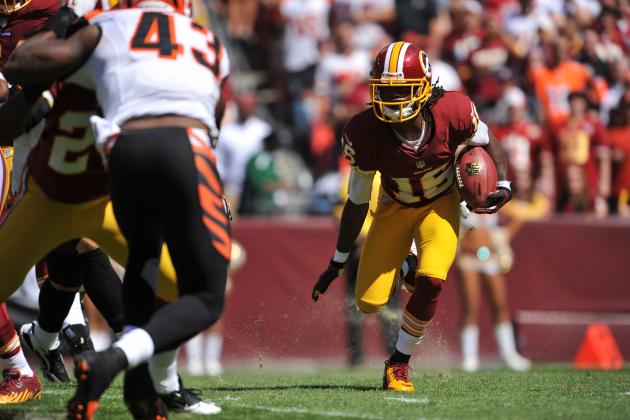 Larry French/Getty Images

In no universe where Robert Griffin III is a viable option should Brandon Banks be given the last touch on offense with the game still in hand, albeit slipping away.
Perhaps it is personal bias, or maybe it is a simple matter of improper utilization, but Banks is wasted roster space based on what he's giving the Redskins. He touches the ball on offense and special teams, but rarely makes an impact.
Between rushing and receiving, Banks averages 3.08 yards per touch on offense and has not scored a single touchdown this season.
If the Shanahans were using Banks in a variety of ways beyond bubble screens and jet sweeps, maybe there might be cause to keep him on the field on offense.
However, he cannot withstand the amount of contact the average offensive player absorbs, which makes you wonder why they don't put him in the open field and let him run rather than put him behind a wall of blockers and expect him to make his way.
The Redskins need to approach Banks as a go-big-or-go-home type of player, and they're far too conservative with the way they use him.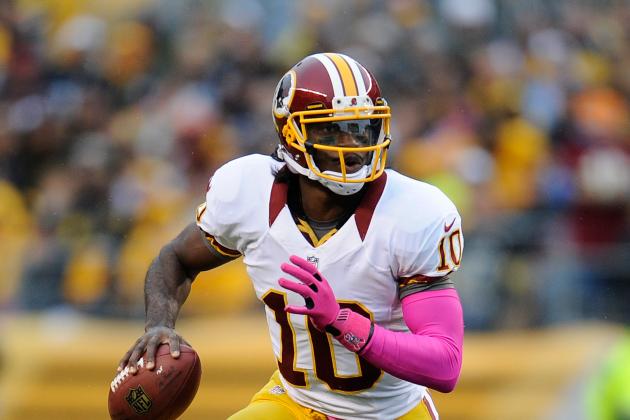 Joe Sargent/Getty Images

The read option has played its part in the growth of RGIII, but defenses are getting wise to it and taking the opportunity to lay vicious hits on Washington's prized rookie quarterback. While it shouldn't be phased out entirely, the Redskins need to work on getting Griffin more called runs to utilize his speed.
He's taking hits more and more each week, so why not find a way to get him out on the edge to pick up yards and save his body for the long haul?
Griffin displayed his blazing speed with his 76-yard touchdown sprint against Minnesota, but he hasn't seen many runs between the 20s since. Kyle Shanahan has inexplicably put the red-zone quarterback draw on the shelf in the last few weeks, which has left points on the board.
As banged up as Griffin may be, or stands to become in coming weeks, they can't treat him like a pocket passer and leave one of his gifts unused.
Alex Trautwig/Getty Images

It may be a bit premature to consider the Jim Haslett 3-4 defense a bust, but considering the injuries, it may be time to approach things in a different way. With the personnel they have, the Redskins could be a formidable 4-3 defense and apply better pressure than they're getting now.
Ryan Kerrigan could get his hand in the dirt and get back to what he did in college, and the likes of Rob Jackson and Chris Wilson could apply pressure off of that front-line push.
It wouldn't have to be an overhaul, just a new wrinkle to a decidedly flat defense. There is no changing the abysmal secondary at this point, so why not look for ways to help it up front?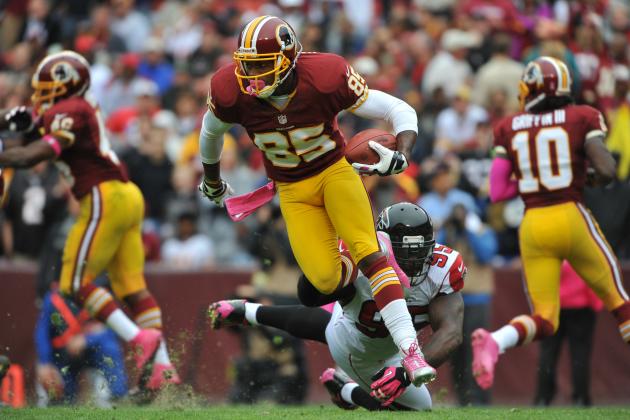 Larry French/Getty Images

Leonard Hankerson came out of the University of Miami with a case of the drops. He has all the skills and size of a go-to receiver, but he can't consistently reel in even the most routine catches.
On his career-long 68-yard touchdown reception against St. Louis earlier this season, Hankerson almost dropped a perfect pass over his shoulder.
Against Pittsburgh, Hankerson dropped a sure touchdown placed right in his hands and added to a troubling trend of drops the Redskins have followed. The Redskins used a third-round pick on the big receiver, and he needs to get his head, and his hands, in the game in the final seven games of the season.
With Santana Moss dealing with a concussion, Pierre Garcon not coming back anytime soon and no one else willing to step up, Hankerson could have a big role on offense if only he put the work in.
Chris Graythen/Getty Images

The way the Redskins defense has performed this year, it is understandable to want to keep a linebacker or three in coverage. Dropping linebackers into coverage, however, has not proven beneficial, and teams have picked the defense apart with underneath routes before taking their big shots over the top.
Haslett has not adjusted to the injuries that hit his unit early in the season, and he now calls a soft defense week in and week out.
Ryan Kerrigan was supposed to be the complement to Brian Orakpo, but when Orakpo went down, teams haven't had a reason to pay much attention to him. He can only do so much by himself, and rushing four has not produced any pressure, let alone helped with coverage.
Run a stunt, send Rob Jackson through a hole behind Stephen Bowen, bring DeAngelo Hall on a corner blitz because he's probably not covering his man anyway. Do something, do anything, but don't retreat on defense more and more each week.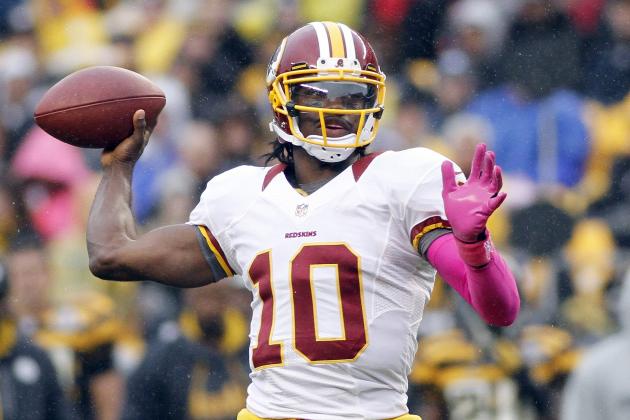 Justin K. Aller/Getty Images

Play-action has been the Redskins' bread and butter through the first nine games of the season. Chalk it up to defenses trying to figure RGIII out, as well as Alfred Morris making a big splash as the NFL's fourth-leading rusher.
Whatever the reason, the Redskins have found success running play-action, but they've gone to the well one time too many, and now teams aren't respecting it as much.
Against the Saints, the Redskins opened the game with a series of short, quick passes that forced the defense to cheat up, ultimately giving open looks down the field. Since then, they've drifted away from that approach for no apparent reason.
It seems simple, but quick passes can do a lot to frustrate defenses early in games and create opportunities as games progress. At least give receivers room to pick up yards after the catch, which worked for the first quarter of the season.