Florida State vs. Virginia Tech: Live Scores, Analysis and Results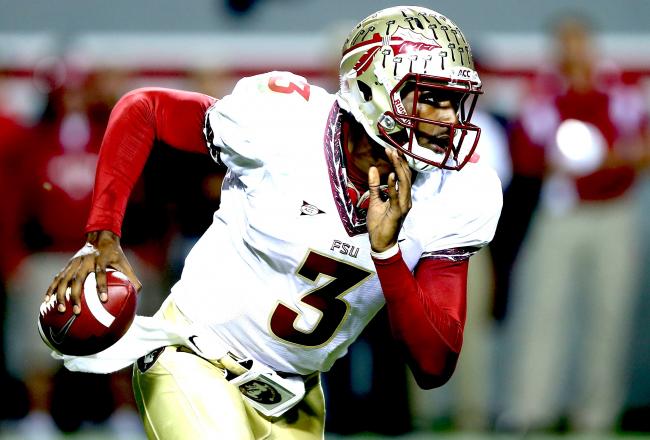 Florida State 28, Virginia Tech 22-- Final

The Florida State Seminoles came away with a huge victory in Blacksburg, knocking off Virginia Tech is thrilling fashion.
Even though Florida State was unable to run the football with any success, senior quarterback E.J. Manuel was dominant passing for 326 yards and three scores.
Virginia Tech quarterback Logan Thomas showed some signs of snapping out of his season-long slump, but returned to his old form throwing an interception in the closing seconds.
The win enabled the Seminoles to stay in the driver's seat for the ACC Championship.
Florida State improved to 9-1 with the win, while Virginia Tech fell to 4-6 with the loss.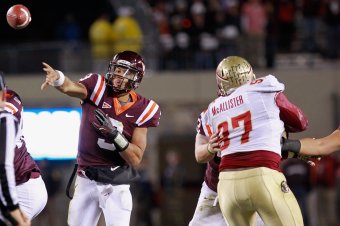 Geoff Burke/Getty Images
Here is a link to my postgame story on the ACC road victory for Florida State.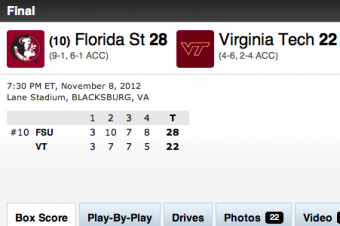 Here is a look at the final box score from ESPN.
Florida State 28, Virginia Tech 22 -- Final Score
What a game it was with an all-too familiar ending for the Hokies. Quarterback Logan Thomas threw an interception in the final minute as Florida State scored to go ahead with 40 seconds to go.
Another devastating loss for the Hokies and a huge win for Florida State.
I would like to thank everyone for following along tonight as we witnessed a great start to the college football weekend.
Logan Thomas returns to old form, throwing the interception to Tyler Hunter to seal the deal in this one.
Virginia Tech is about to lose its sixth game of the season. Yet another devastating loss.
If Demetri Knowles was in on that catch, Virginia Tech will have some serious shots to the end zone to win this game.
The officials are reviewing the play and it does not appear they are going to be able to overturn the call.
Florida State 28, Virginia Tech 22 -- :40 left in 4th Quarter
What a catch-and-run by Rashad Greene. He catches a quick pass from Manuel and scampers 39-yards for a touchdown.
The Hokies were a play away from the win and the crowd was as loud as ever. Now, silence can be heard in Lane Stadium.
The two-point conversion is good.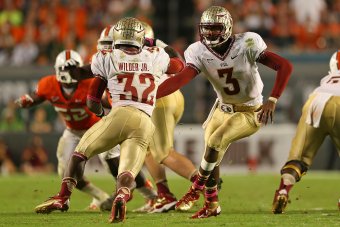 Mike Ehrmann/Getty Images
FSU capitalizes on a huge fourth-down as James Wilder Jr. bulldozes through some people.
Even though the Seminoles have negative rushing yards, they got a few yards when they needed it.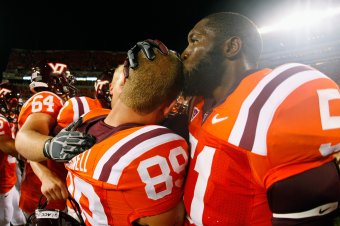 Geoff Burke/Getty Images
Virginia Tech 22, Florida State 20 -- 2:19 left in 3rd Quarter

Cody Journell bangs in a 21-yard field goal to give Virginia Tech a lead with just over two minutes remaining.
The Hokies drive stalled inside the five yard-line.
What is Beamer going to draw up on this third-down inside the 10-yard line?
I think he needs to keep the ball on the ground and force FSU to use a timeout.
Bruce Smith is loving it on the sidelines as Virginia Tech is marching down the field.
The short passes are working for the Hokies as is the run game. We are under five minutes and Virginia Tech is nearly in field goal range.
We all know how college kickers are under pressure though and Journell has already missed one tonight.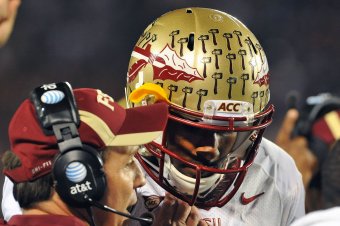 Al Messerschmidt/Getty Images
Florida State 20, Virginia Tech 19 -- 6:59 left in 4th Quarter
Florida State's inability to run the football and the fact that they have completely given up on it is costing them greatly.
FSU running back Devonta Freeman tries an illegal forward pass in the end zone and a safety is the call.
We have a fantastic finish coming up in the next few minutes.
It looks like Twitter agrees with my love for the broadcast tonight, particularly Rece Davis.
Rece Davis has been my favorite sportscaster of the last 15+ years. Not sure why I don't discuss it more. Phenomenal.

— Marc Ryan (@MarcRyanOnAir) November 9, 2012
We have a game here. Virginia Tech is playing like a team possessed. The defense has dominated up front all game and now the Hokies have a chance to pull off a monumental upset and ruin Florida State's ACC hopes
WHO IS THIS HOKIE TEAM?

— Lisa Horne (@LisaHorne) November 9, 2012
Have seen a lot of keys rattling on third down in the second half. The crowd here at Lane Stadium has certainly come alive here in the fourth quarter.
The Hokies need a stop as Florida State continues to move the ball down the field.
Some pressure on the quarterback would be nice. Where is Bruce Smith when you need him?
E.J. Manuel and company getting the ball back with a chance to put this one out of reach.
Seven points here would be hard for Virginia Tech to overcome in the fourth quarter.
Florida State is still getting nothing on the ground. After three quarters the Seminoles have three yards rushing.
OK positive from a negative. The last time the #Noles rushed for less than 10 yards in a game was 2006. They beat UM that game.

— FSU Football (@FSU_Football) November 9, 2012
Florida State 20, Virginia Tech 17 -- End of 3rd Quarter
The momentum is starting to shift as we head to the fourth quarter. Virginia Tech has the ball back and Logan Thomas is playing as good right now as he has all season.
Big third-down play coming up to start the fourth quarter.
How good is this announcing crew?
The combination of Rece Davis, Jesse Palmer and David Pollack has been excellent as always. One of the best groups around.
Sideline reporter Samantha Steele doing a great job as well.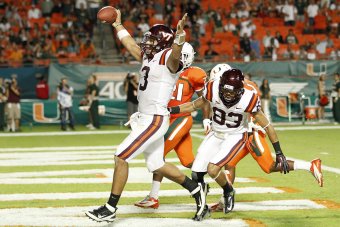 Joel Auerbach/Getty Images
Florida State 20, Virginia Tech 17 -- 2:54 left in 3rd Quarter
Logan Thomas runs one in from five-yards out, completing an eight play 80-yard drive to answer the Seminoles score. We now have a ballgame once again.
Virginia Tech desperately needs some points on this drive.
The cold weather does not seem to be bothering Florida State one bit.
Who said teams from Florida couldn't handle the cold?
Florida State 20, Virginia Tech 10 -- 6:53 left in 3rd Quarter
E.J. MAnuel connects with wide receiver Greg Dent on a 10-yard touchdown pass gives the Seminoles some breathing room midway through the third quarter.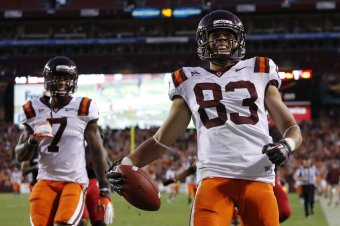 Jonathan Ernst/Getty Images
Yet another Virginia Tech turnover as wide receiver Marcus Davis neglects to secure the ball.
The Hokies are as careless with the ball as nearly any team in the country.
If they do not win the turnover battle, it is going to be hard to win this game as the Florida State defensive line is starting to take over.
Good news on the injury front for Cole.
Good news on Michael Cole. Has a neck sprain, per VT. Has feeling and movement in extremities. #Hokies

— Hokies Journal (@HokiesJournal) November 9, 2012
Cole is now on his way to the hospital as play has resumed. We will keep you up to date once news breaks on his status.
Cole being taken to LewisGale Medical Center here in Blacksburg. After 6 minute delay, back to football.

— Hokies Journal (@HokiesJournal) November 9, 2012
The ambulance is now out on the field for Cole. It seems like this has been happening all too much in college football the past few years.
Cole appears to be talking, which is a good sign. He is strapped in pretty good. We have not seen any movement yet.
Lane Stadium is as quiet as I can ever remember hearing it. David Pollack has some insight as he went through a serious injury during his playing days.
This article is
What is the duplicate article?
Why is this article offensive?
Where is this article plagiarized from?
Why is this article poorly edited?

Florida State Football: Like this team?