Fantasy Football Week 10: Top 10 Best Players Thus Far in 2012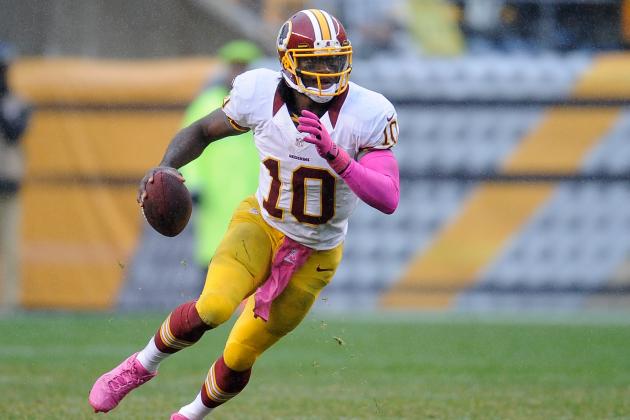 Joe Sargent/Getty Images

Fantasy football in 2012 has been business as usual, meaning anything that we have expected. Although, some fantasy stars have stepped up to the plate and put up solid fantasy numbers for your teams.
Let's take a look at the top 10 players thus far in 2012 based on the standard scoring system, which is outlined below.
Standard Scoring System
Passing
25 Passing Yards = 1 point
Passing Touchdown = 4 points
Rushing
10 Rushing Yards = 1 point
Rushing Touchdown = 6 points
Receiving
10 Receiving Yards = 1 point
Receiving Touchdown = 6 points
Begin Slideshow

»
Jeff Zelevansky/Getty Images

It is certainly a surprise to see Big Ben ranked in the top 10. Again, it's business as usual. Roethlisberger has been stellar thus far this year in fantasy and for his Steelers team.
He has thrown for 2,203 passing yards, 16 touchdowns and only four interceptions through eight games this year. In doing so, he has led his team to a 5-3 record, one game behind the division-leading Baltimore Ravens.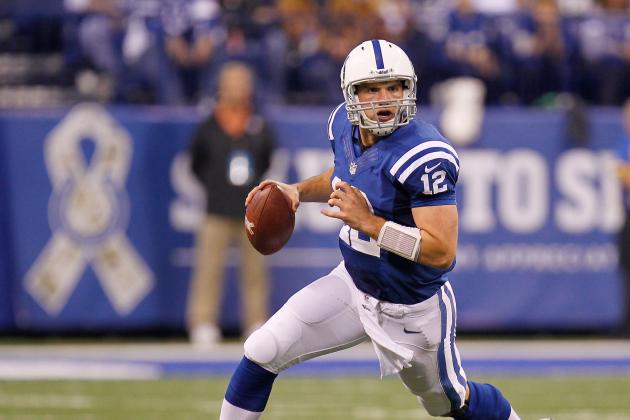 Gregory Shamus/Getty Images

It is beyond impressive what Andrew Luck has been able to do this season. His total fantasy points would be a bit higher had he not thrown eight interceptions this year. Let's cut the guy some slack, though. He is a rookie, after all.
Luck has not only put up over 2,400 yards through the air with 10 passing touchdowns, he has also turned heads with his ability to run the ball. Thus far, he has rushed for 183 yards and three touchdowns. Anytime a quarterback can get the job done on the ground, it's a great contribution to any fantasy football team.
He currently has his Colts team sitting at 5-3, only two games back of the division leading Houston Texans.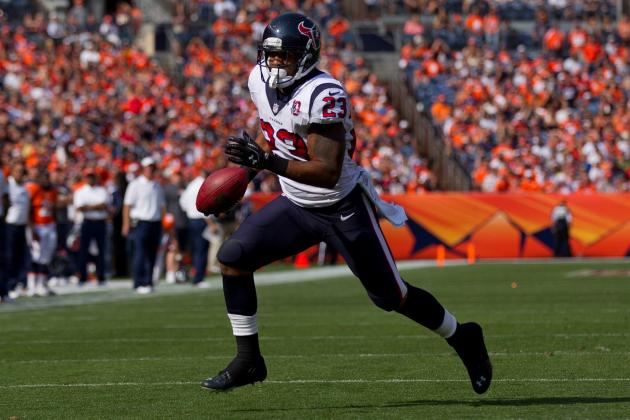 Justin Edmonds/Getty Images

In most leagues, Arian Foster was the first to go off of the draft board. He hasn't lived up to the expectations of being the top fantasy football player this year, but he certainly has not disappointed his owners.
Through eight games, Foster has 844 total yards and 11 total touchdowns, 10 of which have come on the ground.
It's no surprise that Foster is in the top 10 through nine weeks.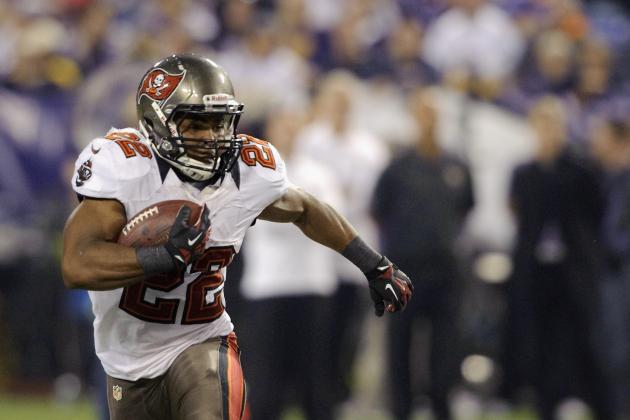 Hannah Foslien/Getty Images

Doug Martin comes in shocking the world. Yes, a lot of people expected him to make some noise this year, but no one expected him to be the top fantasy running back through the first nine weeks of the season.
Martin has totaled 1,039 yards of offense with eight total touchdowns this year. He is on pace to have over 2,000 yards of total offense on the year. That is unheard of for a rookie.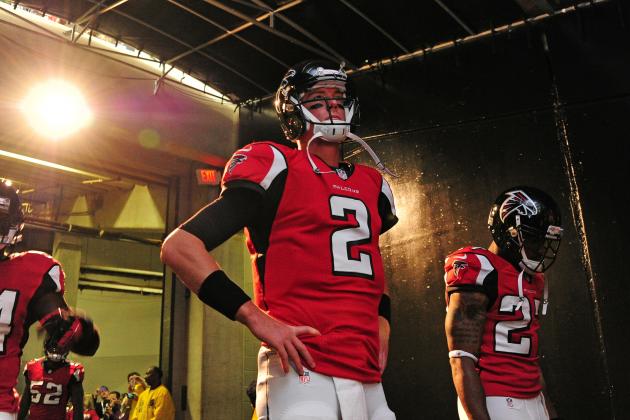 Scott Cunningham/Getty Images

Matt Ryan has three guys he can rely on to make plays every time he drops back to pass: Julio Jones, Roddy White and former University of California basketball player Tony Gonzalez.
Ryan has made very few mistakes this year and has played a significant role in his team's 8-0 record. He has thrown for 2,360 yards, 17 touchdowns, one interception and added a rushing touchdown as well this year.
He should remain in the top 10 for the remainder of the season.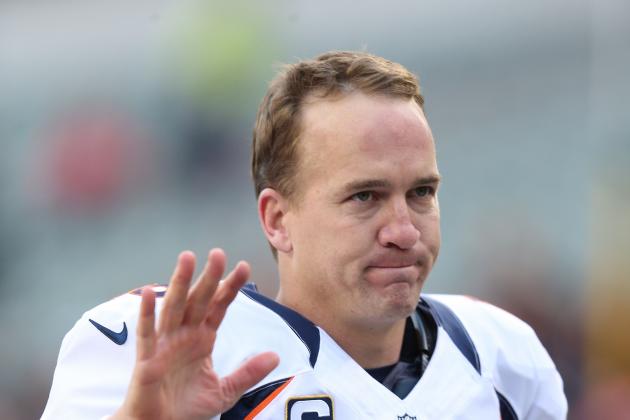 Andy Lyons/Getty Images

Few people expected Peyton Manning to return to his usual form this year following a shoulder injury that held him out for the whole 2011 season.
He has put on one of the most impressive displays of football in his career this year. He is tied for third in the league in passing yards with Andrew Luck, as they have both thrown for 2,404 yards.
Manning is also on pace to throw for 40 touchdowns this year, as he has thrown 20 touchdown passes and we are halfway through the season.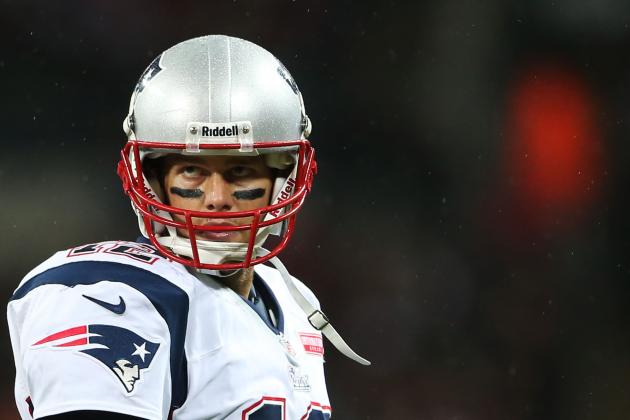 Scott Heavey/Getty Images

It is no surprise that Brady ranks among the top five best fantasy players this year. He has been one of the most consistent quarterbacks of the millennium.
Of course, having two beastly tight ends, Brandon Lloyd, and Wes Welker certainly helps his case, as he has plenty of guys to throw to. This year, he has thrown for 2,408 yards, 16 touchdowns and only three interceptions. He has also added two touchdowns on the ground, which is not like him.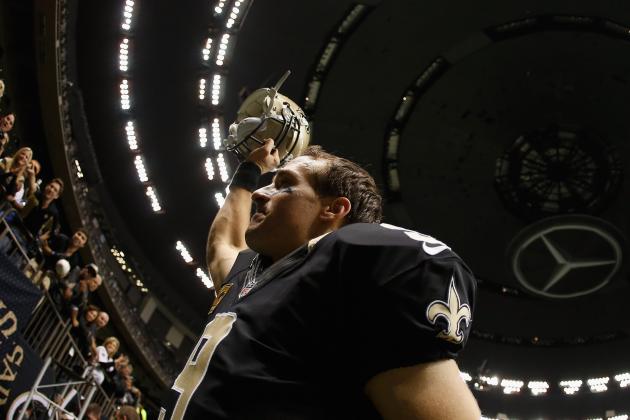 Chris Graythen/Getty Images

While Drew Brees' New Orleans Saints team sits at 3-5 on the year, he has been spectacular throwing the ball. The awful record is by no means his fault one bit.
Brees leads the league in passing yards with 2,549. He is not on pace to break the single-season passing record which he set last year (5,476 yards), but if he steps up his game a notch to try and get his team in the playoff race, he may have a chance to break his own record.
Brees has also thrown for 22 touchdowns.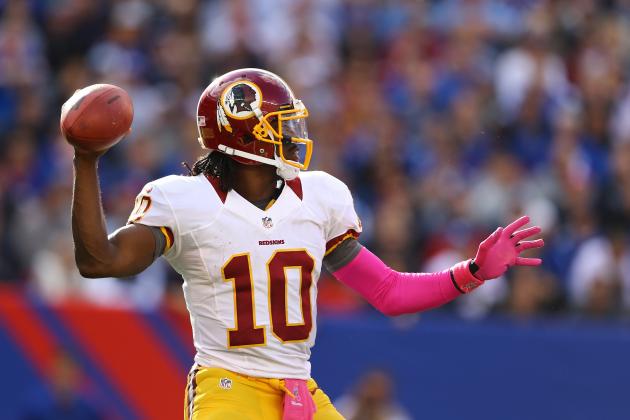 Al Bello/Getty Images

Robert Griffin III rounds out the trio of rookies that have been performing well for fantasy owners. Griffin's multi-threat that he poses on opposing defenses has been tough to handle. It's a shame that his players have dropped over 10 of his passes over the last two games because there is a good chance he would be fantasy's top player, and his team would have a better record than the 3-6 it is currently sitting with at its bye week.
Griffin rarely makes mistakes, as he has thrown for only three interceptions on the year. While his 1,993 passing yards and eight passing touchdowns aren't jaw-dropping, his 529 rushing yards certainly are. He has also added six rushing touchdowns as well, which we know, as fantasy owners, is much more important than passing touchdowns for quarterbacks.
Jonathan Daniel/Getty Images

Aaron Rodgers rounds out the top 10 fantasy players as the league's No. 1 performer thus far. He leads the league in touchdown passes with 25 and is fifth in the league in passing yards with 2,383. Can any other quarterback sling it downfield better than this guy?
The reigning league MVP does have a leg up on most of the league, as he is just hitting his bye week. He has led his Green Bay Packers team to four consecutive victories, right where they need to be at 6-3 heading into their bye.
Rodgers and the Packers currently trail the Chicago Bears for the division lead by a game and a half, but have a slight advantage, as the Packers have already beaten Chicago this year.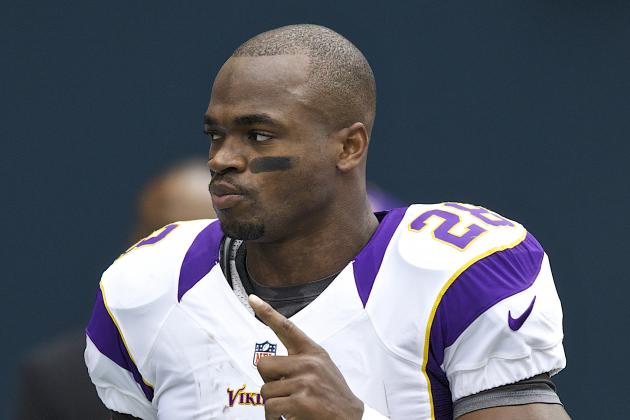 Stephen Brashear/Getty Images

Adrian Peterson has rushed for 957 yards, which has him ranked first in the league. Add his 150 yards through the air, and he totals 1,107 yards of total offense.
Matthew Stafford started off cold, but really picked up his pace on the Lions' recent streak. He has thrown for 2,391 yards on the season with eight touchdowns and seven interceptions. He has also added three rushing touchdowns.