Grading Jeremy Lin's First Week as a Houston Rocket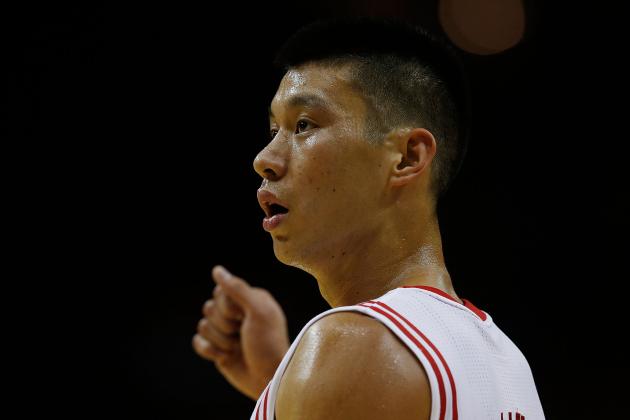 Scott Halleran/Getty Images

After a highly-publicized free-agency summer, Jeremy Lin has finally started to bring Linsanity to Houston. He struggled in the preseason and shot just 28 percent from the field, but GM Daryl Morey gave him a great early Christmas present in trading for the ultimate go-to guy in reigning Sixth Man of the Year James Harden.
Since then, over the regular season's first week, the Rockets have gone 2-2 and look like a team well on its way to regular playoff contention.
However, how much of the credit belongs to Lin? Granted, he has done a fine job as the team's floor general and is adapting well to coach Kevin McHale's system, but he still has a lot to learn about playing consistent offense in the aftermath of Linsanity.
He is one of the NBA's most coachable players and has a great attitude, but that can only get someone so far in the league. Taking multiple factors of Lin's game into consideration, the question presents itself.
In terms of his first week with his new team, did he get the job done?
Begin Slideshow

»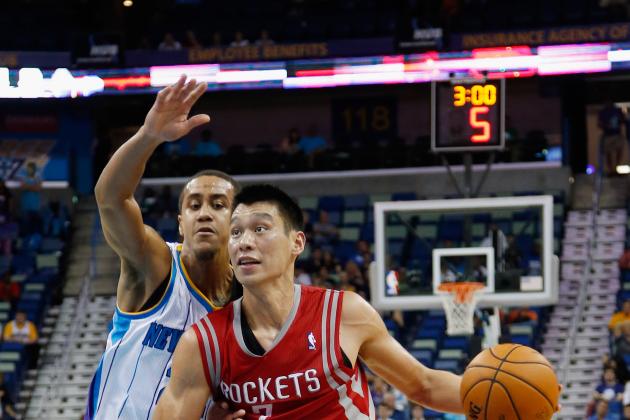 Chris Graythen/Getty Images

If there's any problem with Lin right now, it's that he doesn't know what type of point guard he is. He's stuck somewhere between being the high-scoring Steve Nash type and the pesky pass-first defensive kind, sort of like a less athletic Rajon Rondo. As a result, it's hard to say where he ranks among other NBA point guards on skill level alone.
However, one thing that we can say about Lin is that he is one of the peskiest defenders in the league. His averaging 3.3 steals per game thus far proves that, as does his determination to lock his man down possession after possession. On top of that, he has good court vision and can find the open man and create plays to the tune of seven assists per game.
Turnovers continue to be a problem for him at three a game, but the rest of his skills are starting to overshadow that flaw. To put a number on his ranking is tough, but we can say with confidence that he's shooting up in the ranks each and every game.
Thus, don't let his 13 points per game on 36 percent shooting fool you. Once he learns how to pick his shots carefully, he's going to be something special.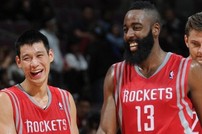 photo courtesy of blackchristiannews.com
One thing Lin has always been good at doing is building relationships with his teammates, and the work he has done with James Harden is just plain incredible. The team's new star shooting guard was acquired from the Oklahoma City Thunder just days before the regular season started, with the Rockets sending Kevin Martin, rookie Jeremy Lamb and draft picks in return.
Considering how Lin didn't have a preseason with his new teammate and only had a few days to get to know him, the results have spoken for themselves. Harden scored 37 points, pulled down six rebounds and dished out 12 assists in Houston's first game, a 105-96 victory over the Detroit Pistons on Halloween.
As of now, the former Arizona State Sun Devil is leading the NBA in scoring with 30.3 points per game, with guys like Kobe Bryant, LeBron James and even three-time scoring champion Kevin Durant trailing him.
With teammate Patrick Patterson also having a career season to the tune of 13 points and six boards per game, it's a safe bet that Lin and his teammates are getting along just fine.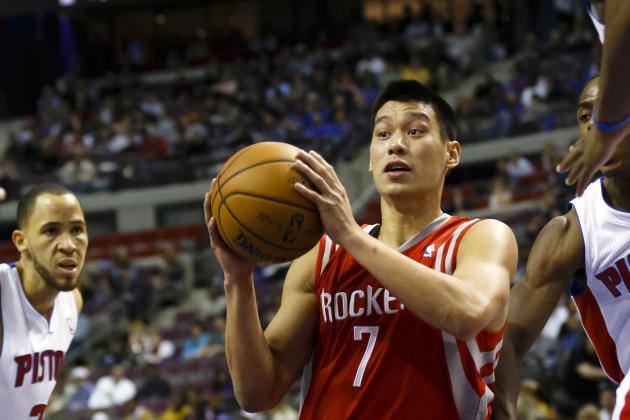 Rick Osentoski-US PRESSWIRE

One thing that Lin has always done consistently well is play defense. He is a pest by nature and averaged 1.9 steals per game at Harvard. On the NBA level, that number has barely dropped, standing a 1.5 per contest.
The fact is that despite his flaws, Lin has always been a team-first player. He understands that his offensive game isn't strong enough to the point where he can be solely a scoring point guard, so he works even harder to make sure that his defense is more than simply acceptable. That approach has worked thus far this season, as he is averaging 3.3 swipes and came away with six steals in his team's loss to the Denver Nuggets Wednesday night.
Also, despite being just 6'3", 200 pounds, Lin crashes the boards regularly and is averaging 5.5 rebounds per game this season.
That said, in the defensive department, there's not much more that he can be doing that he isn't already.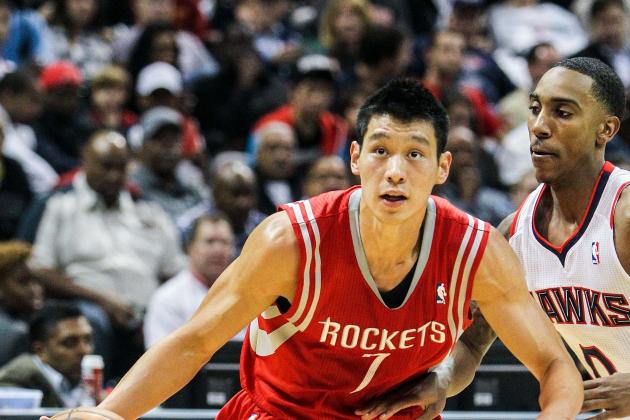 Daniel Shirey-US PRESSWIRE

When it comes to the intangibles, Lin has some great ones that set him apart from most other players in the league. His offense may not be the best, but his determination to do well in that department is off the charts.
He turns the ball over a bit too much, but he stops at nothing to improve. More importantly, his court vision is unbelievable and his motor runs at a speed most people can only dream of driving.
Most important of all, however, is Lin's ability to instantly shrug off critics and not crack under pressure. If he's nervous, he never lets anyone see it. So many people have called him overrated, but he continues to work hard and play hard night after night.
Simply put, the intangibles that Lin brings to the table are in a league of their own. Despite all of his critics, he remains determined to be the best and finally silence them. With that attitude, it's going to happen.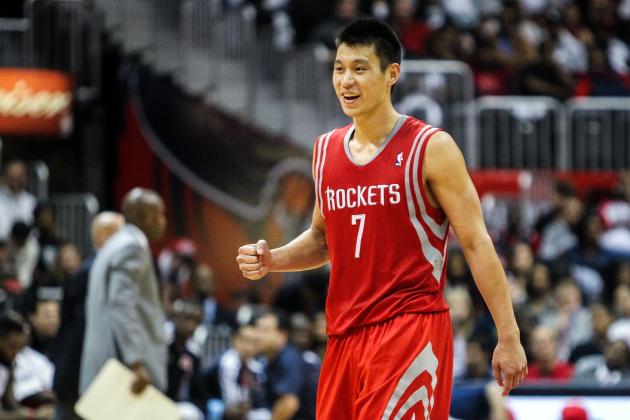 Daniel Shirey-US PRESSWIRE

Is Jeremy Lin a talented point guard? To a degree, yes. Is he the best at his position? Not by a long shot.
Lin is a fine passer who can play some great defense and has a motor most coaches only dream of seeing in their players, but his offensive game is still raw. The way he has played this season, not to mention all of March last season, has shown that he scores points best in a fast-paced pick-and-roll style offense in which he is the star of the system. Just how Steve Nash was the star of the show when Mike D'Antoni coached in Phoenix, so was Lin during Linsanity.
Granted, Kevin McHale runs a similar type of offense, but James Harden was brought in to be the big man on campus with Lin serving as something of the puppet master, creating the plays and setting everything up so that he and Harden could succeed in tandem with one another.
As a result, while Lin is not a bad player by any means, he still has a long way to go before becoming a top point guard. His final grade isn't overwhelmingly good, but it isn't bad by any means and shows that with improvement, it can go up.
Final Grade: B-