Predicting Where the Top 10 2013 NFL Free Agents Will Play Next Year
Chris Trotman/Getty Images

The National Football League has decided to go with the flat cap in 2013. This means teams will be in an unenviable position of having to cut certain players, trade others and attempt to restructure the contracts of some stars.
This seems to indicate there will be more free agent activity than in previous seasons. Certain teams will have to avoid the franchise tag altogether because they won't have the salary flexibility to pay a top five contract at a specific position.
Adding more fuel to the fire is the fact that there are a tremendous amount of great free agents set to hit the open market following the 2012 season. Joe Flacco, Wes Welker and Cliff Avril first come to mind.
Today's article is going to focus on the top 10 free agents of the '13 class and where they might end up when the new league year begins next March.
Begin Slideshow

»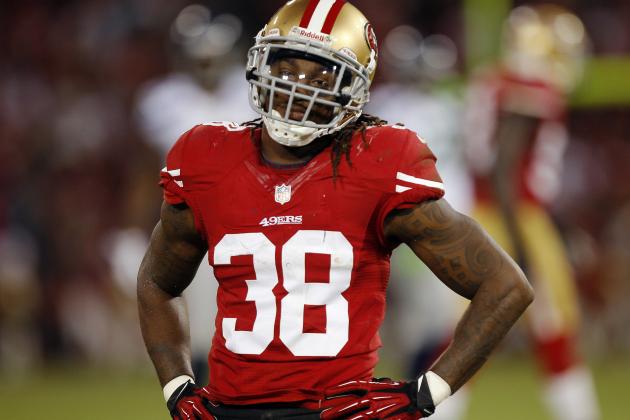 Brian Bahr/Getty Images

Dashon Goldson is on the verge of putting together back-to-back Pro Bowl seasons. This is a step forward for a player that had struggled with consistency prior to the 2011 season.
While Goldson does leave something to be desired in coverage, he is as physical as they come in the back end of the defense. Goldson literally scares the collective jockstraps off receivers. This is something that cannot be overstated enough. If the offense is afraid to go up the middle in the passing game, it leaves them in a precarious position.
The San Francisco 49ers will do everything in their power to retain Goldson, but it isn't guaranteed that he will return. The strength of a 3-4 defense sits in the front seven, a belief San Francisco fully understood when they refused to give Goldson the type of money Michael Griffin received last offseason from the Tennessee Titans.
The most likely scenario here is that San Francisco decided to place the franchise tag on Goldson once more. While it is far from a long-term solution, the 49ers are going to do everything in their power to keep together one of the best defensive cores in the NFL.
Prediction: San Francisco 49ers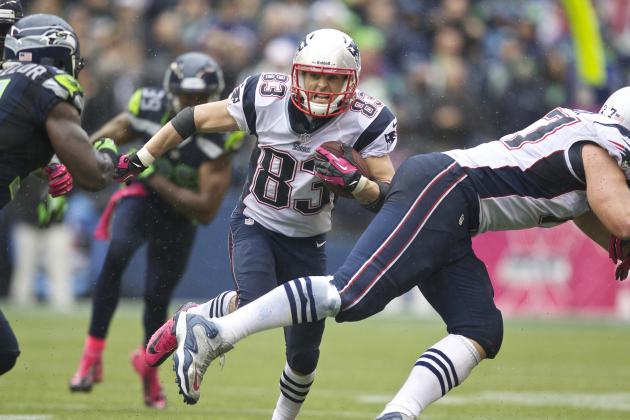 Stephen Brashear/Getty Images

Just last year it was a foregone conclusion that Wes Welker would finish out his career with the New England Patriots. After a volatile offseason between the receiver and his team, we aren't completely sure this is the case anymore.
The sticking point? Welker wants a long-term extension and the Patriots are weary of giving a 31-year-old receiver that type of commitment, especially one that stands at just 5'9".
This doesn't mean that something cannot be worked out. Instead, it just indicates that the idea of Welker returning to Foxboro is nowhere as certain as it was before. We also have to take into account that the Patriots' organization doesn't like to overpay for their only players and would rather let another team around the NFL do so.
One team that I could easily see making a play for Welker is the Dallas Cowboys. They could use a solid receiving threat in the slot after a myriad of different options over the last couple of seasons.
Of course this would take some serious salary cap maneuvering. Dallas has nearly $40 million of what projects to be a $121 million cap committed to Miles Austin, Brandon Carr, Doug Free and Tony Romo.
That doesn't leave them a whole lot to work with, especially considering a multitude of other players on its roster will make more than $5 million in 2013. The Cowboys will have to restructure their roster if they look to be free agent players this season.
I just get a feeling that Jerry Jones and company are going to go for broke one more season with this roster, no matter how Cowboys fans feel about it. Welker would be a solid addition in the slot in Dallas.
Prediction: Dallas Cowboys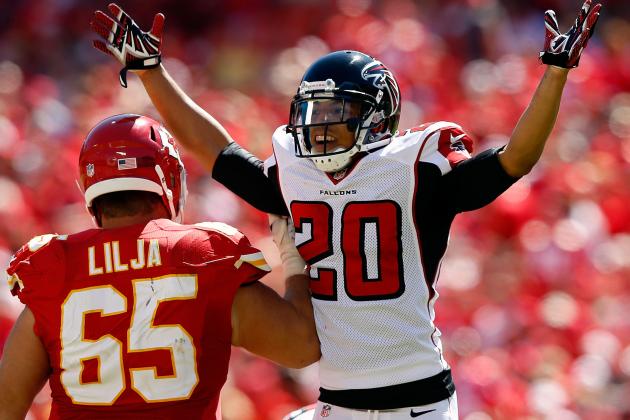 Jamie Squire/Getty Images

Brent Grimes was set to be one of the most sought-after free agents following 2012 until he injured his Achilles in the Atlanta Falcons' season opening win over the Kansas City Chiefs. Less than 60 minutes into the year and Grimes was gone.
Atlanta's defense has played exceptionally well against the pass this season, ranking 14th in the NFL in that category. For comparison's sake, it ranked 20th against the pass last season with Grimes in the fold.
The Falcons also have a total of about $35 million allocated to Matt Ryan, Michael Turner, Roddy White, Dunta Robinson and Ray Edwards. In addition, they have a ton of youngsters to worry about in terms of contract extensions: Julio Jones coming to mind first.
I just don't see them giving Grimes franchise type money at a position that has been a relative strength this season following the addition of Asante Samuel in a trade with the Philadelphia Eagles.
There are multiple teams that could use a No. 1-caliber cornerback. The Miami Dolphins come to mind first. They traded Vontae Davis to the Indianapolis Colts back in September and have struggled a great deal against the pass this season. Neither Sean Smith or Richard Marshall appear to be great cover guys on the outside. Nolan Carroll is nothing more than a nickel back on a good defense either.
I could easily envision a scenario where Miami doles out some free agent cash to help fortify one of the only weaknesses on its roster
Prediction: Miami Dolphins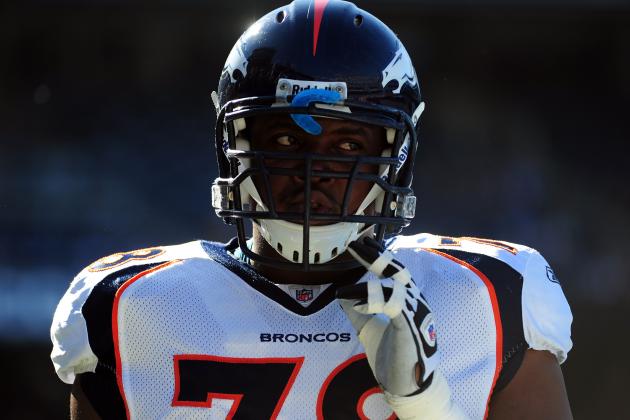 Harry How/Getty Images

According to Pro Football Focus, Ryan Clady has allowed two hits and four hurries all season long. To say he has stepped up in protection of Peyton Manning would be an understatement.
This performance might have also priced him out of the Denver Broncos' range. They are obviously set to pay the likes of Manning and Elvis Dumervil, among others, a ton of money in 2013.
Whether it is Manning under center short-term of Brock Osweiler in the future, Denver is going to need to have that franchise left tackle. After a season or two of struggles, mostly due to injury, Clady has returned to that form.
Denver will do everything in its power to retain Clady, including slapping him with the franchise tag.
Prediction: Denver Broncos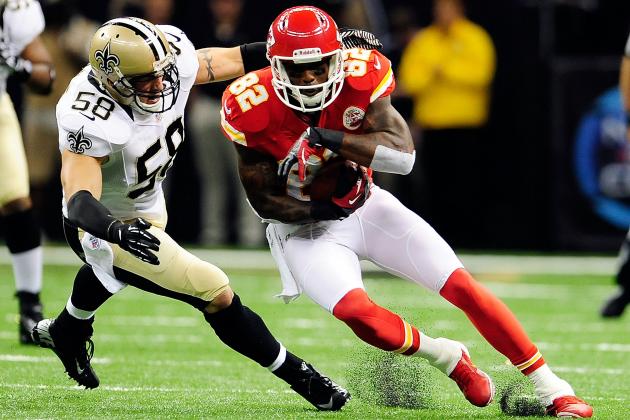 Stacy Revere/Getty Images

It isn't a secret that Dwayne Bowe wants out of Kansas City. Do you blame him? The Chiefs have no quarterback, a lackluster coaching staff and underachievers at nearly every position on the roster.
For his part, Bowe continues to make plays and prove himself to be a legit No. 1 wide receiver in the National Football League. There is now a growing divide between the receiver and the only team that he has ever suited up for on Sundays.
Various reports indicated Kansas City was talking to other teams around the NFL trade deadline in order to gauge interest in the talented receiver. Jason Cole of Yahoo also reported that Bowe "badly" wanted out of Kansas City.
Of course the Chiefs could place the franchise tag on Bowe, but that doesn't mean that the receiver will be happy and actually sign the tender.
The best thing for both sides at this point is probably a divorce in the offseason. Kansas City needs to move on from this distraction and build a team and organization that can actually contend for a playoff spot in the AFC West.
If Bowe hits the open market, a likely scenario, a multitude of teams would show interest. Of course it helps that they wouldn't have to give up any compensation in order to sign him as an unrestricted free agent... something that couldn't have been said last offseason.
I expect the Miami Dolphins to show the most interest of any team in the league. They have everything you look for in a dynamic offense, but are missing a true No. 1 wide receiver on the outside.
Just imagine the strong-armed Ryan Tannehill throwing bullets to the big body that is Bowe on the outside. That would be one amazing connection. They also seem to have the cap flexibility to get something done, with Jake Long possibly coming off the books.
Prediction: Miami Dolphins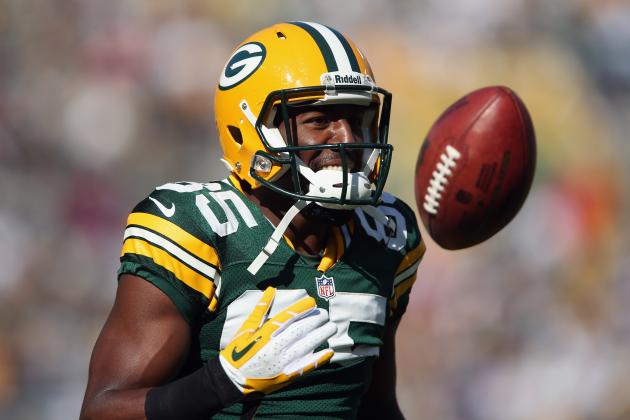 Jeff Gross/Getty Images

A recent rash of injuries to Greg Jennings might have priced him back into the Green Bay Packers' range following the 2012 season. That really isn't even the point right now.
Randall Cobb, James Jones and Jordy Nelson are set to earn less than seven million dollars combined next season. Why pay nearly that amount for a receiver that hasn't produced up to level since the Packers' Super Bowl winning 2010 campaign?
The organizational philosophy in Green Bay over the course of the last two decades has been to avoid paying large sums of money to free agents, whether they are in house or not. Don't expect this to change, especially at a position of strength. The economics just don't seem to make a whole lot of sense.
Mark Sanchez might be nothing more than an average quarterback in the National Football League. With that in mind, it is important to note he isn't getting a lot of help from receivers on the outside this season.
Once Santonio Holmes went out with a season ending injury against the San Francisco 49ers in Week 4, it seemed the New York Jets' receiving core struggled a great deal.
While Jeremy Kerley and Stephen Hill are nice young options for New York, it appears they are going to go out there and spend money on a proven wide receiver. Jennings would provide them with that instant go-to guy on the outside. He would also be affordable considering the rash of injuries I mentioned above.
Either way, Jennings most likely won't be returning to Green Bay in 2013.
Prediction: New York Jets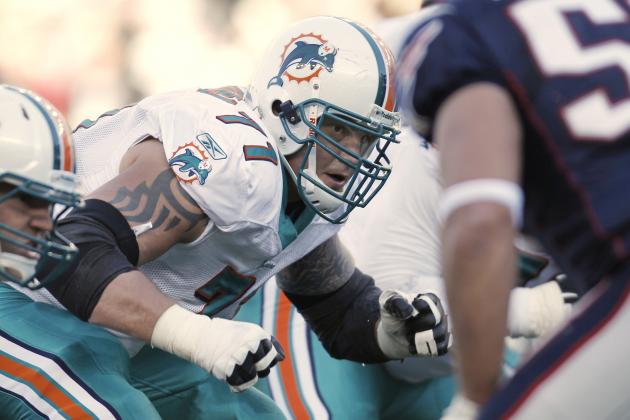 Winslow Townson/Getty Images

There have been mentions that the Miami Dolphins will look to part ways with Jake Long following the 2012 season. I am not sure if that is due to the fact that they don't want to pay him franchise money or actually don't believe he is a franchise tackle.
Either way, it goes without saying that Long would draw a lot of interest on the open market.
That being said, Pro Football Focus has the former No. 1 overall pick as the 43rd ranked offensive tackle and indicates he is struggling with the Dolphins' new blocking scheme.
Back in April, Mike Berardino of The Sun Sentinel indicated the arrival of Jonathan Martin in the second round of the 2012 NFL Draft might spell a relatively quick end to Long's tenure in Miami. His reasoning was simple and seems to have played out thus far this season.
....Now along comes Philbin and his lean-and-mean approach, which puts a premium on mobility and not as much on the brute strength Bill Parcells and Tony Sparano idolized.
In short, Long may no longer be a fit in Miami's new offense.
Despite injury issues in the past, the stud left tackle appears to be back at full health in 2012 and will draw a tremendous amount of interest.
One of the many teams looking for a starting left tackle is the St. Louis Rams, who have struggled in pass protection throughout the last few seasons. Sam Bradford has gone down a total of 59 times in his last 18 starts, representing one of the highest numbers in the NFL during that span.
St. Louis could easily move talented young left tackle Rodger Saffold over to the right side in order to implant Long into the lineup. The need is definitely here and the Rams have the financial ability to get something done.
Prediction: St. Louis Rams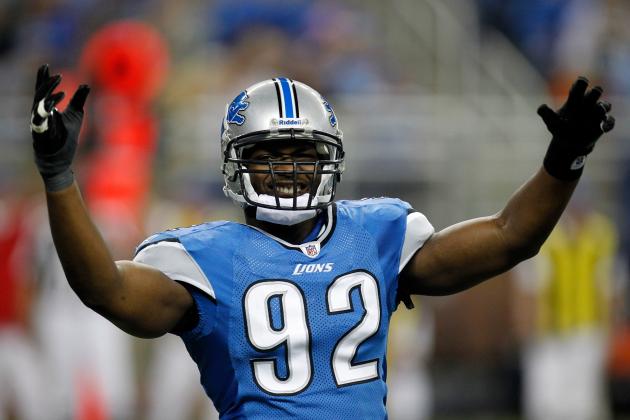 Gregory Shamus/Getty Images

Cliff Avril was not happy with being given the transition tag prior to the 2011 season. He was even less happy about being thrown the franchise tag this last offseason. The talented young pass-rusher wants a long-term commitment with a ton of guaranteed money.
The Detroit Lions are going to have to pay Avril that money if they want to remain viable contenders in the NFC. He is one of their few difference makers on the defensive side of the ball.
I just don't envision a scenario where Detroit even lets Avril hit the open market. That would be a catastrophe for an already questionable defense.
Not much more to say here.
Prediction: Detroit Lions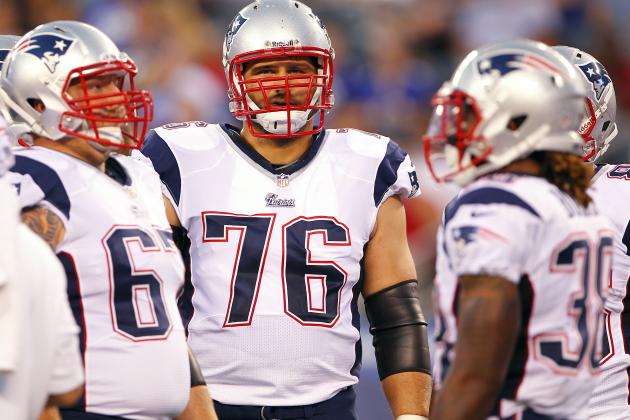 Rich Schultz/Getty Images

The New England Patriots are in a good situation here. They don't have to overpay for Sebastian Vollmer, which would go against the grain for this franchise.
Instead, New England could either go out there and draft a replacement or fill in with the promising Marcus Cannon at right tackle.
I am not sure how the market will play out for Vollmer should he hit it. What I will say is that he is nowhere near a guarantee to return to New England in 2013.
A team that desperately needs help at the tackle position and in pass protection is the Arizona Cardinals. They have been a downright disaster in this aspect of the game over the course of the last couple seasons.
If the Cardinals could find a way to add that veteran offensive tackle to the equation it would only help out their marginal passing game. No quarterback will succeed with the type of pressure that Kevin Kolb and John Skelton have been under recently.
Prediction: Arizona Cardinals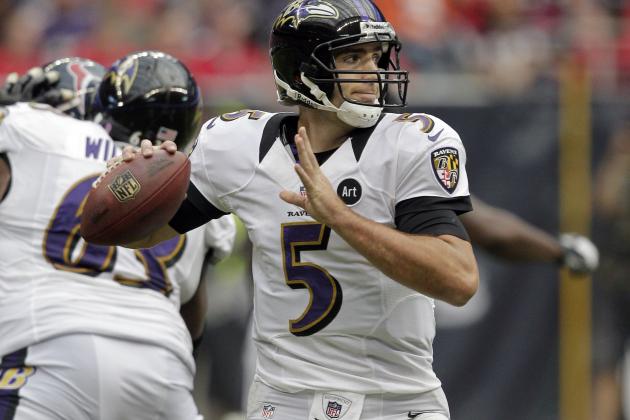 Bob Levey/Getty Images

The Baltimore Ravens helped themselves a great deal by being able to come to a contract extension with Ray Rice prior to the start of the season. This enables them to place the franchise tag on Joe Flacco if that is what they decide to do.
The question here is whether Flacco is a franchise type of quarterback. His winning ways say yes, but his inconsistency leaves a lot to be desired.
With that in mind, it is important to look at logistics here. Who could Baltimore acquire in either the free agent or trade market that would be considered an upgrade right now or long-term answer at quarterback?
I just don't see anyone without a commitment to another team being able to come in and lead Baltimore to the Super Bowl they have been in contention for over the course of the last few seasons. While it remains to be seen if Flacco is that guy, he consistently wins. You cannot ask for a whole lot more than that.
This leads me to believe that if it came down to it, Baltimore would use the all important franchise tag in order to keep Flacco off the market. Unless, of course, another Peyton Manning comes across.
Prediction: Baltimore Ravens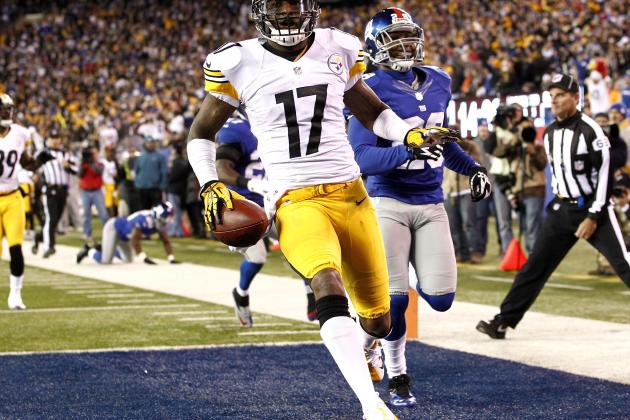 Jeff Zelevansky/Getty Images

It didn't make a whole lot of sense to do individual slides for restricted free agents. We already know a vast majority of them are retained by their original teams. With that in mind, it is important to take a look at the top restricted free agents in order to gauge where they stand.
Mike Wallace, Wide Receiver, Pittsburgh Steelers
To say the situation between Wallace and Pittsburgh's front office is strained would be an understatement. General Manager Kevin Colbert refused to negotiate a long-term contract with the talented receiver in the offseason. In turn, Wallace held out late into the preseason.
Pittsburgh continues to have a major negotiating chip here. Wallace will, once again, be a restricted free agent. This means any team signing him will have to give Pittsburgh a first-round pick as compensation. Depending on how Wallace performs for the remainder of the season, that might not be a really high price to pay for a contending team. I still think these two sides find a way to come together on a long-term contract in the offseason.
Victor Cruz, Wide Receiver, New York Giants
There is absolutely no way the Giants will let Cruz walk in the offseason. In fact, I envision a scenario where the two sides come to a lucrative long-term contract extension shortly after the 2012 season ends.
I understand why neither side were interested in talking about such a long-term commitment in the offseason, but the time has come for them to get something done. Heck, I don't think Eli Manning would let Cruz leave the state of New Jersey following the final team meeting without a contract in hand. I wouldn't!
All free agent information provided by Spotrac
Follow me on Twitter @VincentFrankNFL