NY Giants Midseason Grades for the Offense: Eli, Cruz, Nicks, Bradshaw and Co.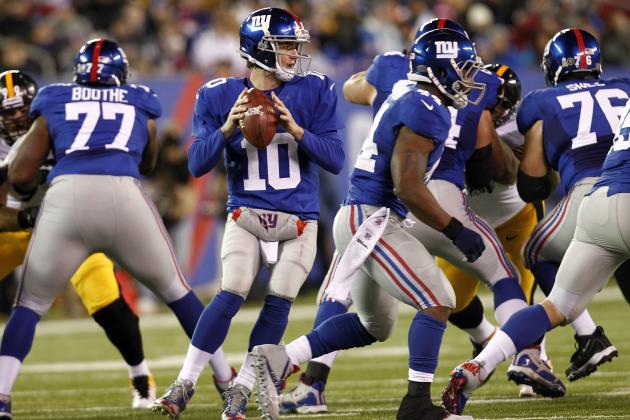 Jeff Zelevansky/Getty Images

The defending Super Bowl champion New York Giants are at the midpoint of their season. They sit at the top of the NFC East with a 6-3 record, seemingly sitting pretty with a three-game lead over Dallas, Philadelphia and Washington.
But all is not well with head coach Tom Coughlin's G-Men. If they really want to make a run at defending their championship, they have a lot of work to do. Here are midseason grades for Eli Manning, Victor Cruz and the rest of the offense.
Begin Slideshow

»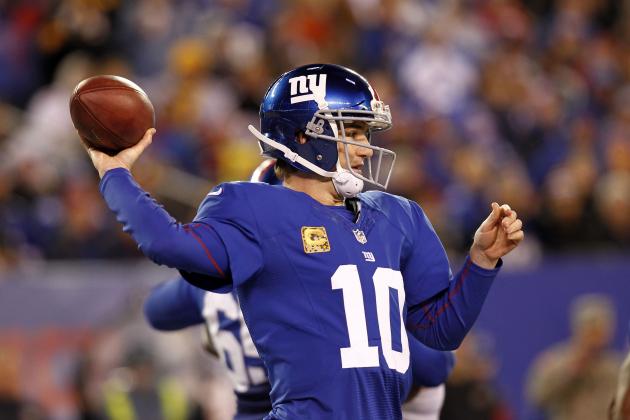 Jeff Zelevansky/Getty Images

This grade could have easily been an A, if not for the two dismal games against Dallas and Pittsburgh, where errant throws and poor decisions reared their ugly heads again.
The numbers don't lie: second in passing yards with 2,426, 20th in percentage at 61 percent, 19th in QB rating at 85.5, 12 TDs and nine interceptions. These are not elite numbers.
However, his proven track record gives him the benefit of the doubt. The expectation is that he will bounce back. In order for the Giants to get into the playoffs and make a run at defending their title, he has to.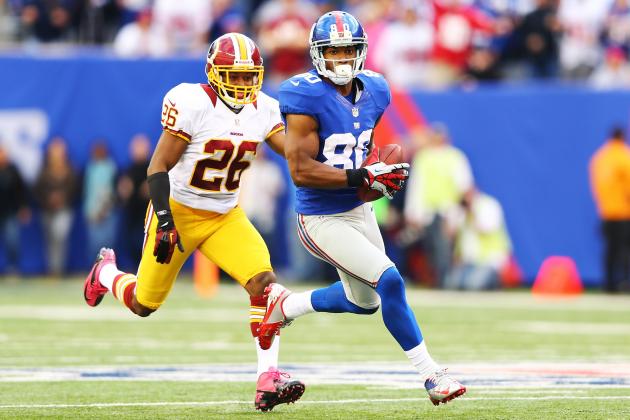 Al Bello/Getty Images

The numbers are there: sixth in receptions with 57, seventh in yards with 717, second in TDs with seven. However, he is finding out that life in the NFL as a sophomore is not the same as a rookie.
He is being mugged off the line continuously, and he has had some bad drops. When he does get free, he is the best slot receiver in the business, and that is amazing for a second-year player. He is arguably the Giants' best player.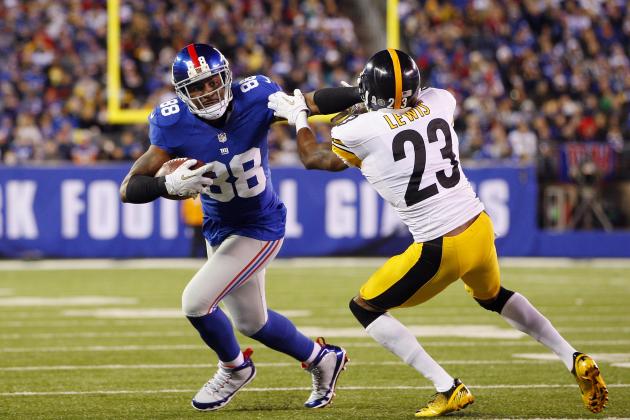 Rich Schultz/Getty Images

Hakeem's grade should probably be an incomplete due to injuries, but this is the NFL and gamers need to play hurt. He is a huge threat when his is healthy and the perfect complement to Cruz, making them one of the top tandems in the league. He just needs to get healthy.
Until then, it's difficult to grade him higher.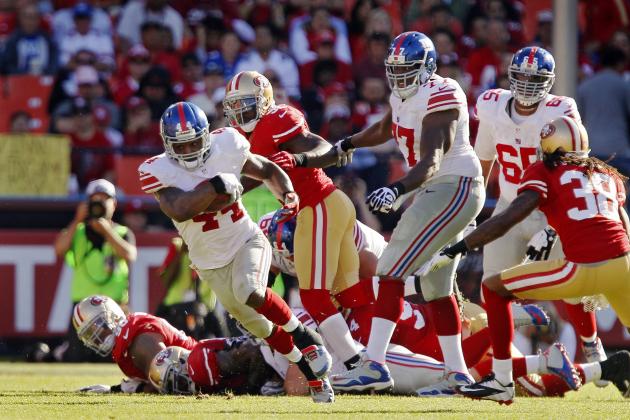 Brian Bahr/Getty Images

Although he has the heart and determination of a lion, he is proving to be brittle, and he seems to have lost a step. He has been inconsistent: 300-plus yards in two games, combined with head-scratching losses behind the line of scrimmage at critical times.
Andre Brown, who proved he is worth a long hard look, is breathing down his neck for playing time. If Bradshaw does not pick it up, Brown will replace him.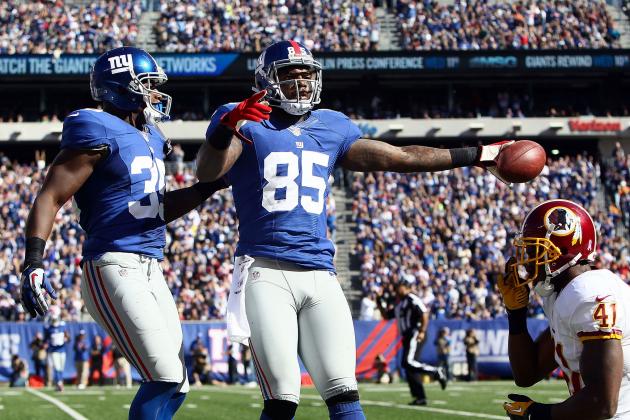 Alex Trautwig/Getty Images

A huge pickup for the Giants after losing Boss and Ballard in consecutive years, they needed a reliable tight end who could catch and block. He has shown flashes of brilliance, as he's second on the team in receptions with 32.
But there have been some drops and miscommunication with Eli. His blocking is serviceable, but still needs some work. The expectation is that he will continue to learn his way in the system and get better.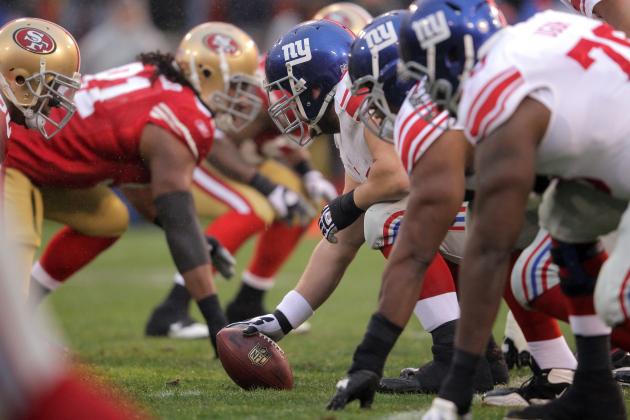 Doug Pensinger/Getty Images

Without an effective O-line, the Giants are doomed. The line has been overhauled, with only two linemen left over from just a few years ago. The pass blocking has been outstanding, keeping Eli on his feet—they're near the bottom of the league in sacks allowed.
However, consistent run blocking is another story. They are either awesome or awful. The passing game is the heart of the offense, so the goal of the running game is simple: Get first downs on short-yardage situations, keep defenses honest and eat up the clock during crunch time. They need to get better at all of these.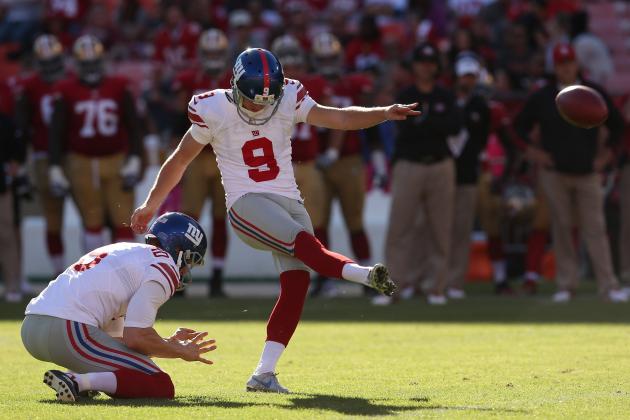 Stephen Dunn/Getty Images

It's usually not a good sign when your place kicker garners the highest grade on the offense, but in this case, it is. Lawrence has shined with the Giants' inability to get into the end zone while in the "green zone," as Tom Coughlin calls it.
He has reached 100 points faster than anyone in history and has literally won games by hitting 24-of-26 field goals.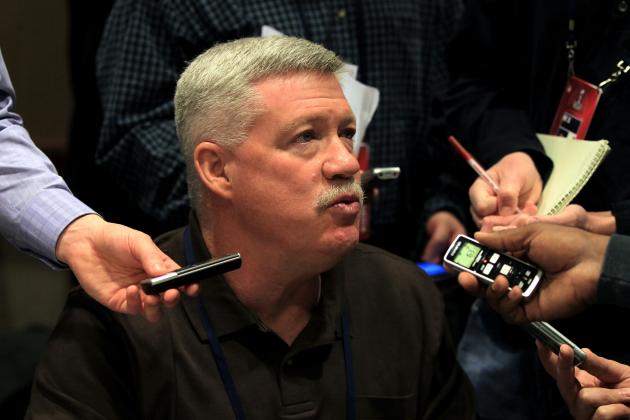 Scott Halleran/Getty Images

Coach Gilbride has earned the reputation and respect as one of the best OCs in the business. And he has proven his teaching ability by developing a young QB into an elite QB. He is a patient play-caller and does a great job at adjusting to what defenses give him.
This year has been no different, with one major exception: He has lost the ability to get into the end zone consistently. Right now they are awful at this, and it is costing them in the standings. He needs to get creative and find ways to get into the end zone from inside the 20 more consistently. Continuously settling for three points instead of seven is a recipe for disaster.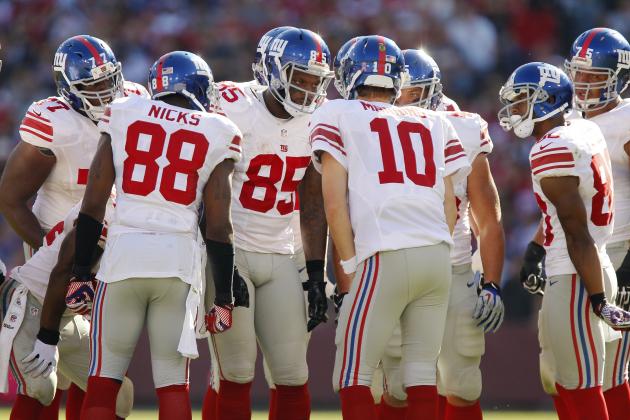 Brian Bahr/Getty Images

The Giants are loaded with playmakers in a well-designed high-powered offense. But they need to perform at a higher level than they have been in order to get to the dance and defend their title.
There is obvious work to be done. Eli needs to get back to being elite. The run game needs to get better. And most importantly, they need to score more from the green zone. Giants fans hope they have yet to play their best football.