Mississippi State vs. LSU: Complete Game Preview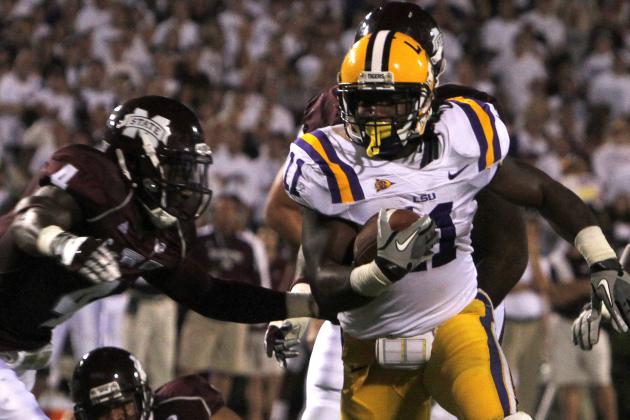 Butch Dill/Getty Images

Just when LSU thought it would get a break after a heartbreaking defeat to Alabama last weekend, in comes the No. 21-ranked Mississippi State Bulldogs to Baton Rouge for what should be another classic SEC slugfest.
LSU topped Mississippi State last year early on in the season by a score of 19-6. This year's game figures to be another, grind-it-out style football game between two teams that have both have just two losses this season.
Can Les Miles' team get back on track and rebound from last week's game?
Let's find out as we provide a complete game preview for LSU vs. Mississippi State.
Bleacher Report Style!
Begin Slideshow

»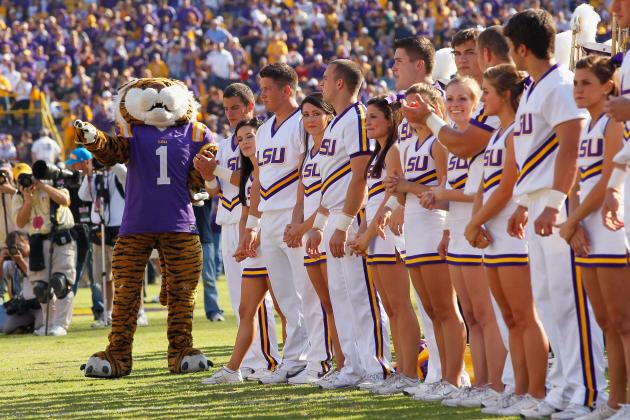 Kevin C. Cox/Getty Images

Who: LSU vs. Mississippi State
When: Saturday, Nov.10, at 7 p.m. (EDT)
Where: Baton Rouge, La.

Stadium: Tiger Stadium
TV: ESPN
Radio: Eagle 98.1 WDGL (LSU)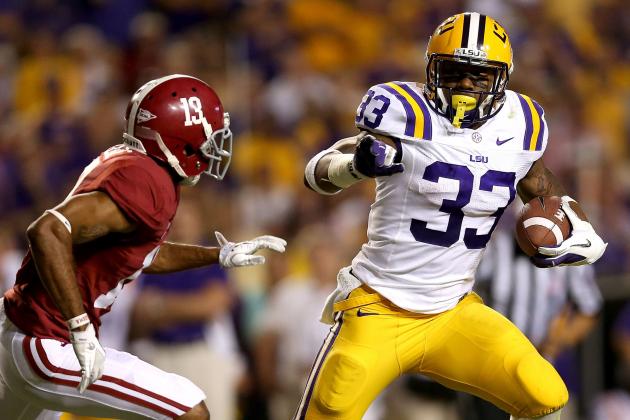 Matthew Stockman/Getty Images

Offense
QB: 8 Zach Mettenberger
17 Steven Rivers
RB: 33 Jeremy Hill
42 Michael Ford
11 Spencer Ware
27 Kenny Hilliard
FB: 44 J.C. Copeland
43 Connor Neighbors
X: 86 Kadron Boone
82 James Wright
Z: 3 Odell Beckham Jr.
10 Russell Shepard
3-Wide: 80 Jarvis Landry
LT: 68 Alex Hurst
RT: 72 Vadal Alexander
LG: 70 La'el Collins
RG: 74 Trai Turner
C: 64 P.J. Lonergan
Defense
LE: 49 Barkevious Mingo
LT: 77 Josh Downs
RT: 18 Bennie Logan
90 Anthony Johnson
RE: 99 Sam Montgomery
LB: 52 Luke Muncie
LB: 46 Kevin Minter
LB: 57 Lamin Barrow
CB: 32 Jalen Collins -or- 28 Jalen Mills
CB: 24 Tharold Simon
FS: 1 Eric Reid
SS: 6 Craig Loston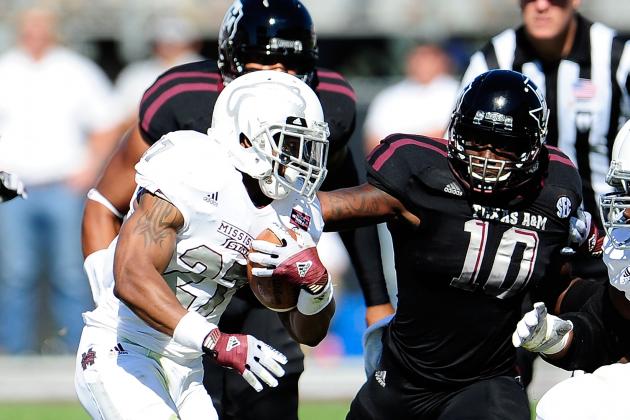 Stacy Revere/Getty Images

Offense
QB: Tyler Russell
RB: LaDarius Perkins
WR: Arceto Clark
WR: Chris Smith
WR: Chad Bumphris
TE: Marcus Green
OT: Blaine Clausell
OT: Charles Siddoway
OG: Gabe Jackson
OG: Tobias Smith
C: Dillon Day
Defense
DE: Kaleb Eulls
DE: Denico Autry
DT: Josh Boyd
DT: Curtis Virges
LB: Deontae Skinner
LB: Cameron Lawrence
LB: B. McKinney
CB: Johnthan Banks
S: Corey Broomfield
S: Nickoe Whitley
CB: Darius Slay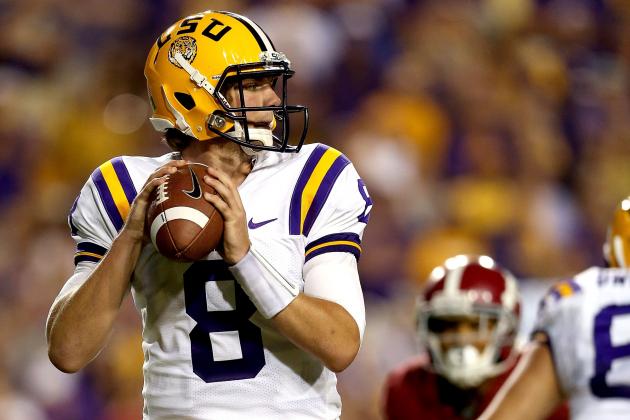 Matthew Stockman/Getty Images

The Tigers played arguably their best game of the season but came up just short of defeating No.1-ranked Alabama in what could be the best game of the season in the SEC.
Zach Mettenberger was outstanding in this one, completing 24 of 35 passes for 298 yards and a touchdown against what many believe is the top defensive unit in the country.
LSU's rushing game was solid as well, led again by freshman Jeremy Hill. The talented back has emerged as LSU's top option out of the backfield, carrying the ball 29 times for a game-high 107 yards and a touchdown in the loss.
With the loss, LSU fell to 7-2 on the season and is now ranked No. 7 in the BCS standings and No. 9 in the Associated Press Top 25 Poll.
That ranking could go up with a big win over Mississippi State on Saturday.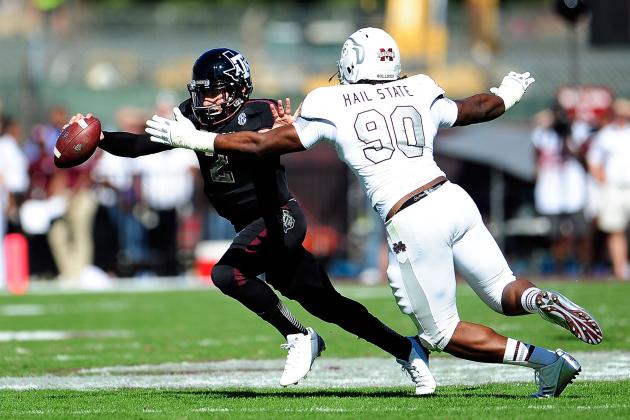 Stacy Revere/Getty Images

After starting the 2012 season off with a perfect 7-0 record, Mississippi State has faced two tough opponents over the past two weeks in Alabama and Texas A&M.
Unfortunately for the Bulldogs, they got blown out in both of those games.
This past weekend, freshman sensation Johnny Manziel lit up the Mississippi State defense in a 38-13 loss to the Texas A&M Aggies.
The Bulldogs gave up an eye-popping 693 total yards of offense to the Aggies in the blowout loss, while being held under 100 yards rushing in the game on offense.
Mississippi State has now been outscored 76-20 over its past two games.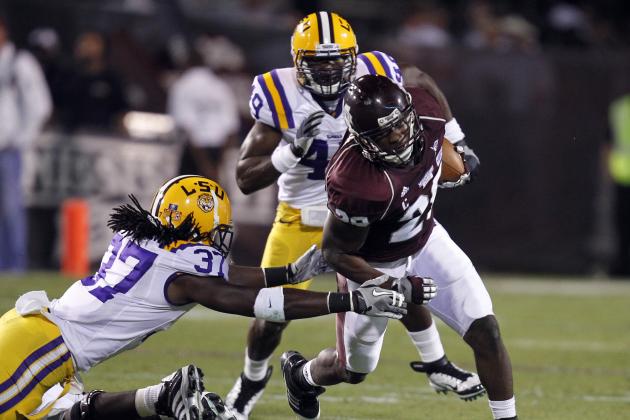 Butch Dill/Getty Images

Even though both of these teams feature identical 7-2 records, this game does not necessarily have the same meaning for both teams.
With a win here, LSU would improve to 8-2 overall and 4-2 in the SEC. More importantly, the Tigers would keep their chances alive for a spot in the BCS.
Closing out the season with games against Ole Miss and Arkansas, the idea of going 10-2 is certainly within reach, and that would likely put the Tigers in a BCS bowl game. But it has to start with a win here over a good Mississippi State football team.
For the Bulldogs, this game serves as a chance to get back on track and remain relevant in the SEC picture.
Two straight loses has plummeted Mississippi State's ranking, and a third here against LSU would likely drop the Bulldogs out of the polls all together.
This game is very meaningful for both teams, as the winner should remain alive in the SEC picture.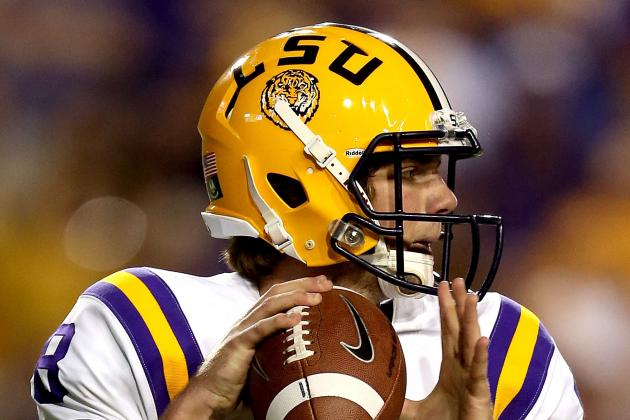 Matthew Stockman/Getty Images

Sure, it's easy to tag the starting quarterback as the key player for LSU, but those who have followed Zach Mettenberger this season should understand why that is.
Mettenberger entered this season with a ton of hype surrounding his name, despite not starting a single game for the Tigers before this year.
He struggled early on in the season and really didn't look like he was going to live up to all that hype that coaches, players and the media had created for him. But that all changed this past Saturday when Mettenberger had what was by far his best collegiate game against a great Alabama defense.
If Mettenberger can ride that momentum and keep playing at that level, this LSU team will be hard to beat this season and beyond.
That right there makes Mettenberger the key player for LSU in this weekend's matchup against the Mississippi State Bulldogs.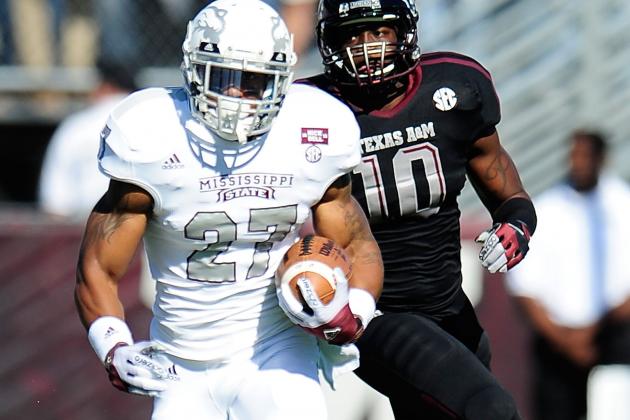 Stacy Revere/Getty Images

Here is a simple equation for you: When LaDarius Perkins runs for more than 70 yards (12 carry minimum), Mississippi State wins football games.
When he dosen't, they don't.
The Bulldogs are 7-2 this season. In those seven wins, Perkins has rushed for a combined 724 yards and eight touchdowns. In the past two games, he has rushed for a combined 80 yards and no touchdowns, both of which resulted in losses.
Perkins has topped the 100-yard mark on four separate occasions this season, two of which have been SEC games (Tennessee and Kentucky).
If Perkins can top the 100-yard mark in this one, it would be hard to imagine Mississippi State not winning or at least keeping this game close.
Stats don't lie. Especially in the case of Perkins.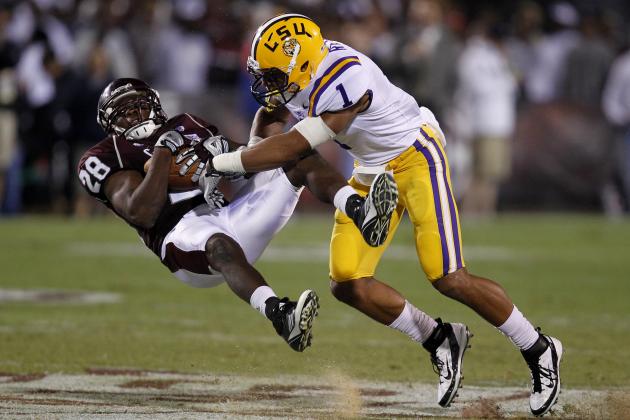 Butch Dill/Getty Images

See that hit in this photo?
That was one of the top hits of the season last year when LSU safety Eric Reid laid out Mississippi State running back Vick Ballard.
If LSU is going to win this year's contest, Les Miles' team is going to have to play with that same type of fire and passion on both sides of the football.
On offense, the Tigers need to remain balanced and mix up a successful run game with that emerging passing game.
On defense, LSU needs to remain aggressive, get after Mississippi State junior quarterback Tyler Russell and contain junior halfback LaDarius Perkins.
Follow that plan and this should result in another win for the LSU Tigers on Saturday.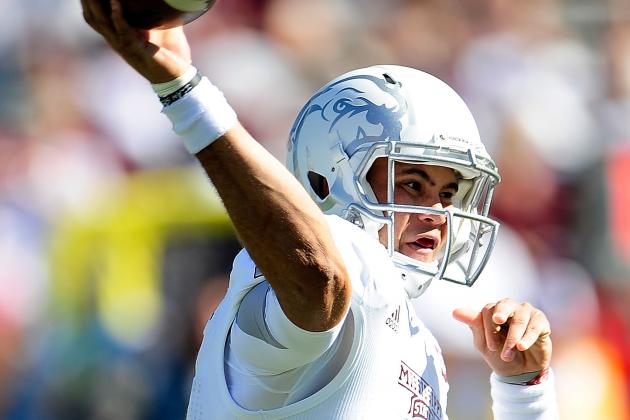 Stacy Revere/Getty Images

Winning on the road in Baton Rouge is never an easy task, just ask No.1-ranked Alabama.
Therefore, if the Bulldogs are going to beat LSU at Tiger Stadium this weekend, they are going to have to play a near flawless game from start to finish.
Junior quarterback Tyler Russell is going to have to be special. He has been very solid this season, throwing for just under 2,000 yards and 16 touchdowns, compared to just three interceptions. But, Russell has struggled against good defenses this season.
Mississippi State is going to need both him and Perkins to step up on offense and that defensive line to get pressure on Zach Mettenberger if the Bulldogs are going to have a chance in this one.
It could happen......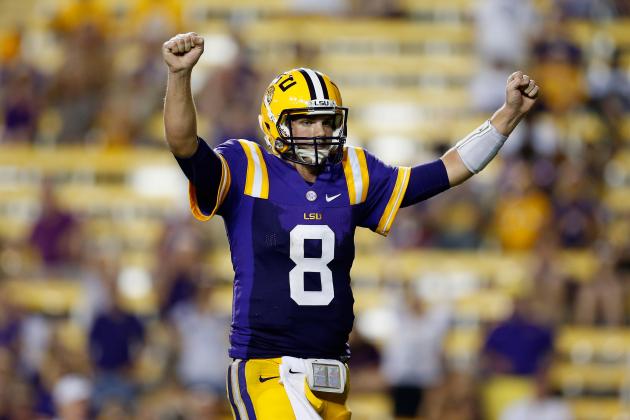 Chris Graythen/Getty Images

Coming off that heartbreaking loss to Alabama, this LSU team should be fired up for this one.
Zach Mettenberger had his coming out party last weekend, and if he can continue to play at that same level, it is hard to believe LSU won't win this football game.
When Mississippi State runs the football well, it wins football games. But, keep in mind that LSU has been very stout against the run this season.
This should be a good game, but in the end, I see LSU grabbing another big SEC victory.
Make it: LSU 27, Mississippi State 9