UFC on Fuel 6: The 7 Best Moments of Rich Franklin's Career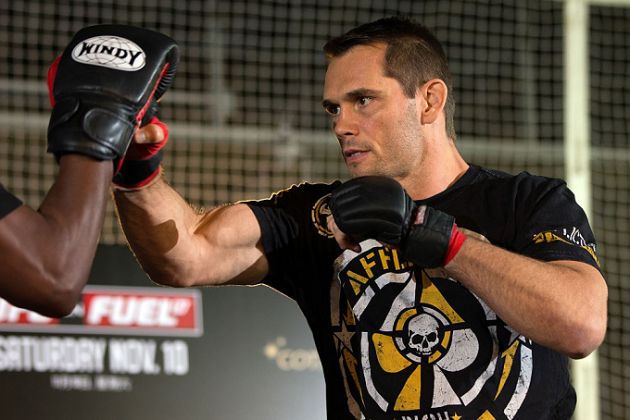 Photo by Josh Hedges/Zuffa LLC/Zuffa LLC via Getty Images
Rich Franklin has accomplished a lot inside the Octagon. On Saturday, he will try to add to his list by defeating Cung Le in the UFC's first trip to China.
The former middleweight champion returns to the 185-pound division for one last run at the title.
The window of opportunity is closing on the 38-year-old, and he knows it. No matter how it goes, Rich Franklin is one of the all-time best to grace the Octagon. He has been an excellent fighter and company man.
Franklin has had several memorable moments throughout his career, and here are seven of the best.
Begin Slideshow

»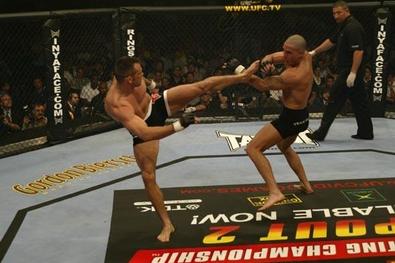 Photo Credit: UFC via Getty Images
In his UFC debut, Franklin went up against Evan Tanner in a light heavyweight bout.
The debuting Franklin made short work of a tough opponent. He was victorious in just 2:40 by way of technical knockout.
It was an impressive debut and gave the UFC a fresh face to promote in future shows.
This was the beginning of a career that would help the UFC reach new heights that no one could imagine at UFC 42. Franklin would quickly make himself a player with the company.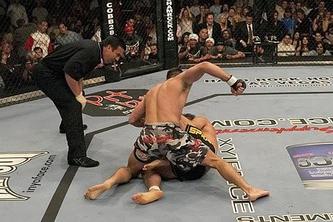 Photo Credit: UFC via Getty Images
This fact is often lost in the shuffle, but Rich Franklin was the headliner for the first finale of The Ultimate Fighter.
After Stephan Bonnar and Forrest Griffin had what would turn out to be the most important fight in UFC history, Franklin stepped inside the cage for the main event against a legend.
Shamrock nearly upset Franklin early on with a leglock, but Franklin survived and quickly finished the fight afterward.
A TKO victory in the first round would elevate his status forever. The televised win—at light heavyweight—was enough to make him the No. 1 contender at middleweight.
He would challenge for that belt in his next fight.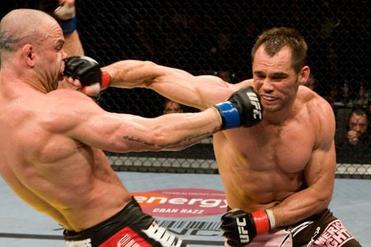 Photo Credit: UFC via Getty Images
At a catchweight of 195 pounds, two stars of the sport came together for an incredible fight.
Wanderlei Silva and Franklin went toe-to-toe for three rounds in a knock-down, drag-out fight.
Franklin would topple the former PRIDE middleweight champion in a unanimous decision win, but it was a hotly-contested fight. What's more, it was only the 10th loss in Silva's storied career.
The battle would earn both fighters a bonus as the Fight of the Night.
However, these two men weren't finished inside the cage. A rematch would occur three years later in a five-round contest.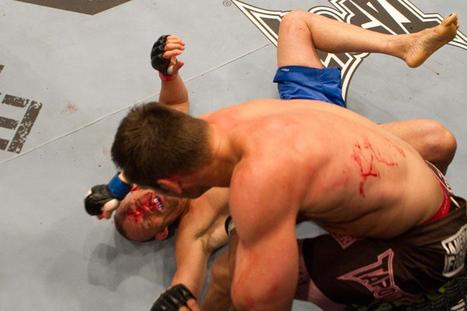 Photo Credit: UFC via Getty Images
At UFC 115, Franklin knocked out and retired a UFC legend. Unfortunately, the timing of the knockout is what keeps this from being the defining moment of his career.
If this result had occurred just two years prior, it would have been a shocking upset. However, Liddell's stock had fallen and it was a question of how much more punishment he could take in his career.
Franklin answered that late in the first round when he dropped the former champion and put him out cold.
Both ageing fighters put on an excellent back-and-forth first frame. A victory over Liddell is still a crowning achievement, and only six other fighters can claim the same. Franklin's emphatic finish added to his career notes.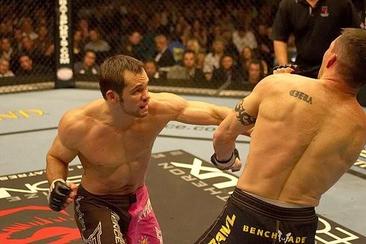 Photo Credit: UFC via Getty Images
The first defense of his UFC middleweight championship would come against The Ultimate Fighter alumnus Nate Quarry.
Just 2:34 in and Franklin ended the fight with one punch.
The one-punch knockout of Quarry remains a staple among UFC knockout highlights to this day. It is featured in the new UFC intro video for all of their pay-per-view telecasts.
Quarry's stiff body falling to the canvas will be one of the fans' lasting memories of Franklin's lengthy career.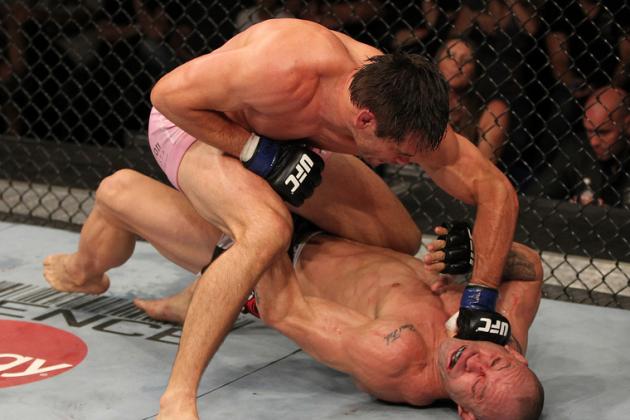 Photo by Josh Hedges/Zuffa LLC/Zuffa LLC via Getty Images
In July, Franklin and Silva met one more time. However, this time, it would not be as close and it would take 25 minutes to complete.
Franklin secured a unanimous decision win with a 49-46 score on all three cards. The win also put Franklin back on the winning track. The 190-pound catchweight fight was a good stopgap before transitioning back to the middleweight division.
The Cincinnati native was unable to come away with the finish, but he did what was important—he left no doubt that he won that fight.
The victory made Franklin the only person with two victories over Silva. That is certainly an achievement worth noting on his record.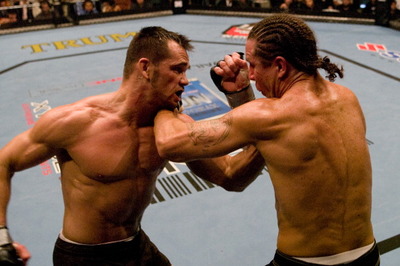 Photo by Josh Hedges/Zuffa LLC/Zuffa LLC via Getty Images
The best moment in the careers of most athletes is capturing a championship, and Franklin's career is no different.
His crowning achievement, and best moment, was winning the UFC middleweight championship.
Franklin met Evan Tanner for the second time in his career. However, instead of repeating the first-round finish that he accomplished in their first meeting, Franklin brutalized Tanner for nearly four full rounds.
The doctor eventually stopped the beating and Franklin claimed the No. 1 spot in the middleweight division. He would hold that distinction until Anderson Silva dethroned him at UFC 64.
Regardless, for over a year, Franklin wore gold around his waist and was considered the best in the world at his weight. Getting his hand raised in this fight was the best moment of his career.