Odds on Home-Field Advantage, Playoff Seeds and More for Miami Dolphins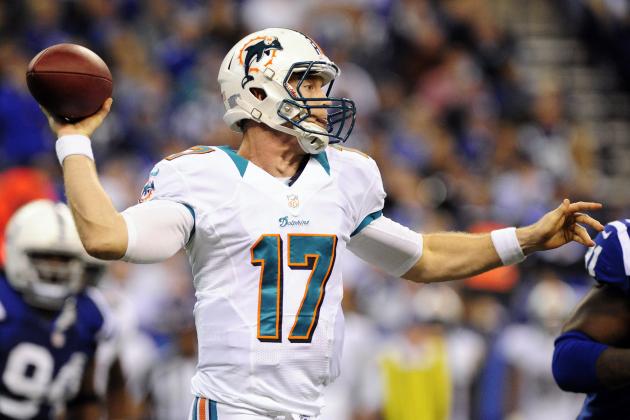 Thomas J. Russo-US PRESSWIRE

Don't look now, but the Miami Dolphins have a legitimate shot at making the playoffs.
At 4-4, the Dolphins find themselves one game behind the New England Patriots for first place in the AFC East and just one game behind the Pittsburgh Steelers for the final AFC wild-card berth.
Barring two tilts with the Patriots and one with the San Francisco 49ers, the Dolphins have a very favorable schedule ahead of them, one which they can emerge from with nine or possibly 10 wins.
In order to actually reach that desired win total, Miami needs big contributions from its entire roster but most importantly from its star players, many of whom have a great chance of cracking this year's Pro Bowl rosters.
Just how good are Cam Wake & Co's odds of making the Pro Bowl?
And, what are the Dolphins' playoff odds as we cross the midway mark of the 2012 season?
Here's a look.
Begin Slideshow

»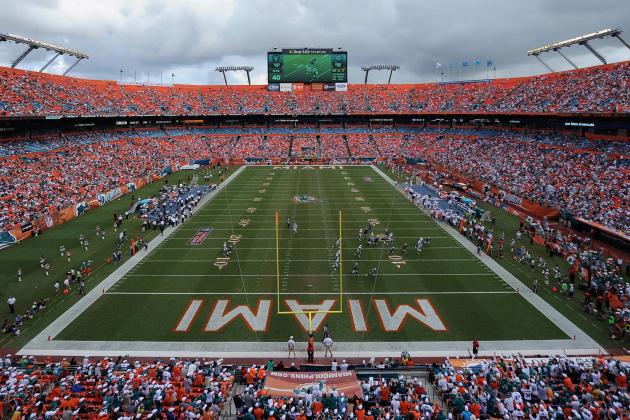 Kirby Lee-US PRESSWIRE

Needless to say, the Dolphins won't secure home-field advantage.
However, there's still a chance—albeit a very slim one—that they host a playoff game.
At 4-4, the Dolphins only trail the New England Patriots by one game in the AFC East.
Considering Miami's upcoming schedule includes winnable games against the Titans, Bills, Seahawks and Jaguars, it's possible for it to finish the season with around 10 wins. Of course, in order do that, the 'Phins would have to beat either the Patriots or the 49ers in San Francisco.
Plus, the Patriots aren't playing like the juggernaut we're accustomed to perceiving them as. New England lost to the Cardinals and Seahawks and narrowly knocked off the Jets in overtime.
But, again, this is all highly unlikely.
If anything, the Dolphins are aiming for one of the wild-card spots.
Odds: 50 to 1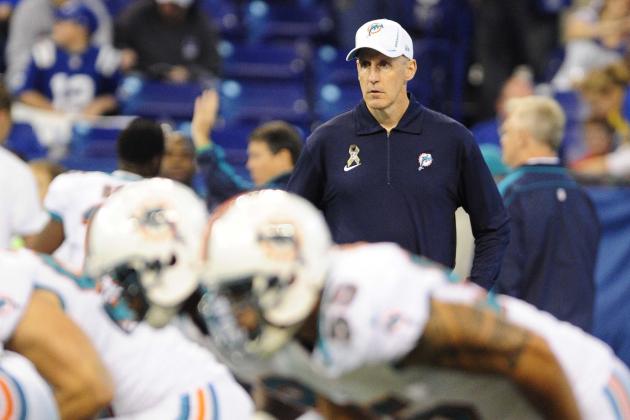 Thomas J. Russo-US PRESSWIRE

Miami's best chance of making the playoffs is by clinching one of the AFC wild-card berths.
After Thursday's game, the Colts and Steelers are in the fifth and sixth seeds respectively. The Dolphins are only one game back of the 5-3 Steelers and very much alive in the hunt. In order to leapfrog the Steelers or Colts, the 'Phins will likely have to win at least nine games, which means they'll have to go 5-3 down the stretch.
However, there's no guarantee nine wins will be enough.
Pittsburgh beat the Giants in New York last week and don't have a particularly daunting schedule ahead. Although Indy still has to play Houston twice and travel to New England, it has a very favorable schedule otherwise.
The Dolphins also have to watch out for the 4-4 Chargers, who might have an easier upcoming schedule than Miami, Pittsburgh and Indianapolis.
Odds: 12 to 1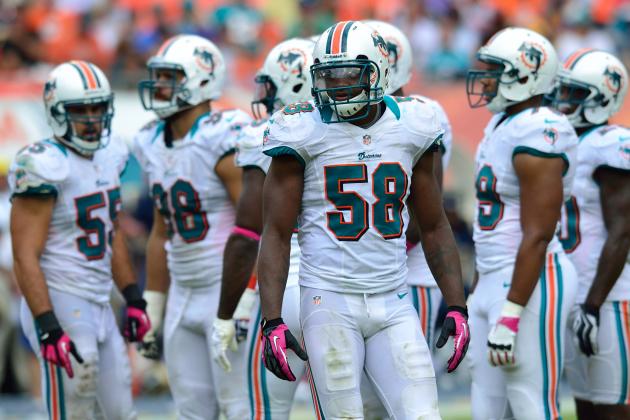 Steve Mitchell-US PRESSWIRE

Assuming there's actually a Pro Bowl this year...
Cameron Wake
Wake is an absolute shoo-in. He's third in the NFL in sacks (8.5), first among all defensive ends in quarterback hits (15) and fourth in quarterback hurries (29). Wake is also playing efficiently against the run, racking up 21 stops and 27 tackles.
Chances: 99 percent
Mike Pouncey
The only Dolphins offensive player with a chance to make the Pro Bowl is Mike Pouncey. He, like Wake, should be a shoo-in given his dominance over the first half of the season.
Pouncey has yielded only one quarterback hurry, one quarterback hit and zero sacks in 548 snaps. And, he's been even more impressive in run blocking. Miami's running backs are averaging roughly 5.5 yards per carry when running to Pouncey's immediate right and left.
Chances: 90 percent
Karlos Dansby
Dansby is finally playing like the Pro Bowl-caliber linebacker the Dolphins thought they were getting two years ago.
His 51 tackles are eighth most amongst inside linebackers, and opposing quarterbacks only have an 86.6 QB rating when throwing into his coverage. Most importantly, Dansby has the name recognition that is so important in a player's push for a Pro Bowl bid.
Chances: 85 percent
Brandon Fields
Fields is the most undervalued and underrated player on the Dolphins roster. He's averaging a league-best 51.6 yards per punt, and his 43.8 net-yard average is second-highest amongst all punters.
Chances: 85 percent
Randy Starks
Statistically, Starks definitely deserves a Pro Bowl bid. However, the Pro Bowl is a popularity contest, and Starks isn't a big name whom casual fans recognize. Pro Football Focus ranks him the second-best interior defensive lineman in football thanks to rampant success against the run and the pass.
Chances: 80 percent
Reshad Jones
Jones faces a similar problem to Starks—he's been statistically dominant but is largely anonymous outside of Miami. Pro Football Focus even ranks him as the single-best safety in the NFL.
Opposing quarterbacks have a dismal 28.7 quarterback rating when throwing into Jones' coverage. Moreover, they've completed only 41.7 percent of passes thrown into his territory. Jones clearly deserves a Pro Bowl nod; it's just a matter of the voting population recognizing his performance.
Chances: 80 percent
Kevin Burnett
Burnett is in the same boat as Starks and Jones. His numbers warrant a Pro Bowl selection, but is he well known enough to generate enough support? He already has 48 tackles and 25 stops, which has helped him grade as Pro Football Focus' fourth best 4-3 outside linebacker.
Chances: 80 percent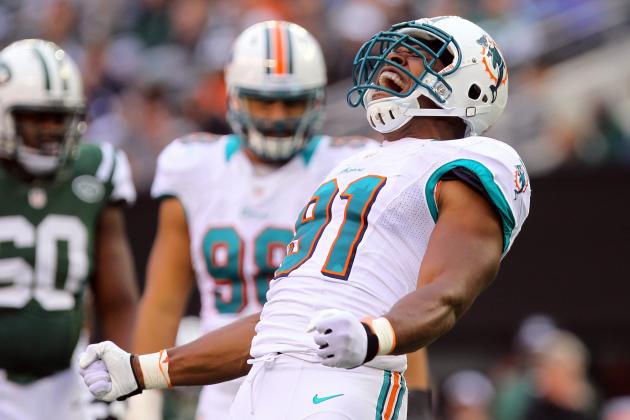 Ed Mulholland-US PRESSWIRE

The only Dolphins player with a realistic shot at an NFL award is Cameron Wake.
Wake is a top candidate for Defensive Player of the Year honors, but Houston Texans defensive end J.J. Watt stands in his way.
Watt is enjoying a historically great season and already has a relatively firm grasp on the award. However, there's still half a season left to play, which leaves Wake plenty of time to supplant Watt as the frontrunner.
Linebackers Von Miller and Clay Matthews are also in the mix.
It'll be difficult for anybody to usurp Watt as the favorite, but if there's one player that can do it, it's Wake.
Odds: 5 to 1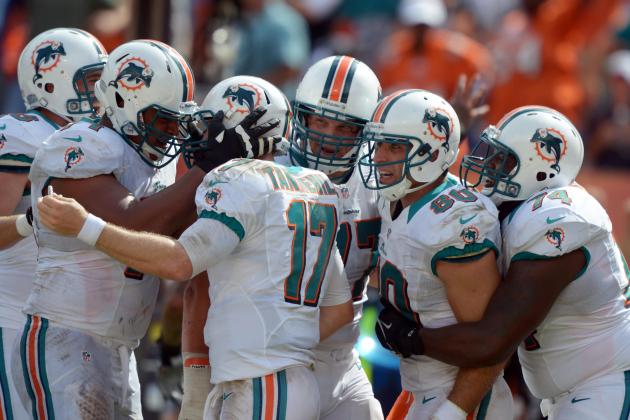 Kirby Lee-US PRESSWIRE

The Dolphins are on track to contention, but it'll take this team a few years to reach the ultimate destination.
It appears as though the 'Phins finally have a longterm answer at quarterback, and this defense—set aside last week's uncharacteristically atrocious performance—has been largely dominant. Once Miami adds some weapons to its offensive arsenal, it could become a perennial contender in the AFC.
This year, however, the Dolphins won't be playing for the Lombardi Trophy.
For starters, no rookie quarterback has ever led his team to a Super Bowl.
Secondly, the Dolphins' offensive line and secondary were exposed as mediocre units in last week's loss to the Colts.
Finally, the Houston Texans are the only Super Bowl contender the Dolphins have faced this season, and they handed Miami its worst loss of the season. Granted, the Dolphins have made great strides since, but they are yet to defeat a team with more than three wins.
Odds: 500 to 1