Green Bay Packers: Areas of Concern Through Week 9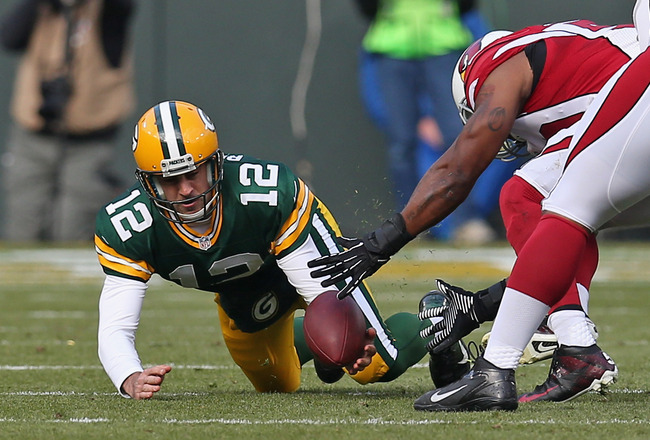 Jonathan Daniel/Getty Images
The Green Bay Packers started the season a bit rusty, but have been able to turn it around over the past month. The Packers have now won four straight, and have a record of 6-3.
While the Packers are still very much in the playoff race, people are beginning to question if they are a championship contender. While the four straight wins are a positive sign, the past two games have been a bit concerning. Playing against a weak Jacksonville Jaguars team, the Packers made the game a lot closer than it should have been. In the game against the Arizona Cardinals, there was some unneeded late game drama.
The Packers have several areas of concern on their team, and they need to find ways to fix these or get around them. Here are the four main areas of concern.
4. Mason Crosby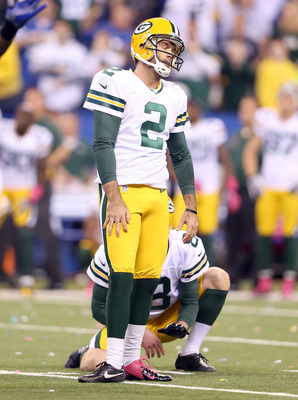 Andy Lyons/Getty Images
Mason Crosby has been a consistent kicker for the Packers for the past few years, but this year has been a problem for him.
Crosby has been an accurate kicker for the majority of his career. His field goal percentage in his six years in the NFL is at 78.3. That number has dipped considerably this season, with Crosby only making two-thirds of his field goals.
It is unclear what has happened to Crosby this season, but it is concerning. He has missed a field goal in three straight games, and missed two against the Indianapolis Colts earlier in Week 5.
Hopefully Crosby is just stuck in a funk, and will be able to shake it off. If not, this could become a major concern for Green Bay.
3. Dropped Passes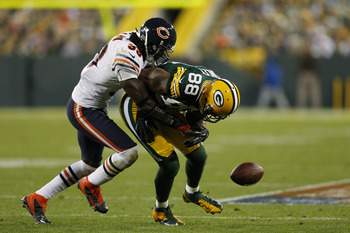 Joe Robbins/Getty Images
With a group of receivers that, when healthy, is considered one of the best in the entire league, it is generally expected that they will hold on to the ball. For some odd reason, this isn't the case in Green Bay.
Jermichael Finley has been the biggest victim of dropped passes. Before last week against Arizona, Finley had six total drops. Throughout his career, he has been the target of a lot of criticism for his hands. The drops have left Rodgers frustrated.
Finley isn't the only one that has been dropping this year, however. Before last week, the Packers had dropped a total 19 passes, a drop percentage of 6.6 percent. Jordy Nelson has had quite a few, and Donald Driver had problems holding on to the ball against Arizona.
The drops are beginning to become a concern, and will hopefully be corrected once Jennings returns. If not, we could see a more flustered Rodgers than we are used to.
2. Running Game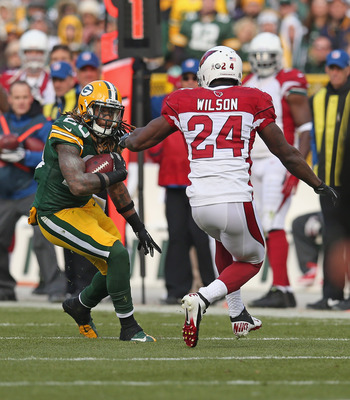 Jonathan Daniel/Getty Images
Cedric Benson had given Green Bay hope that they would finally have a consistent running game to go with their elite passing game. However, with the injury to Benson in Week 5, the Packers have had to turn to Alex Green to get the majority of carries.
Green Bay currently has one of the worst running games in the league. They are averaging 3.8 yards per carry, and are 27th in the league in the category. The Packers also only have two touchdowns on the ground, which is tied for last in the league.
Last week finally showed some promise for the running game. The Packers were able to rush for 176 yards, which was the highest total of the season. The return of James Starks was a big factor, as he was able to break off some good runs.
Last week showed that the Packers could potentially fix their running game. If this trend does not continue, however, the Packers could quickly slip back into being a one-dimensional team.
1. Injuries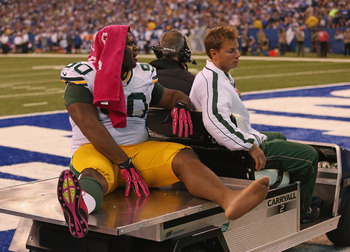 Jonathan Daniel/Getty Images
It seems like every key player that the Packers have has been injured. Green Bay continually needs to change its lineups due to starters missing games.
Here is a list of just some of the players who have missed games:
Greg Jennings
Charles Woodson
Nick Perry
Cedric Benson
Sam Shields
B.J. Raji
Jordy Nelson
John Kuhn
This list seems to get bigger each week. Clay Matthews had to leave the game last week against the Cardinals, and is questionable for their game against the Detroit Lions after the bye week.
The Packers always seem to find a way to replace starters, and their "next man up" philosophy has worked for the past few years. Just this season, players like Casey Hayward and Randall Cobb have been able to make major contributions with the absences of Woodson and Jennings.
While the Packers are doing a good job of replacing injured players, the injuries continue to pile up. Will there be a point where they simply won't be able to keep up?
Most of the players who are currently injured will be back by the end of the season, which could be a good sign for the playoffs. If others get injured, however, the Packers will need to hope that the backups can continue to execute if they want to make a late postseason push.
Keep Reading

Green Bay Packers: Like this team?