6 Key Premier League Battles to Watch This Weekend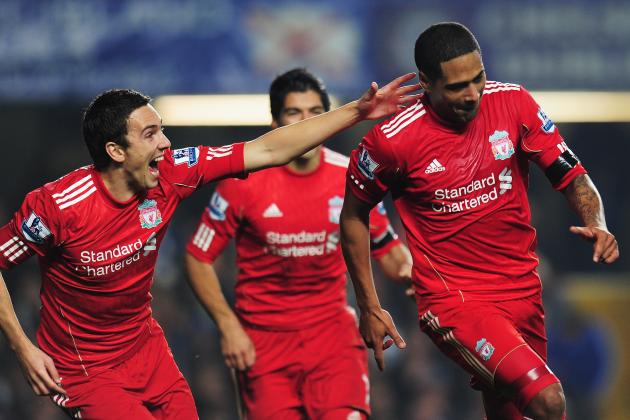 Shaun Botterill/Getty Images

After a busy midweek schedule of European football, the Premier League is back this weekend in all its glory.
There are important fixtures for a number of clubs this weekend as well as two of the traditional "big four" tangling in Sunday's late game at Stamford Bridge where Glen Johnson and Liverpool (pictured above) travel to London to take on Chelsea.
Without further ado, let's take a look at the six games I'll be keeping a close eye on this weekend!
Begin Slideshow

»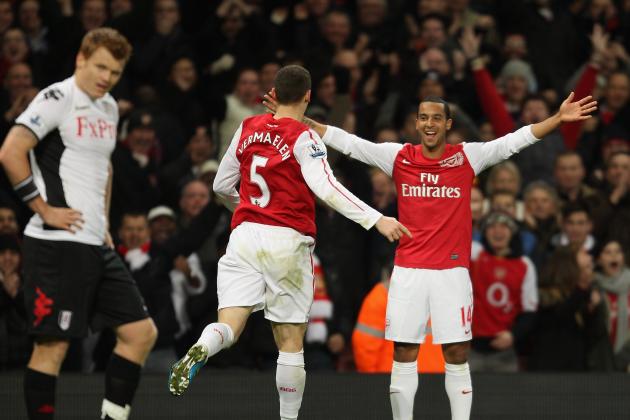 Scott Heavey/Getty Images

It sounds a little weird, but when these two sides met each other last season, Arsenal only picked up one point from both encounters.
Late goals were a huge part of both games last season.
Thomas Vermaelen's late equaliser at the Emirates rescued a point for the Gunners, when it looked like Vermaelen's earlier own goal would give the points to Fulham.
Yet again, Arsenal are playing a London derby at home and yet again, I expect this to be a tight game.
Arsene Wenger will want a reaction from his players after their recent dip in form, but Fulham are capable of causing problems.
In saying that, I've absolutely no idea how Fulham got a point against Everton last Saturday.
Once again, Everton dominated possession, created more goal scoring opportunities, but the sides were level at the end of 90 minutes and Martin Jol will have been pleased with the point.
If Dimitar Berbatov can pull a performance out, Fulham have every chance of extending their recent good run against Arsenal on Saturday.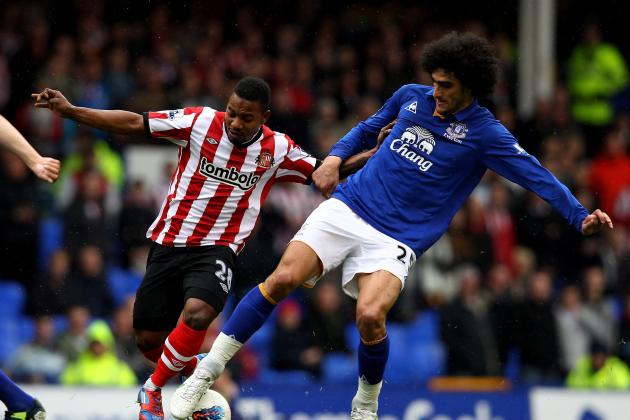 Clive Brunskill/Getty Images

On Saturday, Sunderland return to Goodison Park just over seven months since their last visit, when they were walloped 4-0.
If this fixture goes to form, it could be a hell of a lot worse for Martin O'Neill's side this weekend.
Simply put, Everton have been nothing short of fantastic since the start of the season.
They're playing great football, scoring goals and dominating most of the games they play.
How they didn't beat Fulham last Saturday I'll never know.
They created enough chances to win three or four games, but they only scored twice and that's what cost them in the end.
If they create as many chances again this weekend, it's likely that Sunderland will be on the wrong end of a thumping again.
I like Martin O'Neill and his management style.
He looks to get the best out of his players and although they've not won a lot of games recently, they've not lost a lot of games either.
If they could just turn some of those draws into wins, then they'd be fine.
Some of their players need to start chipping in with goals too, instead of relying on Steven Fletcher.
As good as he is, he can't do it all on his own and the service up to him over the last six weeks hasn't been good enough.
In terms of picking a winner on Saturday, it's almost nailed on that Everton will win comfortably.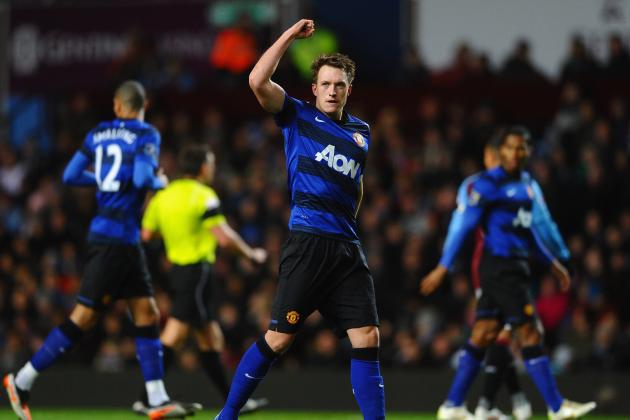 Laurence Griffiths/Getty Images

When these two sides last met at Villa Park in December 2011, guardian.co.uk's Scott Murray wrote:
A Phil Jones goal was enough to earn Manchester United all the points in a dreadful match.
That's a pretty damning, albeit fair, assessment of the match last December.
I remember watching it at the time and I almost fell asleep.
It was scrappy at best and to be honest, I was glad when the final whistle blew.
I'm hoping for a much better game on Saturday night.
There are signs that Paul Lambert's team are slowly improving, but he'll be the first to admit that there's a hell of a long way to go before they're anywhere near the finished article.
I admire his determination to "set an example" by picking players who he deems hungrier than more experienced pros, but there's a time and place for that.
Villa have been in a slow, steady decline ever since Martin O'Neill left and if they're to remain a Premier League club, then in my opinion, players like Darren Bent and Shay Given have to play.
Bent is a goal machine and because Villa don't create many chances, they need to have a poacher on the pitch for the occasions that they do.
On the other side of the pitch, Manchester United go into Saturday's match buoyed by a 3-1 win against Braga in the Champions League.
They've almost got an embarrassment of riches up front and they're getting stronger defensively.
I just can't see any way that Villa can win this match and if results go their way elsewhere, United might just increase their lead at the top of the table.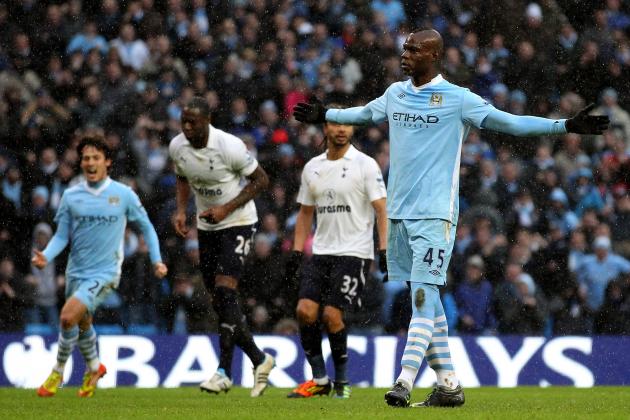 Alex Livesey/Getty Images

This was an outstanding fixture last season, particularly the match at the Etihad where City beat Spurs 3-2 with a very late Mario Balotelli penalty.
At that time, Spurs were on a great run of form and there was even talk of them making a tilt at the title.
They were 2-0 up and cruising after an hour, but two quickfire Spurs goals from Jermain Defoe and Gareth Bale brought things level until a tight and tense finale ended up with Mario Balotelli scoring the winner.
These two sides couldn't be in more strife right now.
Roberto Mancini is under severe pressure, despite still being unbeaten in the league.
It's fair to say that City did get the toughest Champions League group, but let's look at things objectively.
With the greatest of respect to the players at that level, it's not like Mancini is picking non-league players to play in the Champions League.
He's picking players who are hugely experienced at club and international level, not novices.
Most of his players are champions. It's about time some of them started to play like it.
Andre Villas-Boas arguably returns to the city where he has had his best results so far as Spurs boss.
Six weeks or so ago, AVB took Spurs to Old Trafford when some pundits (not including me, I actually tipped them to win) thought they didn't have a chance in hell of winning.
When it was all said and done, Spurs came out with a 3-2 victory and all three points.
Can they do the same this Saturday?
It's hard to tell.
They've been blowing hot and cold recently, with fans becoming frustrated at AVB's insistence on playing with just one out-and-out striker.
As frustrating as it must be for the fans, they need to remember, he's not playing with a defensive strategy.
Players like Moussa Dembele, Clint Dempsey, Gareth Bale, Aaron Lennon and Jermain Defoe aren't known for tracking back.
They like to get forward and score goals.
If Spurs can unsettle City early on Sunday, just like they did at Old Trafford, then they'll hand City their first defeat of the season and at the same time, put an impressive feather in the cap of AVB.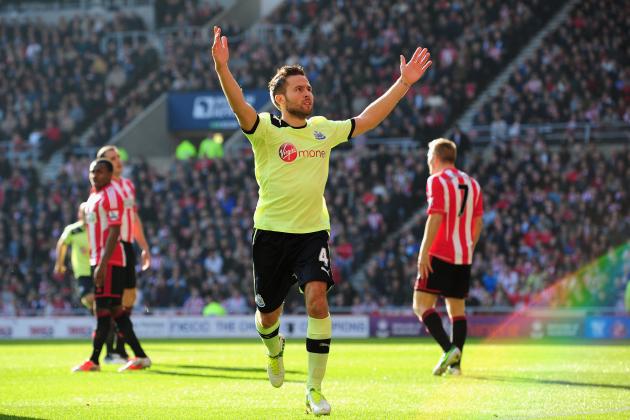 Stu Forster/Getty Images

Two sides who are slap bang in the middle of the Premier League table meet at 3 p.m. on Sunday as West Ham travel north to Newcastle.
Sam Allardyce, Kevin Nolan and Andy Carroll will all be taking on one of their old clubs and Allardyce is perhaps the only one with something to prove if you like.
I don't think he was ever given a fair shake of the stick up there and he's a great manager.
He has proved it everywhere he has been, but I think Sam would be the first to admit his spell at Newcastle was disappointing.
Andy Carroll has looked like a completely different player since joining West Ham.
He looks like he's relaxed and enjoying himself, which is good to see.
Playing alongside his old teammate Kevin Nolan has probably helped him and Newcastle will know all about the problems that those two can cause them on Sunday.
Alan Pardew will be fuming that he's going into this game without Fabricio Coloccini.
The Argentinian defender has been one of the stand-out players for the Geordies this season, but his baffling decision to stamp on Luis Suarez last Sunday means he'll miss out through suspension.
Newcastle should be fine for cover in there though and their attacking players will make sure that the West Ham defenders are on their toes.
The likes of Hatem Ben Arfa and Demba Ba might grab all the headlines because of their roles in the squad, but it's one of their teammates who has impressed me more this season.
Yohan Cabaye (pictured above) must be up there as Pardew's best signing.
He's a clever, talented, skilful midfield player with an eye for goals and he can also pick a pass.
While Ben Arfa and Ba might get the attention, and rightly so, Cabaye can't be underestimated and in my opinion, West Ham need to stop him from playing if they're to come away with a win on Sunday.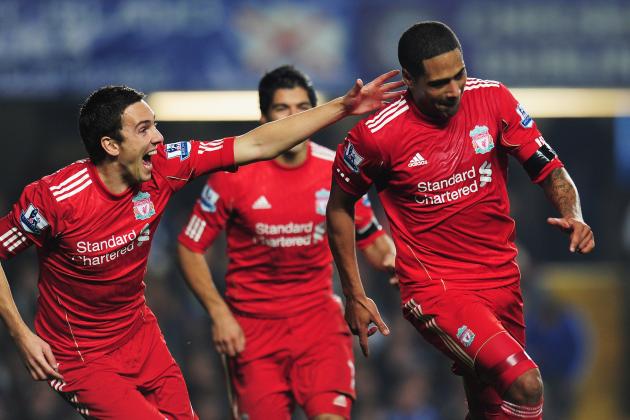 Shaun Botterill/Getty Images

It doesn't seem that long ago that these sides last played each other.
In fact, I'd probably guess that no other teams have played each other as regularly over the last eight or nine years than Chelsea and Liverpool.
Last season, Liverpool won three games out of three against Chelsea, and Brendan Rodgers will hope to keep that run going on Sunday.
Chelsea just managed to sneak past Shakhtar Donetsk in the Champions League this week and, as I'm writing this, it's just over half an hour until Liverpool kick off against Anzhi in the Europa League.
The European exertions of both clubs shouldn't have an effect on Sunday because the players shouldn't need to "get themselves up" for a match like this.
Chelsea go into Sunday without John Terry and Frank Lampard, so they'll be relying on Branislav Ivanovic and Gary Cahill to keep David Luiz in check.
Up front, Fernando Torres is scoring somewhat regularly again thanks to the brilliant attacking play from the likes of Oscar, Eden Hazard and Juan Mata.
On the other hand, Liverpool are still struggling to score goals.
For all their dominance in terms of possession, they can't turn it into goals and that's what matters.
If you don't score goals, you can't win games, so they're going to have to find a way to add that to their game.
Once they do, they'll skyrocket up the league.
As for who will win Sunday's final league fixture of the weekend? My heart says Liverpool, but my head says they'll be happy to come away from London with a point.