Indianapolis Colts vs. Jacksonville Jaguars: Live Score, Highlights and Analysis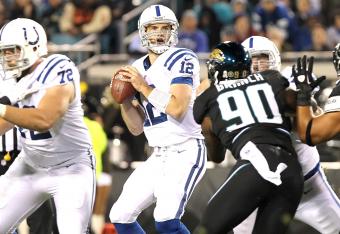 When it rains, it pours. And Jacksonville is in the midst of a monsoon.
The Indianapolis Colts moved the ball in any manner they saw fit. Andrew Luck finished with 227 yards passing and scored two touchdowns on the ground.
Meanwhile, nothing seemed to work for the Jacksonville Jaguars. They committed three turnovers, and didn't show a spark offensively until Chad Henne was brought in for the injured Blaine Gabbert.
Colts 27, Jags 10.
Final.
Darius Butler wanted that one bad. He picked off a batted fourth-down pass and returned it to the Jags 20.
The kid almost had his second pick-six of the night. The play was very representative of the game.
The Colts forced three turnovers, doubling their season's effort thus far.
Luck has ended this game in the victory formation. So long from Jacksonville folks.
Final score: Colts 27, Jags 10.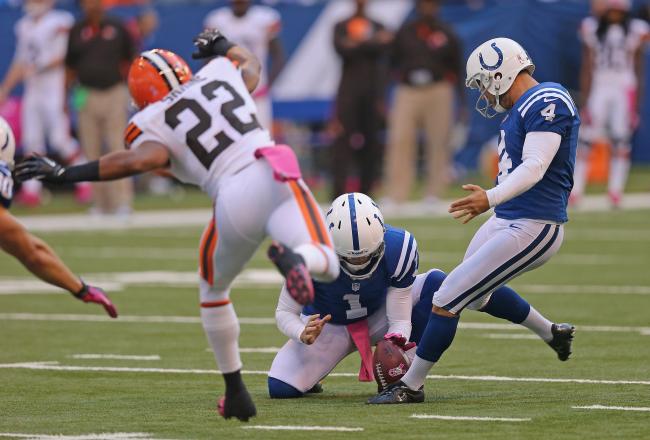 Field goal Colts. That should about wrap it up.
The Jags will get the ball, but there are only a few minutes left and they need three scores.
After two runs left the Colts with a 3rd-and-short, Luck did what he is becoming known for: converted a third down with his arm.
Now, a 15-yard penalty, thanks to a hit on Luck after he was started sliding, has pretty much put this game completely out of reach.
There are just over five minutes left and the Colts are comfortably within field-goal range.
Touchdown Jacksonville!
I'm serious! There was a fourth down conversion and then a real, live touchdown pass to Cecil Shorts.
In fact, a lot of the drive was impressive. The Jags went 81 yards for the score.
The game still has over nine minutes left, but I'm not counting on Jacksonville doing it again.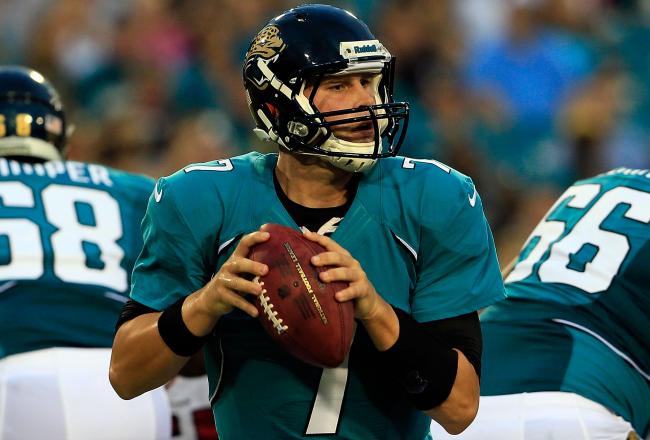 Blaine Gabbert is down, prompting a poor Tim Tebow joke from Brad Nessler. It wasn't offensive, just not funny.
Enter Chad Henne. This game might still have some spice to it yet!
Okay, it won't. But we need something to hang our hats on.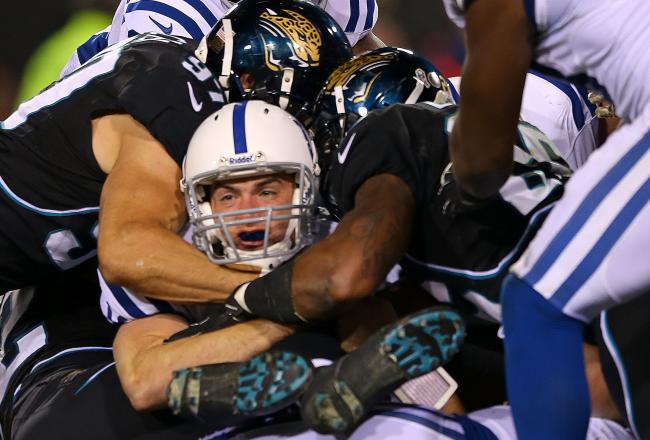 Did I just say that the Colts will continue running and the Jags won't stop them?
I meant Jacksonville would strip Luck on the first play of the fourth quarter, which was a Colts pass.
The third quarter has mercifully come to a close. The Colts are pounding away with Donald Brown and Vick Ballard, daring the Jags to stop them.
Consistent with the theme throughout the evening, Jacksonville has declined to participate. Indy will be running quite a bit for the remainder of the game. It's all over but the crying.
This game is not why football was invented. Although, it might have something to do with the creation of booze.
At least from a Jacksonville fan's perspective.
After Cecil Shorts breathed a little life into the offense by taking a ten-yard pass for about 50, the Jags quickly erased all memories of the play. A holding penalty and sack created a 31-yards-needed situation.
Needless to say, the Colts now have the ball.
Jacksonville did keep the momentum going.
Well, for a minute or two.
After the Colts dropped a possible third-down conversion, the Jags took over at their own five. Blaine Gabbert, who hadn't really been mentioned much to this point, decided he wanted to dictate the conversation.
So he completed a pass to Indy defensive back Darius Butler, who took it to the house.
Colts 24, Jags 3.
Well, that was a first half only a mother could love. Or whatever the appropriate saying is supposed to be for this situation.
Anyways, the Colts were able to move the ball with a scary consistency, but a late turnover left the door open for the Jags. All told, Indy has 70 more yards of total offense than Jacksonville.
Can the Jags build on their late momentum?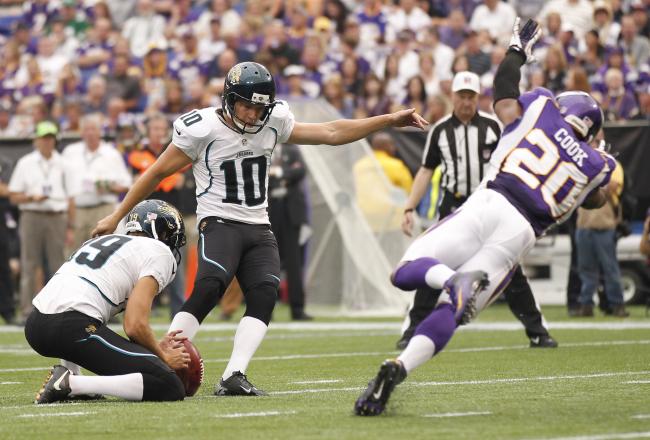 After an attempt at a fourth-down conversion was squandered by a false-start penalty, the Jags settled for a short Josh Scobee field goal.
The Jags actually scored. I waited until the kickoff to post to ensure it wasn't some sort of sick joke.
Colts 17, Jags 3.
17 seconds left in the second.
And the Jags get a break!
After pressuring Luck into a poor throw, the deep safety played centerfield and brought down the interception. He then foolishly tried to lateral the ball, but the misguided attempt at more yards did not ruin everything.
However, it's possible that the lateral was actually a forward pass. Go figure.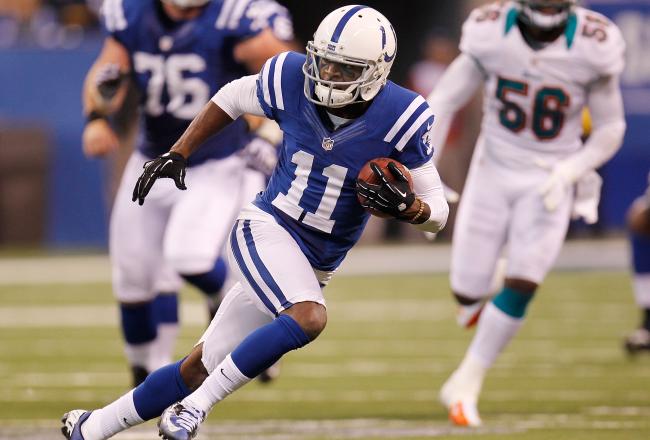 Donnie Avery just embarrassed the Jaguars secondary. Luck didn't even try. He just floated one up knowing that no Jacksonville defender would be able to make a play on it.
He was right.
Avery grabbed it for 44 yards. Then Luck punched it in from the one.
Colts 17, Jags 0.
7:39 left in the second quarter.
At this point, being a Jacksonville fan might become a marker for insanity.
Or cruelty.
The Jags looked to be moving the ball as they had reached the Indy 38. Laurent Robinson then collected a pass and fumbled it away.
That was the first takeaway by the Colts in five weeks. You can't make this stuff up.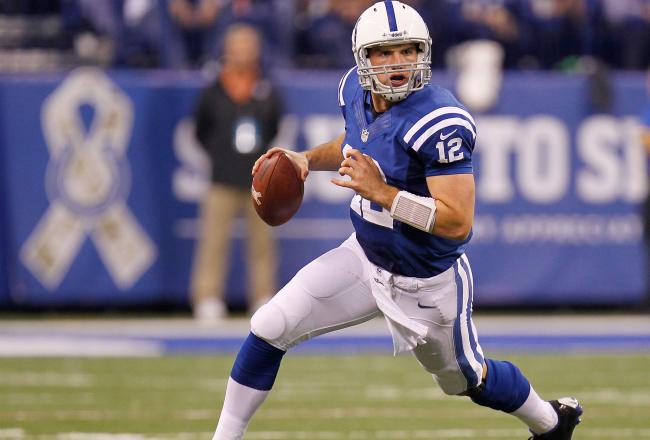 Touchdown Colts!
Luck rolled right after a play-action fake and then decided to bully his way into the end zone. There was a feeble attempt by two Jacksonville players to stop him.
10-0, Indy. 13:34 left in the second.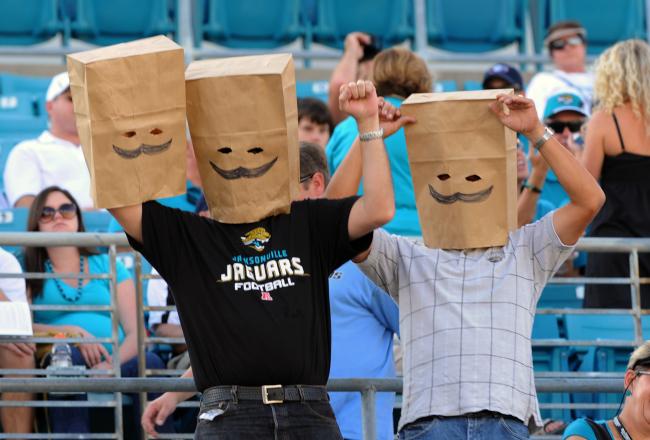 I'm trying to figure out what being a Jags fan is like. After much internal debate, I've decided it's akin to being Sisyphus of Greek mythology.
This drive the Colts are mounting is further proof that rooting for this franchise is like pushing a boulder up a hill only to have it roll back down before reaching the summit, time and time again.
There was an interception of Luck that was negated by a blow to the head. Then Luck fumbled a handoff, eventually corralled the ball, handed it to the running back, who then picked up a first down.
Lastly, Reggie Wayne made a diving catch two yards short of the first-down marker. Two Jags ran past him and didn't touch him. Wayne promptly sprung up and squirted his way to a first down.
Unbelievable.
At the end of one, the Colts are up by three over the Greek tragedies.
Arians was bailed out by the Jaguars remembering who they are. After moving the ball inside the Colts' 30, the Jags quickly dropped two passes to force a 40-yard field goal attempt.
Wide right.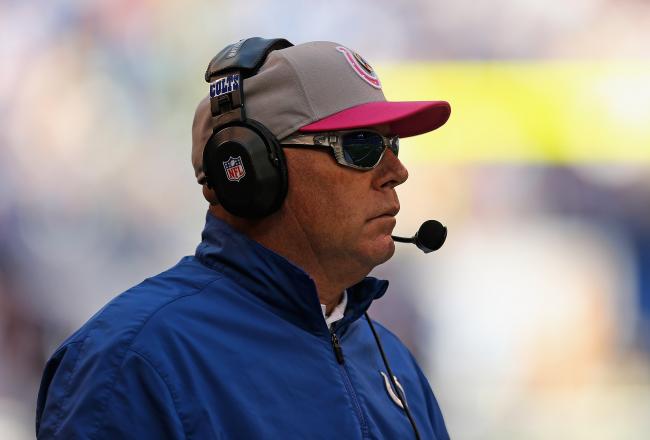 The Jags received a first down!
I'd say earned or got, but the chain movement was a gift from above. The referees mistakenly called an 18-yard reception a catch, and Bruce Arians kept the red flag in his pocket.
Terribly move by Arians. Not sure what he was thinking. It was an easy call.
You don't let poor teams hang around. Now, Jacksonville has a little momentum and has actually picked up two more sets of downs.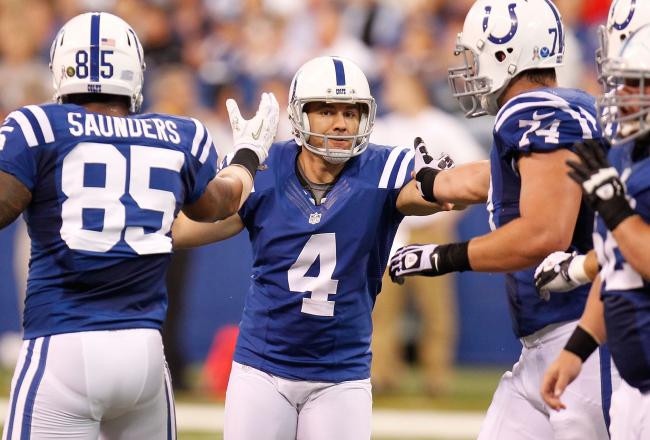 The Colts have shown some signs of life and drawn first blood.
After seemingly twelve completions from Luck to Reggie Wayne (it just felt that way), the offense got creative with an end-around to T.Y. Hilton. The play worked perfectly and moved the Colts into the red zone.
But the Jags rose up to sack Luck on third down. Who saw that coming?
Anyways, it's 3-0 Indy. No word yet on if the Jags are going to try for a first down or just punt the ball right away.
Just as everyone figured, these two defensive monsters are having difficulty moving the ball.
Okay, I lied.
The Colts got a first down or two, but the Jags failed to pick one up on their first drive. Not sure either failed drive had to do with the opposing defense.
I can understand if you're shocked.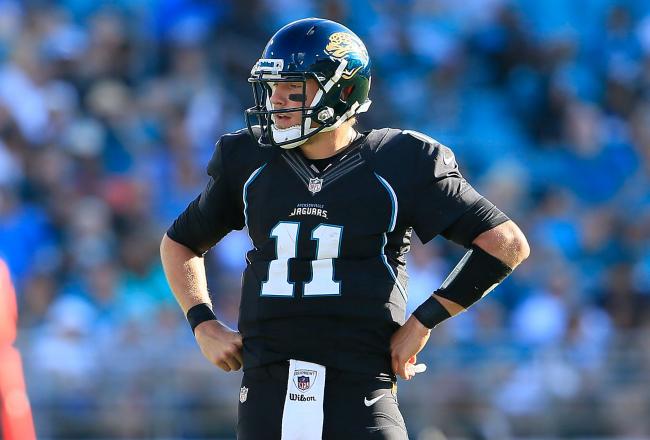 We have kickoff!
The Jags will start with the ball on their own 20. Loving the all-black uniforms of the Jags right now.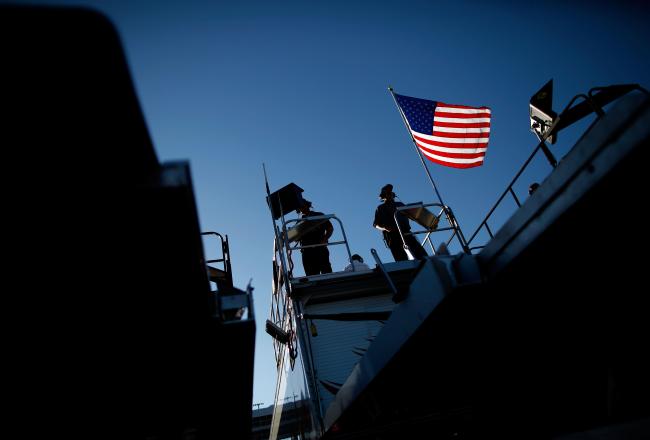 Hard not to feel a little moved right before kickoff. The shaved heads of the Colts signifying unity with their cancer-stricken coach, and the heavy military presence as the NFL continues to salute the men and women of the armed forced.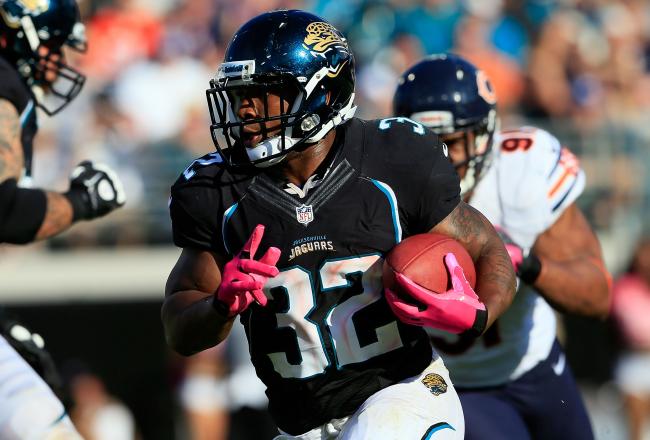 Here is the injury report for the Thursday night game.
Colts: CB Vontae Davis (knee, out); TE Coby Fleener (shoulder, out); T Winston Justice (knee, questionable); LB Robert Mathis (back, questionable); CB Jerraud Powers (tow, out); and C Samson Satele (back, questionable).
Jaguars: RB Greg Jones (hip, out); RB Maurice Jones-Drew (foot, out); S Dwight Lowery (ankle, out); CB Rashean Mathis (groin, questionable); and C Brad Meester (foot, probable).
The Jones-Drew injury will continue to cast a large shadow over this team for as long as he is out. At least Blaine Garrett isn't listed.
This article is
What is the duplicate article?
Why is this article offensive?
Where is this article plagiarized from?
Why is this article poorly edited?