The Best Fantasy Football Starts at Every Position for NFL Week 10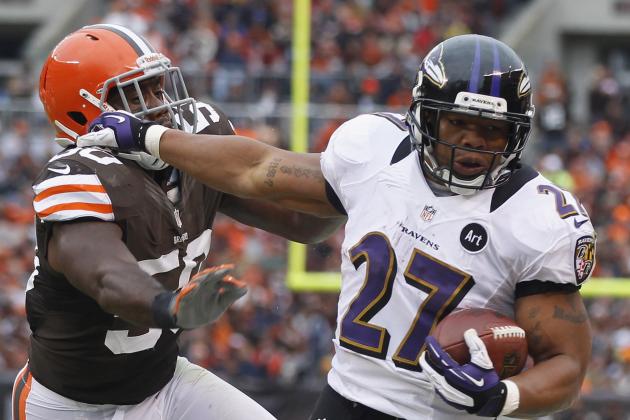 Matt Sullivan/Getty Images

There are a number of friendly fantasy football matchups heading into the 10th week of the NFL season. From the New England Patriots taking on the Buffalo Bills to the Atlanta Falcons squaring off against the New Orleans Saints, many of the top players have the opportunity to have monstrous weeks in Week 10.
Today we are going to break down the best fantasy football starts at each position for Week 10 and add in a sleeper pick who could explode for a big game this week.
Begin Slideshow

»
Scott Cunningham/Getty Images

A matchup with the fourth-worst passing defense in the NFL makes Matt Ryan the best fantasy start at the quarterback position for Week 10.
While he wasn't exceptional last week (zero touchdowns), Ryan still has the weapons surrounding him to be a major factor in fantasy football this week. The New Orleans Saints simply don't have the players to stop the likes of Julio Jones, Roddy White and Tony Gonzalez.
Look for Ryan to get back to playing like he was early in the season and completely dominate the New Orleans defense to the tune of a huge fantasy week.
Bonus Sleeper Pick: Christian Ponder, Minnesota Vikings
Yes, Christian Ponder threw for a measly 63 passing yards last week, but his matchup against the Detroit Lions is an extremely favorable one.
The Lions won't be able to contain Percy Harvin's versatility or Kyle Rudolph's dominance in the red zone. If there is any game that Ponder can bounce back in, it is this one.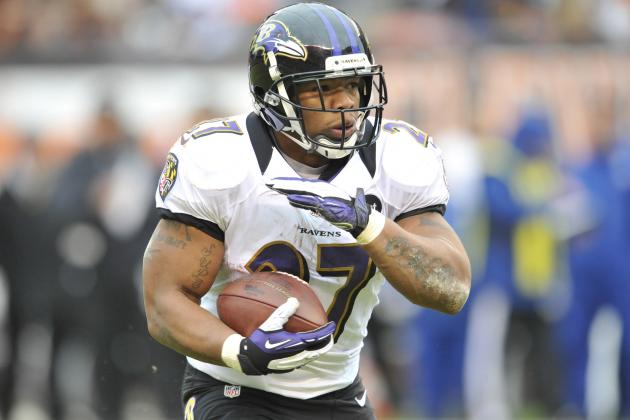 David Richard-US PRESSWIRE

While Ray Rice hasn't been nearly as dominant as many expected him to be so far this season, he'll have an excellent chance to get back to elite status this week.
He goes up against the Oakland Raiders this week who are allowing a generous 124 rushing yards per game. On top of that, Oakland is only one of three teams who have allowed double-digit rushing touchdowns this season.
With Joe Flacco continuing to struggle after a hot start to the season, the Baltimore Ravens would be wise to constantly put the ball in Rice's hands.
Bonus Sleeper Pick: Marcel Reece, Oakland Raiders
With Darren McFadden and Mike Goodson out this week, Reece should get plenty of touches against a Baltimore defense that gave up 105 rushing yards to Trent Richardson last week.
While Taiwan Jones could steal away some touches from him, Reece's versatility makes him a valuable asset this week. He had eight receptions for 95 yards and a touchdown last week and it wouldn't be a surprise to see him put up similar numbers in the passing game this week.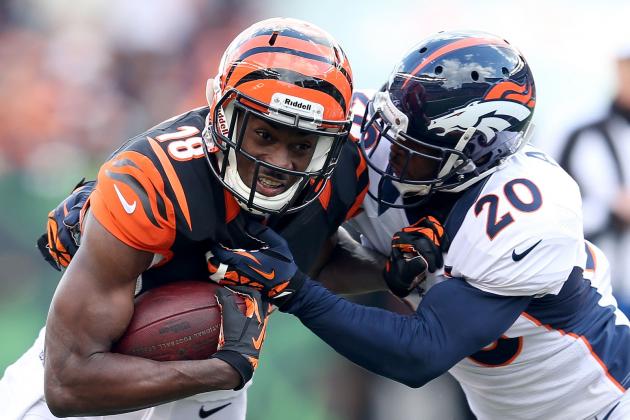 Andy Lyons/Getty Images

This is the second straight week that A.J. Green has been considered the top start at wide receiver. He didn't disappoint last week with 99 receiving yards and a touchdown, and I don't think he'll disappoint this week either.
The Cincinnati Bengals play at home against the New York Giants who are giving up the seventh most passing yards a game. Considering that they're giving up 264 passing yards per game without playing a truly elite receiver like Green, this should be an easy matchup for the second-year player.
Both Cincinnati and New York have the ability to put some points on the board, which makes Green an even more valuable start this week. If this game turns into a shootout, Green could have one of the highest scoring weeks this season by a wide receiver.
Bonus Sleeper Pick: Kendall Wright, Tennessee Titans
With Jake Locker set to start on Sunday against the Miami Dolphins, Wright will finally have the opportunity to reunite with his original starting quarterback.
As long as Wright can hold onto the football, he could be the primary target for Locker as he eases back into the starting roll.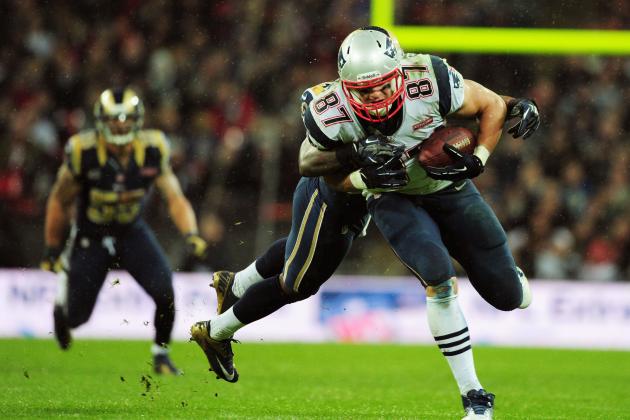 Jamie McDonald/Getty Images

The last time Rob Gronkowski squared off against the Buffalo Bills he had five receptions, 104 yards and a touchdown. However, what really makes Gronkowski the top start at tight end this week is how he played in the two weeks previous to his bye in Week 9.
In those games, Gronkowski recorded 14 receptions, 224 receiving yards and four touchdowns. Those numbers are simply incredible when you consider the rest of the weapons that Tom Brady has at his disposal.
Gronkowski is clearly still Brady's favorite target, especially when it matters most in the red zone. Against an extremely weak Bills defense, Gronkowski should have no trouble continuing his streak of high-scoring fantasy football games.
Bonus Sleeper Pick: Greg Olsen, Carolina Panthers
As Cam Newton has struggled this season, so have his top targets including Olsen. However, Week 9 saw Olsen have his best game since Week 4.
With the Denver Broncos coming to town this week, look for Olsen to to continue improving with Newton and put up solid numbers for the second straight week.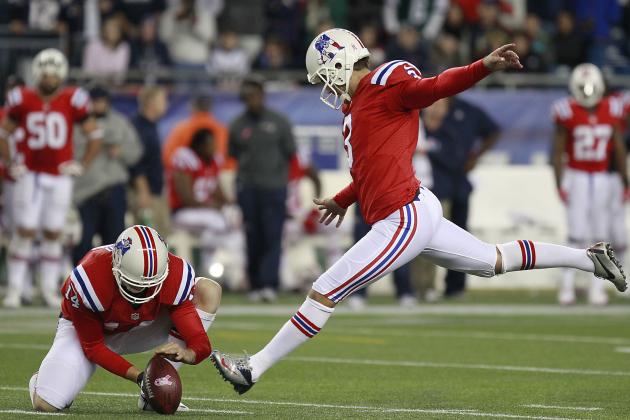 The Star-Ledger-US PRESSWIRE

The Buffalo Bills are giving up 31 points per game, and they gave up a whopping 52 points last time they played the New England Patriots.
With New England playing better these days and Buffalo playing worse, it wouldn't be surprising to see this game end up with an even more lopsided outcome. Look for Stephen Gostkowski to be on the field rather often and racking up points against the Bills.
Bonus Sleeper Pick: Steven Hauschka, Seattle Seahawks
This all depends upon which New York Jets team shows up on Sunday, but if it is the one that allowed 34 points to the San Francisco 49ers, Hauschka could be in for a big day.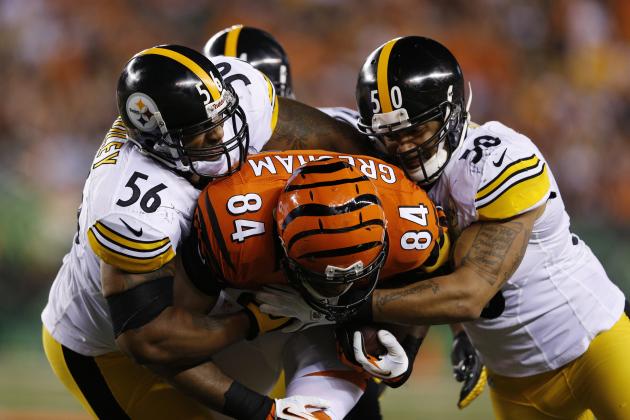 Joe Robbins/Getty Images

Let's just start by saying that any team playing the Kansas City Chiefs is going to have a great opportunity to end up being the best start for defense that week. When that team playing Kansas City has a defense like the Pittsburgh Steelers, it isn't even going to be close.
If Pittsburgh doesn't end up completely shutting the Chiefs down, it will end up being one of the biggest surprises of the week. A 20-point game from the Steelers defense is definitely a good possibility this week.
Bonus Sleeper Pick: St. Louis Rams
The Rams always play better at home and they have the physical cornerbacks to slow down a team like the San Francisco 49ers. However, the only way St. Louis has a chance of putting up points in fantasy football this week is if they can slow down the run.
If they can do that, they could have enough fire-power against the pass to force some turnovers and keep San Francisco to a low point total.