Philadelphia Eagles Film Study: Grading the Offensive Line After Week 9
Chris Graythen/Getty Images
Even the players want to hide at this point.
This team gets harder and harder to watch every week. It's becoming a struggle to watch them just once, much less the multiple times it takes to put this segment together.
But we trudge forward, as always, even when it seems like the team gave up a long time ago.
This week's beating came at the hands of the lowly New Orleans Saints as they handed the Philadelphia Eagles their fourth consecutive loss and a 3-5 record at the midway point of the season. And even against the worst defense in the league—and perhaps one of the worst of all time—the Eagles' offensive line found a way to get dominated.
Then, to add insult to injury, another starter went down and now Todd Herremans is out for the season.
I know he catches a lot of grief from me and the grades aren't always fridge-worthy, but he's definitely a better option than what's behind him.
If you didn't already know that, you'll see why shortly.
Begin Slideshow

»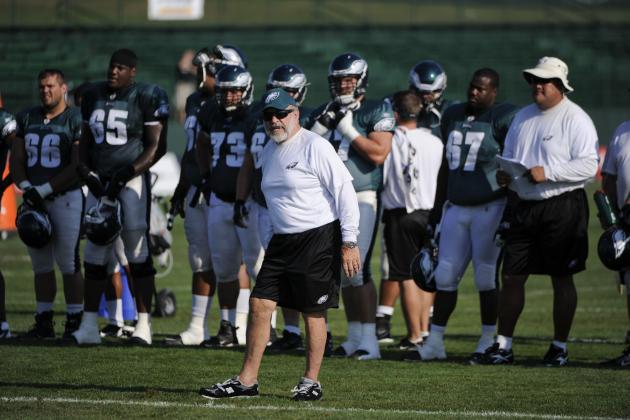 Howard Smith-US PRESSWIRE

For the very worst of plays—a penalty committed, a sack given up or any awful play in general—a grade of "minus-1" will be earned.
For a blown assignment, lack of effort and things of that nature, a grade of "zero" will be earned.
For a successfully executed block, a grade of "one" will be earned.
A grade of "two" can be earned for a pancake block or an extraordinary effort.
It's important to note that the extremes will be reserved only for special circumstances, and the majority of the grades given will be "zero" or "one."
Once the game is over, the points are added up and divided by the total number of plays, thus giving us the overall grade.
For reference, the grades break down like this:
100-95 is excellent.
94-90 is good.
89-85 is decent.
84-80 is shaky.
79-75 is bad.
74-70 is bench-worthy.
69 or below is worthy of walking papers.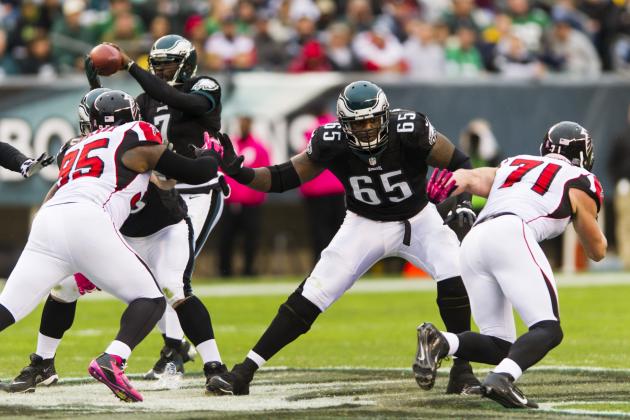 Howard Smith-US PRESSWIRE

Grade: 78 (Bad)
If Dunlap could play with any consistency, he might be a good lineman. Unfortunately, that has yet to happen at any point in his career.
Making matters worse is the fact that he's been pushed into duty on the left side when he's a much more natural right tackle. On the left side, he seems to think too much and forget his technique. Part of that could be the pressure of facing the defense's best pass-rusher, which is a challenge he's simply not up to.
Dunlap racked up a woeful five negative plays, including one hit on Vick allowed, a tackle for loss, one hurry and two sacks.
Yes, two sacks.
Get well, Jason Peters.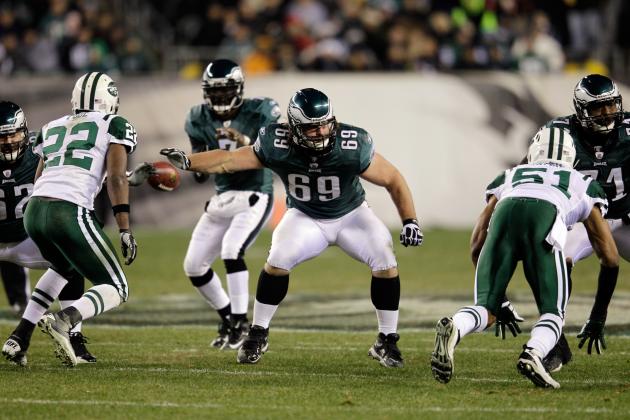 Rob Carr/Getty Images

Grade: 93 (Good)
Without a doubt, this was the best performance from Mathis this season.
Mathis allowed a sack about halfway through the first quarter, and then was absolutely perfect until the very last play of the fourth quarter. That means there were 52 offensive plays run in between mistakes for Mathis.
For all his shortcomings, Mathis really stepped up in this game against incredible odds.
My best guess is the improvement from Mathis can be attributed to a growing comfort and chemistry with center Dallas Reynolds and even Dunlap. But it's Reynolds' improved marks that have me feeling like Mathis and Reynolds are finally clicking.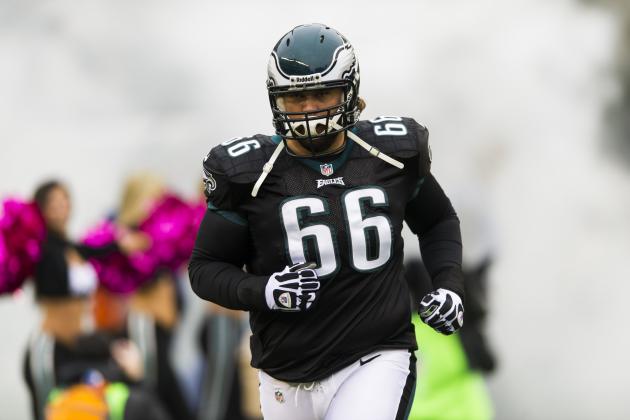 Howard Smith-US PRESSWIRE

Grade: 90 (Good)
Things are really starting to click for Reynolds and it's showing in his grade.
While there are still hiccups that prove he doesn't have the offense down completely just yet, there are obvious signs of improvement from Reynolds, not only mentally but physically as well.
When he was first entered into the lineup, Reynolds would get sloppy with his technique, and in some cases, just show none at all.
Now, as Reynolds gets more comfortable with the mental aspect of his game, his technique is coming more naturally as he plays more off instinct and gets out of his head once the ball is snapped.
Reynolds won't have an opportunity to hold the starting position past this season, but the team has to feel good about his prospects as a great backup for Jason Kelce.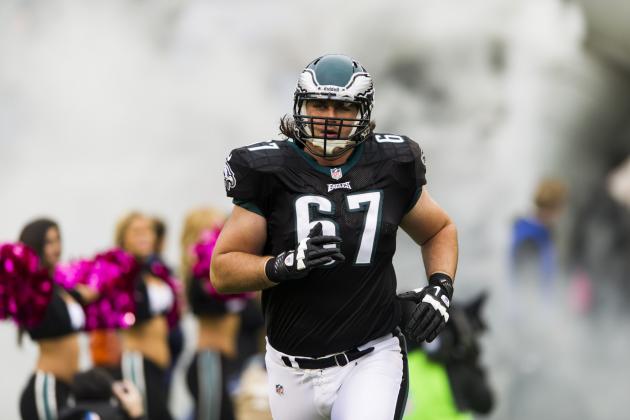 Howard Smith-US PRESSWIRE

Grade: 79 (Bad)
Kelly had instances against the Atlanta Falcons where he struggled, but it only got worse this week.
Four negative plays—one quarterback hit, two tackles for loss and a sack—are bad enough, but that's on top of six other times Kelly either got to his man and got beat or simply didn't understand his assignment.
A few times, his mental lapses got guys killed.
The biggest problem with Kelly is, like Dunlap, he's out of his natural position. Kelly was drafted as a developmental tackle but, due to the injury to Danny Watkins, is being forced to play inside.
Obviously, Kelly's future is not at guard. If you're a glass-half-full type of person, at least the team knows that moving forward.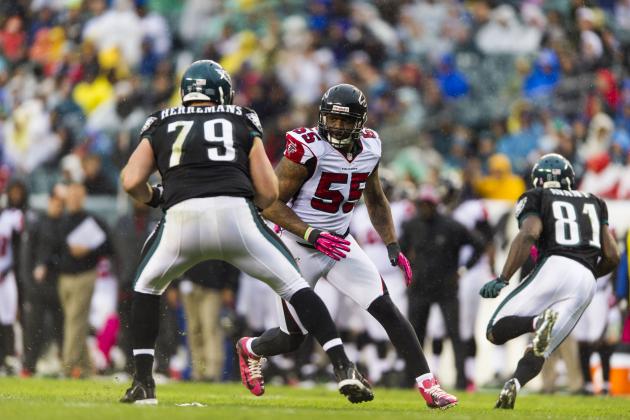 Howard Smith-US PRESSWIRE

Grade: 76 (Bad)
This, of course, comes with the disclaimer that Herremans only saw 21 plays before injuring himself and having to leave the game.
And it will be the last action he sees in 2012, as he's been placed on injured reserve.
Even with such a small sample, Herremans managed to look very bad. In addition to giving up a sack, Herremans also got beat or missed his assignment three more times.
To put that in perspective, Kelly did that six times all game, or 67 snaps.
Losing Herremans is certainly not a good thing for the Eagles because of all the other injuries the offensive line is currently dealing with, but let's also not act like they're losing even a solid starter with Herremans going down.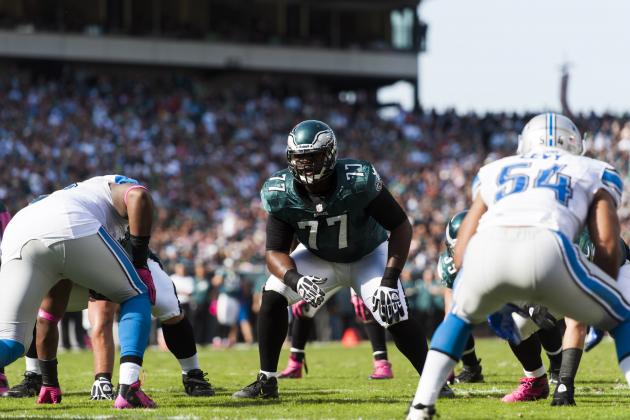 Howard Smith-US PRESSWIRE

Grade: 65 (Atrocious)
Watching Demetress Bell has just become offensive. I have absolutely no idea what Howie Roseman and Andy Reid thought they were getting when they signed Bell, but he has to be the absolute worst offensive lineman in the entire league.
I say that partially out of frustration and partially because I think there's a good chance it's still true. This guy looks lost, his technique is lazy and every single game he's good for a penalty that makes any football fan—not even necessarily an Eagles fan—want to run his/her head through a wall because of the sheer stupidity.
In all seriousness, I do not have words for the atrocity I was forced to re-watch. This man, in just over 40 snaps, accounted for five negative plays.
One hurry, one hit on Vick, one sack, one penalty, and one of the worst whiffs you will ever have the displeasure of seeing.
Honestly, it's borderline comical just how bad this guy is. And now, with Herremans out, he's going to be forced into starting duty for the rest of the season.
Remember asking yourself how this year could get any worse?
Everyone welcome Demetress Bell back to the field.