Juventus Football: 5 Reasons Why Juve's Midfield Is the Best in the World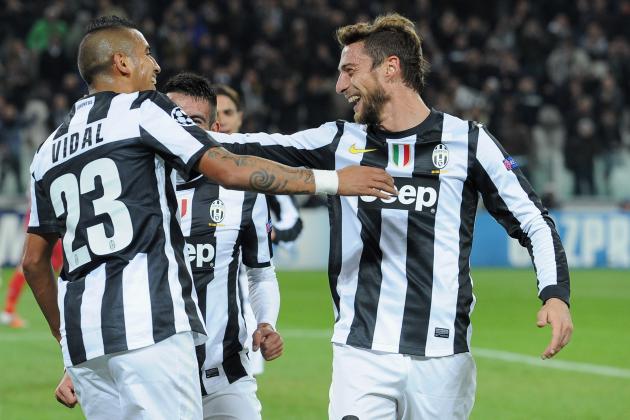 Valerio Pennicino/Getty Images

When you think of the great midfields of our current generation, you would be hard pressed to look by the current Barcelona setup. I mean, how could you, especially considering each player in the centre of the park has won the World Cup, UEFA Champions League and numerous domestic league titles.
Whilst the combination of Xavi Hernandez, Andres Iniesta and Sergio Busquets has undoubtedly been a dominating force on the world stage, I am of the belief their mantelpiece has been usurped by Italian Champions Juventus.
Now hear me out, this isn't a piece about how I think Juventus are the best team in the world or about how Juventus would run riot over every team they face. Not at all—the Bianconeri have much work to do with regards to firepower upfront, and until they fix that, they will not win a major European trophy.
Despite this, there is no denying that in the centre of the park, the Old Lady boasts quality which could match any side in Europe. Here is why.
Begin Slideshow

»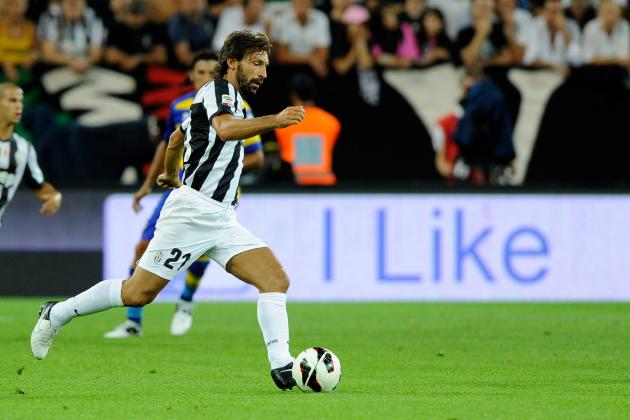 Claudio Villa/Getty Images

There are endless superlatives to describe Andrea Pirlo in full flight. The Italian international is perhaps one of the most graceful players to have ever stepped foot on a pitch and it is this temperament that has ensured the longevity of his playing career.
The 33-year-old's incredible vision on the pitch allows him to complete cross-field passes with incredible accuracy and execution.
In his 2011-12 Juventus setup, Antonio Conte exploited this ability by playing Pirlo deeper down the park. Arturo Vidal and Claudio Marchisio together played the traditional central midfield role, buying Pirlo extra time on the ball.
The result? 2,778 completed passes, 414 long successful balls and a passing accuracy of 86.9 percent in the Serie A alone (37 appearances). Pirlo also bagged 13 assists during the 2011-12 Serie A campaign, making him the most prolific assist-getter in the league...not bad for a defensive midfielder.
How Andrea Pirlo compared with the rest last season:
| | | | | |
| --- | --- | --- | --- | --- |
| Player | Matches (League) | Passes Completed (Assists) | Long Balls Completed | Passing Accuracy |
| Andrea Pirlo (Juventus) | 37 | 2778 (13) | 414 | 86.9% |
| Xavi Hernandez (Barcelona) | 31 | 2688 (7) | 220 | 92.4% |
| Yaya Toure (Manchester City) | 32 | 2189 (6) | 176 | 90.1% |
| Bastian Schweinsteiger (Bayern Munich) | 22 | 1381 (3) | 191 | 86.4% |
Thus far this season, Pirlo has scored three times for Juventus, turning provider on two occasions. He has also been nominated for the prestigious Ballon d'Or.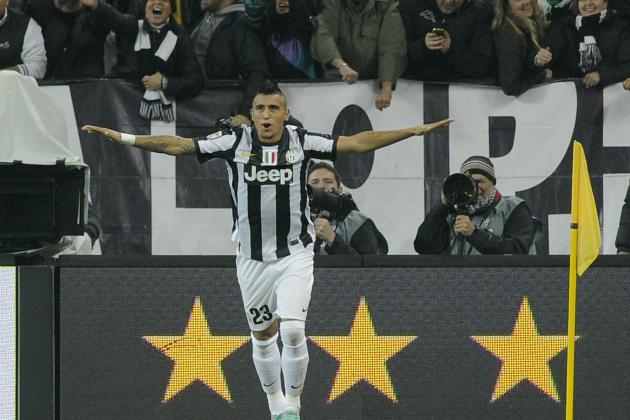 Claudio Villa/Getty Images

Antonio Conte had clearly done his research when he signed Arturo Vidal for Juventus.
Vidal epitomizes Conte's "never say die" attitude, running himself ragged by the end of every match. It is this tenacity that Juventus seemed to lack in previous years. All too many times, the Bianconeri would go down by a goal and fail to recover. Change was needed and change was brought about by the best.
The Chilean is probably best described as a box-to-box midfielder—a unique breed of midfielder. During the 2011-12 campaign, Vidal netted seven times for the Bianconeri, turning provider on three other occasions.
However, it was in open play that Vidal really made his presence felt for the Turin giants. During the course of the season, he completed 178 tackles, 71 interceptions and 1,601 successful passes.
Vidal is the workhorse of the Juventus midfield, practically indisposable from the starting XI.
This is how Vidal compared with the rest last season:
| | | | | |
| --- | --- | --- | --- | --- |
| Player | League Matches (Goals) | Tackles Completed | Interceptions Made | Passes Completed (Accuracy) |
| Arturo Vidal (Juventus) | 33 (7) | 178 | 71 | 1601 (85.1%) |
| Sergio Busquets (Barcelona) | 31 (1) | 77 | 84 | 2060 (91.5%) |
| Michael Carrick (Manchester United) | 30 (2) | 90 | 71 | 1975 (90.1%) |
| Lars Bender (Bayern Leverkusen) | 28 (4) | 97 | 94 | 1283 (82.6%) |
Arturo Vidal has already scored for Juventus four times this season, bagging one assist along the way.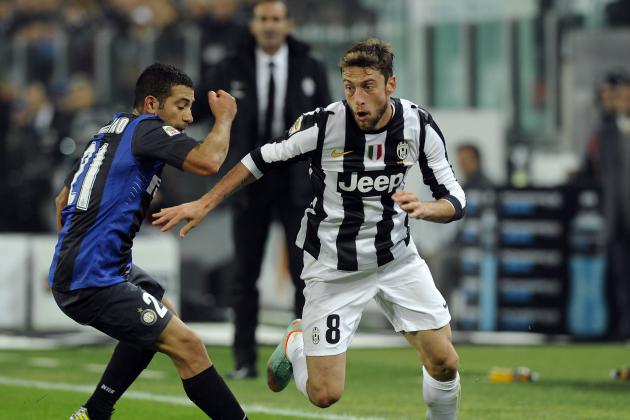 Claudio Villa/Getty Images

With Alessandro Del Piero no longer a presence in Turin, it is time for his successors to take to the stage.
Claudio Marchisio has probably best developed into the "Del Piero-esque" figure Bianconeri fans so passionately desire. The Italian international has played with incredible flair this season, picking up where he left off following Juventus's triumphs in the Serie A last year.
Whilst Pirlo lets his creative juices flow from a more removed position on the pitch, Marchisio shoves them right in the faces of opposing defenders with fancy footwork and a keen eye for the goal. Alongside his Italian counterpart, Marchisio has developed into one of the most consistent midfielders in the game today, rightfully earning the respect of the Bianconeri.
And who could forget that audacious volley to christen the new Juventus Stadium in the opening matchday last year?
Marchisio actually finished amongst the top Juventus goal scorers last year with nine goals in the league. He was also able to play the final pass of four different occasions.
This is how Marchisio compared with the rest last season:
| | | | | |
| --- | --- | --- | --- | --- |
| Player | Matches (League) | Passes Completed (Assists) | Goals | Passing Accuracy |
| Claudio Marchisio (Juventus) | 36 | 1606 (5) | 9 | 85.7% |
| Andres Iniesta (Barcelona) | 27 | 1397 (9) | 2 | 87.9% |
| Juan Mata (Chelsea) | 34 | 1293 (13) | 6 | 87% |
| Shinji Kagawa (Borussia Dortmund) | 31 | 971 (8) | 13 | 83.1% |
Thus far this season, Marchisio has scored just twice for Juventus in all competitions. He has also cemented a starting position in Cesare Prandelli's national team.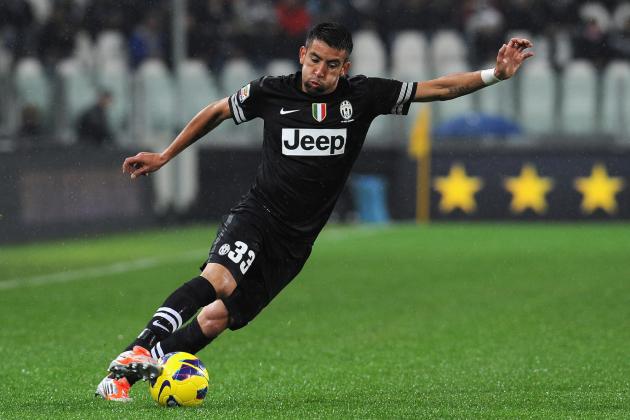 Valerio Pennicino/Getty Images

Juventus is one of the few sides in Europe who play with wingbacks in a 3-5-2 formation. Whilst Pirlo, Vidal and Marchisio pull the strings in the middle of the park, it is the runs made by the Bianconeri's wide men which inevitably penetrate opposing defences.
Last season, Juventus brought Stephan Lichtsteiner to the club to undertake this new role. This season, the arrival of Mauricio Isla and Kwadwo Asamoah added to Juventus's strengths down both flanks. Paolo De Ceglie is currently in the transition phase from natural left-back to a left wingback.
Juventus's wingback philosophy relies heavily on fitness. It is expected that both backs take the ball right to the by-line, generally cutting back for the likes of Vidal or Marchisio. Juve's central trio are instrumental in releasing the wide-men. Marchisio and Vidal are used to draw in defenders as allowing overlapping runs down either wing. Pirlo is then tasked with releasing either wingback with a long ball.
Defensively, both backs also serve as an outlet to allow Juventus to play out and keep possession. Possession has been a key feature of Juventus's rise to success in the league, and as they look to take their game further into Europe, it will be the ability of Juve's wide-men to open up the field which will prove extremely valuable in gaining the upper hand.
Juve's five pronged midfield is something that very few sides have learnt to contain. In actual fact, Juve's setup has only been defeated twice. The first time was by Napoli in the Coppa Italia Final, who also adopted a 3-5-2 setup; the second time was just a few days ago in the Derby d'Italia—Inter played 3-5-2.
Is it a way of the future?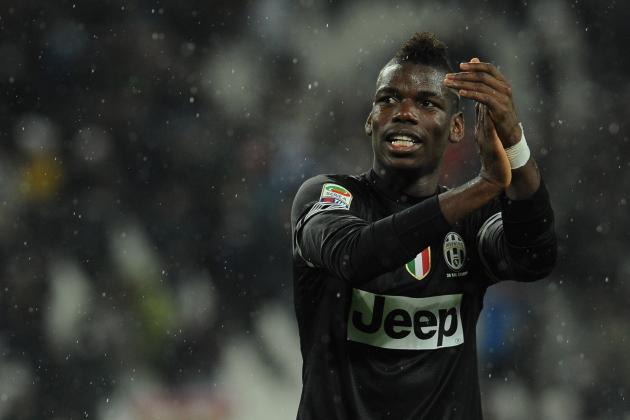 Valerio Pennicino/Getty Images

A factor that didn't have as much of an impact for Juventus last season is the fact that Champions League commitments will inevitably wear out the starting XI. As such, Juventus have comprehensively strengthened their bench so as to combat the effects of fatigue.
Perhaps the most impressive of Juventus's signings this season is that of Paul Pogba. The former Manchester United player has been given an opportunity to start for Juventus on three occasions, scoring twice already this season. The 19-years-old French prodigy has already drawn comparisons to the likes of Patrick Viera and is more than capable of slotting in for either Marchisio or Vidal if need be.
It is on the wings, however, where Juventus's depth comes into a league of its own.
Juventus possess seven players capable of filling either of the two wide positions. Stephen Lichtsteiner and Kwadwo Asamoah often get the nod, but play in a rotational system alongside Martin Caceres, Emmanuele Giaccherini, Mauricio Isla, Paolo de Ceglie and Simone Pepe. If need be, Asamoah is also able to slot in for Pirlo, providing a wealth of options for Angelo Alessi and Antonio Conte when push comes to shove.