UFC on Fuel 6: Which Fighter Has the Most to Gain?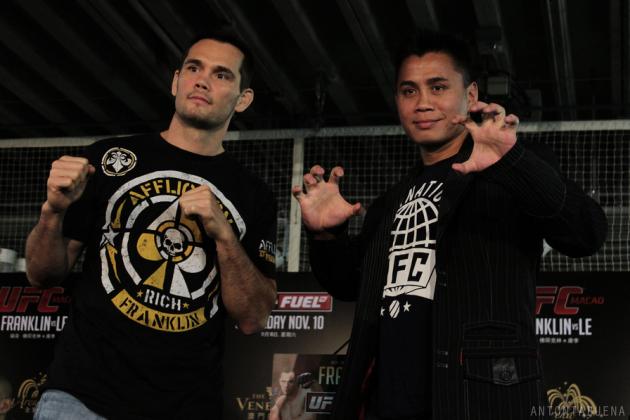 Photo Credit: Anton Tabuena/Bloody Elbow
Every UFC fighter has a lot to gain and lose every time they step into the Octagon.
That's no different for the 20 men fighting in the promotion's first China event, but the circumstances aren't so dire for everyone on the card.
Out of those fighters, one core group in particular has more at stake than everyone else due to the paths their respective MMA careers have taken.
Some are fighting for relevance. Some are teetering on the cut list, fighting for their jobs. Others are fighting to gain momentum in stacked divisions. Only two are riding undefeated streaks, and one of them just might be a future title contender further down the road.
But who's got the biggest prize dangling in front of them this Saturday?
Fortunately, that part's easy to answer—here's a look at eight fighters with the most to gain at UFC: Macau, and what they'll each achieve with a victory.
Begin Slideshow

»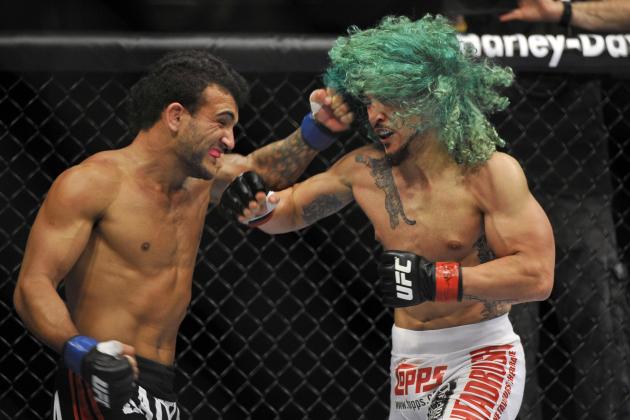 Joe Camporeale-US PRESSWIRE
Pictured: John Lineker (left)
As a 19-6 veteran of the Brazilian circuit (and former Jungle Fight Champion), Lineker's defeat at the hands of the relatively green Louis Gaudinot was a bit of an upset.
However, the flyweight division's hierarchy is unstable enough that Lineker can throw himself solidly into the division's top 10 with a win over Japanese star Yasuhiro Urushitani.
That just depends on whether he can become the second fighter ever to knockout the slick counter-striker, who's only gone down by KO once in 30 bouts—and that was against Joseph Benavidez, arguably the hardest puncher amongst the flyweights.
Urushitani's a tricky opponent and 125-pounds is thin enough that Lineker's job may be safe with a loss—but a dominant win could put him right back on the road to title contention.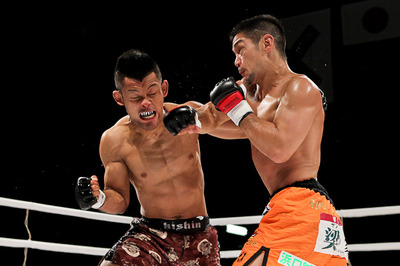 Pictured: Motonobu Tezuka, left. (Photo Credit: Taro Irei/Sherdog)
By all counts, Tezuka shouldn't even be contracted to fight for the UFC.
However, the promotion's ongoing rash of injuries has given the Pancrase and DEEP veteran a change to step in for injured South Korean fighter Kyung Ho Kang, which can prove to be a golden ticket if Tezuka beats Alex Caceres.
Going 12-1 in his last 13, Tezuka's dogged wrestling attack has advanced enough that he can stifle most opponents en route to decision wins, along with the occasional submission if his opponent leaves themselves wide open.
Regardless, a win over Caceres nets Tezuka a return UFC fight, plus the company's additional good will for stepping in on a week's notice—both valuable prizes for an international journeyman.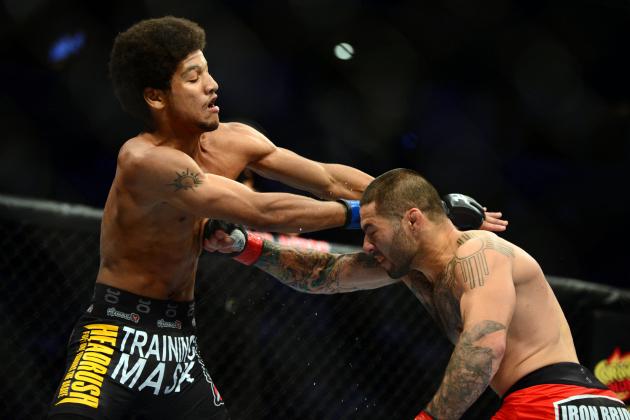 Kyle Terada-US PRESSWIRE
Pictured: Alex Caceres
As we broke down in a previous editorial, "Bruce Leeroy" just might be running out of second chances in the UFC.
Caceres has generally been hampered by inexperience combined with a skill-set that doesn't incorporate heavy wrestling technique or one-punch knockout power -- two elements that favor top-division fighters like Michael MacDonald and Brad Pickett.
But a victory against last-minute replacement Motonobu Tezuka will be huge for Caceres in two ways.
If "Leeroy" pulls out a win over Tezuka, he'll have gained valuable experience against a 27-fight veteran while achieving a two-fight professional winning streak for the first time since 2009.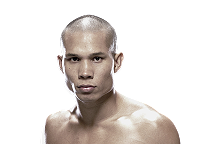 Photo Credit: UFC/Zuffa
Jon Tuck got a horrible shake on his qualifying match for The Ultimate Fighter: Live, horrifyingly dislocating his toe during a fight with eventual season runner-up Al Iaquinta.
However, he's been lucky enough to get another shot at the UFC, this time with a healed foot and his 6-0 professional record intact.
Moreover, he'll take a huge rankings jump to fight Chinese fighter Zhang Tiequan.
Beating an international opponent on his own foreign soil might draw some boos, but getting that first UFC win and improving to 7-0 will give Tuck some much needed steam to start chipping away at the lower level of the lightweight division.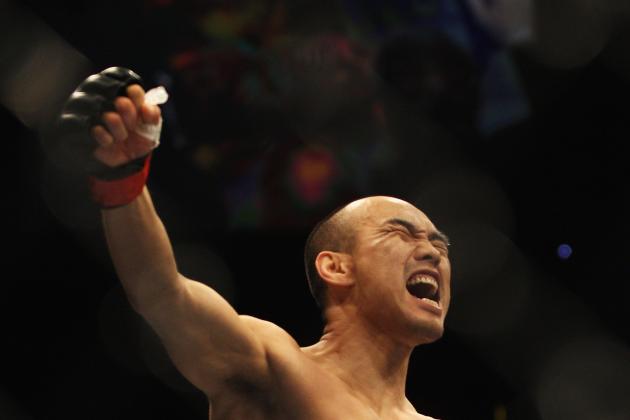 Mark Kolbe/Getty Images

More than any international fighter, the UFC brass has to be extremely disappointed with Tiequan, who went from 14-0 to 15-3 in less than two years.
Ever since losing to Danny Downes and Darren Elkins, the UFC's only Chinese fighter has been exposed as a one dimensional submission grappler with weak stand-up skills.
Regardless, his nationality has gotten him a spot on the main card despite a 1-3 slide in four fights.
Beating Jon Tuck won't be Tiequan's best win by a long shot, but winning in front of a hometown crowd on the UFC's first China card will be the real achievement.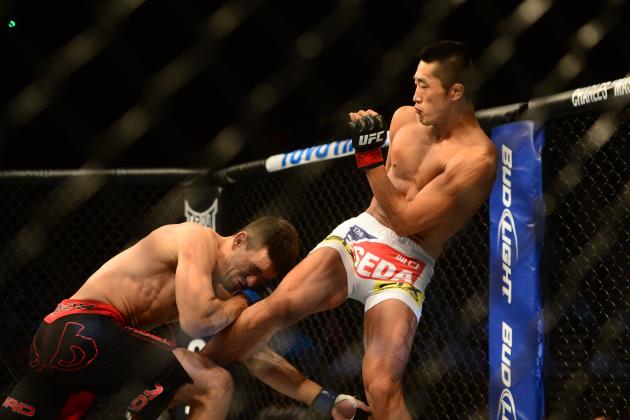 Mark J. Rebilas-US PRESSWIRE
Pictured: Dong Hyun Kim (right)
Demian Maia's success in the UFC welterweight division has actually benefited Dong Hyun Kim greatly.
With the benefit of hindsight, the South Korean fighter has now only lost to the current interim welterweight champion and a suddenly-surging possible title contender.
Beating up elite-level gatekeeper Paulo Thiago is a do-or-die situation if Kim wants to start getting back into the title picture and remind everyone how dangerous he really is in the Octagon.
Don't forget, this is someone who beat the always-tough Nate Diaz, TJ Grant and gritty Canadian Sean Pierson—all in fairly one-sided decision victories.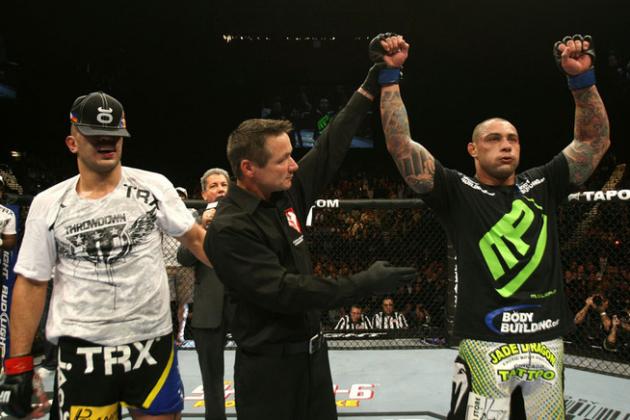 Pictured: Thiago Silva, right. (Photo Credit: UFC/Zuffa)
No matter what, Bulgarian bruiser Stanislav Nedkov doesn't have to worry about his job after the UFC: Macau event is over, especially at 12-0 and coming off a huge win over Luiz Cane in Brazil.
Thiago Silva, who's 1-3-0-1 in his last five fights, doesn't have that luxury.
Not only was he badly outclassed by Alexander Gustaffson, but Silva also still has the specter of his self-sabotaged urine test hanging over his comically dominant performance against Brandon Vera.
Handing Nedkov his first loss will lessen a lot of that bad karma and will go a long way towards elevating Silva back in into the 205-pound mix (along with saving his job).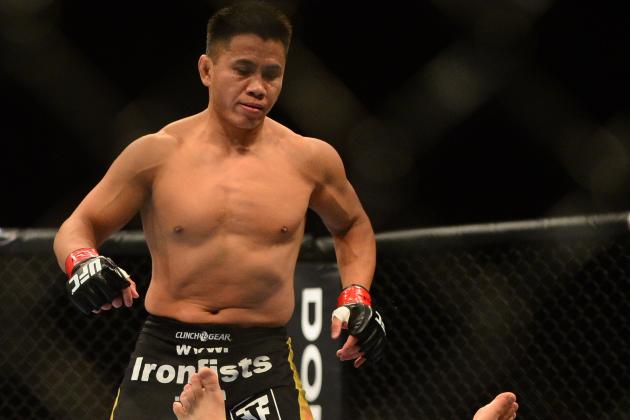 Mark J. Rebilas-US PRESSWIRE

At 40 years old, Le is unlikely to ever compete for a UFC title and is even more unlikely to crack the division's elite ranks before retiring.
But he's certainly right to call his main event fight with former UFC middleweight champion Rich Franklin the biggest of his career.
If Le paces things right, he can be a regular main card player for the UFC's trips to China (for at least two more years), along with significantly raising his celebrity-status among fans. He'll most likely draw the most applause with a win on the main card, which is pretty much why he's toughing out a broken foot just to make the trip.
Beating Franklin will be a career-defining moment for Le, especially since he's a sizeable underdog—all the prestige that comes with the win has got to be alluring.