Grading Dwight Howard's First Week as a Los Angeles Laker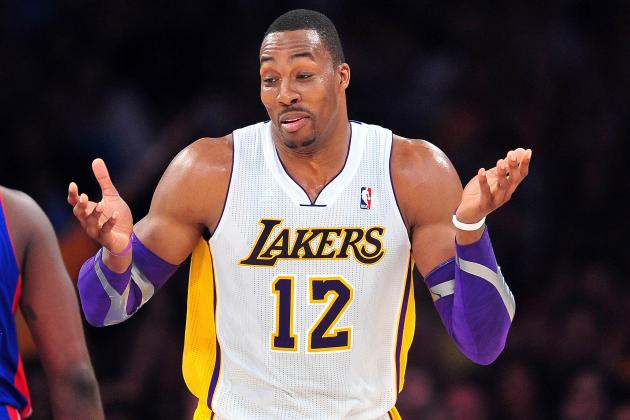 Gary A. Vasquez-US PRESSWIRE

The first week of the 2012-13 season has ended with more questions than answers for the Los Angeles Lakers, and no one player epitomizes that notion more than the man in the middle, Dwight Howard.
Howard hasn't looked like his old athletic self through five games. He's a step behind far too often, his struggles at the free-throw line are as apparent as ever, and for the first time in years he's being bullied down low by more physical opponents.
All that being said, the big man is posting solid numbers, and while he may not be running or jumping like we're used to seeing, he's certainly making his impact felt early on in his career with the Lakers.
Only the future can tell what's in store for L.A. and its new center, and while Howard hasn't been who we expected him to be, he's still been the best center in the game through the first week of the season.
Begin Slideshow

»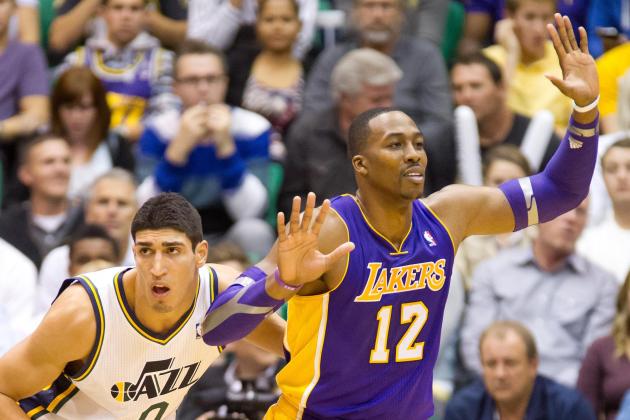 Russ Isabella-US PRESSWIRE

Very few players seem to be thriving in the Los Angeles Lakers' new offensive set, and Dwight Howard isn't the only one who would benefit from a change of pace.
The Lakers are playing a slow brand of basketball to start the year, which is not what their roster calls for. They may be old almost exclusively across the board, but they have athletes and playmakers who are fantastic in transition.
Howard is one of them, and it's clear so far that he would do well with the team attacking in fast-break fashion.
That being said, the big man is one of the best in the game at the rim for a reason, and he's discovering ways to succeed. He's averaging 22.4 points per game, which is tied for the most he's ever averaged through five games in his entire career.
Howard may not have the low-post moves that his critics would like to see, but we knew this going into the season. His game hasn't changed drastically, but that's a problem you can accept when it comes to the most dominant big man in recent memory.
Grade: B+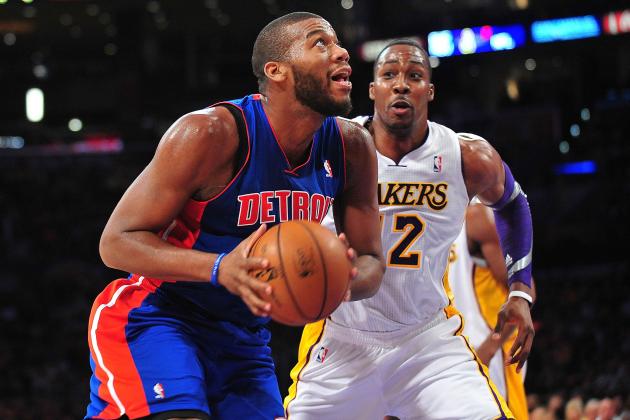 Gary A. Vasquez-US PRESSWIRE

Dwight Howard's defense hasn't been all bad to begin the year, but "inconsistent" has to come to mind when thinking of the former Defensive Player of the Year.
There are times when the 6'11" center looks elite once again, and there are others when he looks downright sluggish. At face value, his 2.4 blocks per game are good to see, but they're also a bit misleading if you haven't actually watched him play.
Howard has gotten himself into foul trouble—a problem he's rarely had in the past—as a result of his delayed responses. His defensive rotations have been slow on more than one occasion, and he appears to be a step behind too often in transition.
The fact that he is producing is great, but it leads you to wonder just how much of an impact he'd have if he were truly on top of his game.
Grade: B-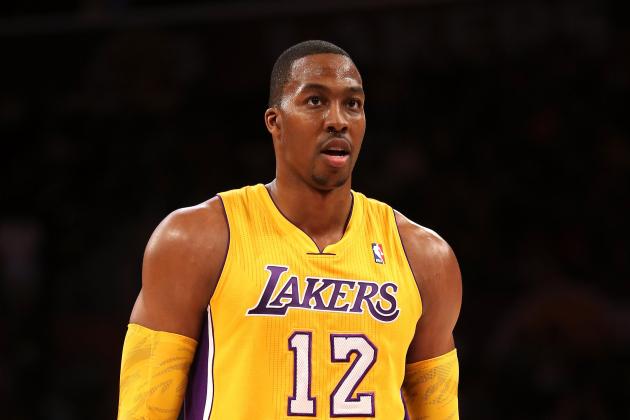 Stephen Dunn/Getty Images

For the average NBA player—or even above-average NBA player—9.6 rebounds per game is a solid mark. But for Howard, this mark is less than what we've come to expect from a player who has exhibited such consistent rebounding prowess throughout his career.
And the number of rebounds is symptomatic of a bigger issue: Howard's inability to dominate the interior on a regular basis.
His willingness to box out on rebounds has been hit or miss, and it's shown with both good and bad rebounding performances thus far.
We all know that Howard relies on his athleticism to make plays, but if he wants to take advantage on the glass the way he has in the past, he needs to put his skill set to use—not just his physique—until he fully regains his athletic abilities.
Grade: C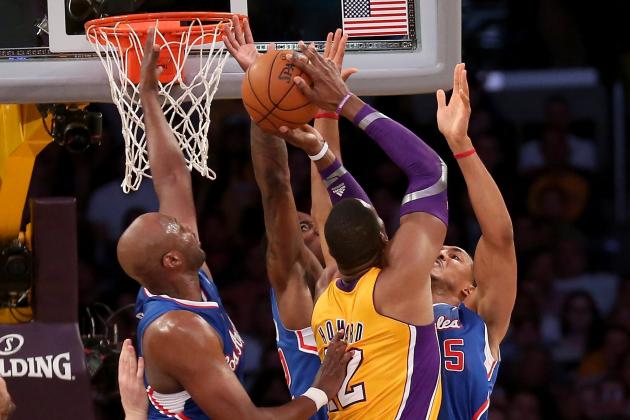 Stephen Dunn/Getty Images

While nobody outside of Dwight Howard's camp truly knows where the big man is in terms of his recovery, it's clear to those who have watched him play that he's not yet where he'd like to be.
His speed is no longer blindingly fast, his ability to fly no longer grabs headlines, and his conditioning has been understandably subpar following back surgery.
To be honest, we've already begun to see improvements, as a recovering Howard is still more athletic than most players on an NBA court. He's getting up and down the floor at an increasingly better pace, and his conditioning appears to be coming back, but by his own standards, he's not what he's been throughout his dominant career.
If Howard is truly on the right pace, and if he can get to 100 percent sooner rather than later, this part of his game is going to be a nonissue by the time the Lakers finally click and start competing in a tough Western Conference.
Grade: D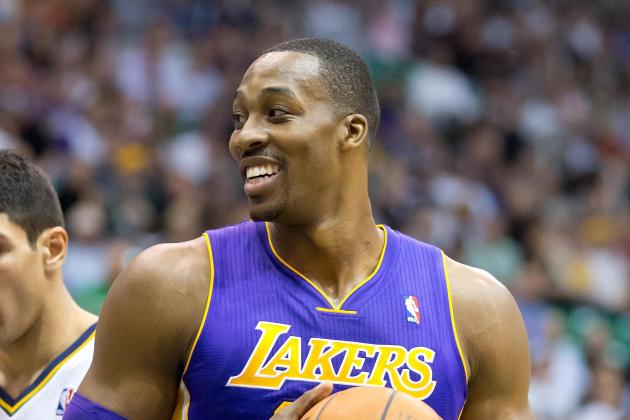 Russ Isabella-US PRESSWIRE

Dwight Howard may not pass the eye test just yet, but he's finding ways to be productive, and he's made his presence felt in one way or another every game this season.
To give Howard an "A" at this point would be claiming that he's exactly whom the Lakers were expecting; however, to give him anything less than a "B" is ignoring the production he's given the team despite his deficiencies early in the year.
Howard needs to improve his overall consistency, but if we're only looking for the downsides to his early-season performance, we're ignoring the fact that he is still the best active center in the entire NBA.
In Howard's defense, these grades have been given based on what we've come to expect from him. He's raised the bar so high for himself that he just isn't living up to his own expectations.
None of this is to say that there is irreconcilable damage in Los Angeles, but if Howard wants to live up to his own distinguished reputation, he has work to do to get back to the player he's been throughout his career.
Grade: B