Worst New Additions for Every NFL Team This Season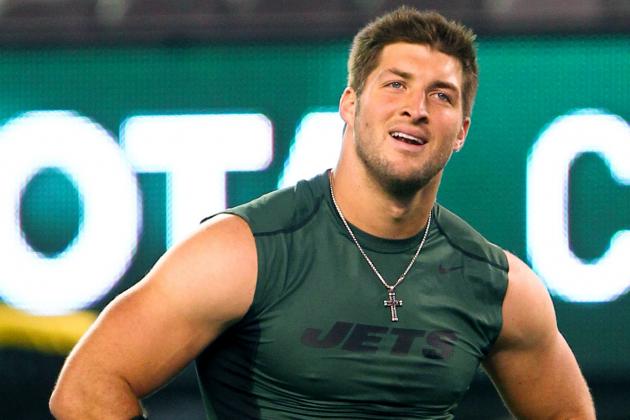 Debby Wong-US PRESSWIRE
Tim Tebow was not a good addition for the Jets.
Offseason signings bring to surface a lot of emotions.
Fanbases are either thrilled with a big free agent signing or are left pulling their hair out due to a questionable decision.
Bringing in new talent can fail for a variety of reasons. Maybe that player fit good in their previous system, but not so great in their new one. An owner could have severely overpaid for a player who was hyped during the free agency period, and that player fell flat once they put on a new uniform. In some cases it is just uncontrolled circumstances that lead to a player being a major disappointment.
Here are the worst additions to every NFL team this season.
Begin Slideshow

»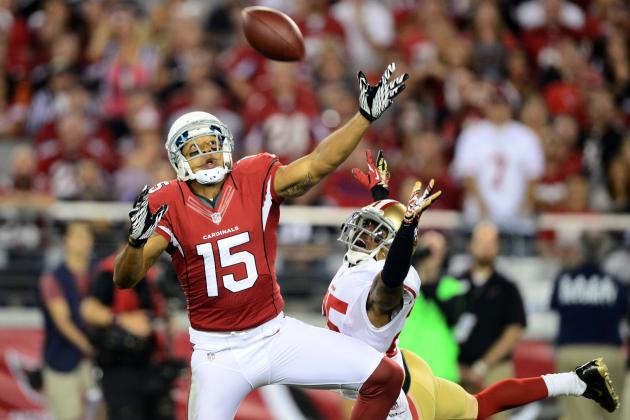 Mark J. Rebilas-US PRESSWIRE

The all-time leading receiver for the University of Notre Dame was expected to make a big impact when the Arizona Cardinals took him with the team's No. 1 pick in the draft.
However, the former Irish star has not played up to his potential so far this year and holes at almost every other position on the offense have become a major problem.
Michael Floyd has only 18 receptions for 207 yards and one touchdown.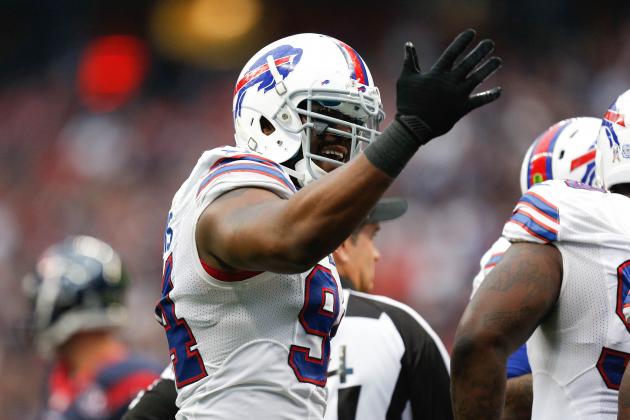 Thomas Campbell-US PRESSWIRE

Mario Williams has not looked like a $100 million defender the Buffalo Bills were expecting when they signed the coveted free agent to a massive deal this offseason.
The former first-round pick has done little to shore up the Bills shaky defense. Buffalo is surrendering 31 points and a whopping 417.9 yards per game this season.
The former first-overall pick has 23 tackles and 4.5 sacks this season and has not been able to get sustained pressure on opponents quarterbacks.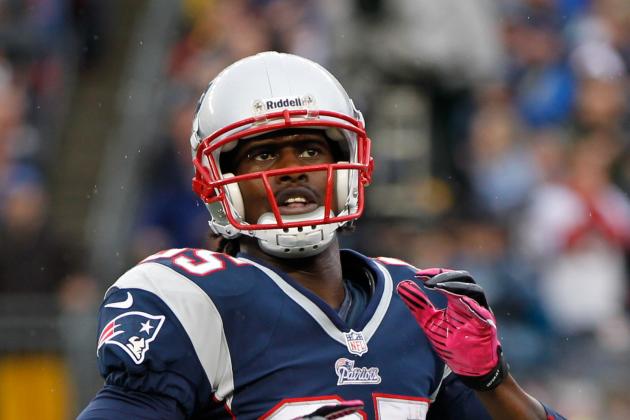 Greg M. Cooper-US PRESSWIRE

When the New England Patriots brought Brandon Lloyd in during the offseason the team was expecting him to be a downfield threat.
Nobody expected him to play like Randy Moss when he was with the Patriots, but they did expect him to be able to stretch the field.
He has done very little of that. Lloyd has 37 catches for 435 yards and three touchdowns. The most telling stat is that his yards per reception is just 11.8—hardly the numbers of an elite deep threat.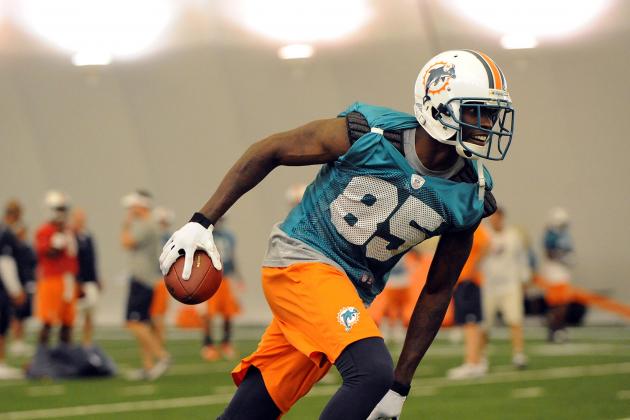 Steve Mitchell-US PRESSWIRE

Remember the whole Chad Johnson debacle. It seems so long ago now.
Well, for the few of you who have been living under a rock, the Miami Dolphins signed the artist formerly known as "Ochocinco," but were forced to cut the polarizing wide receiver after a few incidents—most notably an arrest for domestic violence (via ABC News).
The Dolphins biggest hole is at the wide receiver spot. Ryan Tannehill has proven that he can be the franchise quarterback Chad Henne could not be, but he needs help.
Brian Hartline and Davone Bess have been the Dolphins best wide receivers. The duo has combined for over 1,000-yards, but only have one touchdown.
Chad Johnson is not the shadow of the receiver he was in Cincinnati, but he surely could have helped the Fins.
However, the Dolphins knew what they were getting when they signed the outspoken receiver and it ended up bad for all parties involved.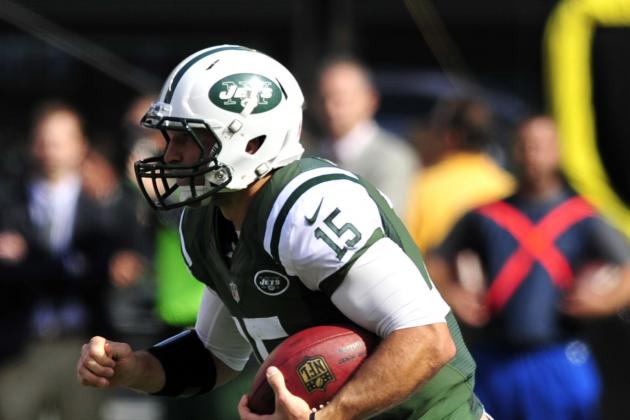 Joe Camporeale-US PRESSWIRE

The whole situation surrounding the New York Jets trade for Tim Tebow was a little strange.
The team signed their under-developed quarterback Mark Sanchez to a huge extension just before the trade, so what was the point of bringing the most talked about figure in the NFL in to sit behind him on the depth chart.
The Jets tried to hide how they were going to use Tebow in training camp, but so far his presence in the Big Apple has been underwhelming.
Outside of throwing blocks on the punt team and converting for a first down on a few short runs and passes, Tebow has done next to nothing.
The only thing Tebow's presence has done for the Jets is put even more pressure on Sanchez and bring a circus of media coverage to town—two things the Jets do not need.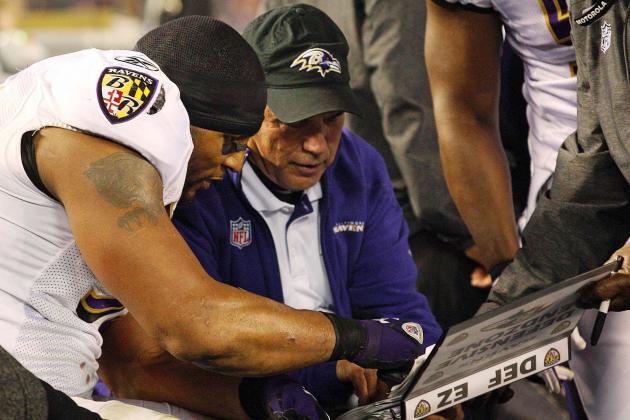 Jake Roth-US PRESSWIRE

When Dean Pees replaced the departed Chuck Pagano as the Baltimore Ravens defensive coordinator, they were still expected to be an elite unit.
"The tradition of this defense will continue, and it will flourish and it will get even better," coach John Harbaugh said (via ESPN).
However, Pees' defense is not looking like the Baltimore defenses we have come to expect. The team ranks 26th in yards allowed (386.2).
Not all the blame can be put on Pees. His defense has been obliterated by injury. However, there is still a ton of talent on the roster. His seat is surely heating up and will continue to get hotter if the defense does not step it up.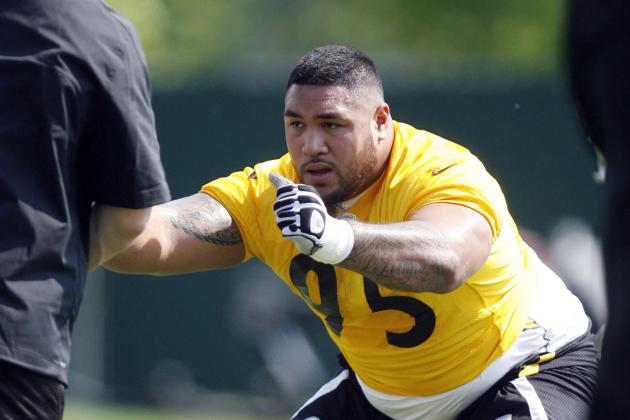 Charles LeClaire-US PRESSWIRE

There were not huge expectation for the Pittsburgh Steelers fourth round pick Alameda Ta'amu, but Ta'amu could have been an integral part of the rotation at defensive tackle.
In October Ta'amu was charged with DUI and trying to flee police after a wild car chase that allegedly included him hitting multiple parked cars. He also faces three felony counts of aggravated assault, a felony charge of fleeing or attempting to elude a police officer.
The team obviously likes the former Washington Husky. They reinstated him just two weeks after the incident.
Hopefully the Steelers will get Ta'amu some help and get him on the right track.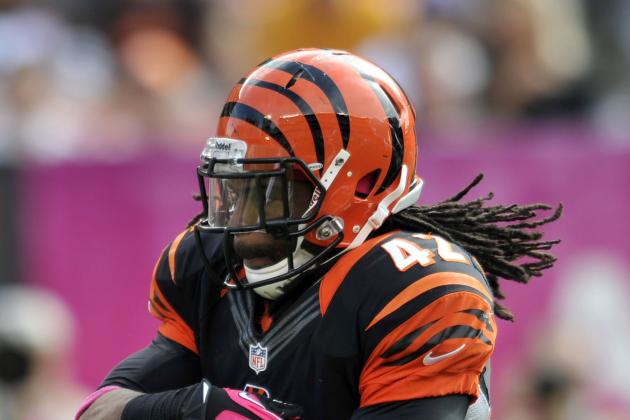 David Richard-US PRESSWIRE

When the Cincinnati Bengals signed the former New England Patriots running back to a three-year deal in the offseason, BenJarvus Green-Ellis' role was defined as a complimentary running back.
However, his 142 carries through nine weeks may indicate otherwise.
The "Law Firm" has not been able to get on track in Cincinnati. He has only 487 yards and three touchdowns. In his previous two years with the Patriots he had averaged 12 touchdowns.
Green-Ellis did not have a fumble in his four-year NFL career before the Bengals picked him up, but he has already fumbled three times, losing two of those. Add to that a mere 3.4 yards per carry and you have a pretty disappointing season.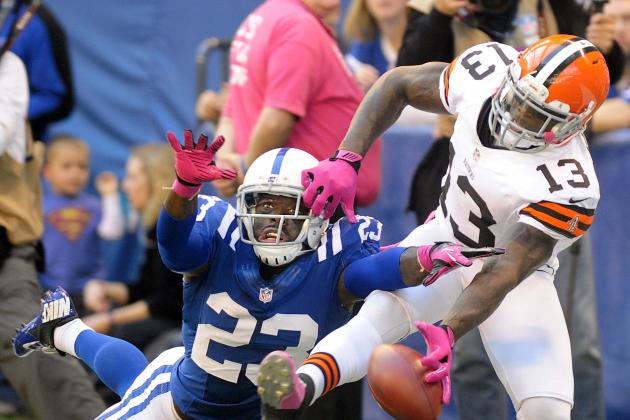 Thomas J. Russo-US PRESSWIRE

Since being traded to the Indianapolis Colts from the Miami Dolphins, Vontae Davis has started five games for Indianapolis and has recorded 19 tackles and zero interceptions. He has not made many big plays and is battling injuries. That led to Davis missing the team's matchup with the Dolphins in Week 9.
Davis would have been a nickel corner at best if he had stayed in Miami, so it looks like the Dolphins got the best out of the deal, getting a second round pick from the Colts.
Davis is only a four-year pro and a former first round pick. He could eventually develop into a solid option for the Colts at cornerback, but right now it is not looking good.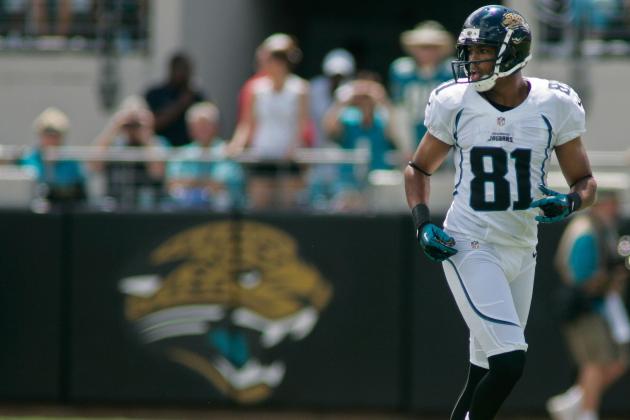 Phil Sears-US PRESSWIRE

Laurent Robinson was an emerging star last year with the Dallas Cowboys. Robinson took full advantage of his playing time in Dallas and racked up 858 yards and 11 touchdowns
He has not done much of anything in Jacksonville. The sixth-year receiver suffered multiple concussions this season and has missed time. In five appearances Robinson has 15 catches for 175 yards and no touchdowns.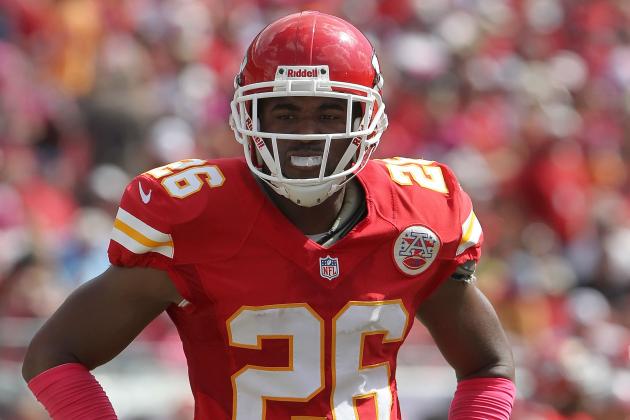 Kim Klement-US PRESSWIRE

Just eight games into a three-year deal the Kansas City Chiefs cut free agent acquisition Stanford Routt loose. Routt has cleared waivers and is now looking for another job in the NFL.
Routt is a lower-level starting corner, or solid nickel back, but something did not click in Kansas City. It's not often that teams pick up a free agent, sign him to a three-year deal and then cut him halfway through the season.
Not much has gone right for the Chiefs, but Routt was definitely one of the worse additions of the offseason.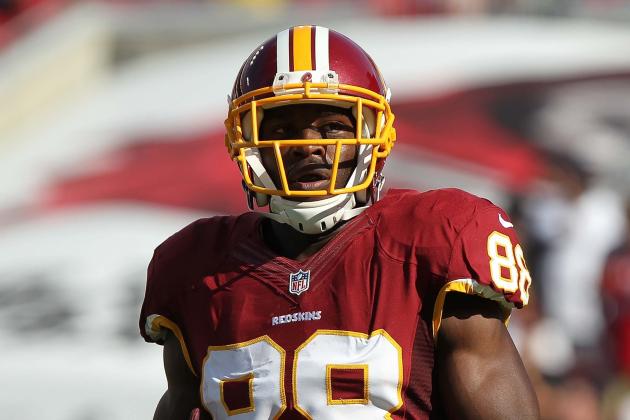 Kim Klement-US PRESSWIRE

Pierre Garcon was one of the bigger wide receiver signings of the offseason, but so far has not paid off for the Washington Redskins.
Garcon had his best year as a pro last season with the likes of Curtis Painter, Dan Orlovsky and Kerry Collins throwing him the ball.
A big year seemed almost certain with rookie sensation Robert Griffin III as his quarterback. In his Redskins debut, Garcon recorded 109 tars and a touchdown.
However, in that game Garcon tore a plantar plate in the second toe of his right foot during an 88-yard touchdown catch during the first quarter.
Garcon may play well for the rest of his five-year contract, but his foot injury is cause for concern.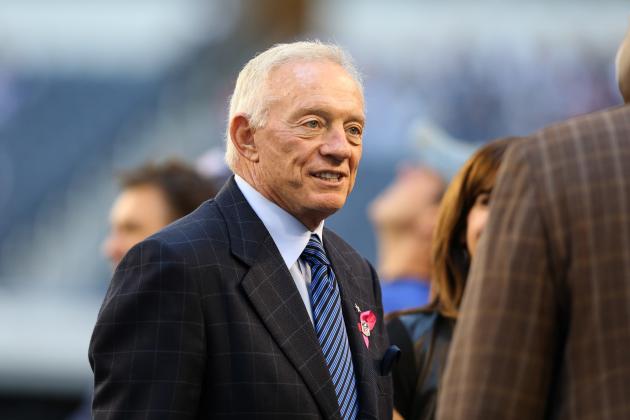 Matthew Emmons-US PRESSWIRE

The Cowboys are in a state of disarray. The team is below .500 and on the outside of the playoff picture looking in.
A lot of the reason for this is lack of depth and questionable draft decisions. Usually this would fall on the general manager—but in Dallas the general manager is the owner.
Jerry Jones made it very clear that he has no intention of stepping down. Jones said in a KRLD-FM interview Tuesday Morning:
We didn't structure it that way with my ownership. There's no way that I would be involved here and not be the final decision-maker on something as important as players, and that is a key area. That's never been anybody's misunderstanding. It's been a debated thing, but it's just not going to happen.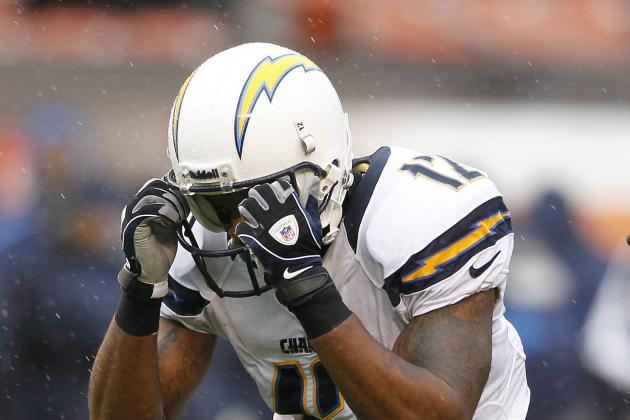 Ron Schwane-US PRESSWIRE

Robert Meachem and the San Diego Chargers agreed to terms on a contract this offseason for four years and $25.9 million.
The team is not getting its money's worth so far.
In seven games, Meachem has 12 catches for 189 years and two touchdowns.
The Chargers were hoping to fill the void left by Vincent Jackson taking off for Tampa Bay, but Meachem and Eddie Royal are just not doing.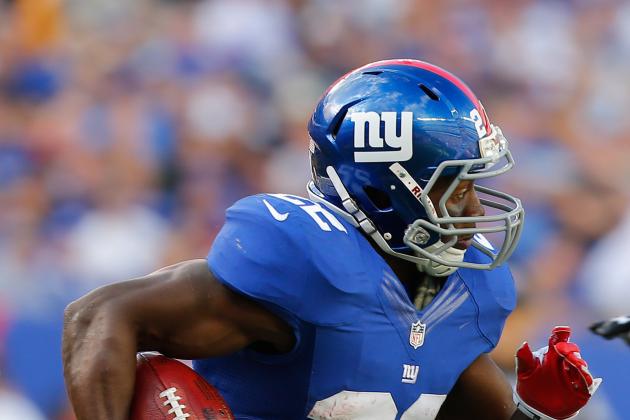 Jim O'Connor-US PRESSWIRE

The New York Giants selected David Wilson with the 32nd pick in April, but after a fumble in his NFL debut he quickly earned himself a spot in coach Tom Coughlin's doghouse.
Wilson has just 17 attempts for 88 yards and one touchdown this year.
Giants' fans were used to seeing a two-headed running attack, but Wilson's early struggles has led to Ahmad Bradshaw carrying the load.
Wilson is a project for the future, but he needs to find a way onto Coughlin's good side before he is given a chance.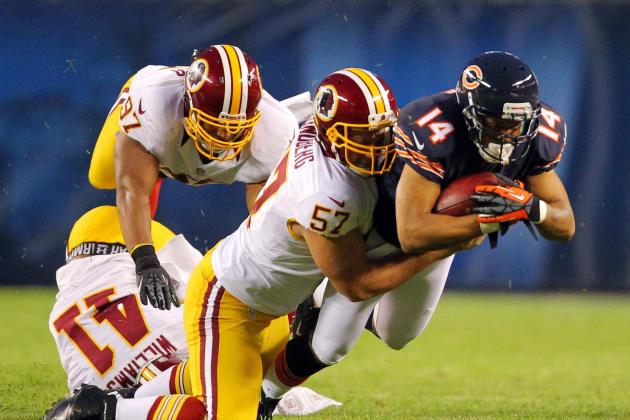 Dennis Wierzbicki-US PRESSWIRE

Eric Weems was once a Pro Bowl return man, but has not been able to find his niche with the Chicago Bears yet.
Through eight games the former Atlanta Falcon has only one fair catch and two kick returns for 30 yards.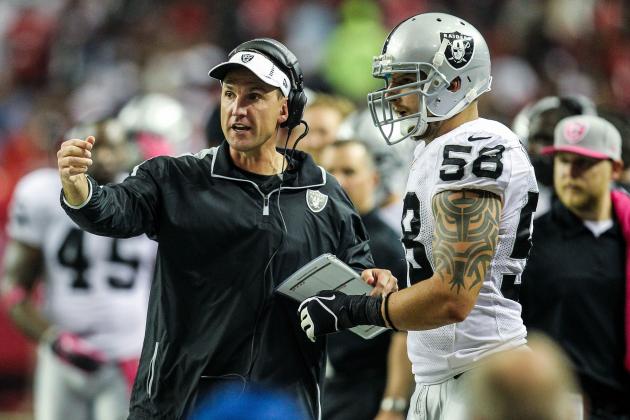 Daniel Shirey-US PRESSWIRE

Dave Tollefson had a career season with the New York Giants last year in a reserve role. He totaled 21 tackles and five sacks.
This season Tollefson has done little with the silver and black. He has eight tackles and half a sack.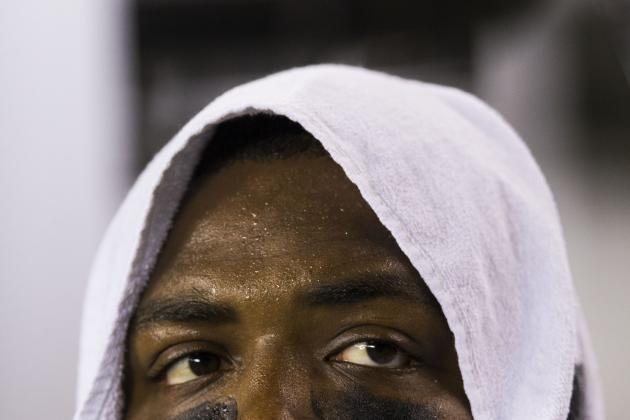 Howard Smith-US PRESSWIRE

The Philadelphia Eagles signed Demetress Bell, formerly Demetrius Bell, to a five-year free agent deal in hopes that he could replace the injured Jason Peters.
Instead, Bell, and the rest of the patchwork offensive line, has provided very little protection for Michael Vick.
Bell lost his job in the preseason, but got another chance when King Dunlap suffered a hamstring injury. Bell then went back to the bench, but will now be starting again due to a season-ending foot injury to Todd Herremans (via CSN Philly).
Whoever the Eagles quarterback is for the rest of the season better acquire a taste for dirt.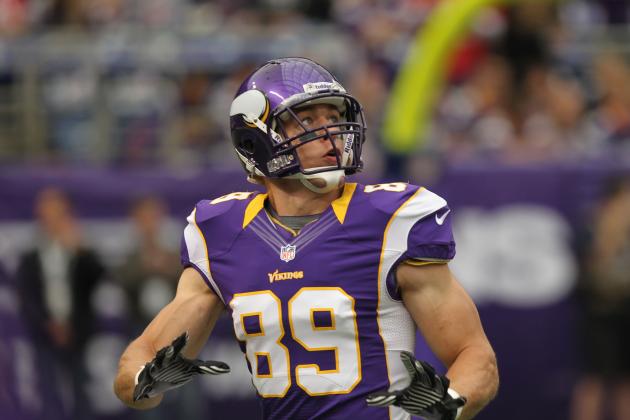 Brace Hemmelgarn-US PRESSWIRE

Tight end John Carlson hasn't figured much into the Minnesota Vikings' offense this season after the team signed him to a five-year contract worth $25 million.
The former Seattle Seahawks tight end has only three catches in his seven games played for a mere eight yards.
Carlson is now dealing with a concussion and he has not played in the Vikings last two games.
The concussion is his second in eight games and the fourth of his career dating back to his time at the University of Notre Dame.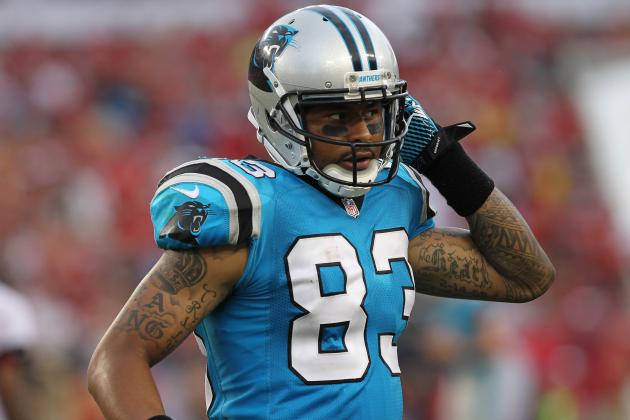 Kim Klement-US PRESSWIRE

Outside of a 51-yard catch in Week 1, former Oakland Raiders wide receiver Louis Murphy has done very little for the Carolina Panthers.
Through eight games, Murphy has just 10 catches for 135 yards.
Murphy was a decent option during his time in Oakland and was expected to see a bigger role after being traded to Carolina.
Murphy is not panning out for the Panthers. A seventh-round draft pick is all the Panthers front office had to spend in the trade, so it would not be that hard for the team to cut ties with Murphy.
Kelley L Cox-US PRESSWIRE

Brandon Jacobs hasn't played a single snap for the San Francisco 49ers since he signed as a free agent during the offseason. Jacobs injured his ankle during the preseason, but he has said he could have played since late October.
Jacobs was not an elite back when the 49ers brought him in, but he could have served a great complimentary back to Frank Gore and he would have been able to easily pick up short yardage.
Having him sit on the inactive list is questionable. It looks like the two-time Super Bowl champion will be looking for a new home after his one-year contract is up in San Francisco.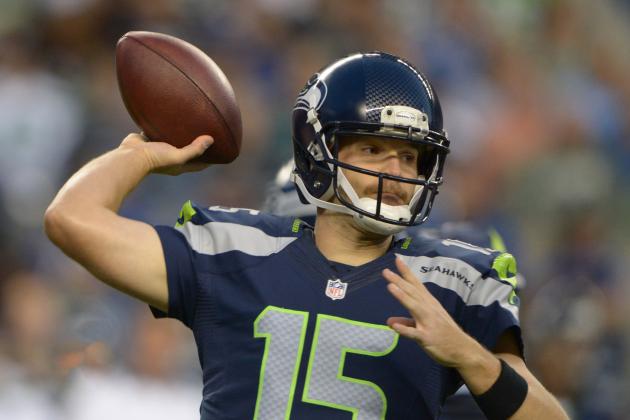 Kirby Lee-US PRESSWIRE

Matt Flynn was one of the most coveted free agents of the offseason. The Seattle Seahawks signed him to a contract is worth $26 million with $10 million guaranteed and it was basically his starting job to lose.
Then Russell Wilson showed up and the rest is history.
I can't imagine that Flynn will want to ride out his three-year contract while riding the pine behind Wilson.
Who knows what the future holds for Flynn, but hopefully the LSU product does not become a lifetime backup.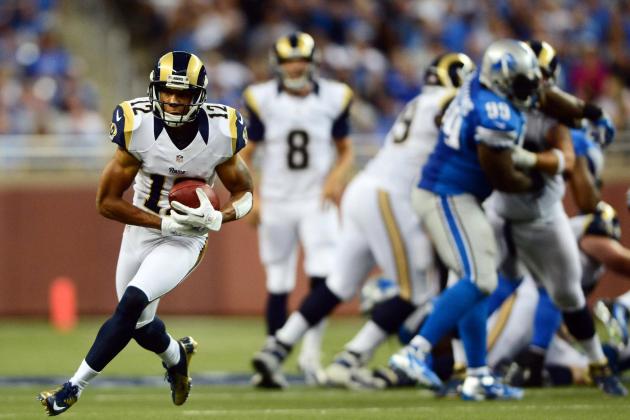 Andrew Weber-US PRESSWIRE

Steve Smith caught 107 passes for 1220 yards for the New York Giants back in 2009. Since then, Smith has not done much—including this season with the St. Louis Rams.
In six games, Smith has only 11 catches for 114 yards. Even with the lack of depth in the Rams receiving corps, Smith has not proved himself.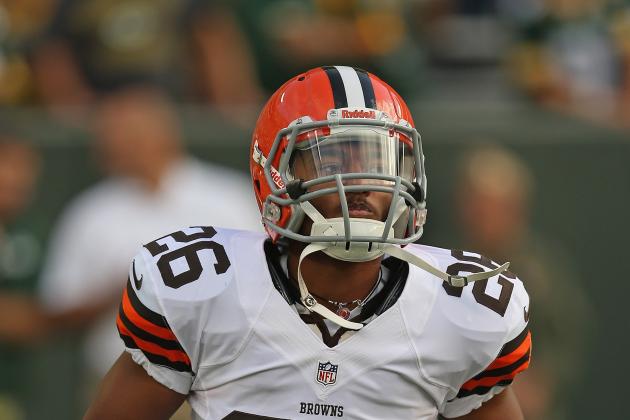 Jonathan Daniel/Getty Images

A late-round player is usually not expected to be a huge contributor in his first year, but Trevin Wade has been disappointing in his opportunities on the field this year.
Wade, taken with the 245th pick in the draft, fell on draft day and was originally projected to be a third-round pick.
Wade has been burned by speedy receivers in his limited playing time and may not even be kept on the roster as a project going forward.
Lofa Tatupu was among the best middle linebackers in the league during his years in Seattle. However, the three-time Pro Bowler has been hampered by injury for the past few seasons.
The Atlanta Falcons took a chance on Tatupu in the offseason, signing him after he sat out a year due to knee surgery.
Tatupu was hit with another injury before the season even started, suffering a torn pectoral while lifting weights.
While the Tatupu signing did not pan out, almost everything else has worked out for the Falcons. At 8-0 the Falcons have the best record in the NFL.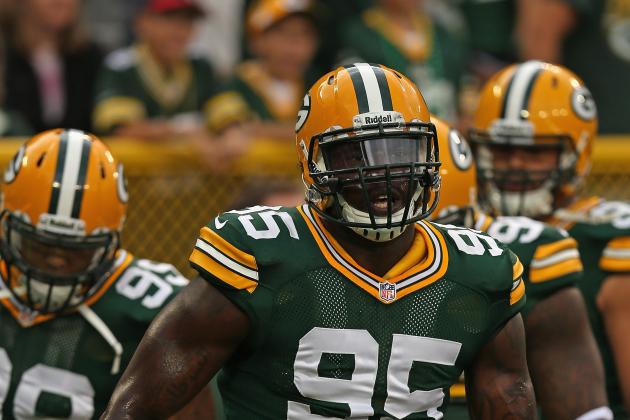 Jonathan Daniel/Getty Images

Anthony Hargrove was expected to be a contributor for the Green Bay Packers on defense, but a suspension from the New Orleans Saints' bounty scandal still loomed.
It is unclear whether Hargrove's release was a result of poor performance or his suspension—or a combination of the two.
The Packers have not made a whole lot of mistakes in terms of personnel.
Who knows if Hargrove would have made a difference, but the Packers seem to be doing just fine without him. They currently rank tenth in run defense.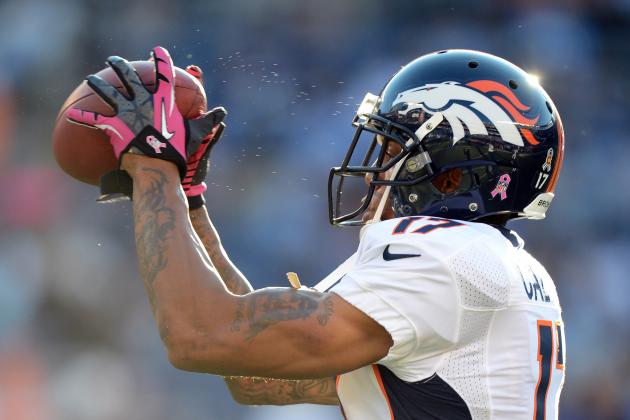 Harry How/Getty Images

Free agent receiver Andre Caldwell elected to sign with the Denver Broncos in large part because of the presence of Peyton Manning under center. He has made mediocre receivers look great, and great receivers into Hall of Famers.
Caldwell definitely is in that mediocre range, but he has not had a chance to catch any passes from Manning this season.
Caldwell has no catches through eight games and has rushed the ball only one time for 14 yards.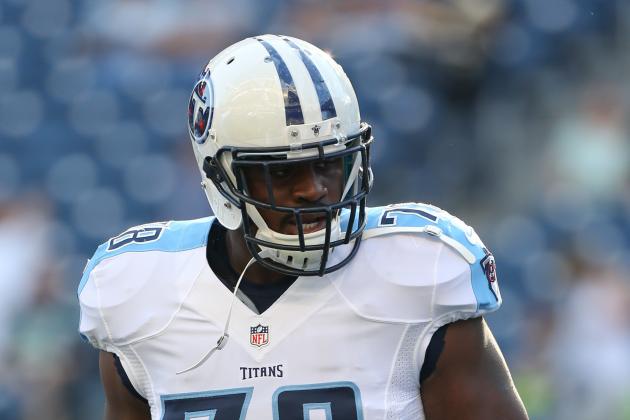 Otto Greule Jr/Getty Images

At 6'4" and 284 pounds, Leger Douzable came in as a versatile defensive lineman who could play either end or tackle.
After bouncing around practice squads, Douzable made his regular-season debut with the St. Louis Rams in 2009, and he has spent the past two seasons with the Jacksonville Jaguars.
Douzable was not going to be a game changer, but he was brought in to strengthen the rotation on the defensive line.
That did not happen as the Tennessee Titans placed him on the IR on Aug. 31 with a shoulder injury.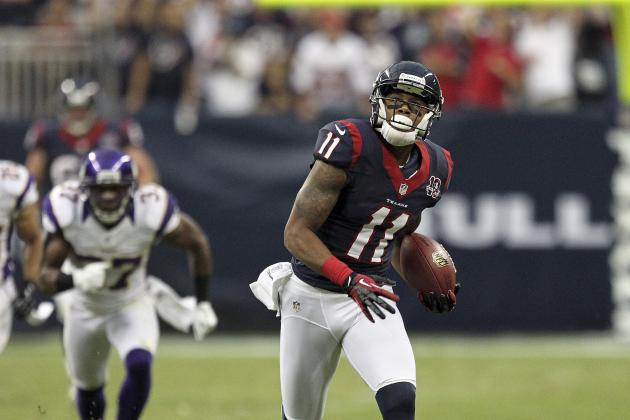 Bob Levey/Getty Images

When the Houston Texans selected DeVier Posey with their third round pick in April's draft, they expected him to fill the No. 3 wide receiver role.
Gary Kubiak singled out DeVier Posey for a lot of talking during the team's spring workouts and said that he needs to be in better condition to earn time with the offense.
Posey has not made an impact at all so far. He has one rush attempt for negative three yards and no catches.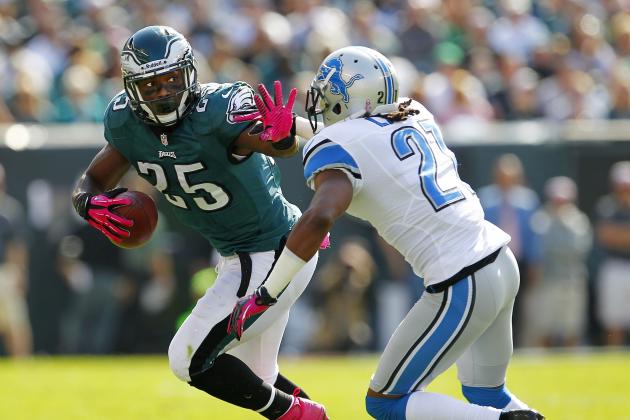 Rich Schultz/Getty Images

Jacob Lacey was an average at best pickup in the offseason for the Detroit Lions. Lacey made it a habit of getting burnt deep during his time with the Indianapolis Colts, leading to him being available for the Lions.
Lacey has started four games and recorded 16 tackles. Lacey missed the last two games with a concussion.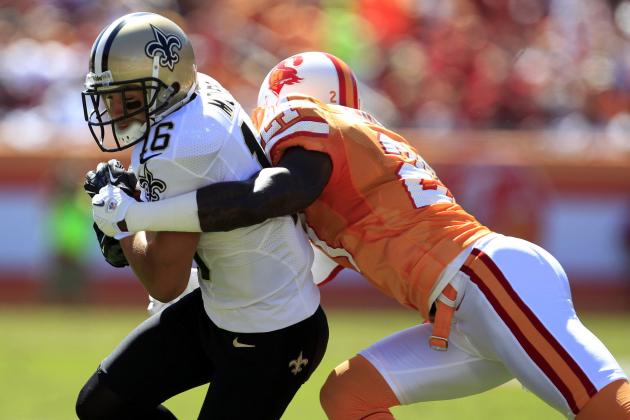 Matt Stamey-US PRESSWIRE

Eric Wright matched his career high with four interceptions with the Detroit Lions last season and got $37.5 million.
Greg Schiano plucked the bad weed that was Aqib Talib and traded him right before the deadline.
Wright now faces a four game suspension and could be the next one out of town.
Most would agree that Wright was not worth the $15.5 million he was guaranteed to come play for the Bucs—this suspension reinforces that thought.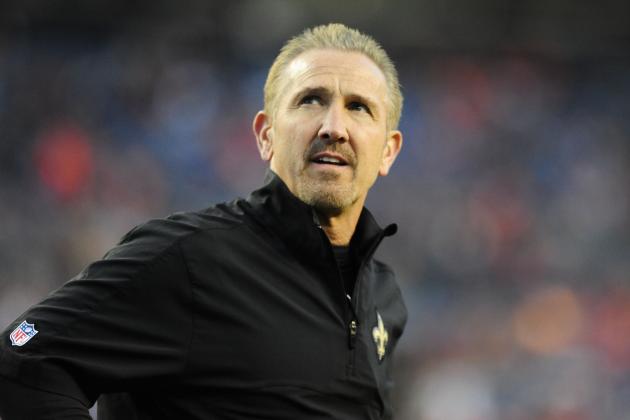 Byron Hetzler-US PRESSWIRE

The New Orleans Saints' defense is historically bad.
The unit looked alright on Monday Night Football against the Philadelphia Eagles, but in most games even the team's high flying offense cannot keep up with the amount of points the defense is allowing.
The Saints' defense ranks last in yards allowed (471.2) and 29th in points allowed (28.6).
The Saints do not have the best personnel, but are not close to the worst either. Former St. Louis Rams head coach Steve Spagnuolo has not been able to get the best out of his defense and the play calling has been spotty at best.
He is likely not on the hot seat yet. The Saints have been trying to put Bountygate behind them and the absence of Sean Payton is being felt hard. Spagnuolo will have to do better though if he doesn't want to be looking for a job in the near future. If the defense cannot take advantage of the prolific offense, a change needs to be made.