7 Things Tiger Woods Must Do to Create an Epic Rivalry with Rory McIlroy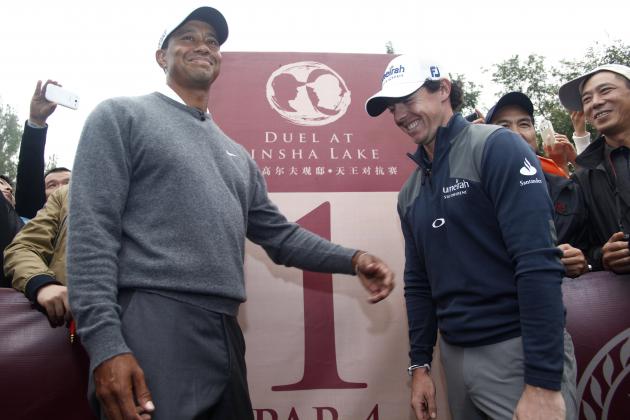 Hong Wu/Getty Images
It's all smiles for Tiger Woods and Rory McIlroy.
Golf is coming off a terrific season. Exciting major championships, a thrilling Ryder Cup, talented young players eager to take their place in the game and a restructured schedule for 2013 that will change the way players get the opportunity to play on the PGA Tour.
The game is in good shape, and there's great anticipation that the kind of great rivalry long missing at the top of the game might be on the verge of emerging.
Rory McIlroy, the young Northern Irishman who has taken ownership of the game, and Tiger Woods, the man who unwillingly gave up that ownership in 2009, are at the top of the heap and appear ready to duel as to who is the best.
Here are seven things Woods must do to create that epic rivalry.
Begin Slideshow

»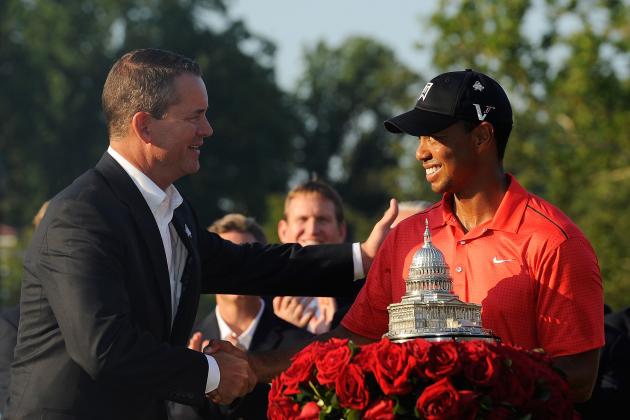 Patrick McDermott/Getty Images
If Tiger Woods keeps winning, golf's big rivalry will remain strong.
By any measuring device, Rory McIlroy has just begun winning golf tournaments, trophies and truckloads of cash. Depending on his success with the new equipment he'll be playing with, the golf world is his for the taking.
Tiger Woods, on the other hand, comes with no guarantees at age 36, with a body that's showing wear and tear and a swing that's been done and redone and done again.
That's not to say Woods is done winning, he's the second-ranked player in the world after winning three times this year.
He'll just need to keep winning, probably at that pace, in order to keep the fire hot under that rivalry.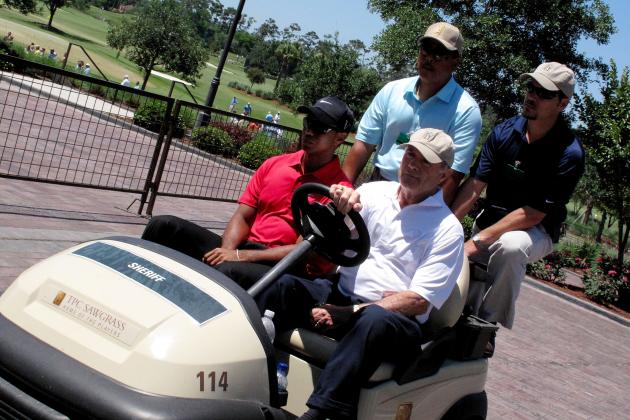 Scott Halleran/Getty Images
Tiger Woods had to withdraw from the Players Championship in 2010.
Woods played a full season this year for the first time since 2005.
Since that time, he's suffered with various problems with his left knee—including a ruptured ACL and sprained MCL—he ruptured his Achilles tendon in his right leg and suffered a bulging disc in his neck.
All of those things seem to have healed or been rehabilitated to the point that he had no major issues in 2012.
A wise approach for this offseason will no doubt include strengthening those areas to get him ready to battle McIlroy.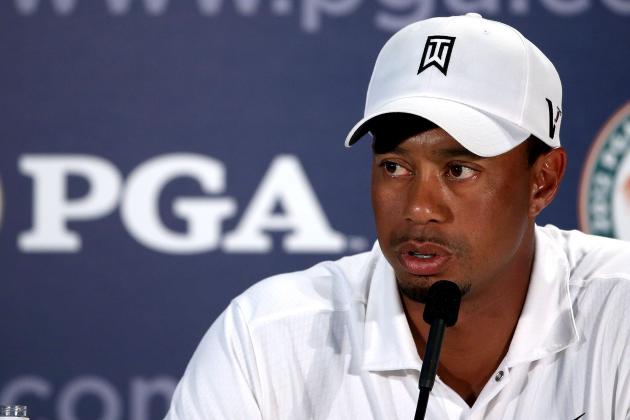 Andrew Redington/Getty Images
The "Tiger Glare" used to be part of his intimidation.
Tiger Woods has had a full plate to deal with since Thanksgiving night of 2009, so it's understandable why that unparalleled focus may not have always been present.
But while there are mitigating circumstances to support the arguments he'll never be as dominant as he was in, say, 2000, that mental toughness (glare and all) is something he should regain as his world settles down more and more.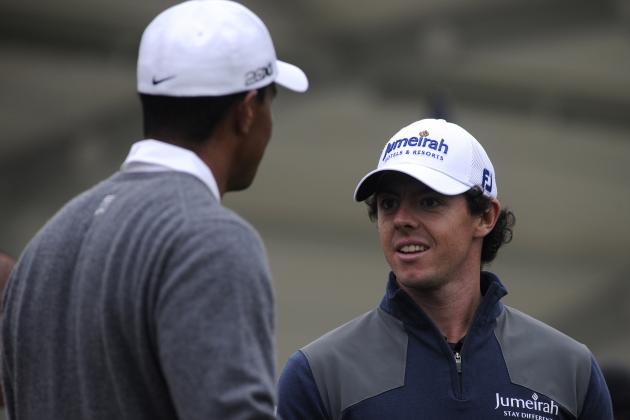 Hong Wu/Getty Images
Face time is big for these superstars.
Golf's premier duo played in the same event 15 times in 2012.
Hard to hope for many more than that, but if the rivalry is to become one of the great ones in the game, Woods and McIlroy need to play as often as they can.
Golf fans everywhere really want to see this blossom into something special.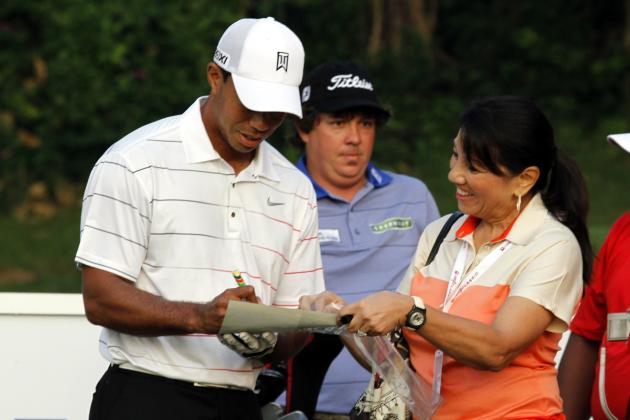 Stanley Chou/Getty Images
More of this won't hurt Tiger Woods with his fans.
Rory McIlroy has ascended to the high post of golf's Golden Boy and, while Tiger Woods still has a legion of fans, the majority of golf fans worldwide will root for the kid.
It's become a sporting tradition to root for the player or team who's established, and Woods is that, based on what he accomplished during that 2000-2008 time frame.
Being overly concerned about what fans think has never been a big problem for Woods, but he might want to consider re-thinking that position.
Making nice with those fans might make more sense now than earlier in his career.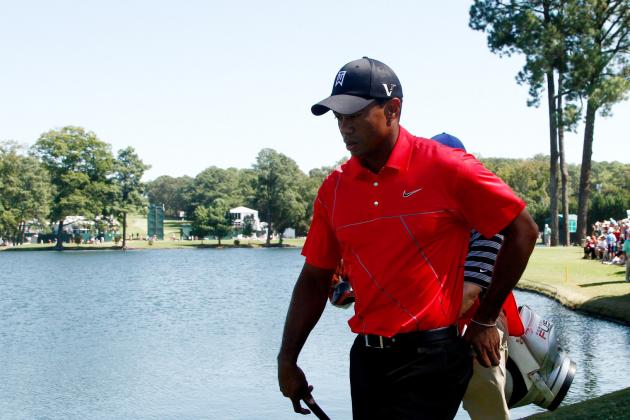 Debby Wong-US PRESSWIRE
Tiger Woods needs to hit more good shots in 2013.
As Tiger Woods' comeback began in 2010, he struggled with consistency.
Flashes of great, sometimes brilliant, play have been seen. There just haven't been enough of them to get that Tiger mojo back.
The focal point of that has been in the major championships where Woods once ruled.
But since he won the U.S. Open in 2008, Woods has posted scores in the 60s just three times in majors—that's 18 rounds and just three of those in the 60s.
The neon light is flashing: Need Help Here.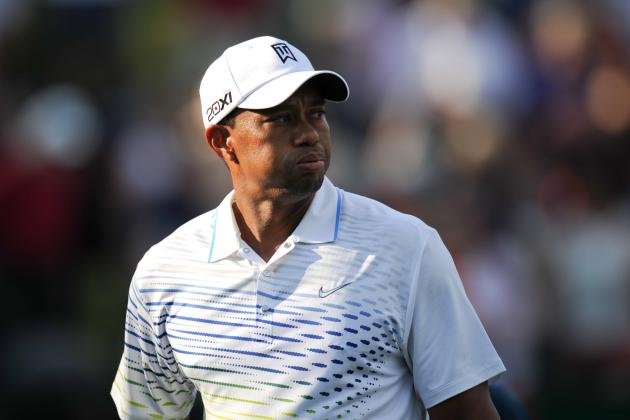 Kevin Liles-US PRESSWIRE
Tiger Woods has been frustrated at times.
Any doubts as to the relative closeness of the two players' games can be erased by looking at the PGA Tour's Performance Stats webpage.
McIlroy, the No. 1 player in the World Golf Rankings, placed in the top 10 of 25 different statistical categories. Woods, No. 2 in the world, is in the top 10 of, believe it or not, 32.
What does that tell you?
Very simply, based on how the two played this year, Woods doesn't have to make any radical changes to his game in order to remain relevant in this conversation.
Improved accuracy with his scoring clubs which would lead to more makeable putts would be a start that would pay off handsomely and quickly.