Denver Broncos vs. Carolina Panthers: Live Score, Highlights and Analysis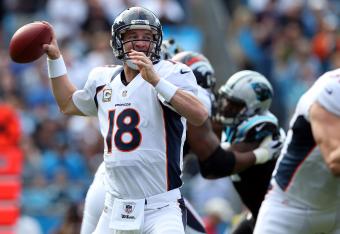 Streeter Lecka/Getty Images
The Denver Broncos (6-3) have earned a 36-14 win over Carolina Panthers (2-7) in Charlotte.
The Broncos' defense and special teams units were the story of the game. Denver returned an interception 40 yards for a touchdown and a punt 74 yards for a score, while also sacking Carolina quarterback Cam Newton eight times and forcing two interceptions.
Meanwhile, Denver's Peyton Manning was solid as usual, going 27-of-38 for 301 yards and a score. Rookie running back Ronnie Hillman added another offensive score, and kicker Matt Prater converted two field goals (53 long). Denver's defense scored an additional two points on a sack/safety late in the contest as well.
The game was John Fox's first in Carolina since he was fired by the Panthers in 2010. Needless to say, Fox got the last laugh this time around.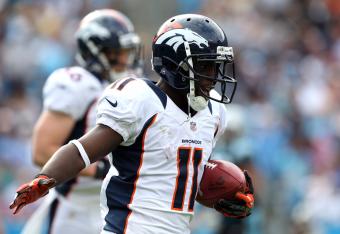 36-14, Denver, Final
A five-yard rushing touchdown from rookie running back Ronnie Hillman capped off Denver's 36-14 victory in Carolina on Sunday. Denver's defense, which recorded seven sacks and two interceptions, was the highlight of the game.
The Broncos now move to 6-3 on the season and will take on San Deigo (4-4) in Denver next week while the Panthers (2-7) will take on the Buccaneers (4-4) at home in Week 11.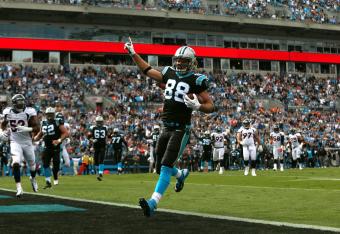 5:09 left in the game, 29-14, Denver
The Carolina Panthers have scored a garbage touchdown off of a five-yard touchdown pass from Cam Newton to tight end Greg Olsen late in the game, Olsen's second score of the game.
With just over five minutes remaining, Carolina may attempt an onside kick.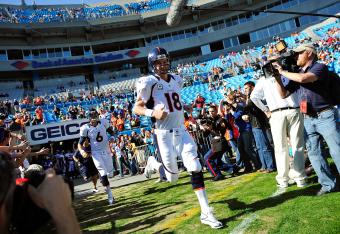 CBS Switches Broadcast
Due to Denver's large 29-7 lead late in the game, CBS has switched broadcast to more competitive games across the country. We'll continue to follow along with NFL.com's Game Center.
With 8:36 left to go in the game, Denver leads 29-7 in Charlotte.
10:32 in fourth quarter, 29-7, Denver
Denver's defense may be the story of today's game. Forcing seven sacks and an interception, the Broncos' defense has scored nine total points following safety Mike Adams' sack/safety of Cam Newton in Carolina's own end zone.
The Broncos' seven sacks mark the most recorded by one team since the Steelers recorded seven in a game during the 2003 season.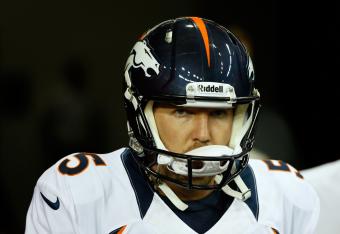 14:17 in fourth quarter, 27-7, Denver
The Broncos' most recent possession stalled and the team was forced to settle for a 27-yard field goal off the leg of kicker Matt Prater. Denver now leads 27-7 early in the fourth.
On a positive note for Carolina, the Panther's defense has only allowed 13 points and one offensive touchdown today, sacking Manning once in the process. Coming into today's game, Manning hadn't been sacked in three consecutive games and Denver's offense was scoring with ease.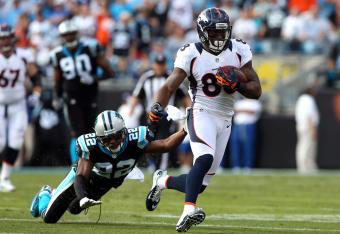 End of third quarter, 24-7, Denver
The Broncos are driving again, with a first-and-goal-to-go from Carolina's eight yard a line. A score would likely put the game out of reach for Carolina.
Manning has gone 25-of-30 for 249 yards and a score through three quarters.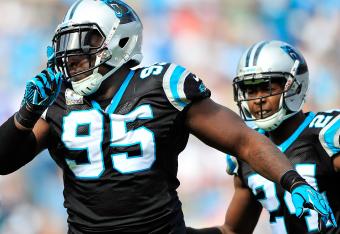 4:44 in third quarter, 24-7, Denver
Following a Willis McGahee fumble, the Carolina Panthers will take over at their own 22-yard line.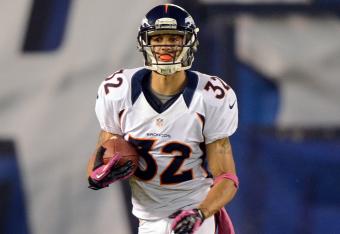 9:59 in the third quarter, 24-7, Denver
The Broncos had to punt on their first possession of the second half and Carolina took over at their own 33 yard line. The Panthers were eventually forced to punt, however, unable to convert any third downs today.
On Denver's following drive, the Broncos were driving into Carolina territory before quarterback Peyton Manning as sacked and fumbled, with Carolina recovering.
Unable to turn their turnover into points, however, the Panthers gave the ball right back to Denver when Cam Newton was pressured by Von Miller and intercepted by Tony Carter, with Carter running the interception back 40 yards for a score. Denver now leads 24-7.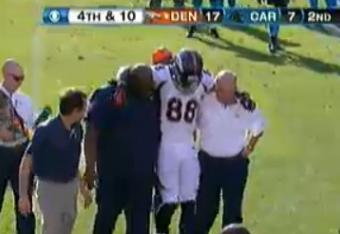 Halftime, 17-7, Denver
Following exchanged punts, the first half clock as run out in Charlotte, with Denver leading Carolina, 17-7.
Just before halftime, wide receiver Demaryius Thomas appeared to have injured his ankle/leg and had to be helped off the field. Matt Willis is the team's fourth receiver is Thomas is unable to return in the second half.
With a ten point lead, quarterback Peyton Manning will get the ball back after halftime when Denver receives the second half kickoff.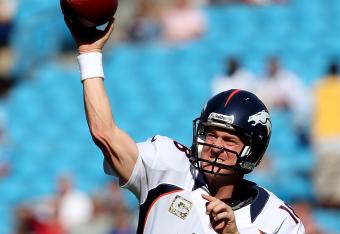 2:00 Warning, 17-7, Denver
The wheels are beginning to fall off in Carolina as the Panthers offense has had four consecutive three-and-outs in the second quarter. The Broncos, meanwhile, haven't held back.
The Broncos have driven down to Carolina's 28-yard line, with quarterback Peyton Manning going 13-of-14 for 119 yards and a score thus far. His only incomplete pass was dropped by wide receiver Eric Decker.
The Broncos are currently facing a fourth-and-one at Carolina's 28-yard line.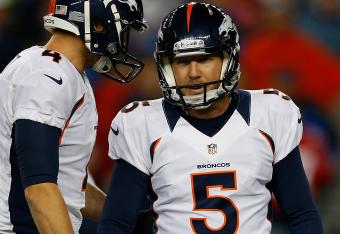 10:12 in second quarter, 17-7 Broncos
Following a 53-yard Matt Prater field goal, the Denver Broncos have taken a 17-7 lead over the Carolina Panthers. Prater is now a perfect 11-of-11 on field goal attempts this season.
On his career, Prater owns fifteen 50+ yard field goals, with the best percentage on 50+ yard attempts in NFL history (79.5%).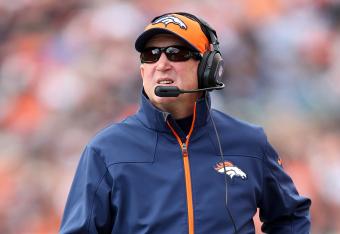 14:40 left in second quarter, 14-7, Broncos
The Denver Broncos have taken a seven-point lead after kick returner Trindon Holliday scored on a return for a second consecutive week. After scoring on a 105-yard touchdown return last week, Holliday returned Norman's punt 76 yards to give Denver their first lead of the game early in the second quarter.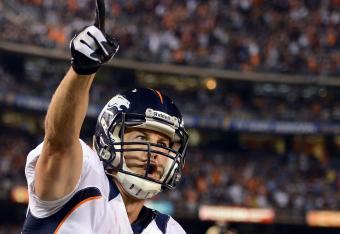 1:32 in first quarter, 7-7.
On Denver's following drive, Manning went three-of-three before an Eric Decker drop on third down forced Denver to punt once again. Carolina took over with momentum at their own seven-yard line but proceeded to go three-and-out following two runs and an incomplete deep throw from Newton.
Denver took over at their own 41-yard line looking to put points on the scoreboard for the first time today. A deep thirty-two yard pass from Manning to wide receiver Demaryius Thomas set the Broncos up deep in Carolina territory, setting up Manning's 402nd touchdown pass of his career, which ties him for the most all time (joining Dan Marino).
The score was a ten-yard completion to wide receiver Brandon Stokley, who has caught more touchdown passes from Manning (19) than any of the five other quarters he has played with during his fourteen-year career.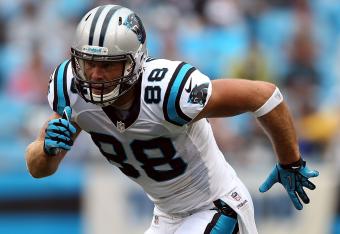 6:46 in first quarter, 7-0, Panthers
Denver's pass rush was obviously missing Von Miller (ankle) as Cam Newton drove Carolina 80-plus yards down the field thanks to three big catches from tight end Greg Olsen, including the game's first score -- a four-yard catch.
Thus far, Newton has gone six-of-six for 81 yards and a score. Manning and Denver's offense will now get a chance to match Carolina's score with their second drive of the game.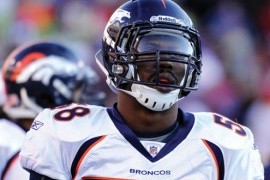 8:48 in first quarter, 0-0.
The Broncos went three-and-out on their first drive of the game, after three Willis McGahee rushes were only able to convert eight yards for Denver's offense.
On Carolina's second possession, Broncos' outside linebacker Von Miller appeared to have been injured. Denver's medical staff is currently giving him treatment.
11:40 in first quarter, 0-0.
The Broncos won the coin toss and chose to defer, choosing to receive the second half kickoff over the first possession of the game.
On their first drive, Carolina relied on running back Jonathan Stewart, feeding him the ball on consecutive plays before Newton attempted his first pass to a wide receiver. After a pair of incompletions, however, the Panthers faced a third-and-four and were unable to convert thanks to a Von Miller sack -- his tenth of the season.
After the play, Miller stole Newton's famed "Superman" celebration, pretending to pull back his jersey to reveal an imaginary "S," as Newton often does after scoring a touchdown.
The Broncos will now start their first drive from their own 14 yard line following Carolina's punt.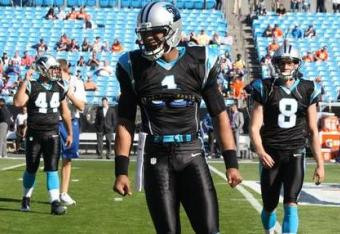 White vs. Black
For the first time in franchise history, the Carolina Panthers will be wearing all-black uniforms, designed by Nike in the offseason.
The Denver Broncos will be in all white.
There will be no confusing these two teams today.
Game Day Inactives:
Broncos
QB Caleb Hanie
CB Tracy Porter
RB Knowshon Moreno
S Duke Ihenacho
G Chris Kuper
TE Julius Thomas
DT Sealver Siliga
Panthers
QB Jimmy Clausen
WR Joe Adams
S D.J. Campbell
LB Jason Williams
T Bruce Campbell
DE Antway Applewhite
DE Thomas Keiser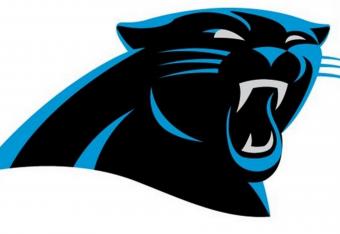 Keys to the game for both teams:
You can read about ten keys to victory for the Carolina Panthers right here.
You can read about five keys to victory of the Denver Broncos right here.
Kickoff is scheduled for 1 p.m. (ET) and the game will be broadcast on CBS.
Miller wants to steal Newton's Superman celebration:
If Broncos second-year outside linebacker Von Miller sacks Carolina's second-year quarterback Cam Newton on Sunday, he's going to abandon his usual sack dance and perform Newton's "Superman" pose.
"That would be great," Miller said on Thursday afternoon (via BroncoTalk). "I hope I get a chance to do it."
Newton and Miller—the 2011 Rookie of the Year and Defensive Rookie of the year, respectively—were the first and second overall selections of the 2011 NFL Draft. Sunday will mark the first time they've played against each other in a regular season game.
"This is the best sport in the world, so to get to go out there and show excitement in front of millions of people, that's like you're getting paid to party," said Miller.
This season, Miller is being paid $1.2 million to "party" on Denver's defense while Newton is earning $1.3 million. Regardless of their income, whoever walks away from the game having performed the most "Superman" celebrations will likely be on the winning side.
Gentlemen, get ready to party!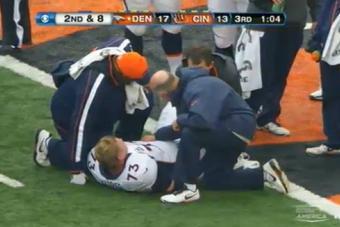 Pre-Game Injury Report:
For the Broncos, cornerback Tracy Porter (illness) and guard Chris Kuper (ankle) have been ruled out for Sunday's game. For the Panthers, Antwan Applewhite (hamstring) is doubtful. View the complete injury report here, courtesy of the Denver Broncos' official website.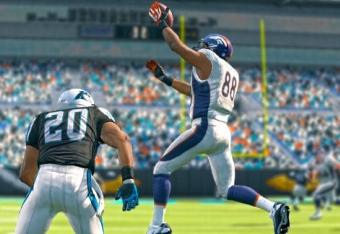 Here are a few notes to consider as kickoff approaches:
Both teams boast less-than-attractive turnover differential numbers this season, the Broncos (-4) rank 23rd in the league while the Panthers (-5) rank 24th. Turnovers—or lack of turnovers for either team—will likely decide the game either way.
Panthers defensive end Charles Johnson has led Carolina with 7.5 sacks this season. The Broncos offensive line will look to keep quarterback Peyton Manning safe by slowing down Johnson's penetration. On the other side of the ball, second-year outside linebacker Von Miller has led the Broncos with nine sacks and 17 tackles for loss, with the later ranking first in theNFL. With Carolina quarterback Cam Newton struggling with turnovers this season (eight INTs and eight fumbles), Miller will be eager to blitz this weekend.
With a zero percent chance of rain and a high of 70 degrees, Sunday's game in Charlotte should be beautiful, if the Weather Channel is accurate in their projections.
This article is
What is the duplicate article?
Why is this article offensive?
Where is this article plagiarized from?
Why is this article poorly edited?

Carolina Panthers: Like this team?