Biggest Challenges for Fredi Gonzalez Next Season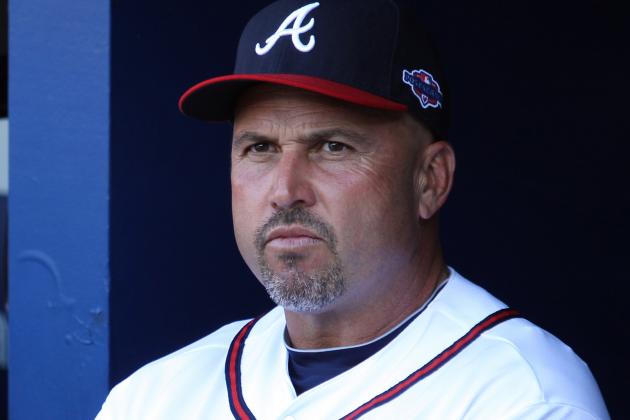 Daniel Shirey-US PRESSWIRE
Here are the biggest issues for Fredi Gonzalez in 2013.
With the World Series over and the hot stove league about to start, it's not too early to take an early look ahead to the 2013 season. After a season where the Braves made the playoffs but were eliminated after one game, next year could potentially go a number of different ways for the Braves.
The 2013 season is one that could have some issues for the Braves, and this article will take a look at some of the biggest issues Fredi Gonzalez and the Braves will have to deal with next year. I will take a look at four challenges that will need to be faced.
Begin Slideshow

»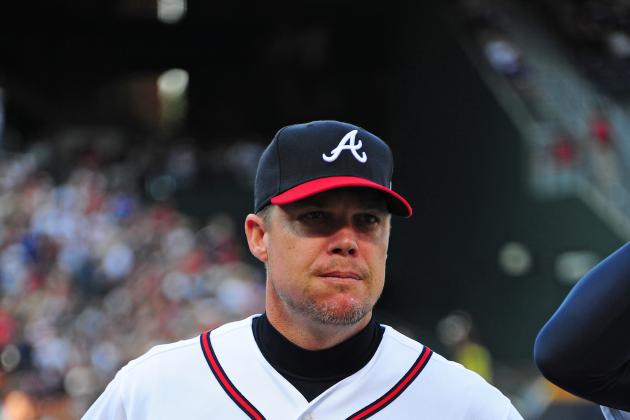 Scott Cunningham/Getty Images
The Braves will need to replace Chipper Jones.
One of the biggest issues facing the 2013 Braves isn't replacing the production of Chipper Jones, but replacing everything else he brought to the table. Replacing the production could easily be done by moving Martin Prado to third base and signing someone like Nick Swisher to play left field.
The challenge for Fredi Gonzalez is replacing Chipper Jones the person. The veteran leadership for a team with youngsters like Jason Heyward, Freddie Freeman and Andrelton Simmons was huge, and it won't be easy to replace. Neither will the clutch hits from Chipper in key situations.
Fredi Gonzalez will need to try to find the right chemistry to help unite his team and pick up some of the younger players when they go through struggles. He will also need to pull the right strings in key situations since he won't be able to use Chipper to help him pull out a victory.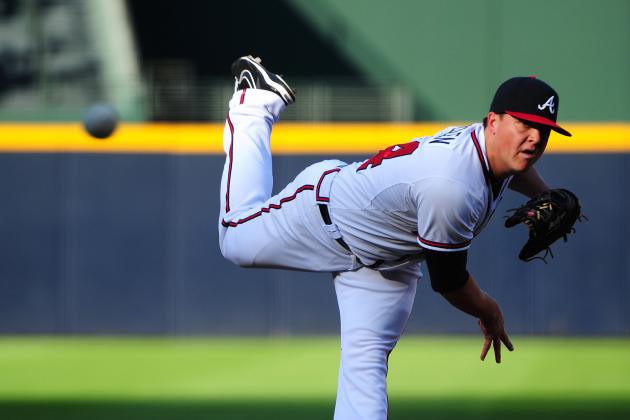 Scott Cunningham/Getty Images
The Braves will need to pick five starters from their impressive collection of arms.
The fact that the Braves have pitching depth is a good thing, but it is also an issue for their manager. Having Tim Hudson, Mike Minor, Paul Maholm, Tommy Hanson, Kris Medlen, Brandon Beachy, Randall Delgado, Julio Teheran and potentially even Jair Jurrjens available to start means Fredi Gonzalez will need to make some tough choices.
Gonzalez will need to pick the best rotation while maintaining the happiness of the guys he does not select to start. It's even tougher to do when you have a bunch of veterans who have proven themselves at the big league level and aren't guys that would be happy with a trip to the minors.
At the start of the year it won't be as hard to send down Delgado and Teheran to gain more experience. However, when Beachy returns and the Braves have six healthy starters there will be some tough decisions to make.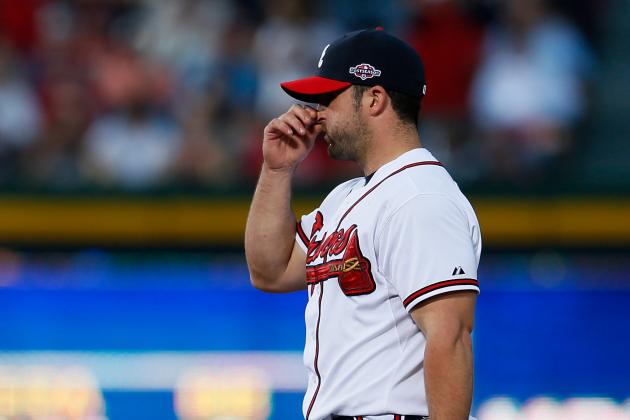 Kevin C. Cox/Getty Images
Dan Uggla has struggled over the last two years.
In his two seasons with the Braves after being acquired from the Marlins, Dan Uggla has been a disappointment. In 2011 Uggla was awful in the first half of the season before getting extremely hot in the second half and posting respectable, but low numbers. This season Uggla struggled throughout the season and was even benched at times down the stretch.
Uggla has too much time and money left on his contract as well as ability to sit on the bench. Fredi Gonzalez will need to weigh this along with Uggla's struggles and manage him the most efficient way possible to protect the Braves from extended slumps from Uggla.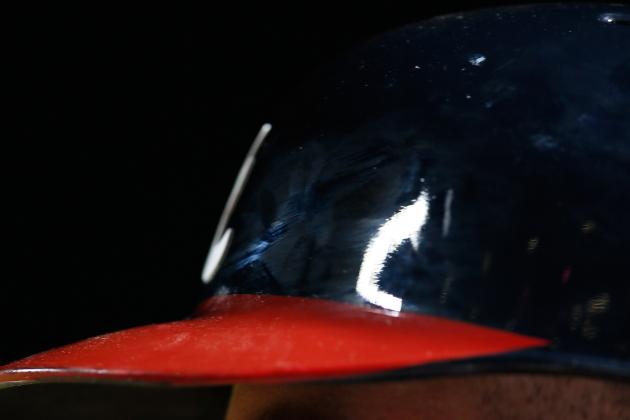 Kevin C. Cox/Getty Images
The Braves can't afford to lose Brian McCann for too long.
Brian McCann dealt with a shoulder injury all season that required him to undergo surgery at the end of the year. It was reported that due to the length of recovery time, he could potentially miss some of the 2013 season. Even if he were to miss a month, that would be time for the Nationals to grab an early lead in the NL East, so replacing McCann while he is out and giving him extra rest will be a challenge.
Replacing an All-Star like McCann isn't usually easy, but re-signing backup David Ross would be a great start. However that would still leave a hole at backup for however long McCann is out, and the Braves do not have any internal options for that role. Then if they were to lose Ross as a free agent then the time McCann is out would be even more costly, which would make it even tougher to rest him during the season.
Fredi Gonzalez will need to manage McCann well next year to help keep him healthy, especially if McCann is forced to miss significant time.