San Antonio Spurs vs. Los Angeles Clippers: Live Score and Game Highlights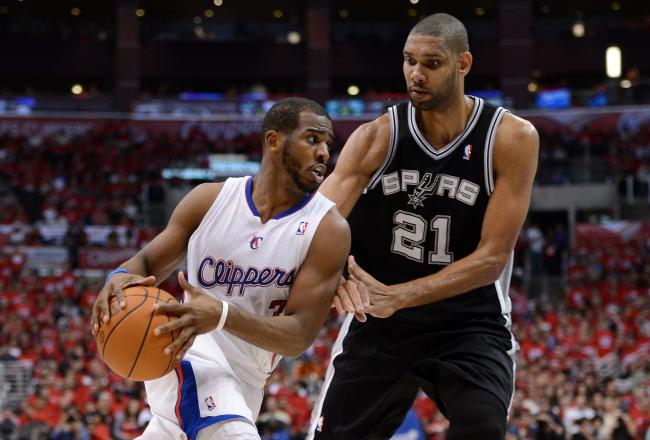 Harry How/Getty Images
A rematch of last season's Western Conference semifinals, the Los Angeles Clippers (2-2) host the San Antonio Spurs (4-0).
At 4-0, the Spurs are off to their best start in franchise history. Tim Duncan, who has turned back the clock like the rest of the country this weekend, is averaging an impressive 19.3 points, 10.3 rebounds and 2.5 blocks. Additionally, the Spurs rank third in the league in point differential at plus-9.5 points per game.
The Clippers are coming off back-to-back home losses against the Golden State Warriors and Cleveland Cavaliers. Jamal Crawford leads the Clippers and is fourth in the league in scoring at 24 points per game. The Clippers have had massive problems on the glass as evidenced by ranking 25th in rebound differential at minus-6.5 per game.
While the Clippers attempt to keep pace atop the West, the Spurs will look to dominate the paint against Lob City's poor interior defense. The Clipper guards, led by Crawford and Chris Paul, will need to set the tone Wednesday night as Blake Griffin has struggled against the Spurs.
Check back in at 10:30 ET for tonight's matchup and for live coverage from Bleacher Report.
Recap
Coming into the game, the Clippers may not have seen this as a must-win, but starting 1-3 on your home floor is unacceptable for title contenders. That would not be the case as the Clippers dominated the Spurs seemingly every way possible.
DeAndre Jordan played one of his best games as a Clipper, finishing with 20 points, 11 rebounds and four blocks.
Jordan's defense consistently flustered Tim Duncan, who shot 3-8 from the field and scored a season low 10 points. Typically, Duncan was the one forcing the Clippers into poor shooting nights and frustrating the young bigs of the Clippers.
Blake Griffin, who has historically struggled against the Spurs, exploded for 22 points, 10 rebounds and a handful of lobs.
Griffin looked unaffected by the burst bursa sac in his right elbow and came out attacking the basket, something he has not done much this season. His plus 29 rating says it all. Griffin finally showed the Spurs what he is capable of when on top of his game.
While Chris Paul's impact was felt (10 points, 12 assists), it was Eric Bledsoe who pressured the Spurs guards and forced Greg Popovich's hand on defense.
Gary Neal was unable to defend Bledsoe all night long. After three quarters Pop had seen enough and subbed Patty Mills into the game to check the electric guard. Bledsoe finished with 15 points and five assists.
With that said, do not take too much away from this game if you are a Spur fan. The Clippers played out of their minds on defense, something they have failed to do under Vinny Del Negro. While the Spurs were ran off the floor tonight, things are bound to look much different in future meetings.
It is not often the Spurs will be held to 41 percent shooting and commit 20 turnovers, but tonight was the Clipper's night. They simply could not be stopped and the energy was infectious as everyone who stepped on the floor in the red and blue seemed to make an impact.
Should the Clippers put that kind of energy into their defense every night they are legitimate title contenders. However, it remains to be seen if the Clippers were just up for some payback on the Spurs or something else. Were they upset over two home losses that they felt they should have won? Have they actually bought in on defense?
Time will tell, but this is certainly a game the coaching staff can point to in order to show how good this team can be.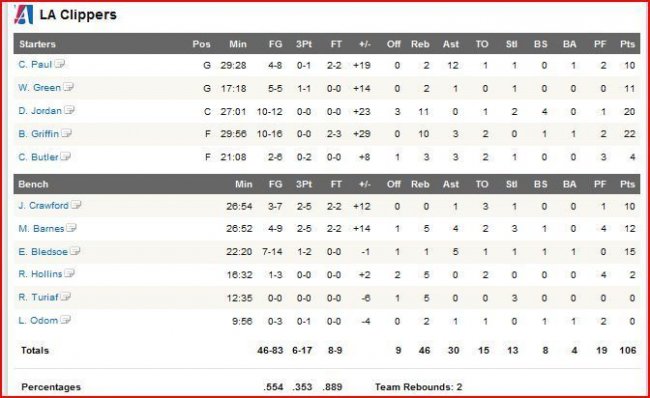 Blake Griffin finally broke his slump against the Spurs and DeAndre Jordan played one of his best games in a Clipper uniform. The defense was suffocating and the lobs were plentiful.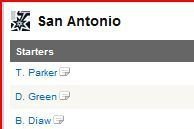 The Spurs could not get any of their big three to score and it led to a blowout loss to send their record to 4-1.
DeAndre Jordan's two handed flush.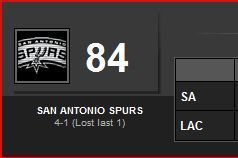 The Clippers absolutely dominated the Spurs in the second half outscoring them 59-43.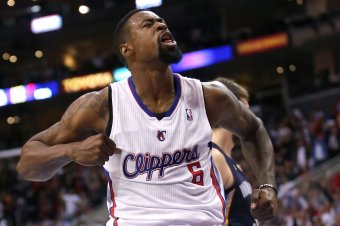 Stephen Dunn/Getty Images
Huge win for the Clippers. 7 players in double figures and they lead nearly the entire game.
Final score Clippers 104 Spurs 79
As time runs out, Crawford makes the rookie De Colo look silly as he bounces the ball between De Colo's legs and gets fouled.
Not a good night for Parker who finished with four points, six assists and four turnovers.
I've lost track of how many lobs the Clippers have thrown tonight. Bledsoe to Barnes with another.
Clippers 104 Spurs 77 2:28 4Q
DeAndre finishes with season-high 20 points, 11 rebounds, and ovation from #Clippers crowd

— Madelyn Burke (@MadelynBurke) November 8, 2012
Blake fakes a side screen and cuts to the basket. CP3 delivers his final assist of the night on a beautiful lob.
Griffin and Jordan both go over 20 and 10.
Clippers 97 Spurs 74 4:00 4Q
Pop chalking this one up to a L. Has De Colo and Mills in the backcourt.
I can't remember the last time the Clippers played this well on defense. Im sure Vinny Del Negro agrees with me.
Clippers are holding the Spurs to 40% from the field and have forced 18 turnovers.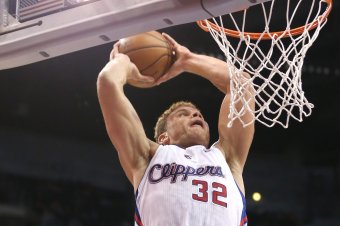 Stephen Dunn/Getty Images
Another steal. Pass up the floor to Barnes who throws a terrible lob to Griffin. He grabs it with his left hand under the basket and finishes in mid-air.
Griffin back down the floor and hits a jumper.
Clippers 95 Spurs 74 5:24 4Q
Refs hit Jackson, Jordan, and Griffin with technical fouls.
Pretty weak calls.
Things getting chippy.
Barnes pushes Manu to force the last steal. Jordan with a big block and a lot of body on Blair. Manu hits CP3's arm and Paul gets in Manu's face.
Crawford answers with a rainbow from 25 feet. Manu turnover forced by Barnes. Barnes open floor lob to Blake.
Clippers 89 Spurs 73 6:53 4Q
Illegal defense call and a layup for Blair! Here they come.
Griffin back in.
Clippers 84 Spurs 73 7:48 4Q
With Mills in Del Negro counters with Chris Paul. Uh oh.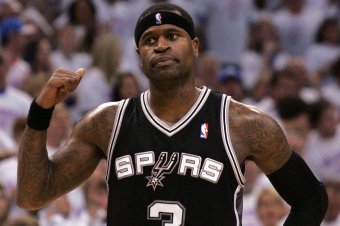 Brett Deering/Getty Images
Cap Jack with a chance at a three point play after the timeout. Clippers second unit is all defense and Crawford and Bledsoe on offense. With Mills in, the Spurs are definitely capable of making a run. He can fill it up in a hurry and can stay with Bledsoe on defense.
Clippers 84 Spurs 69 8:77 4Q
Patty Mills in to check Bledsoe. At least he has some speed. Bledsoe was absolutely abusing Gary Neal. Not sure why Pop waited this long.
Bonner opens the scoring in the fourth quarter with a three. The Spurs need to lock in defensively to make a run here, but nobody can stop Bledsoe. He now has 15 points on another runner.
Clippers 84 Spurs 65 9:50 4Q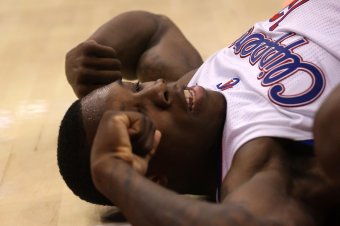 Stephen Dunn/Getty Images
Clippers shoot 17-22 for the quarter and extend their lead by 14.
Bledsoe stretches the lead to 20 with a jumper.
Manu and Barnes get into it a little after a foul. Manu makes both free throws.
Bledsoe taking over. Hits a runner in the lane. Nobody on that roster can check him.
Clippers 82 Spurs 62 end of the third
The Spurs really need to get the ball to Jackson in the post. He has Jamal Crawford and his 180 pounds on him.
This article is
What is the duplicate article?
Why is this article offensive?
Where is this article plagiarized from?
Why is this article poorly edited?