Big East Basketball: The Best Player on Every Team for 2012-13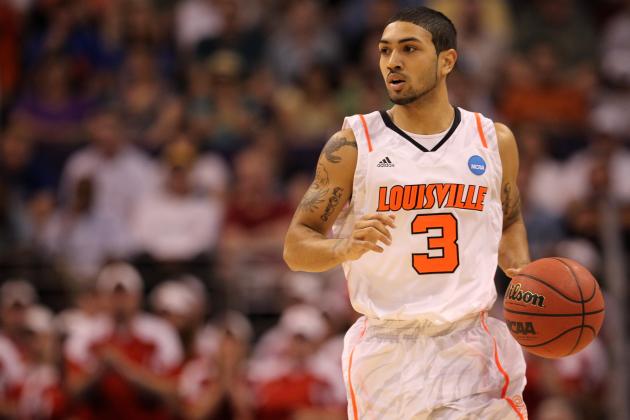 Jamie Squire/Getty Images

It's almost the end of the Big East as we know it, but the conference's collection of star players feels just fine. It's no surprise to find elite talent at powerhouse programs such as Syracuse or Notre Dame, but even struggling teams at Providence and DePaul boast some of the most impressive individual players in the country.
Of all the conference's leading lights, none will have a bigger spotlight on him than Louisville point guard Peyton Siva. The Cardinal senior put a subpar offense on his back and carried it to the 2012 Final Four, and now he has a chance to lead his veteran team to the national title.
Read on for more on Siva and the rest of the top standouts on each of the Big East's rosters this season.
Begin Slideshow

»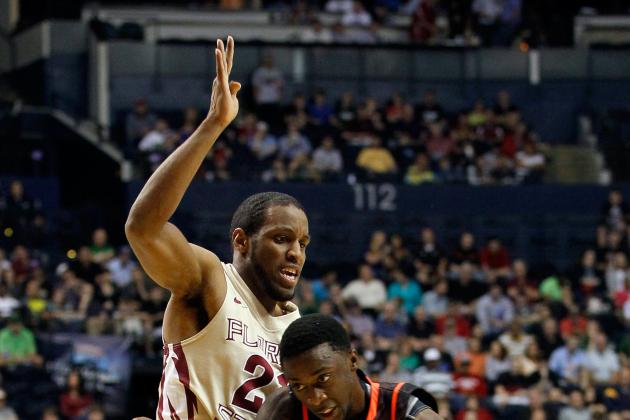 Kevin C. Cox/Getty Images

A four-guard lineup like Cincinnati's requires guards who can contribute in a lot of areas, and Cashmere Wright—even more than scoring star Sean Kilpatrick—fits that bill.
The Bearcats' senior point guard dished out 4.6 assists per game last season, but he also scored 10.9 points a night while shooting .371 from beyond the arc.
At just 6'0", Wright is also a respectable rebounder (3.8 boards per outing). His biggest asset, though, is his aggressive defense, where he led the hard-nosed Bearcats with 2.0 steals a game last season.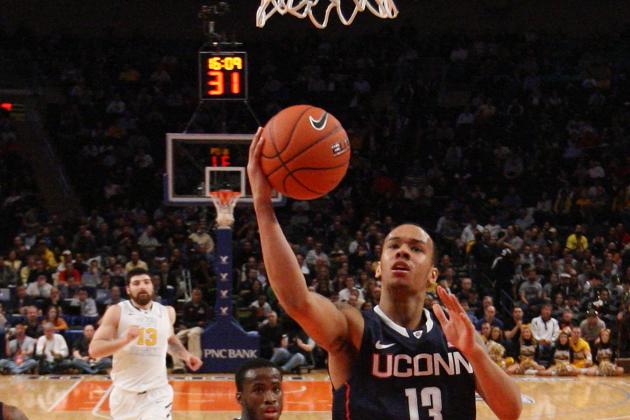 Jim McIsaac/Getty Images

Transfers and the NBA Draft did a number on the UConn roster, but the Huskies' offense will still be in good hands with the return of Shabazz Napier at the point.
After backing up Kemba Walker as a freshman, the 6'1" Napier proved more than ready to take over the starting job, dishing out 5.8 assists per game last year.
Napier is also an explosive scorer who averaged 13 points a night, a figure he'll need to increase with Jeremy Lamb gone. On top of all that, he's also UConn's toughest defender at 1.6 steals a night.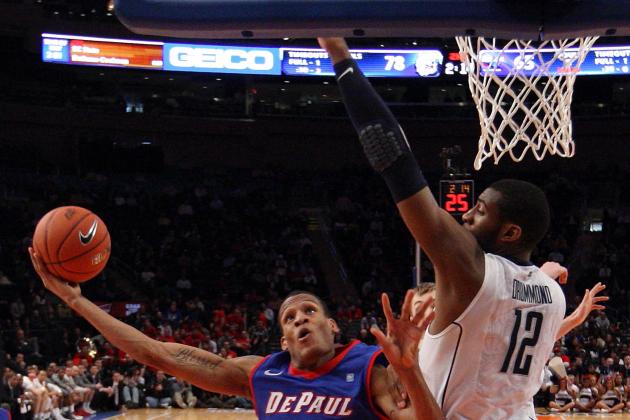 Jim McIsaac/Getty Images

Oliver Purnell's rebuilding project at DePaul hasn't exactly been a rousing success thus far, but at least he has a first-class talent to build around in Cleveland Melvin.
The 6'8" power forward had no sophomore-slump problems last season, lighting up scoreboards—even against tough Big East opponents—for 17.5 points and 7.4 rebounds per game.
Melvin is only a passable defender (1.1 blocks per game a year ago, down from his freshman season), but his scoring punch makes up for many ills.
With point guard and classmate Brandon Young back to keep the offense clicking, Melvin is a good bet to record his third straight season with more points scored per game than games won by his team.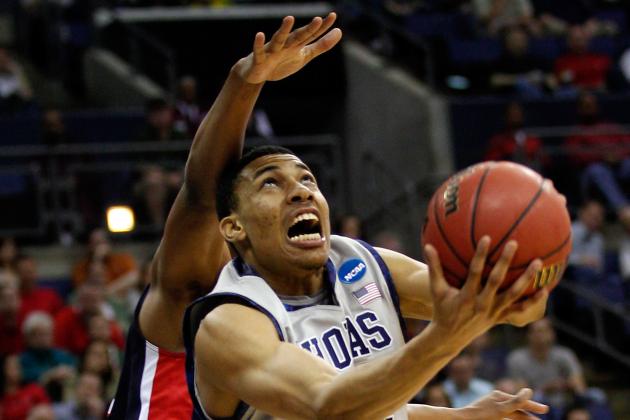 Rob Carr/Getty Images

John Thompson III's version of the Princeton offense is never easy for a freshman to learn, but Otto Porter fit right in with the Hoyas in his first collegiate season.
The bruising freshman averaged 9.7 points and 6.8 rebounds per game while ceding the spotlight to towering center Henry Sims.
With Sims lost to graduation (along with much of Georgetown's perimeter scoring punch), Porter is set to take over as the leader of an underrated squad.
Look for him to blossom into a star in his own right, an evolution that should include an improvement on his pedestrian defensive numbers (1.1 steals and 0.8 blocks a night).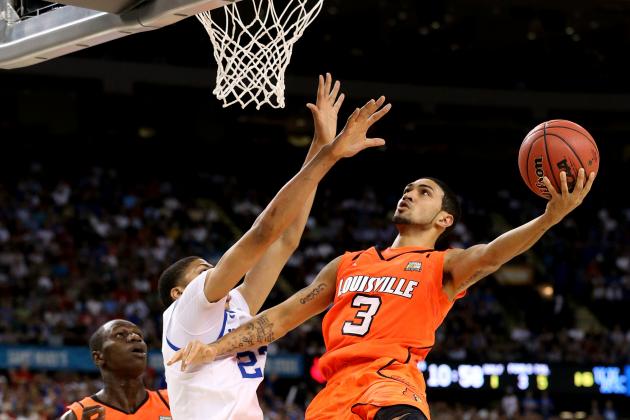 Ronald Martinez/Getty Images

Shot-blocking ace Gorgui Dieng has a case to make here, but Peyton Siva's two-way game trumps Dieng's magnificent defense for the Cards' top spot.
That's no slight on Siva's own defensive prowess, as his 1.7 steals per game were a big part of the stifling matchup zone that keyed Louisville's Final Four trip.
Even more important to the Cardinals' postseason success, though, was Siva's ability to keep the offense functional.
In addition to 5.6 assists a night—a valuable commodity on a roster that struggled to score in the half-court—Siva chipped in 9.1 points per contest, often by driving to the rim when all other options had failed.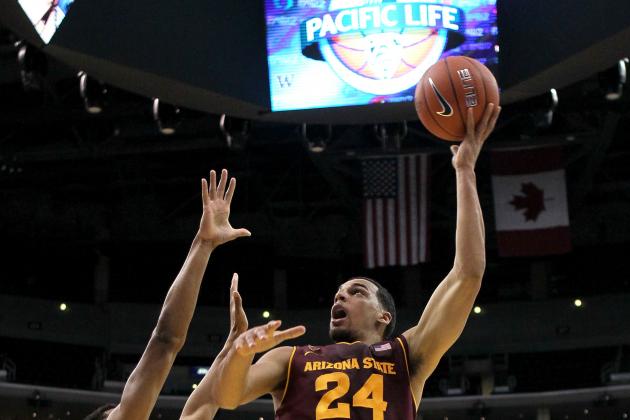 Stephen Dunn/Getty Images

With both Darius Johnson-Odom and Jae Crowder gone, Marquette needs someone to take over as a primary scoring option. Transfer guard Trent Lockett, just arriving in town from Arizona State, looks tailor-made for the job.
Lockett averaged 13 points per game for the Sun Devils, and while he was accurate on his few three-point attempts, he's at his best attacking the rim.
With his 6'5", 210-lb frame, he won't back down from Big East defenses—or rebounders, after leading Arizona State with 5.8 boards a night last season.
Mike Ehrmann/Getty Images

The Fighting Irish got plenty of outstanding performances from unheralded players in 2011-12, none better than the one turned in by Jack Cooley.
After barely leaving the bench in his first two seasons in South Bend, Cooley excelled as a starter, averaging 12.5 points, 8.9 rebounds and 1.6 blocks per game.
At 6'9", 246 lbs, Cooley gives Notre Dame one of the Big East's most physical low-post presences as well as one of its most skilled.
On a roster with five returning starters, expect Cooley to put up even more impressive numbers—especially in the win column—in his collegiate swan song.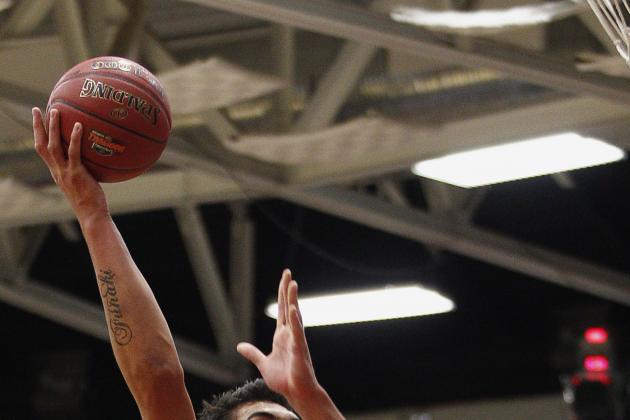 Mark L. Baer-US PRESSWIRE

If there's one thing the freshman class of 2012-13 has in abundance, it's elite center prospects. One of the best of them is New Zealand import Steven Adams, who's set to give Pitt its best low-post offensive threat in many years.
The 7'0", 250-lb Adams has outstanding quickness and mobility, and he'll get just as many points from beating opposing centers in transition as he will from dropping hook shots over them.
Unsurprisingly for a Jamie Dixon recruit, he's also a first-class defender who will immediately become one of the conference's top shot-blocking threats.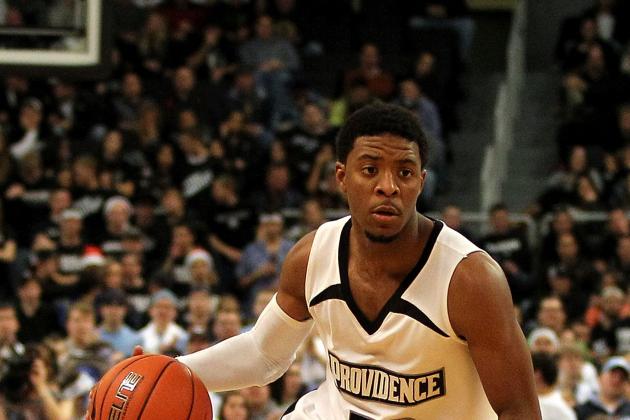 Chris Chambers/Getty Images

At 15.9 points per game, Vincent Council would have led plenty of better teams than Providence in scoring. Remarkably, though, the Friars' top point producer has an even more impressive stat to his credit.
The 6'2" Council leads all returning players in the country with 7.5 assists a night. He's one of the team's top defenders, too, with 4.1 rebounds and 1.3 steals per contest.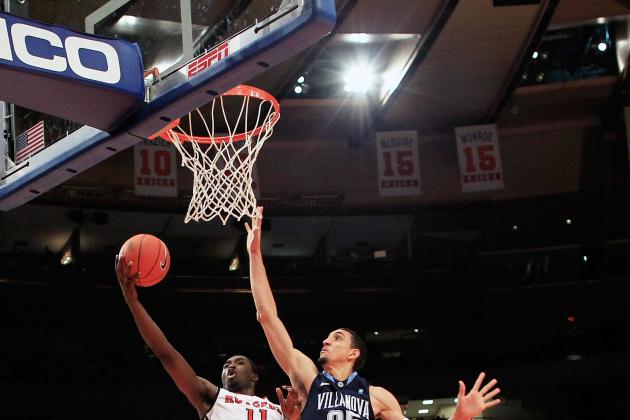 Chris Trotman/Getty Images

The Rutgers defense has its faults, but the Scarlet Knights actually tied for 31st in the country in steals—not a bad showing for a sub-.500 team.
Swingman Dane Miller was one of four Scarlet Knights to record at least 1.3 steals a night, but that's just the beginning of his defensive contributions.
The 6'6" Miller led the team with 6.6 rebounds and 1.6 blocks per game. He was hardly a liability on offense, either, averaging a quiet 7.9 points per contest but shooting .500 from the field.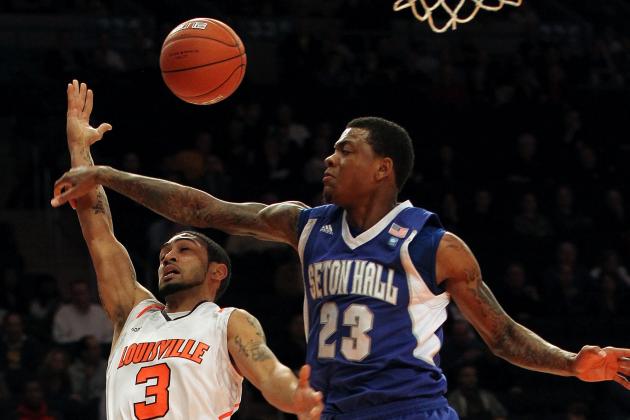 Michael Heiman/Getty Images

The Big East routinely features some of the toughest, most physical defenses in the country, and there isn't a more devastating individual defender in the league than Seton Hall's Fuquan Edwin.
The 6'6" swingman leads all returning players in the country with an eye-popping 3.0 steals per game.
Offensive stars Herb Pope and Jordan Theodore are gone, so Edwin will have to play a bigger role on that end of the floor as a junior.
He's actually a fine scorer—even if his 12.5 points a night were overshadowed by his brilliant teammates—and also ranks as the Pirates' top returning rebounder with 6.2 boards per contest.
Gregory Shamus/Getty Images

South Florida earned perhaps the ugliest at-large bid in NCAA history last season, getting the nod from the selection committee despite an offense that ranked 328th in the country in scoring.
Hard as it is to imagine, that offense would've been even worse without a sterling performance from point guard Anthony Collins.
Thrown into the fire as a true freshman, Collins responded with 5.2 assists per game while also serving as the team's third-leading scorer (9.0 points a night).
He also keyed a defense that ranked seventh in the country in points allowed per game, racking up a team-high 1.6 steals per contest.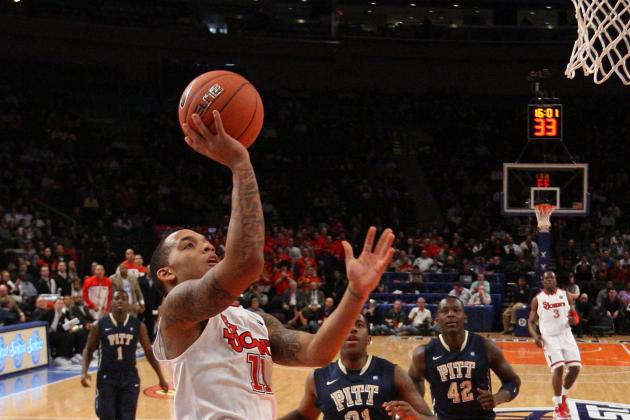 Jim McIsaac/Getty Images

NBA-bound Moe Harkless got the lion's share of the attention at St. John's a season ago, but it was one of his classmates who turned in the top scoring performance on the roster.
Although Harkless is off to the Magic, D'Angelo Harrison remains with the Red Storm with a chance to improve on last year's already-impressive 16.8 points per game.
Harrison, who took nearly half of his field goal attempts from beyond the arc, could stand to attack the basket more, but he did hit 79 treys at a .362 clip last season.
He's also an imposing defender at 6'3", having grabbed 1.6 steals a night as a freshman to tie for the team lead with (of course) Harkless.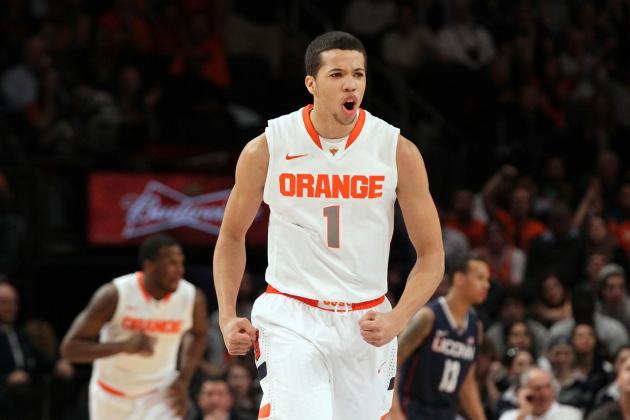 Jim McIsaac/Getty Images

A close call over prize freshman DaJuan Coleman, Michael Carter-Williams has the advantage of a year of practice (though little actual game action) in a Syracuse uniform.
The former McDonald's All-American will take over the point guard duties from graduated Scoop Jardine, but he'll also be one of the top scoring threats on the Syracuse roster.
Carter-Williams is a 6'6" combo guard whose length makes him especially effective in driving the lane.
Though he played just 10.3 minutes per game in his first season of college ball, he still managed to dish out 2.1 assists a night in that time, so Jim Boeheim has little reason to worry about his ability to run the offense.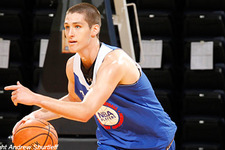 Image from Rivals.com
The departures of Maalik Wayns and Dominic Cheek left a gaping hole in the Villanova backcourt, but coach Jay Wright appears to have found his next great scoring point guard just in time.
At 6'3", 180 lbs, freshman Ryan Arcidiacono has the body to handle a physical conference and the skills to jump into an immediate starting job.
Arcidiacono is a versatile scorer with tremendous shooting range, but he also has the court vision and passing touch of a true point guard.
He'll provide a welcome upgrade on defense, too, as he's a virtual lock to lead the team in steals in his first collegiate season.