Denver Nuggets vs. Houston Rockets: Postgame Grades and Analysis for Rockets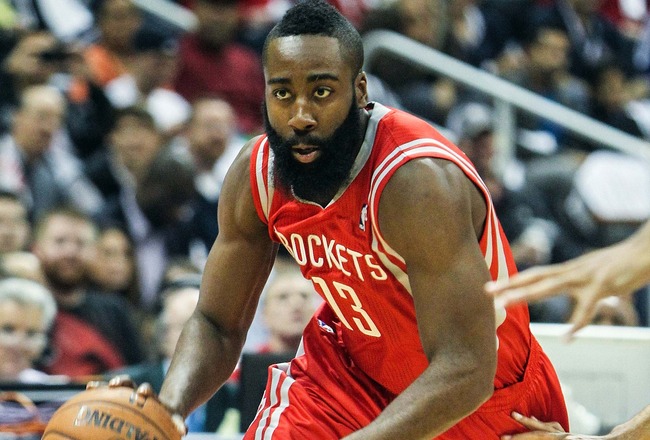 Daniel Shirey-US PRESSWIRE
The Houston Rockets fought all night long, but they ultimately fell short, losing to a more athletic and composed Denver Nuggets team.
While the Rockets lost by just six points, 93-87, the game wasn't as close as the score may indicate.
Time and time again the Rockets couldn't find an answer for Kenneth Faried, who ended the night with 16 points and 16 rebounds on 50 percent shooting from the field.
With Jeremy Lin and James Harden combining for just 21 points and eight turnovers, on 29.1 percent shooting, the Rockets needed someone to rise to the occasion. Patrick Patterson and Carlos Delfino gave it their best shot, combining for 37 points. But in the end their production just wasn't enough.
Now, with the Rockets sitting at .500 with two wins and two losses, and James Harden looking human again, we will truly see what kind of team Houston will be this season.
Ahead are full game grades for the Rockets' starters and their bench in their loss to the Nuggets.
Jeremy Lin, PG
Grade: D+
Someone needed to tell Jeremy Lin that the preseason is over, because he certainly wasn't ready to play against Ty Lawson.
The positive takeaway from Lin's performance is that he protected the ball. At the end of the first half, Lin had a goose egg in the turnover column. That's quite an accomplishment, especially considering that he was going up against a great perimeter defender in Lawson all night long.
Offensively speaking, Lin wasn't very effective. Shooting under 25 percent for the game is something the Rockets don't want to get comfortable with.
On defense Lin couldn't keep up with Lawson's speed and his crossover. When he wasn't missing shots on offense, Lin was being a liability on defense for the Rockets. Having Lin and Harden sharing point guard responsibilities is certainly an interesting game plan. But tonight, against a much more athletic and explosive Nuggets' team, it just didn't work.
First-half Stats: 2 points, 25 FG%, 4 rebounds, 4 assists, 2 steals, 0 turnovers
Total Stats: 6 points, 22.2 FG%, 6 steals, 6 assists, 5 rebounds, 2 turnovers
James Harden, SG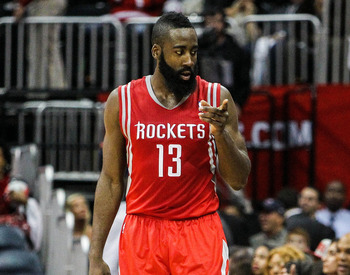 Daniel Shirey-US PRESSWIRE
Grade: D+
It's official: James Harden is human.
After a three-game stretch where James Harden accounted for an average of 35.3 points, 6.3 rebounds and 6.3 assists per game, he's finally cooled off.
Harden didn't do anything to help slow down the Nuggets. His four first-half turnovers actually did the opposite of that, leading to points in transition for a team that lives and breathes in transition.
Offensively speaking, it looked like Harden was shooting with a ball that was too big to fit into the basket. You have to give credit where credit is due though, and show some respect to Andre Iguodala's defense. It certainly played a large part in Harden having the worst statistical night of his short time with the Rockets.
Harden's performance is a reminder for the Rockets that the season is 82-games long. Chemistry and consistency needs to continue to develop on the Rockets roster if they are going to contend in the Western Conference.
Harden came on quite strong in the fourth quarter, bringing the Rockets within five minutes of the Nuggets with under two minutes left in the fourth quarter.
Harden is at the core of that development and tonight was a step back for the bearded wonder.
First-half Stats: 5 points, 28.7 FG%, 4 turnovers, 2 steals, 0 rebounds, 0 assists
Total Stats: 15 points, 33.3 FG%, 6 turnovers, 5 steals, 3 rebounds, 2 assists
Chandler Parsons, SF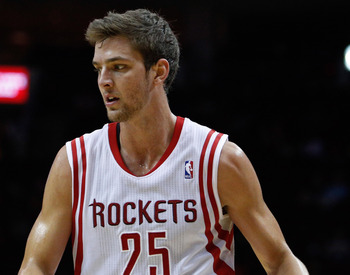 Thomas Campbell-US PRESSWIRE
Grade: C-
Chandler Parsons wasn't anything spectacular for the Rockets, but he wasn't that bad either.
The problem with Parsons' performance was that he was a overly agressive on defense, committing five personal fouls, with his final foul coming at an inopportune time in the fourth quarter.
Parsons also had a chance to pull the Rockets within a point with 20 seconds left in the fourth, but instead he clanked a three-point shot that led to a fast-break dunk for Kenneth Faried.
Parsons did most of his damage in transition. The unfortunate part of that is that transition opportunities for the Rockets were few and far between against a more athletic Nuggets team.
With zero points in the second half, it's hard to give Parsons any higher a grade than a C-, because he didn't help the Rockets at all as they were surging to make their comeback late in the fourth quarter.
First-half Stats: 8 points, 42.9 FG%, 3 turnovers, 2 steals, 1 assist, 0 rebounds
Total Stats: 8 points, 33.3 FG%, 4 assists, 3 rebounds, 3 turnovers, 1 steal
Patrick Patterson, PF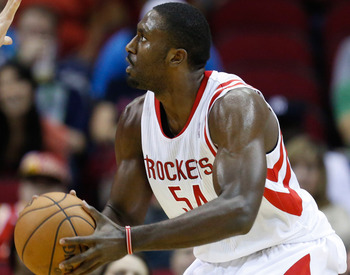 Thomas Campbell-US PRESSWIRE
Grade: A-
Patrick Patterson was the saving grace for the Rockets. He played beautifully with James Harden in the pick-and-roll, hitting open mid-range shots with high frequency.
Patterson eclipsed his first-half total of six points in the third quarter alone by racking up 12 points in the quarte. Patterson came close to outscoring the entire Nuggets team in the third quarter, who scored just 13 in the quarter. Patterson led the Rockets on a 20-7 point run that got them back within striking distance of the Nuggets.
Unfortunately, it wasn't all positive for Patterson though. Patterson was held scoreless in the fourth quarter, he rarely crashed the boards and spent more time closer to the perimeter than he did in the paint.
With that being said, Patterson was the Rockets' best player, ending the game with 18 points. Without Patterson, the Rockets would've faded away in the third quarter and ultimately would've been blown out.
Patterson had the third-highest scoring game of his NBA career, and it couldn't have come at a better time for the Rockets. Unfortunately, it wasn't enough to get the Rockets the win.
First-half Stats: 6 points, 60.0 FG%, 2 rebounds, 0 blocks, 0 turnovers
Total Stats: 18 points, 61.5 FG%, 5 rebounds, 1 block, 1 turnover
Omer Asik, C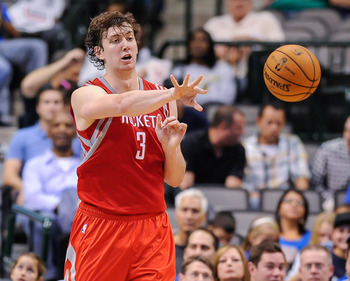 Jerome Miron-US PRESSWIRE
Grade: C
Remember that time when you recorded a double-double in the first half of a basketball game? Well, Omer Asik does, because it happened tonight against the Denver Nuggets.
With 2:50 left in the second quarter, Asik had already accounted for 10 points and 10 rebounds. Not too shabby for a player who many thought was overpaid this offseason.
The bad news though is that Asik didn't score in the second half at all, and he only grabbed three additional rebounds to add to his stat sheet. It was certainly a tale of two halves for Asik. He was the center the Rockets needed him to be in the first half, and a complete non-factor in the second half.
In the first half, Asik was an A+. In the second half he was closer to a D-. That's unacceptable for the Rockets' newly-acquired franchise center.
Asik needs to develop some consistency in his game. Until he does, the Rockets are going to struggle this season, as he is their go-to player in the paint.
First-half Stats: 10 points, 40.0 FG%, 10 rebounds, 2 turnovers
Total Stats: 10 points, 36.4 FG%, 13 rebounds, 3 turnovers
Sixth Man: Carlos Delfino, SF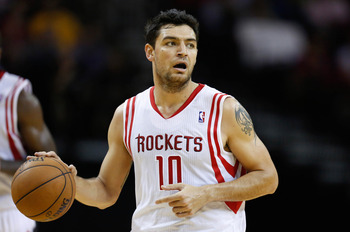 Thomas Campbell-US PRESSWIRE
Grade: A-
Carlos Delfino ended the night with the most points, scoring a total of 19 points.
Considering the fact that Delfino played 31 minutes, his offensive production is very impressive, especially when you compare it to teammates like James Harden and Jeremy Lin.
Unfortunately, Delfino wasn't the most efficient player on the court, missing six three-pointers and shooting 42.9 percent from the field.
With Harden and Lin struggling, the Rockets desperately needed someone to step up and bring production from the perimeter. That is exactly what Delfino did, and he, along with Patrick Patterson, is the major reason why the Rockets were able to stay competitive with the Nuggets.
If Delfino continues to play like he did against the Nuggets I wouldn't be surprised if Kevin McHale inserted him into the starting lineup. Delfino played the best game of his 2012-13 campaign, and while the Rockets ultimately came up short, his performance couldn't have come at a better time.
First-half Stats: 7 points, 42.8 FG%, 2 rebounds, 0 steals, 1 assist, 0 turnover
Total Stats: 19 points, 42.9 FG%, 5 rebounds, 2 steals, 2 assists, 1 turnover
Rest of Bench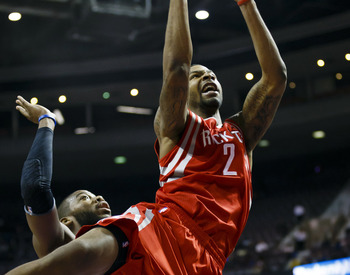 Rick Osentoski-US PRESSWIRE
Grade: B-
The Rockets bench played a major part in helping the team stay competitive. The bench accounted for a total of j30 points, but they also brought energy and excitement to the court when the Rockets were seriously lacking it.
Cole Aldrich came in and brought some tenacity and emotion to the court when the Rockets looked like they were ready to fade away, accounting four points and three rebounds on the night.
Tony Douglas and Marcus Morris didn't really bring anything to the court for the Rockets other than jacking up questionable shots and thrilling the crowd with one or two beautiful air balls.
Without Carlos Delfino, the Rockets bench would be getting a D- here. But his production salvaged an otherwise lackluster performance. Unfortunately, the Rockets' second unit just couldn't do what it needed to in order to get the Rockets an important win against the Nuggets.
Complete Game Stats: 30 points, 33.3 FG%, 14 rebounds, 6 assists, 3 steals, 3 turnovers
Keep Reading