Colts vs. Jaguars: Final Report Card, Player Grades for Jacksonville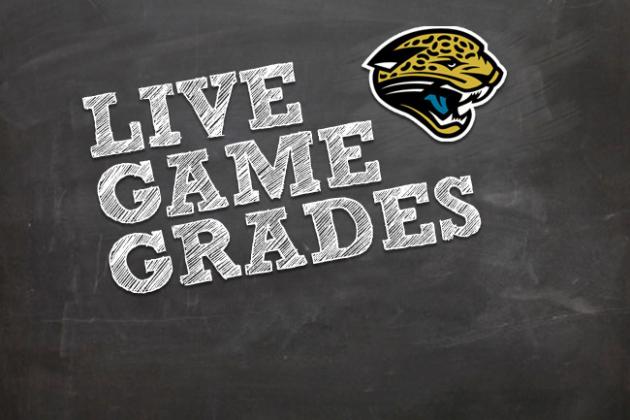 The Jacksonville Jaguars and Indianapolis Colts played on Thursday Night Football in an AFC South matchup that pitted two young quarterbacks against one another. Indianapolis came out of the game with a victory, improving to an impressive 6-3 on the season.
Some Jaguars weren't all that bad in a 27-10 loss and we've graded each player on his performance in the contest.
Begin Slideshow

»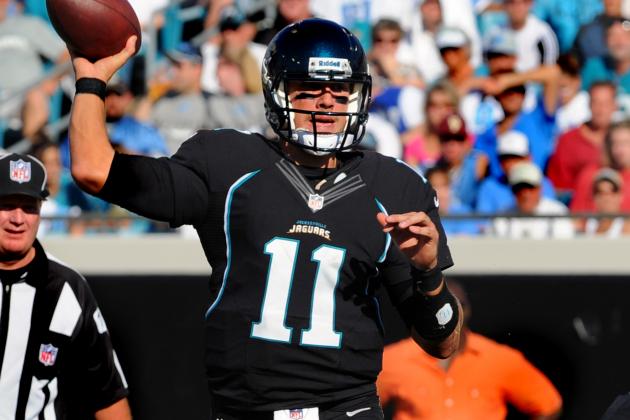 Al Messerschmidt/Getty Images

Blaine Gabbert—C
Gabbert had a tough time diversifying the offense on a bad night for Jacksonville in terms of moving the ball down the field. In just more than three quarters, this quarterback wasn't able to lead his offense into the end zone once. There can't be much more opportunity for the Jaguar signal caller at this point, who has really disappointed.
Chad Henne—B+
An undeserved interception is a stain on what was a very good set of plays for backup quarterback Chad Henne. Coming in after a Blaine Gabbert injury, Henne led the Jaguars down the field and even threw a touchdown to wideout Cecil Shorts. This former Michigan quarterback looks like the better player.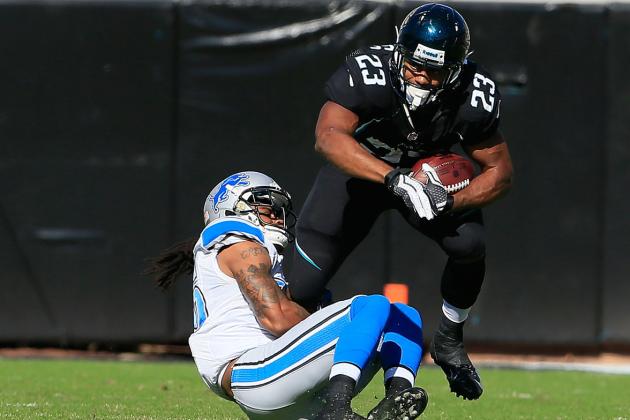 Sam Greenwood/Getty Images

Rashad Jennings—B-
Rashad Jennings wasn't the problem for the Jaguars tonight, despite being the one who carried the football unsuccessfully. On a number of carries, Jennings read the line of scrimmage well and dived forward for as much as he could get. This running back had a bad game statistically but certainly earned every yard he rushed for.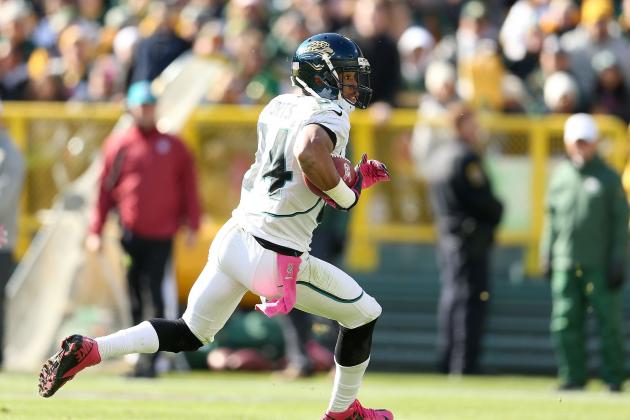 Andy Lyons/Getty Images

Cecil Shorts—A
If not for a dropped pass near the end of the game, Cecil Shorts would garner an A+ here. Shorts put the team on his back and caught over 100 yards and a touchdown. This receiver had a big-time game on national television and was one of the only positive signs for Jacksonville.
Laurent Robinson—B+
Robinson also had a good game, but a fumble near the beginning of the contest ducks him from having a high mark. Unfortunately, both Robinson and Shorts' efforts were completely wasted as the former didn't get into the end zone.
Justin Blackmon—C
The worst of the three receivers in this game for Jacksonville, Blackmon had a few drops that hurt him on Thursday night. He has a little while to go, but the talent is there and this wideout ran some solid patterns all night. It's not surprising that the former Oklahoma State pass catcher is getting separation.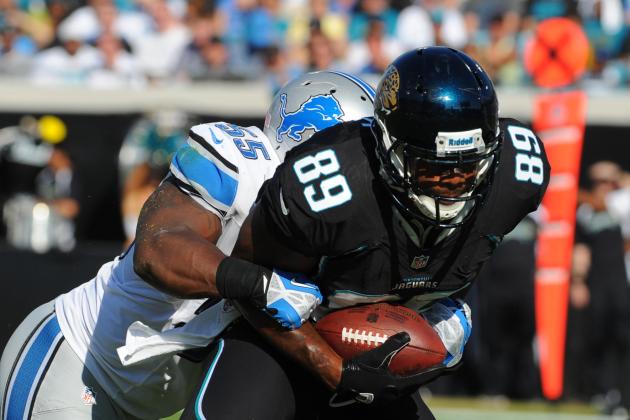 Al Messerschmidt/Getty Images

Marcedes Lewis—B-
A great first quarter makes up for an almost non-existent last three quarters in this football contest. Lewis won a lot of physical battles early in the game, catching balls in traffic and making acrobatic plays. It was something of a revival for the tight end, who hasn't had that much success in a quarter in a little while.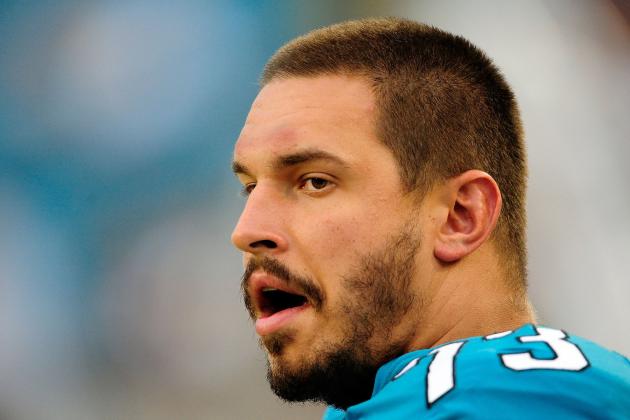 Sam Greenwood/Getty Images

Overall Game Grade—D-
When Rashad Jennings doesn't do all that badly and still runs for just 27 yards on 11 carries, it's the offensive line's fault. As the night went on, pass protection also deteriorated and a few offensive line penalties hurt the Jaguars. This unit was the weak link for Jacksonville on Thursday night and some changes need to be made quickly.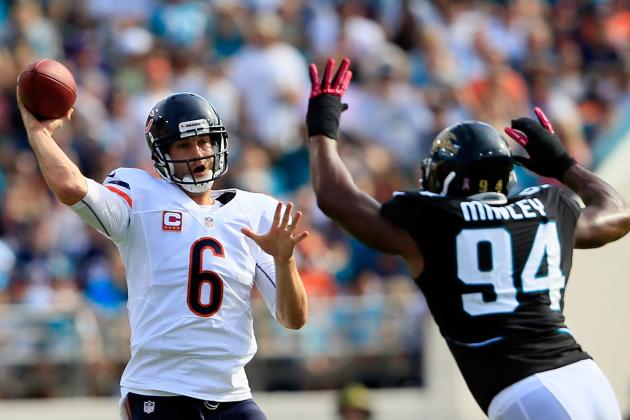 Sam Greenwood/Getty Images

Tyson Alualu—A-
With one of Jacksonville's two sacks on the night, Alualu shined on a very good Jacksonville front four. This defensive tackle was instrumental in stopping a lot of iso-type runs by controlling his gap and forcing Vick Ballard to cut back, which the running back has trouble doing.
Jeremy Mincey—A
Mincey did an even better job than Alualu tonight and hurried Andrew Luck into making a would-be interception (the play was called back on a roughing the passer call, but Mincey was aggressive and would have made a nice play). Past that, the defensive end set the edge and forced running backs to run vertically early in the play.
Austen Lane—B-
Lane was caught looking in the backfield a few times on reverse plays and had some mental lapses, but still had a solid game rushing the passer on the night. Lane picked up a sack and also forced a fumble, but outside of those that, his impact was somewhat minimal.
C.J. Mosley—B
Mosley wasn't involved in many tackles, but he was a dominant presence on the inside and required a number of double teams. This defensive tackle's good play helped the Jaguars keep a lot of runs within two yards of the line of scrimmage and he is an unheralded hero.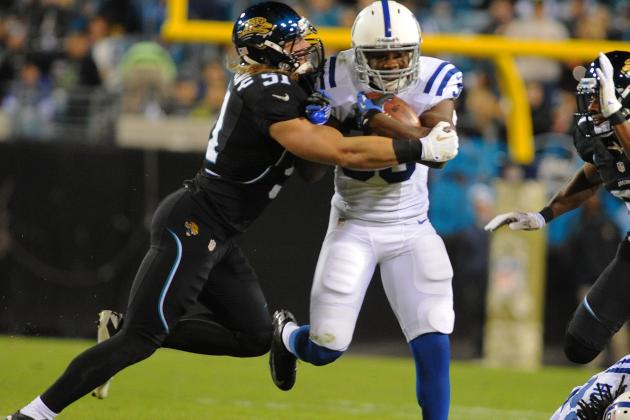 Al Messerschmidt/Getty Images

Paul Posluszny—B
Though he isn't as good as he once was, Posluszny is a sure tackler who makes good break on run plays. There were a number of occasions when the linebacker outran an outside-rushing running back for a tackle. A good individual effort by Posluszny earns him a solid grade.
Russell Allen—B-
An up-and-down night from Allen was marked by a few nice plays in which the linebacker showcased impressive awareness. Allen broke up some screen plays and stopped some run in the backfield but had trouble wrapping ballcarriers.
Kyle Bosworth—C+
A quiet night for Bosworth, who is no star linebacker by any stretch of the imagination. With Posluszny getting a bulk of the tackles, Bosworth was held off the stat sheet and couldn't make too large an impact. His "C+" rating hinges more on the fact that the linebacker's pass coverage was really no good.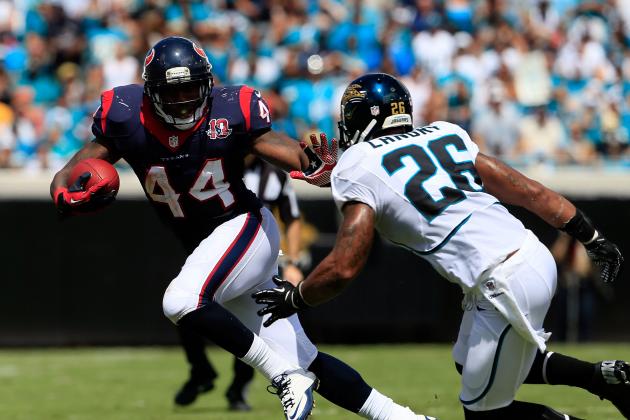 Sam Greenwood/Getty Images

Dawan Landry—A+
Up in Cecil Shorts territory is Dawan Landry, who was the Jaguars' leading tackler and also intercepted a pass. Landry came up on run plays and even displayed good aggressiveness in hitting Andrew Luck when the quarterback ran the ball. Tonight's loss can't be blamed on this player.
Chris Prosinski—B
The Jaguars made sure to defend anything breaking deep in this game and they certainly had success doing so, as Andrew Luck kept finding shorter routes to hit. Prosinski had a solid night in coverage and wasn't terrible against the run, playing his responsibilities first and foremost.
Aaron Ross—C+
An interception (that was called back by a penalty) is one of the only reasons that Ross doesn't flunk out tonight. This former Giant had serious trouble limiting Colts receivers and he was abused by Reggie Wayne on the night. Surprisingly, Ross had a few nice plays, but it wasn't enough.
Derek Cox—C+
Cox wasn't as bad as Ross considering the former was a bit more physical in his coverage, but the cornerback still struggled a bit in terms of making plays on ballcarriers. Indianapolis completed way too many passes on the night and Cox should have taken away some short reads.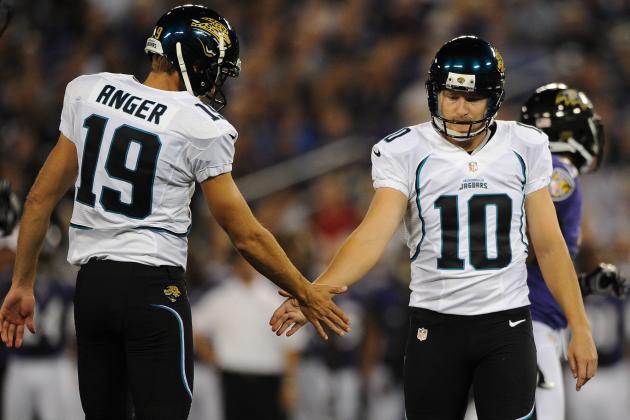 Patrick Smith/Getty Images

Josh Scobee—D+
Though he hit a 40-yard field goal in the second quarter, this kicker missed a 44-yarder early on and set the tone for the Jaguars after his miss. Not a good night for Scobee, who misses his first kick of the season.
Bryan Anger—C
Anger wasn't good nor bad and he had one punt that could be considered really solid on the night. Outside of that one punt in the first quarter, this specialist had an average night and shouldn't get much credit for being much more than mediocre on Thursday night.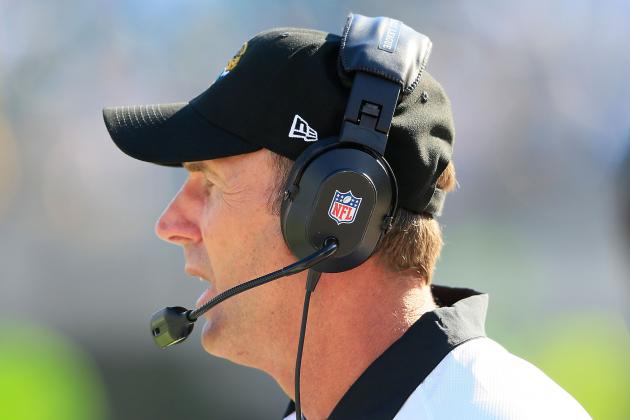 Sam Greenwood/Getty Images

Overall Game Grade—C-
The playcalling on offense is absolutely atrocious and the decision to stick with Blaine Gabbert should be a hot button issue going forward. Defensively, the Jaguars called way too conservatively and refused to dial up much in the way of blitzing players and trusting their defensive backs in man coverage. Mike Mularkey isn't making a good case for himself.