Early Report Card Grades for Each Oklahoma City Thunder Player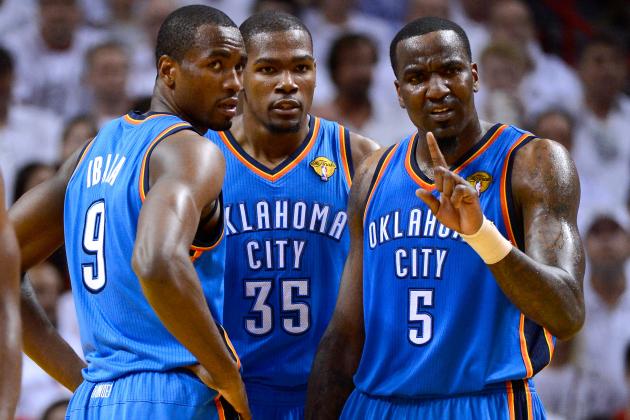 Ronald Martinez/Getty Images
Some Thunder players have started the year strong. Others...not so much.
Gather around kiddos, it's time to open up the report cards and shell out some grades to each Oklahoma City Thunder player for their play through the first four games of the season.
After a really shaky 1-2 start, the Thunder looked very good in a 108-88 dismantling of the Toronto Raptors. But not everyone's playing well.

We've seen strong performances from a few players but some not-so-great play from others. There hasn't been anything that raises any serious eyebrows, but some issues have arisen that are definitely worth keeping an eye on.
With that being said, let's look at the marks for the opening week of the season.
Begin Slideshow

»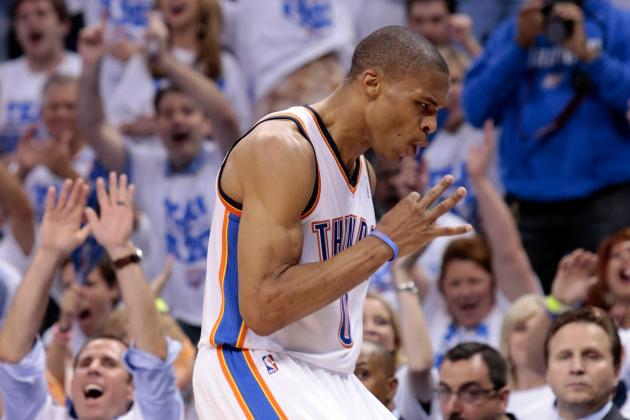 Brett Deering/Getty Images
If Westbrook can start hitting three-pointers consistently, he'll be unstoppable.
Averages: 20.8 ppg, 7 apg, 4.8 rpg, .387 FG%, .267 3P%
Russell Westbrook was a mixed bag this week.
While Westbrook played exceptionally well against the Portland Trailblazers and the Toronto Raptors, "Bad Russ" reared his head in games against the San Antonio Spurs and the Atlanta Hawks.
Against the Spurs and the Hawks, Westbrook took ill-advised shots, played lazy defense, held onto the ball too long and basically did everything that his critics blast him for.
This picture of Westbrook's defense on Tony Parker's game-winner pretty much says it all. That's an inexcusable lack of focus in the last few seconds of a tight game. Though to be fair to Russ, focus and energy was a team-wide problem this week.
On the plus side, Westbrook is distributing well and turning the ball over less (28 assists to 11 turnovers) and has hit four of his last ten three-pointers. That comes after starting 0-for-5 in the first two games of the season.
If Westbrook can hit treys consistently, then he'll be truly unguardable, so his development in that regard is definitely worth keeping an eye on.

Overall grade: C-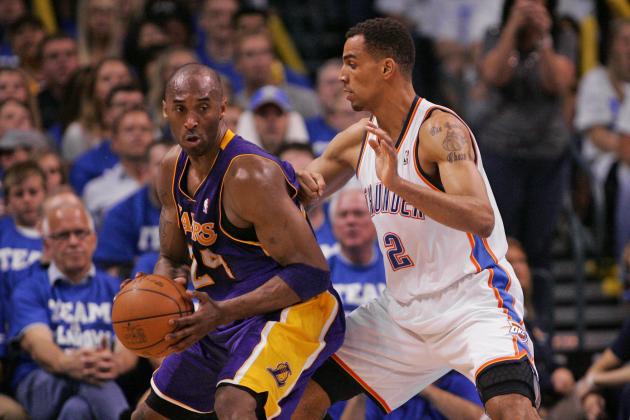 Brett Deering/Getty Images
Thabo continues to make his mark as a top defender.
Averages: 6.3 ppg, 2 apg, 4.3 rpg, .474 FG%, .625 3P%
So far this season, Thabo Sefolosha has done exactly what he's supposed to for the Oklahoma City Thunder

Sefolosha is basically asked to do two things—stand in the corner and hit threes, and play great perimeter defense. Right now he's hitting three-pointers at a 62 percent clip and is playing really strong on-ball defense. That's pretty much perfect.

Honestly, it's still mystifying that Thunder head coach Scott Brooks doesn't stick Sefolosha on opposing team's best perimeter scorer from the get-go. Sefolosha's defense on Tony Parker in last season's Western Conference Finals was one of the key reasons that the Thunder took down the San Antonio Spurs.
And yet, Thabo never was given the opportunity to guard Parker in the season opener, even when Parker was torching Russell Westbrook. It's not Thabo's fault, but it's peculiar to be sure.
Overall grade: A-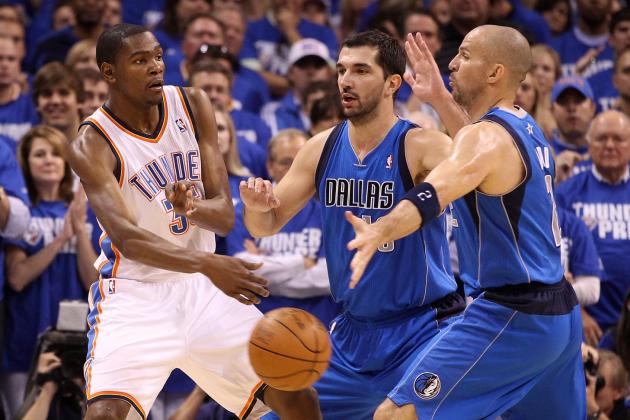 Christian Petersen/Getty Images
Durant's growth as a playmaker could be huge this season.
Averages: 20.8 ppg, 5.8 apg, 12.3 rpg, .450 FG%, .308 3P%
This one's tough.
On one hand, it's hard not to like the strides that Kevin Durant is making in terms of his all-around game. He's finding his teammates like never before, his defense has been solid, and he's going after rebounds with a fury.
But on the other hand, the lack of shot attempts is concerning.
Durant is taking just 15 shots per game, about four less than his career average. And don't start with this "it's hard to shoot when Russell Westbrook doesn't give him the ball" stuff. Durant is just being too unselfish.
It's great that he's getting others involved, but he's got to remember himself too. At key moments of the game (like late down the stretch against the Atlanta Hawks and San Antonio Spurs), Durant has to remember that his shot, even when contested, is often the best shot that the Thunder can get.
Durant was put on this earth to put the ball in the basket (as Jonas Valanciunas just learned), and when games get tight, he needs to realize that. That, plus his many turnovers this week (five per game), will give Durant something to work on.

Overall grade: B+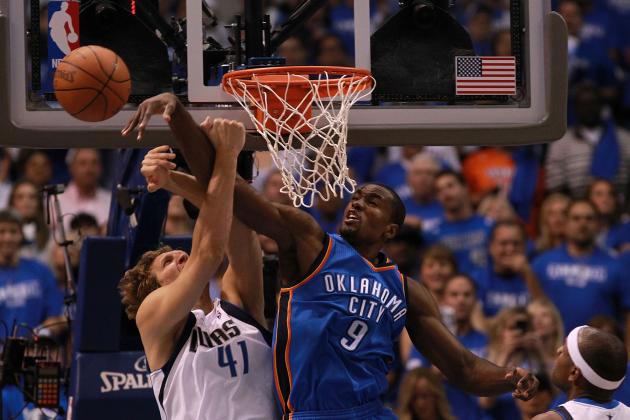 Ronald Martinez/Getty Images
Eventually, someone will remember that Serge Ibaka can block shots.
Averages: 10.5 ppg, 5.8 rpg, 2.3 blkpg, .528 FG%,
Serge Ibaka started the season off pretty slowly, but he's picked it up over his past two games.
Ibaka went a combined 5-of-18 in the first two games of the season. The Oklahoma City Thunder can't afford that with offensive non-threats like Thabo Sefolosha and Kendrick Perkins in the starting lineup.
If Ibaka's not hitting that mid-range jumper, then the Thunder start to get serious spacing issues on offense, allowing defenses to swarm Russell Westbrook and Kevin Durant.
Thankfully, Ibaka hit 14-of-18 in the past two games, many of them mid-range jumpers.
Ibaka's pick-and-pop game with Westbrook is really starting to become dangerous. It's a bit remniscent of what the Thunder did with Nenad Krstic a few years back, and it adds a new dimension to the Oklahoma City offense.
Ibaka's also still swatting shots at a good rate, and though his defensive rotations haven't improved drastically like some hoped they would, he's shown moderate growth.
If there's one real area of concern, it's the rebounding. Ibaka's the best rebounder in the Thunder's starting lineup, and he has to hit the glass harder than he has been.

Overall grade: B-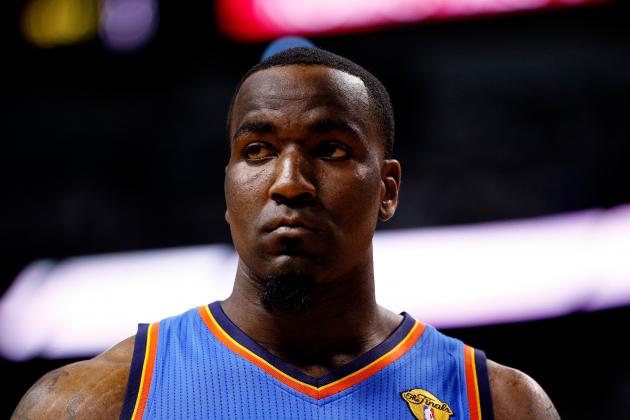 Mike Ehrmann/Getty Images
Do pictures of Kendrick Perkins smiling even exist?
Averages: 3.8 ppg, 5.8 rpg, 1.3 blkpg, .500 FG%
The problem with Kendrick Perkins is that he only brings two elite skills to the table for the Oklahoma City Thunder—post defense and scowling.
His scowls are as intimidating as ever, but his man-to-man post defense will really only be a big factor against the Los Angeles Lakers. Perkins is the best Dwight Howard deterrent in the league, and that's great for the Thunder.
But outside of four regular season games against the Lakers, that defense will only matter once the playoffs come around.
Of course, Perkins is a decent rebounder and a solid help defender in his own right, but he's a terrible offensive player and really hurts the Thunder when opposing teams go small. Sometimes it's tough to justify his being on the court.
Perkins can't really shine until he faces off against an elite post scorer, so for now, he can't be given anything but a below-average grade.
Overall grade: D+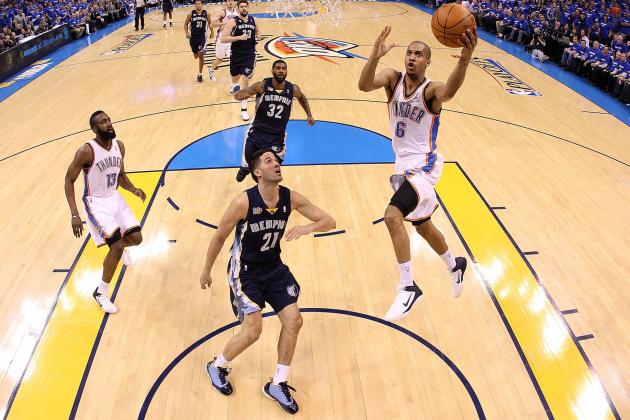 Ronald Martinez/Getty Images
Hopefully, Eric Maynor will get back to being the player he was two years ago.
Averages: 4.5 ppg, 1.3 apg, 0.8 rpg, .350 FG%, .143 3P%
Unfortunately, Eric Maynor has played pretty poorly to start the season.
It's not like Maynor looks really bad out there—he just hasn't made an impact yet. His shot hasn't been falling, and he's even had a tough time getting others involved, normally his biggest strength.

The Oklahoma City Thunder are really counting on Maynor to bolster the second unit. In Game 2 of the 2011 Western Conference Finals, Scott Brooks felt comfortable playing Maynor over Russell Westbrook in the final few minutes.
That's the player that the Thunder are going to need out there this season.
Maynor looked a bit better against the Toronto Raptors and hopefully he'll continue to improve over the course of the season. If not, he may find Reggie Jackson breathing down his neck for playing time.

Overall grade: C-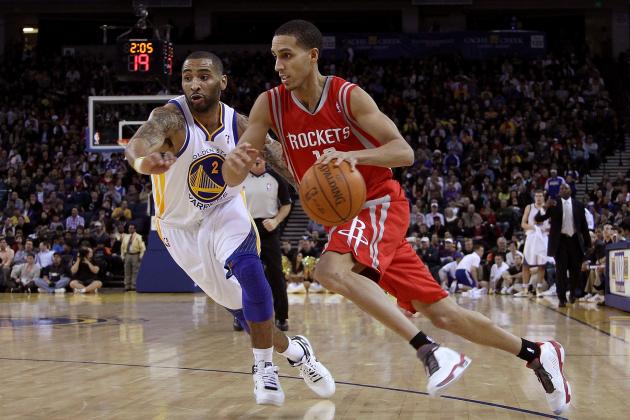 Ezra Shaw/Getty Images
Even as a member of the Houston Rockets, Kevin Martin has never struggled to score
Averages: 19.3 ppg, 2.3 apg, 2.3 rpg, .512 FG%, .619 3P%
There's a lot to like here.
Kevin Martin has been outstanding as the sixth man for the Oklahoma City Thunder. He hasn't erased the pain of losing James Harden just a few days before the season began, but he's been more than capable since his arrival in Oklahoma City.
Martin has a different style then Harden did—he takes a lot more jumpers and does a lot less dribbling—but he's been remarkably efficient so far and is absolutely killing it from three-point land.
Martin's defense has been suspect (though not as bad as advertised), but he has more than made up for that with his offense. Kevin Durant and Russell Westbrook already look like they trust him implicitly (sometimes almost trying too hard to get him looks), and once they all start clicking, the Thunder offense will be very dangerous.
Overall Grade: A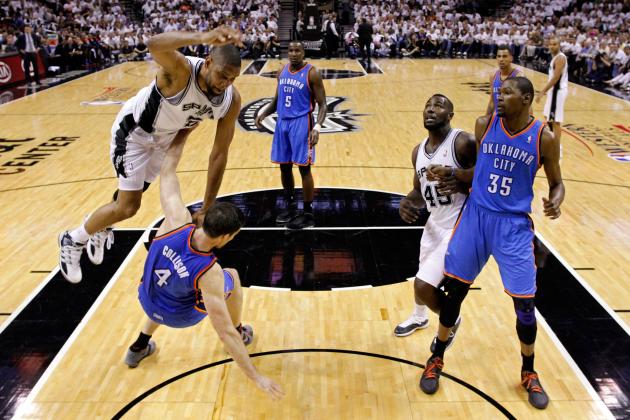 Tom Pennington/Getty Images
No one takes a charge quite like Nick Collison.
Averages: 6.0 ppg, 3.0 rpg, 0.8 blkpg, .556 FG%
The numbers aren't impressive, but very little of Nick Collison's impact can be measured on the stat sheet.
There's not much to say here except that Nick Collison is still doing Nick Collison things. He's setting screens, playing tough defense, making hustle plays and just being awesome in general.
Overall Grade: A-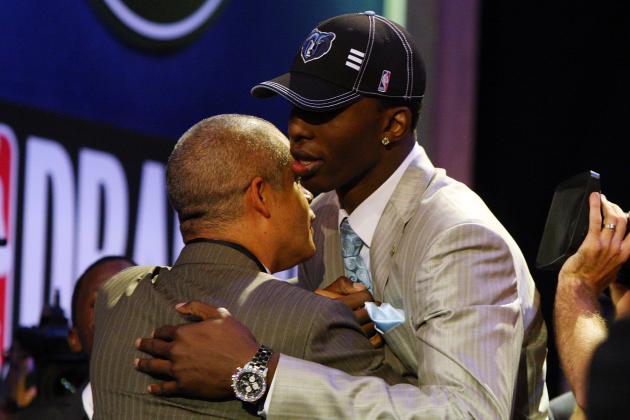 Jim McIsaac/Getty Images
Thabeet will never live up to the pre-draft hype, but he's been a contributor for the Thunder.
Averages: 3.8 ppg, 3.0 rpg, 1.5 blkpg, 0.8 stlpg, 1.00 FG% (four attempts)
Hasheem Thabeet has actually been a valuable rotation player this season. Imagine that.
Seriously, Thabeet's been pretty decent so far. He's obviously never going to live up to the hype that comes with being a No. 2 overall pick, but for a backup center, the Oklahoma City Thunder could definitely do worse.
Thabeet has been surprisingly solid in terms of his defensive rotations and can block shots with the best of them. Offensively, he doesn't do much, but he can at least catch and dunk the ball.
One thing that Thabeet does have to work on is playing defense without fouling.
He's currently averaging 9.8 personal fouls per 36 minutes. That's absurd. Professional boxers barely hit people that much. If he wants to stay on the court, he's going to have to cut down on the fouls.
Overall Grade: B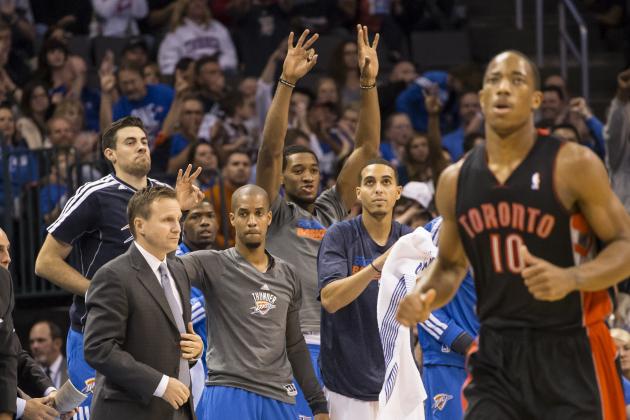 Shane Bevel/Getty Images
Not quite good enough, gentlemen.
None of these guys have gotten enough minutes (yet) to give them any real grades for their play, but here are at least a few observations about each of them.
Perry Jones
Perry Jones has to focus on getting himself involved in the offense. It's not often that players with Jones's talent have to be coaxed into being more aggressive offensively, but that's exactly what Jones needs to do. He has too much talent not to be some kind of a factor for the Oklahoma City Thunder this season.

Jeremy Lamb
Jeremy Lamb clearly has tons of potential. He's a super smooth athlete, and hopefully he finds a way to earn himself a few minutes this season.
Reggie Jackson
Reggie Jackson didn't play very well last year (prompting the Thunder to snag Derek Fisher as their backup point guard), but he looked much improved in this year's summer league. If Maynor continues to struggle, he could start to see more minutes.
DeAndre Liggins
DeAndre Liggins probably won't ever see real playing time with this team, but it's hard not to like him. No one hustles like Liggins. It's refreshing to see a young player bust his butt on the floor the way that he does.
The real takeaway from the end of the Thunder's bench is that they've been totally inadequate in terms of celebration. Someone has to make up for the big hit that Oklahoma City took when they lost Cole Aldrich's leg kick, and so far no one has stepped up to the plate. They seem to think that it's enough to just cheer the rest of the team on. Unacceptable.
Bench celebration grade: F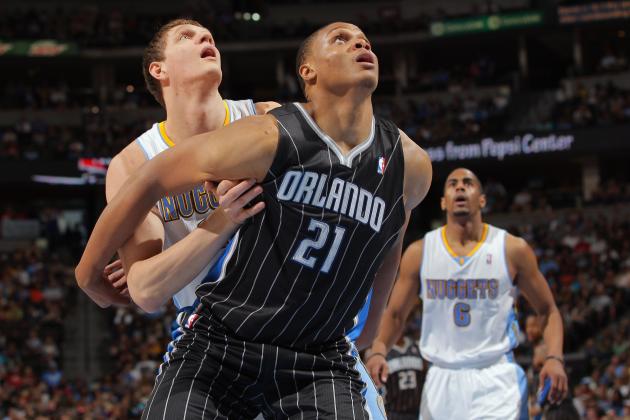 Doug Pensinger/Getty Images
If not for the Orlando Magic uniform, you would have no idea who this was.
Averages: N/A
Daniel Orton hasn't actually seen the floor yet this season, but he's been a revelation in terms of convincing opponents that the Oklahoma City Thunder now employ two Russell Westbrooks.
It's stuff like this that can really give the Thunder a mental edge heading into games. Spot on, Daniel. Keep up the good work.
Looking exactly like Russell Westbrook grade: A+