MLB Awards Finalists: Identifying Biggest Snubs and the Projected Winners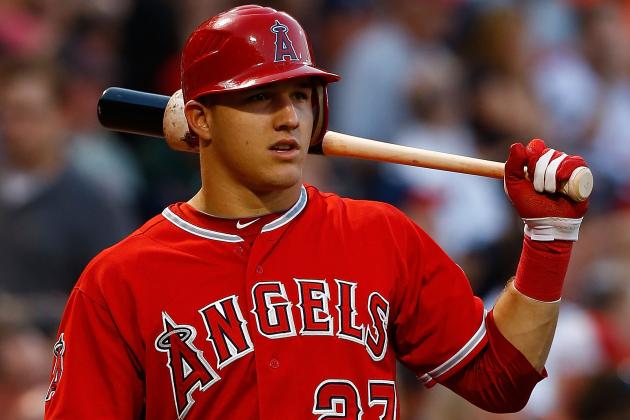 Jared Wickerham/Getty Images
Which awards is Mike Trout a finalist for?
For the first time ever, Major League Baseball decided to unveil finalists for the league's major awards this year.
Why, you ask?
Beats me. I guess there was a time slot on MLB Network to fill and the league figured it would be a cool idea. People do love awards stuff, after all.
Now that the finalists are here, we at least have a general notion of which players and managers are in the running for the major awards...and which ones aren't.
So who got snubbed? For that matter, which of the finalists are the most likely to walk away with hardware when all is said and done?
Let's take a look.
Note: Stats courtesy of Baseball-Reference.com unless otherwise noted.
Begin Slideshow

»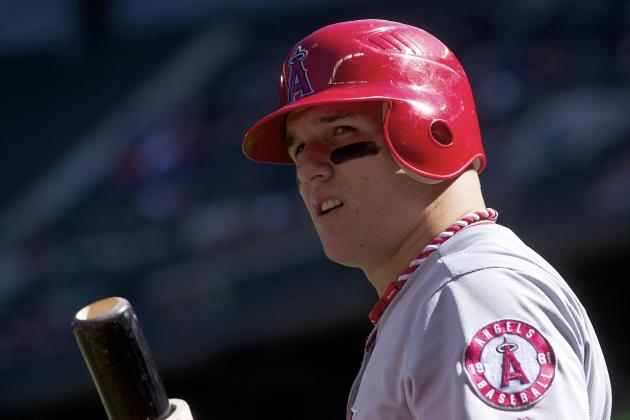 Stephen Brashear/Getty Images

Finalists:
Yoenis Cespedes, OF, Oakland A's
Yu Darvish, SP, Texas Rangers
Mike Trout, OF, Los Angeles Angels
Most Notable Snub: Jarrod Parker, SP, Oakland A's
Arguing about who should be in the mix for the AL ROY seems like a decidedly silly waste of time. We all know that Mike Trout is going to win.
Nonetheless, there's a case to be made that Jarrod Parker should have made the cut over Yoenis Cespedes. Parker won 13 games and pitched 181.1 innings in 2012, compiling a 3.47 ERA and holding hitters to a .670 OPS. FanGraphs calculated his WAR at 3.7, which was good for third among all rookie pitchers behind Yu Darvish and Wade Miley.
Cespedes, meanwhile, finished with a WAR of 3.1. His offense was very good, but his defense was downright poor. I don't have a problem with him being on the list of finalists, but he really wasn't head and shoulders better than Parker.
Projected Winner: Mike Trout
Mike Trout posted a .963 OPS with 30 homers, 49 stolen bases and 129 runs scored all while playing excellent defense in the outfield. He led all of baseball in WAR regardless of which source you consider.
He was the best player in baseball, never mind the best rookie.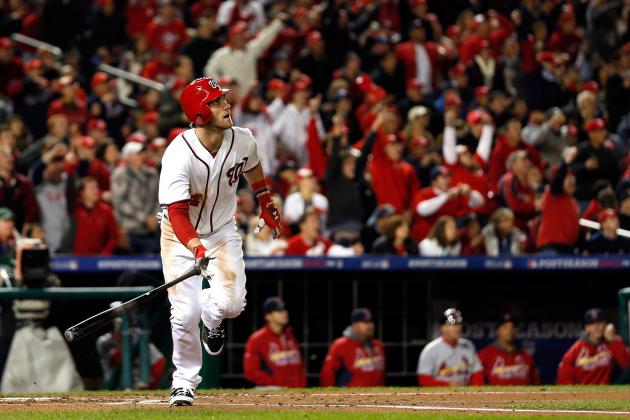 Rob Carr/Getty Images

Finalists
Todd Frazier, INF/OF, Cincinnati Reds
Bryce Harper, OF, Washington Nationals
Wade Miley, SP, Arizona Diamondbacks
Most Notable Snub: Norichika Aoki, OF, Milwaukee Brewers
Bryce Harper and Wade Miley deserve to be finalists for the NL ROY, but Norichika Aoki belongs on the list over Todd Frazier.
Aoki got absolutely zero national attention, but he was one of Milwaukee's better players in 2012. He hit a solid .288/.355/.433 with 10 homers and 30 stolen bases. Per FanGraphs, he finished the year with a WAR of 2.9.
Frazier, by comparison, finished with a WAR of 2.8. He's on this list because the voters chose to overlook his awful showing down the stretch, as he posted a mere .534 OPS over his final 28 games.
Projected Winner: Bryce Harper
Harper went through a Josh Hamilton-like slump for a few weeks after the All-Star break, but he finished the season strong with a 1.045 OPS and 12 homers in his last 44 games. All told, he finished with an .817 OPS and 22 homers in 139 games.
And don't overlook the defense Harper played in center field. Per FanGraphs, he posted a 9.7 UZR and a Defensive Runs Saved of plus-13, making him one of the better defensive center fielders in baseball.
It was all good for a 4.9 WAR that ranked him ahead of all other NL rookie position players. He should win the NL ROY.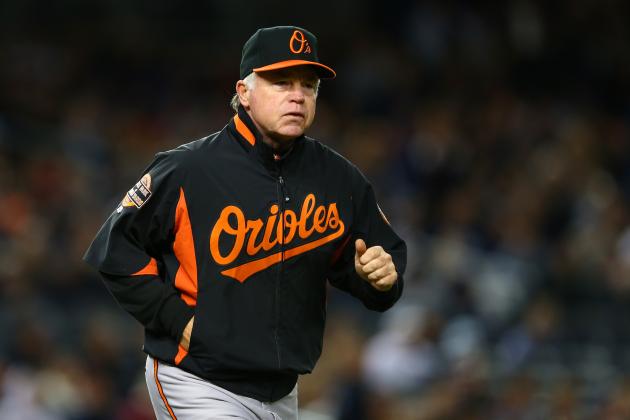 Elsa/Getty Images

Finalists
Bob Melvin, Oakland A's
Buck Showalter, Baltimore Orioles
Robin Ventura, Chicago White Sox
Most Notable Snub: Joe Maddon, Tampa Bay Rays
Robin Ventura did a fine job leading the White Sox to a surprising season in place of Ozzie Guillen, but I'd place Joe Maddon on the list of finalists over him.
Maddon got his Rays to win 90 games in a tough AL East despite the fact Evan Longoria played in only 74 games and he had revolving doors at several positions all season long. Ventura's club had its share of star power, and it spent much of the season feasting on weak competition.
Projected Winner: Buck Showalter
Bob Melvin would get my vote if I had one, but Showalter is going to get the award over him.
In the eyes of the voters, Showalter will have gotten points for leading a left-for-dead Orioles franchise to the playoffs for the first time in 15 years, and additional points for the way he handled the club's bullpen and mixed and matched with spare parts at several different positions.
It would be great if Melvin and Showalter could share the award, but Showalter's 2012 narrative is just a little bit sexier.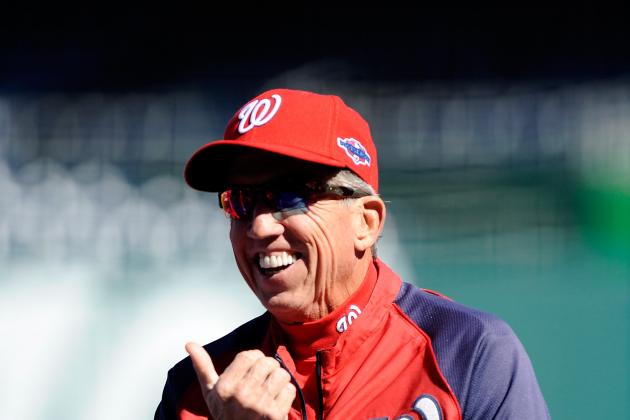 Patrick McDermott/Getty Images

Finalists
Dusty Baker, Cincinnati Reds
Bruce Bochy, San Francisco Giants
Davey Johnson, Washington Nationals
Most Notable Snub: Fredi Gonzalez, Atlanta Braves
There's no arguing with the three choices here, but Fredi Gonzalez deserves a shoutout for the season he had. He had to put up with a black hole at shortstop and a poor season from Brian McCann, and he also had to deal with some notable injuries to the club's starting pitchers.
Plus, you have to give Gonzalez props for leading roughly the same roster of players to the postseason just a year after the team fell apart in September of 2011. He and the Braves were able to move on like it never happened, which seems all the more impressive in light of what happened in Boston this season.
Projected Winner: Davey Johnson
Bruce Bochy looks like the obvious choice for the award now, but Davey Johnson is going to get it for the work he did with the Nationals this season.
Much like Showalter, Johnson will have gotten points for leading an unusual suspect of a franchise to the postseason. He certainly benefited from an abundance of talent, but most of Washington's best players were younger guys who had never experienced a pennant race before. Johnson managed to keep them in line.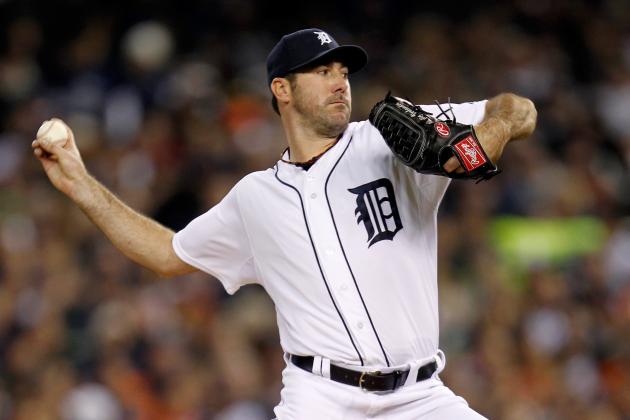 Gregory Shamus/Getty Images

Finalists
David Price, Tampa Bay Rays
Justin Verlander, Detroit Tigers
Jered Weaver, Los Angeles Angels
Most Notable Snub: Felix Hernandez, Seattle Mariners
Jered Weaver doesn't deserve to be a finalist for the AL Cy Young. It's nice that he won 20 games, but much of his success was the result of his pitching in front of an excellent defense. Angel Stadium of Anaheim also helped him out, as Weaver's home ERA was close to a full run lower than his road ERA.
Weaver may have finished the year with a solid 2.81 ERA, but his Fielding Independent Pitching (FIP) came in at 3.75 and his xFIP came in at 4.18, according to FanGraphs. He finished with a WAR of 3.0, which was lower than that of Jon Lester.
Felix Hernandez would have been a better choice for the award. He logged about 45 more innings than Weaver and finished with a better strikeout rate, FIP, xFIP and WAR.
Fernando Rodney also got snubbed, but I wouldn't place him on the list of finalists over King Felix.
Projected Winner: Justin Verlander
It's probably between David Price and Justin Verlander. The edge has to go to Verlander because he and Price posted very similar numbers but Verlander compiled his over a much larger sample size. He pitched close to 30 more innings than Price.
If that gap didn't exist, Price would have to be considered the favorite for the award.
If he isn't already, of course...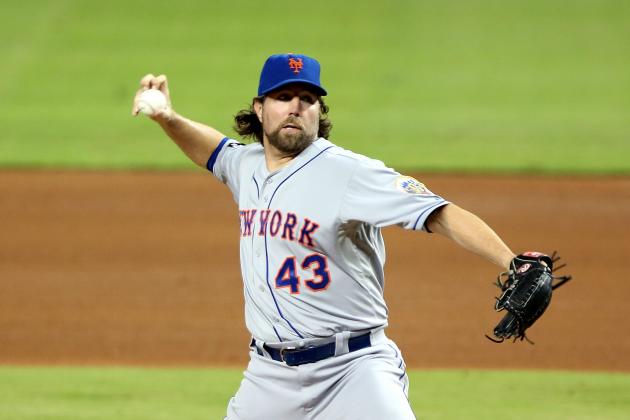 Marc Serota/Getty Images

Finalists
R.A. Dickey, New York Mets
Gio Gonzalez, Washington Nationals
Clayton Kershaw, Los Angeles Dodgers
Most Notable Snub: Johnny Cueto, Cincinnati Reds
This is another case where I don't want to argue with the three finalists, but it did catch me by surprise that Johnny Cueto didn't make the cut. He gave the Reds 217 innings while compiling a 2.78 ERA.
Per FanGraphs, Cueto also ended up with a solid 3.27 FIP and a solid 3.65 xFIP. In addition, he deserves credit for posting uncannily similar home/road splits despite the fact he made 14 starts at Great American Ballpark. It lives up to its reputation as a launching pad.
Also worthy of some love: Cliff Lee. He deserved way, way, way better than his 6-9 record. You may be surprised to hear that he actually finished with a higher WAR than Cueto and R.A. Dickey.
Projected Winner: R.A. Dickey
This tweet from Anthony DiComo of MLB.com says it all:
Cy Young results come out a week from today. From talking to voters, I really can't envision a scenario in which Dickey does not win. #Mets

— Anthony DiComo (@AnthonyDiComo) November 7, 2012
The voters have been known to go for a great story, and Dickey's 2012 narrative was amazing.
This is not to say he isn't deserving; Dickey led the NL in strikeouts and innings and finished third in ERA and WHIP. He pitched five complete games and three shutouts.
And I may as well admit it: I'm a sucker for the knuckleball too.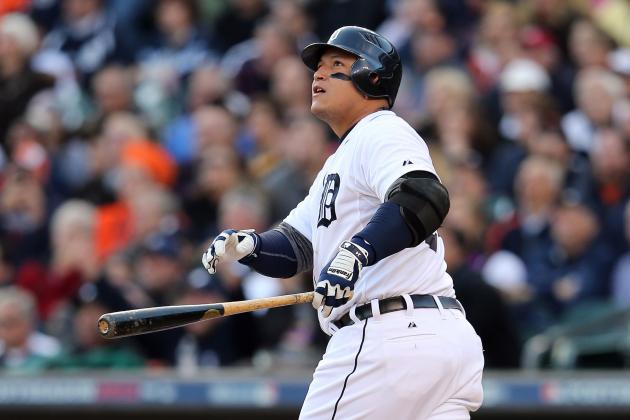 Leon Halip/Getty Images

Finalists
Adrian Beltre, 3B, Texas Rangers
Miguel Cabrera, 3B, Detroit Tigers
Robinson Cano, 2B, New York Yankees
Josh Hamilton, OF, Texas Rangers
Mike Trout, OF, Los Angeles Angels
Most Notable Snub: Justin Verlander, SP, Detroit Tigers
The only finalist I have a problem with here is Josh Hamilton. He disappeared for about a third of the season, and his final numbers weren't anywhere near as impressive as they could have been. His .930 OPS looks like a disappointment, and he actually finished with a lower WAR than Adam Jones and Dustin Pedroia, according to FanGraphs.
There are two guys I'd put on the list ahead of Hamilton. One is Yoenis Cespedes simply because the A's were a totally different team when he was in the lineup. But since it's too hard to justify his case beyond saying just that, I'll go with Justin Verlander because he was the best pitcher in the AL this year and worth more wins than all but a couple of the league's position players.
Projected Winner: Miguel Cabrera
Mike Trout should win the AL MVP, but the award is likely to go to Miguel Cabrera by a comfortable margin.
The sabermetric community will tell you all about how Cabrera's poor defense and atrocious baserunning hurt his overall value, but a Triple Crown is a Triple Crown is a Triple Crown in the eyes of most voters. Cabrera captured the first Triple Crown in 45 years in 2012, and that makes him the MVP pretty much by default.
Oh, and it helps that he was money down the stretch and that the Tigers made the playoffs while Trout's Angels didn't. Cabrera thus did everything that most of the voters could have possibly asked for.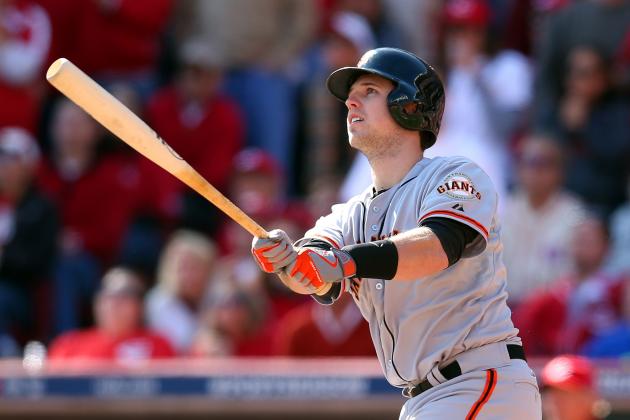 Andy Lyons/Getty Images

Finalists
Ryan Braun, LF, Milwaukee Brewers
Chase Headley, 3B, San Diego Padres
Andrew McCutchen, CF, Pittsburgh Pirates
Yadier Molina, C, St. Louis Cardinals
Buster Posey, C, San Francisco Giants
Most Notable Snub: Jason Heyward, RF, Atlanta Braves
This is yet another situation where I don't have a huge problem with the list of finalists, but I'd put Jason Heyward on it over Yadier Molina.
Heyward was one of the most overlooked superstars in baseball in 2012. He hit .269/.335/.479 with 27 homers and 21 stolen bases, and he was very much deserving of the Gold Glove that he got for his work in right field. His defense was tremendous, and it definitely gave his overall value a huge boost.
According to FanGraphs, Heyward finished with a 6.6 WAR, slightly higher than that of Molina. He was tremendous offensively and defensively, but he wasn't the same kind of complete threat that Heyward was.
But simmer down, Cardinals fans. This is a minor gripe. Molina is a stud.
Projected Winner: Buster Posey
There's a huge debate regarding the AL MVP, but not so much with the NL MVP. Everyone seems to agree that it should go to Buster Posey.
Posey pleased both the sabermetrics crowd and the more traditional crowd in 2012, leading the NL in WAR while also winning a batting title and leading the Giants to an NL West title. He further helped himself by being particularly good in the second half and by carrying the Giants after Melky Cabrera was suspended.
I'd say he's a lock.
If you want to talk baseball, hit me up on Twitter.