Top Week 9 Fantasy Studs Who Will Be Week 10 Duds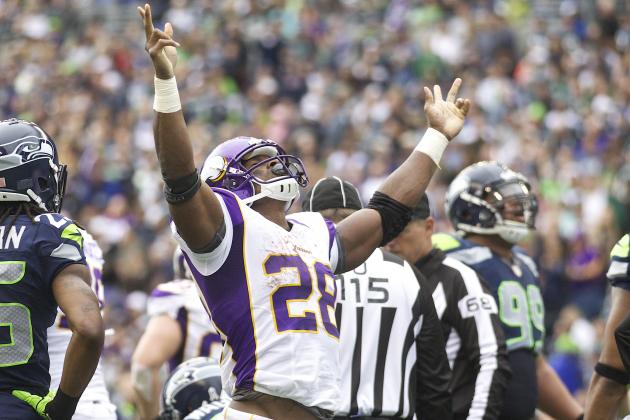 Stephen Brashear/Getty Images
Adrian Peterson rushed for 182 yards and two touchdowns in week 9
Chasing points is a sure-fire way to ruin a fantasy team. Just because a player put up big points one week doesn't mean he is capable of doing it on a consistent basis or ever again for that matter. Those who snatched up Kevin Ogletree after the first game of the season quickly realized that he was not this year's Victor Cruz.
So here is a list of the top scorers from last week who will leave you less than satisfied come Week 10.
Begin Slideshow

»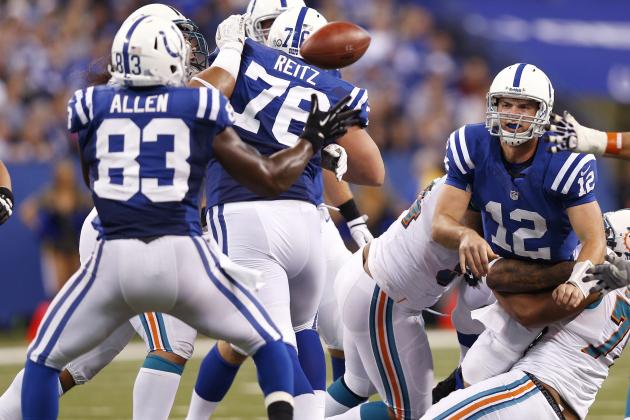 Joe Robbins/Getty Images

Dwayne Allen has filled in nicely with Coby Fleener out with an injury. Allen has had 10 catches for 131 yards in the last two games. Unfortunately for Allen, the one thing that Jacksonville can do is shut down opposing tight ends. The Colts' Week 10 opponent is in the top 10 in yards allowed to opposing tight ends and has yet to allow a tight end to score a touchdown on the season. Look for Dwayne Allen's opportunities to be limited this week.
Prediction: 3 receptions for 24 yards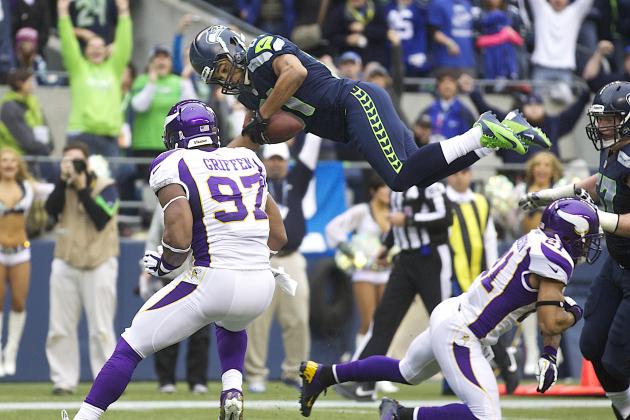 Stephen Brashear/Getty Images

Golden Tate has made the most of his opportunities over the last couple weeks with two touchdowns last week and seven catches the week before. Golden has been a hot pickup this week on waiver wires, however owners may want to wait at least a week before thinking about playing Tate.
With a matchup against the Jets this week, Golden Tate will find it tough to get into open space against the Jets' suffocating secondary. The Jets are currently giving up the least amount of points to opposing wide receivers while also being in the top two in receiving yards and touchdowns allowed.
Prediction: 4 receptions for 30 yards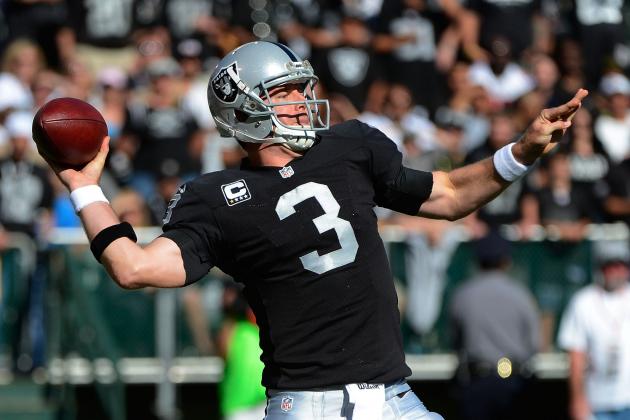 Thearon W. Henderson/Getty Images

Carson had a big game last week with 414 yards and four touchdowns while he was trying to keep up with Doug Martin running all over Oakland Coliseum.
Carson has been a tale of two quarterbacks. At home, Carson has thrown nine touchdown passes and completed 65 percent of his passes, but on the road, he has thrown four touchdown passes and has completed just 56 percent of his passes. Unfortunately for the Raiders they are traveling to Baltimore this week to face the Ravens. The Ravens have allowed a league-leading six touchdowns to opposing quarterbacks this year. Best bet is to wait for Carson to head back to Oakland before placing him in your lineup.
Prediction: 200 yards passing, 0 touchdowns, 2 interceptions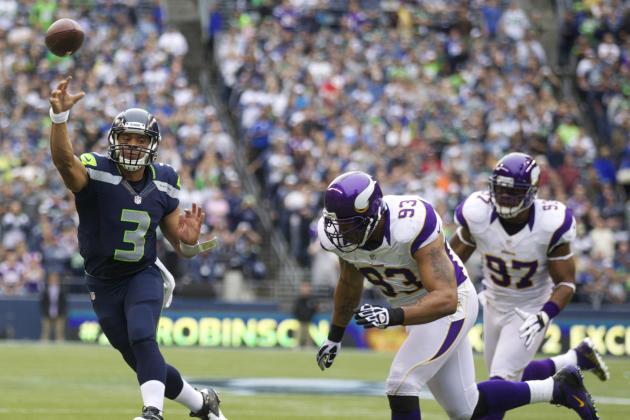 Stephen Brashear/Getty Images

Russell Wilson has put up good numbers against less than average defenses and lousy numbers when playing against better than average defenses. After a couple weeks of getting to play less than stellar defenses courtesy of the Lions and Vikings, Wilson must now go up against a great New York Jets secondary that is coming off a bye week. The Jets have allowed the third fewest passing yards in the league and are in the top 10 in fewest touchdowns allowed. The Jets also do a good job of containing quarterbacks in the pocket, allowing the fourth fewest rushing yards to quarterbacks.
I would expect a heavy dose of Marshawn Lynch and passing on a strictly need-to basis in this game.
Prediction: 180 yards passing, 1 touchdown, 1 interception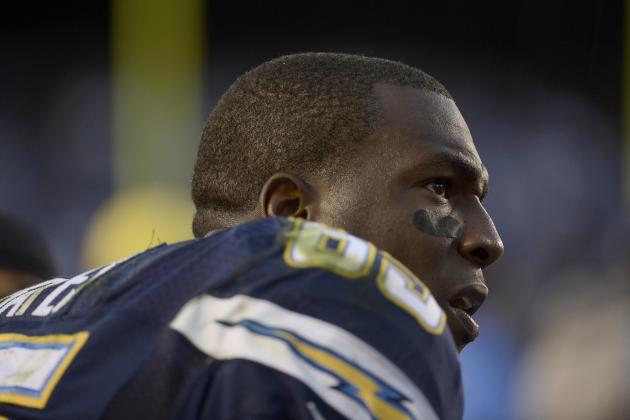 Donald Miralle/Getty Images

Antonio Gates has been a thorn in the side of fantasy owners almost from the moment they drafted him. He was supposed to be 100 percent healthy, in the best shape of his life and ready to put up the type of numbers we had come to expect from Gates in his prime.
Instead owners have gotten mostly disappointment with glimmers of hope sprinkled in every few weeks. Last week was one of those weeks. With a first-quarter touchdown, it looked like Gates might have a big game. Instead he disappeared after the first quarter, and owners were left to be happy with their touchdown.
Over the last four weeks, Gates has averaged 3.5 catches and 39 yards a game. He has yet to score a touchdown outside of San Diego as well this season. Heading to Tampa Bay this week to play a tough Buccaneers secondary, I wouldn't expect this to be a vintage Gates game.
Prediction: 4 catches, 42 yards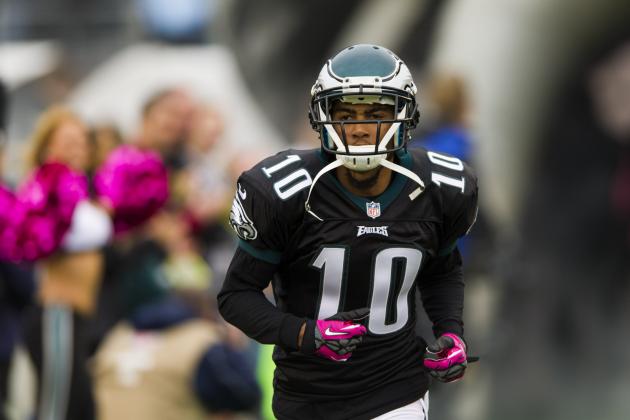 Howard Smith-US PRESSWIRE

DeSean has been a consistent player this year. Unfortunately, most owners were expecting his consistency to be at a higher level than what it has been. Jackson had his first 100-yard receiving game since Week 2 on Monday thanks to a gift-wrapped blown coverage by the Saints secondary. The play also resulted in just his second touchdown of the season.
Don't expect Dallas' secondary to do Jackson any such favors. Dallas has allowed the third fewest receptions and touchdowns to opposing wide receivers on the season. With the offensive line giving him very little time to get deep, it will be tough for DeSean to put his speed to use.
Prediction: 2 catches, 23 yards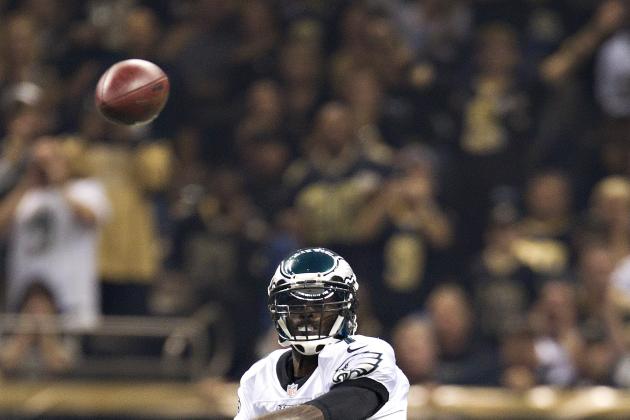 Wesley Hitt/Getty Images

Just as a broken play led to DeSean Jackson being a fantasy stud last week, Michael Vick benefited from those kind of plays as well on his way to being a top 10 QB. With the Eagles falling behind in the first half, Vick was forced to go to the air in the second half. His 272 yards came on 41 attempts and resulted in just one touchdown. Over the last four weeks, Vick has completed less than 60 percent of his passes and averaged a paltry 6.2 yards per attempt.
This week, Vick and the Eagles get to host the Dallas Cowboys. The Cowboys come in allowing the fourth fewest passing yards and touchdowns to opposing quarterbacks. With the offensive line hurting, DeMarcus Ware coming after him and a strong secondary, expect Vick to struggle this week at home.
Prediction: 190 yards passing, 0 touchdowns, 2 interceptions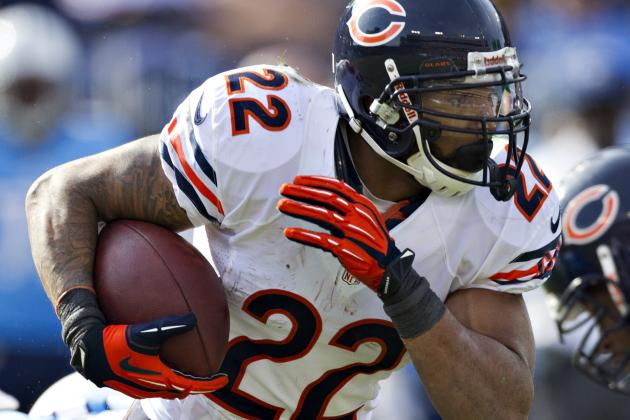 Wesley Hitt/Getty Images

Matt Forte's struggle in the upcoming week will have less to do with Matt Forte and more to do with the two forces working against him: The Houston defense and Lovie Smith. The Houston defense has yet to allow a rushing touchdown this season and has only allowed one receiving touchdown to opposing running backs. Then there is Lovie Smith. Lovie has only given Forte more than 20 carries twice this season. Without getting more carries, Forte will not be able to put up the type of numbers that owners have come to expect from previous seasons.
Prediction: 40 yards rushing and 20 yards receiving, no touchdowns
Andy Lyons/Getty Images

Eric Decker has been on fire the last five weeks with at least one touchdown in that span. Decker and Peyton have gotten more comfortable with each other over the last few weeks, and it is translating into touchdowns.
While Decker's play as of late has been impressive, this is the week that the touchdown streak will end.
Denver travels to Carolina this week to face a Panthers defense that has been fierce against the pass while being less than ferocious against the run. Carolina's defense has only allowed five touchdowns to opposing receivers on the season while allowing the third fewest yards.
A steady dose of Willis McGahee and a big lead will lead to few opportunities for Decker this week.
Prediction: 43 yards receiving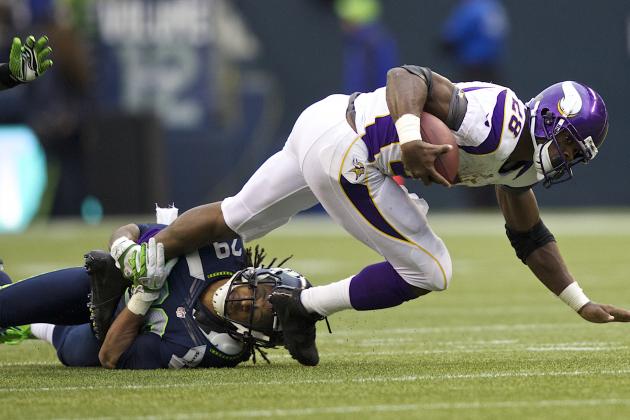 Stephen Brashear/Getty Images

Adrian Peterson is a freak. Plain and simple. What he is doing in such a short amount of time after tearing up his knee is nothing short of remarkable. This is in no way meant to take away from that in the least.
This week, however, he will not be a fantasy stud. The combination of a stellar Detroit run defense and a porous Detroit secondary will result in the Vikings concentrating on getting their passing attack on track. Peterson will see his carries, but he just won't put up big numbers this week.
I am in no way suggesting that owners bench AP. The odds are highly unlikely that you have two running backs on your team that are worth playing over him. This is merely meant to scale down fantasy expectations for this week. In terms of a No. 1 running back, this week for AP is a dud.
Prediction: 65 yards rushing, 15 yards receiving. No touchdowns