West Virginia Mountaineers vs. Oklahoma State Cowboys: Complete Game Preview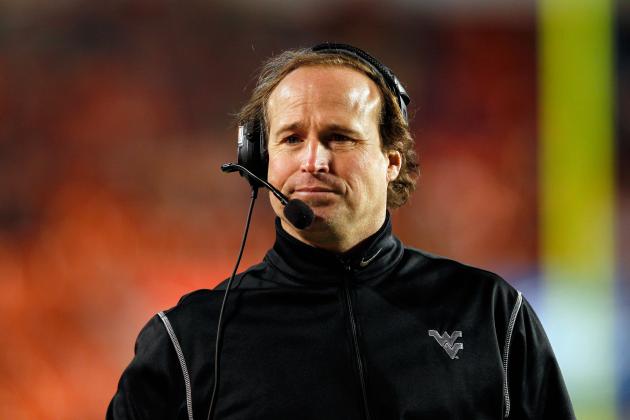 Mike Ehrmann/Getty Images

Dana Holgorsen's successful stay at Oklahoma State ultimately earned him his current position as the head man at West Virginia.
This weekend, Holgorsen will take his Mountaineers with him on his first trip back to Stillwater as the head coach at WVU.
It won't be all fun and games for the former Cowboy offensive coordinator, as his current squad is in desperate need of a victory. WVU is currently on a three-game slide in Big 12 Conference play, and at 5-3, still hasn't attained bowl eligibility.
OSU, on the other hand, has managed to rebound stronger than expected after the losses of quarterback Brandon Weeden, wide receiver Justin Blackmon and others. The Cowboys are 3-2 in Big 12 play and have maintained the No. 2 total offense in the nation.
Two armed mascots will be in attendance on Saturday, so which will prevail in the shootout—the six-shooters or the musket?
Let's take a look:
Begin Slideshow

»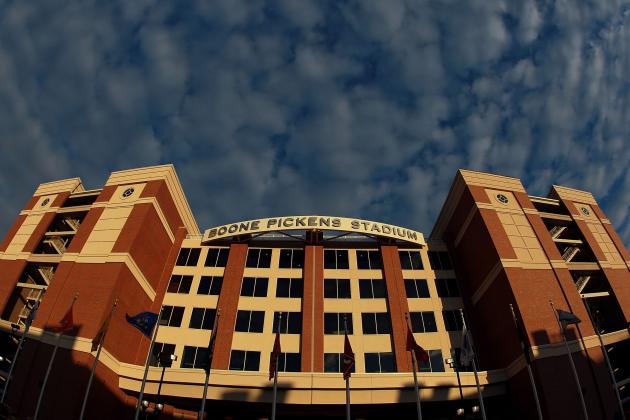 Ronald Martinez/Getty Images

West Virginia at Oklahoma State | Big 12 Conference Game
When: Saturday, Nov. 10 | 3:30 p.m. EST
Where: Boone Pickens Stadium (60,218) | Stillwater, Okla.
TV: ABC/ESPN 2 (Dave LaMont, Kelly Stouffer) | Coverage Map

Radio: ESPN Radio (National) | Sirius 92/XM 196 | OKState.TV | Mountaineer TV
Live Stream: ESPN 3
Live Stats: OKState.com | WVUSports.com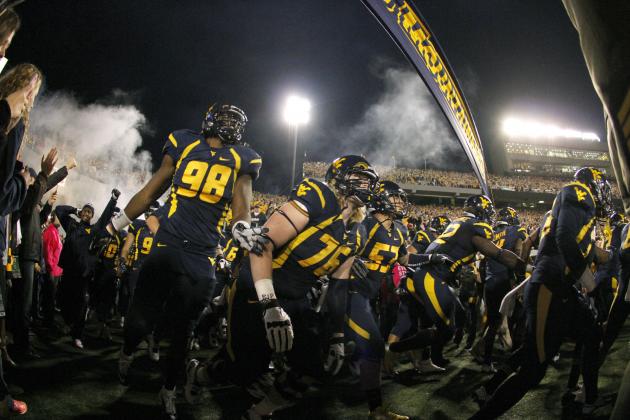 Justin K. Aller/Getty Images

Offense
QB: Geno Smith, 12 (Sr.)
Paul Millard, 14 (r-Fr.)
WR (X): Stedman Bailey, 3 (r-Jr.)
Ivan McCartney, 5 (Jr.)
IR (H): Jordan Thompson, 10 (Fr.)
Dante Campbell, 15 (r-Fr.)
LT: Quinton Spain, 67 (r-So.)
Curtis Feigt, 62 (r-Jr.)
LG: Josh Jenkins, 77 (r-Sr.)
Quinton Spain, 67 (r-So.)
C: Joe Madsen, 74 (r-Sr.)
John Bassler, 60 (r-Sr.)
RG: Jeff Braun, 57 (r-Sr.)
Pat Eger, 76 (r-Jr.)
RT: Nick Kindler, 79 (r-Jr.)
Pat Eger, 76 (r-Jr.)
IR (Y): Tavon Austin, 1 (Sr.)
Jordan Thompson, 10 (Fr.)
WR (Z): J.D. Woods, 81 (r-Sr.)
Devonte Robinson, 85 (Fr.)
RB (A): Ryan Clarke, 32 (r-Sr.)
Cody Clay, 88 (r-Fr.)
RB (B): Shawne Alston, 20 (Sr.)
Andrew Buie, 13 (So.)
Dustin Garrison, 29 (So.)
Defense (3-4)
DT: Jorge Wright, 99 (r-Sr.)
Eric Kinsey, 45 (Fr.)
NT: Shaq Rowell, 90 (Jr.)
Christian Brown, 95 (Fr.)
DE: Will Clarke, 98 (r-Jr.)
Kyle Rose, 93 (r-Fr.)
BUCK: Josh Francis, 4 (Sr.)
Shaq Petteway, 36 (So.)
STAR: Terence Garvin, 28 (Sr.)
Wes Tonkery, 37 (r-So.)
WILL: Doug Rigg, 47 (Jr.)
Jared Barber, 33 (So.)
SAM: Isaiah Bruce, 31 (r-Fr.)
Nick Kwiatkoski, 35 (r-Fr.)
FCB: Ishmael Banks, 34 (r-So.)
Nana Kyeremeh, 7 (Fr.)
Ricky Rumph, 41 (Fr.)
FS: Karl Joseph, 8 (Fr.)
Ishmael Banks, 34 (r-So.)
BS: Cecil Level, 24 (r-Sr.)
Darwin Cook, 25 (r-Jr.)
K.J. Dillon, 9 (Fr.)
BCB: Pat Miller, 6 (Sr.)
Cecil Level, 24 (r-Sr.)
Special Teams
K: Tyler Bitancurt, 40 (r-Sr.)
Corey Smith, 44 (r-Sr.)
P: Corey Smith, 44 (r-Sr.)
Michael Molinari, 48 (r-So.)
KO: Corey Smith, 44 (r-Sr.)
Tyler Bitancurt, 40 (r-Sr.)
LS: John DePalma, 87 (Fr.)
Jerry Cooper, 86 (r-So.)
PR: Tavon Austin, 1 (Sr.)
Jordan Thompson, 10 (Fr.)
KR: Tavon Austin, 1 (Sr.)
Stedman Bailey, 3 (r-Jr.)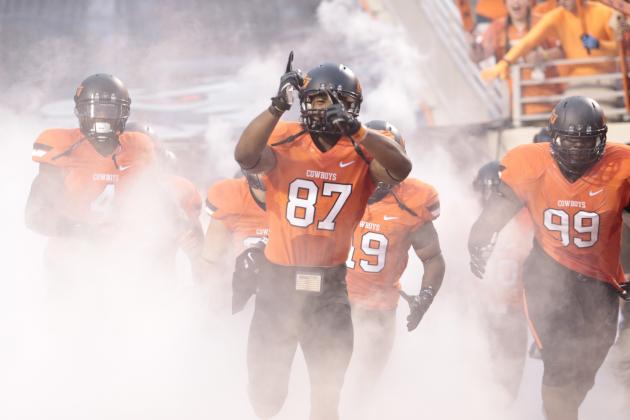 Brett Deering/Getty Images

Offense
LT: Parker Graham, 71 (Jr.)
Devin Davis, 69 (r-Fr.)
LG: Jonathan Rush, 70 (Sr.) -or-
Brandon Webb, 51 (Jr.)
C: Evan Epstein, 60 (Sr.)
Jake Jenkins, 54 (So.)
RG: Lane Taylor, 68 (Sr.)
Eli Dickerson, 76 (So.)
RT: Daniel Koenig, 58 (So.)
Chris Grishby, 75 (So.)
WR: Charlie Moore, 17 (Jr.) -or-
Isaiah Anderson, 82 (Sr.)
Brandon Sheperd, 7 (Fr.)
IR: Josh Stewart, 5 (So.)
David Glidden, 13 (r-Fr.)
IR: Blake Jackson, 18 (Jr.)
Torrance Carr, 80 (r-Fr.)
WR: Austin Hays, 84 (Fr.)
Blake Webb, 85 (Fr.)
Nick Rockwell, 89 (Jr.)
FB: Kye Staley, 9 (Sr.)
Jeremy Seaton, 44 (r-Fr.)
RB: Joseph Randle, 1 (Jr.)
Jeremy Smith, 31 (Jr.)
Desmond Roland, 26 (So.)
QB: Wes Lunt, 11 (Fr.) -or-
Clint Chelf, 10 (Jr.)
Defense
DE: Nigel Nicholas, 89 (Sr.) -or-
Cooper Bassett, 80 (Sr.)
DT: James Castleman, 91 (So.)
Anthony Rogers, 94 (Jr.)
Christian Littlehead, 72 (So.)
DT: Calvin Barnett, 99 (Jr.)
Davidell Collins, 98 (Jr.)
DE: Ryan Robinson, 96 (Sr.)
Tyler Johnson, 40 (Jr.)
SLB: Shaun Lewis, 11 (Jr.)
Lyndell Johnson, 27 (So.) -or-
Joe Mitchell, 29 (Jr.)
MLB: Caleb Lavey, 45 (Jr.)
Ryan Simmons, 52 (r-Fr.)
Kris Catlin, 32 (r-Fr.)
WLB: Alex Elkins, 37 (Sr.)
DeMarcus Sherod, 42 (r-Fr.)
Nico Ornelas, 41 (So.)
CB: Brodrick Brown, 19 (Sr.)
Kevin Peterson, 1 (Fr.)
SS: Shamiel Gary, 7 (Jr.)
Zack Craig 23, (Jr.)
FS: Daytawion Lowe, 8 (Jr.)
Larry Stephens, 20 (Jr.)
CB: Justin Gilbert, 4 (Jr.)
Ashton Lampkin, 6 (Fr.)
Miketavius Jones, 24 (r-Fr.)
Special Teams
P: Quinn Sharp, 13 (Sr.)
Michael Reichenstein, 59 (Jr.)
PK: Quinn Sharp, 13 (Sr.)
Bobby Stonebraker, 90 (So.)
LS: Andrew Suter, 53 (Jr.) -or-
Connor Sinko, 56 (Jr.)
H: Wes Harlan, 39 (Sr.)
Michael Reichenstein, 59 (Jr.)
PR: Charlie Moore, 17 (Jr.)
David Glidden, 13 (r-Fr.)
KR: Justin Gilbert, 4 (Jr.)
Jeremy Smith, 31 (Jr.)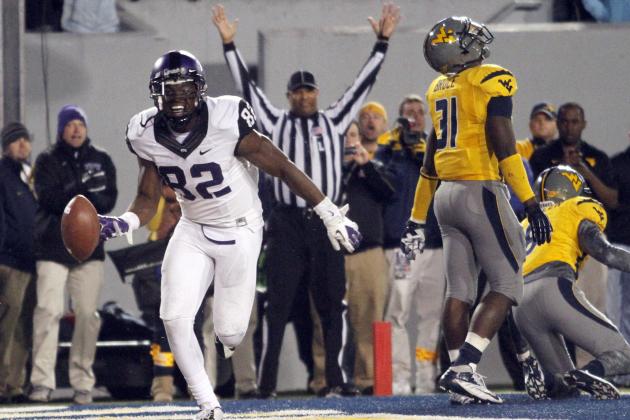 Justin K. Aller/Getty Images

Last week, West Virginia dropped its third straight game in Big 12 Conference play.
The Mountaineers had a win all but sewn up at home against TCU, but Horned Frogs wide receiver Josh Boyce broke free near the end of regulation for a 94-yard touchdown reception to send the game to overtime.
There, WVU took the first lead on the first play of the second overtime period as quarterback Geno Smith found his favorite receiver Stedman Bailey for his 15th touchdown reception of the season.
However, TCU answered right back on the very next play with a touchdown pass of its own off of a reverse pass.
Rather than taking the tie, TCU elected to forgo the extra point in favor of a two-point conversion. The decision paid off as Frogs QB Trevone Boykin found Boyce in the end zone again.
The game-winning play was a controversial one, as the ball appeared to hit the ground before it was secured by Boyce.
Nonetheless, the result stood and the Mountaineers fell to 5-3 overall and No. 7 in the Big 12 at 2-3 in conference play.
Ed Zurga/Getty Images

Last week, Oklahoma State became the latest in a long line of victims of the machine that is the Kansas State football team.
The Cowboys outgained the Wildcats through the air by 137 yards and overall by 23 yards, but turnovers ended up plaguing the OSU upset bid.
KSU put forth another nearly flawless effort, committing just two penalties and zero turnovers.
OSU, on the other hand, turned the ball over five times, including four interceptions.
Cowboys running back Joseph Randle was held to just 43 yards on the ground and was kept out of the end zone for his worst performance of the season.
In the game, KSU held the ball for nearly 38 minutes, compared to about 22 by OSU, as the Wildcats proved why they are one of the top teams in the country.
The loss dropped Oklahoma State to 5-3 overall and 3-2 in the Big 12.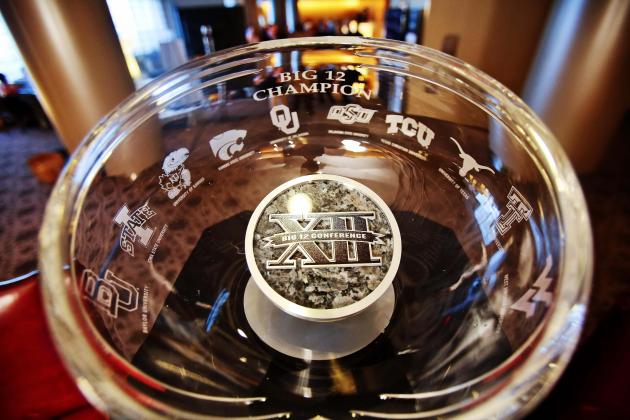 Kevin Jairaj-US PRESSWIRE

Neither Oklahoma State nor West Virginia is currently bowl eligible, as both sit at 5-3 overall.
In that regard, both squads are in serious need of a victory, and neither team is out of the woods yet this season.
Going forward, OSU has two ranked foes remaining—Texas Tech and Oklahoma—and will finish up on the road against a Baylor squad that just picked up its first conference win.
WVU will host No. 12 Oklahoma next week, then take to the road to face an Iowa State team that is always tough to beat in Ames. Finally, the Mountaineers will take on Kansas, the only team winless in Big 12 play.
There are plenty of teams still jockeying for positioning behind KSU in the league standings, and OSU and WVU are both in the mix.
With a respectable bowl bid on the mind of both of these teams, this is a must-win game for each of the contenders.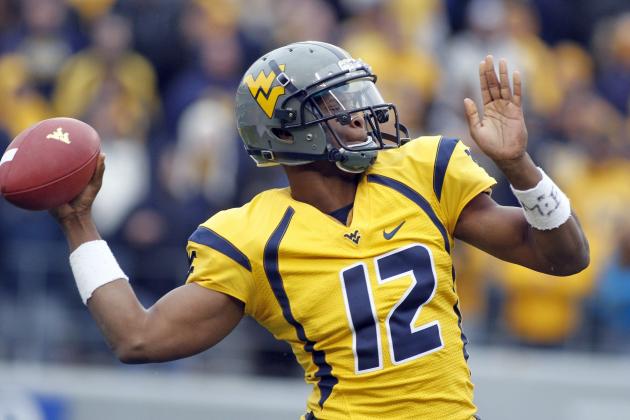 Justin K. Aller/Getty Images

The key for West Virginia finding its way back on track is quarterback Geno Smith—not just in this game but for the rest of the season.
He is the unquestioned leader of this team, who carried WVU to its 5-0 start. Then, the wheels came off for the Mountaineers as Smith suddenly lost his rhythm over the next three contests.
Last week, flashes of the former version of Smith returned, but signs of the new and unimproved Smith were prevalent in the loss.
He threw just his third interception of the season last week and finally surrendered his stranglehold on the No. 1 completion percentage in the nation.
The same player physically puts on the No. 12 WVU jersey each week, but he hasn't been the same player mentally.
West Virginia needs to see an improved mental version of Smith this week, or his team will be in trouble on the road.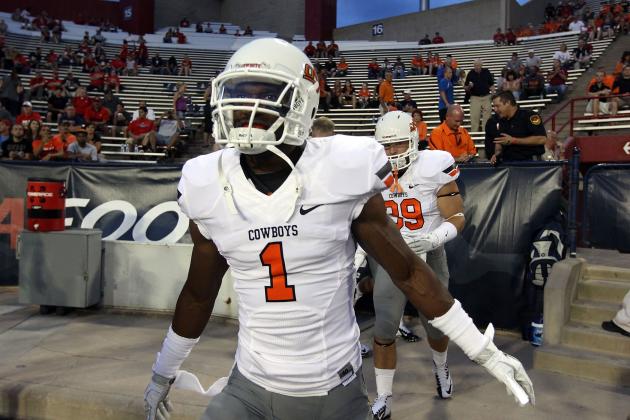 Christian Petersen/Getty Images

So far this season, as running back Joseph Randle has gone, the Oklahoma State offense has gone.
Last week, in OSU's third loss, Kansas State held Randle in check, forcing the OSU offense to be one-dimensional. As a result, more KSU defenders were dropped back in coverage, leading to the four interceptions.
Randle's only other game below 100 yards rushing was OSU's near-loss to 1-8 Kansas.
In the Cowboys' first loss of the year to Arizona, Randle was kept out of the end zone.
See a pattern here?
Fortunately, Randle has nine rushing touchdowns in five home games this season—a trend he'll need to continue for OSU to avoid the upset against WVU.
Also, look for Randle to be involved in the passing game. The junior has 856 career receiving yards and will have the opportunity to add to that total against the nation's worst passing defense.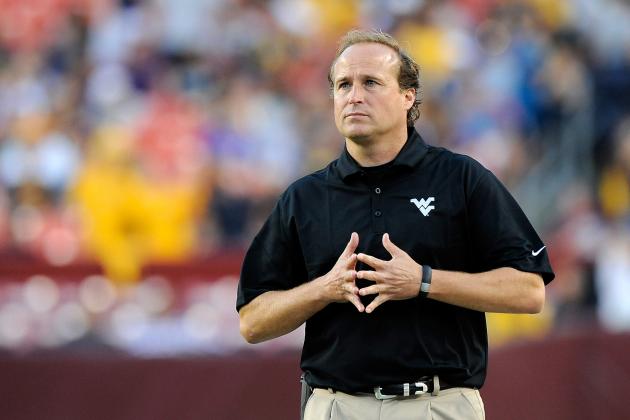 Patrick McDermott/Getty Images

WVU head coach Dana Holgorsen on OSU head coach Mike Gundy:
He does a wonderful job from a structural standpoint and from an organizational standpoint, as far as how you run a program and as far as what your day-to-day operations are like. I took a lot of things from him, and from an offensive standpoint he took a lot of things from me that we were doing over the course of the previous years that fit into what he was trying to do at Oklahoma State.
Holgorsen on how OSU has changed since he left:
It hasn't changed much at all. Just looking at it on tape there are some specific things that they do better than what we do. It's the same offense. If you look at it the very closely, it's called the same and a lot of the routes are the same. There's always going to be tweaks here, tweaks there, an added formation, a different run play, a different pass play or a different set.
Holgorsen on changing signals:
We do it every week anyway. I've watched a couple of their (Oklahoma State's) TV copies here, and I can call out about 90 percent of their plays, so I'd assume that's something that is on their mind as well as it is on our mind. We have to be careful what we do from both an offensive standpoint and a defensive standpoint.
Holgorsen on Joseph Randle and the OSU running game:
Joseph Randle is a fantastic football player. He's one of my favorite kids I've ever coached. I had him for one year as a true freshman, and it means a lot to him. He lives it. He's quick-twitch, he's powerful, he's very skilled, he can catch the ball out of the backfield, you can throw him screens and you can line him up as a receiver and throw him the ball downfield...You take him out and put Jeremy Smith in, who is downhill, physical, fast and can take it 80 yards (quickly). Oklahoma State has always had good running backs, and it'll be a challenge. We have to be sounds in our gaps, be physical and get off blocks. It doesn't stop there; Joe Wickline is a good offensive line coach and has been for two decades. They have guys up front that continuously get better and have good depth.
WVU QB Geno Smith on the team's mentality going into OSU:
We just have to go out there on Saturday with the mentality that we are going to score. We have to be confident. We have to play fast, and we have to play hard. Things haven't changed for us. I still think that we have a really good offense. We are making progress, working guys in and out of the rotation as far as receivers, backs and offensive linemen. We are going to have fresh bodies out there and are going to be ready to play.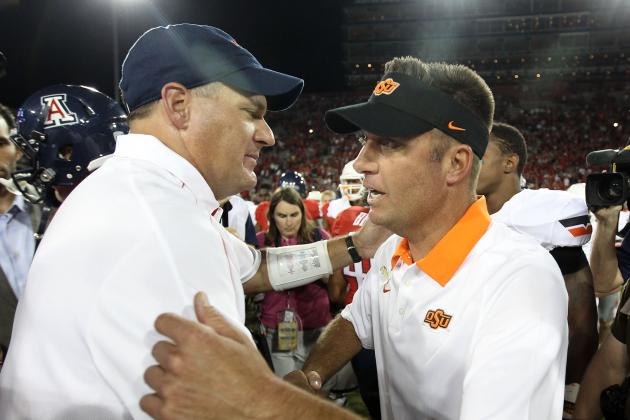 Christian Petersen/Getty Images

OSU head coach Mike Gundy on WVU:
This will be a really good game. This is a very talented team. I think this group on offense is probably the most talented and athletically skilled set of players that we've faced this year. Obviously they've had a lot of success. Their quarterback is a good player. It will be a great challenge for our defense and a great challenge for our team. We will certainly need every bit of Tuesday and Wednesday's practice and Thursday's polish to get ready for the game this weekend.
Gundy on Holgorsen:
Dana was good for us. When we made the transition three years ago, it was good that we were able to make a smooth transition and be able to put up some good offensive numbers and score some points. It was good that he was able to come in here. We learned a lot from his system.
OSU offensive coordinator Todd Monken on the WVU offense:
They were much better last week. That's obvious on film. So I would guess it would be silly for them to change from what worked last week. The bottom line is we have to play good football, not turn it over and put a number of plays together that give us a chance to score.
Monken on facing current WVU and former OSU defensive coordinator Joe DeForest:
It goes both ways. What we do and what they do are pretty similar. I know Joe DeForest and them are running more three-down lineman sets. That's probably more along the lines of what they have done and what they've recruited to. They know our guys and know our players. We don't have anybody here who knows their guys, but that's neither here nor there. We just have to play good football on both sides of the ball and not turn it over.

OSU running back Joseph Randle on playing WVU's familiar coaching staff:
It's going to be crazy. It hasn't really hit me yet but a lot of their coaching staff used to be here, so it's going to be fun...It's going to come down to match-ups and who has the better players. That defense is not the same from what they ran here. But as far as the coverages, the wide receivers should be very familiar with the stuff they are doing because our defense is like their secondary, so that's an advantage there.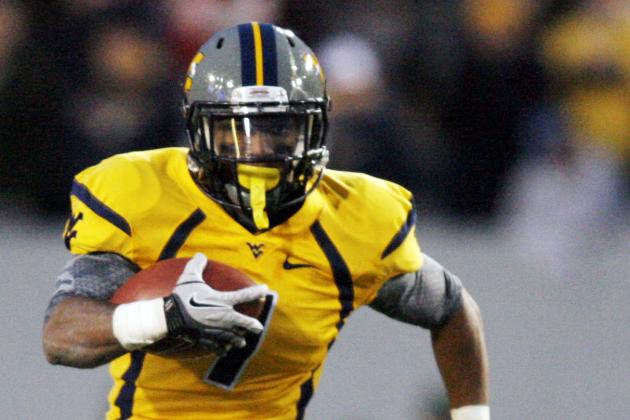 Charles LeClaire-US PRESSWIRE

West Virginia will win if it can find its offensive rhythm.
Geno Smith will need to be sharp and find Tavon Austin as often as possible. Fellow receiver Stedman Bailey had just two receptions last week and hasn't been 100 percent since his injury against Texas Tech—making Austin's role that much more important.
No. 1 recorded his first career punt return touchdown last week, while becoming the first 3,000-yard receiver in school history. The more the ball is in his hands the better, as far as WVU is concerned.
WVU will also need continued contribution from running back Shawne Alston, who made his return from injury last week.
Defensively, the Mountaineers must slow down Joseph Randle. No matter who is at quarterback for the Cowboys, Randle is the key to the offense.
At the same time, WVU needs to also slow down whoever is at QB for OSU. J.W. Walsh is out for the season and Wes Lunt suffered another injury last week, so it may be Clint Chelf who earns the call.
Whether it's Lunt or Chelf, West Virginia must generate consistent pressure to aid the shuffling personnel in its secondary.
WVU will give up yardage to OSU, there is no question about that. However, if the Mountaineers can follow the blueprint laid out by Kansas State of forcing plenty of turnovers, they—like KSU—can overcome the Cowboys' offensive barrage and come away with a win.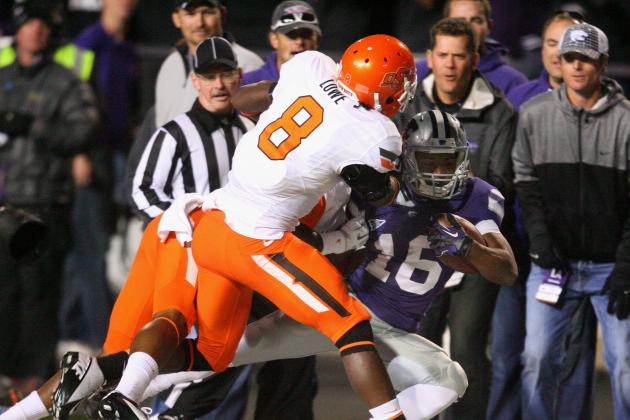 Scott Sewell-US PRESSWIRE

Oklahoma State will win if it can disrupt the West Virginia offensive rhythm.
Safety Daytawion Lowe, pictured here, will be key in slowing the WVU attack and containing Tavon Austin.
Lowe and the OSU defense will need to first take away the run to make WVU one-dimensional. When West Virginia has been stopped on the ground, it has become predictable and stoppable offensively.
If Oklahoma State does this, it will be well on its way to a victory over West Virginia, in the same fashion Texas Tech, Kansas State and TCU were in weeks prior.
On the other side, OSU will need to establish the run early. If Randle and Jeremy Smith start fast, it will not only open up the passing game, but it will pay dividends if this one is close late in the game.
Through the air, whoever has the nod at quarterback will need to avoid turnovers.
If the Cowboys can control the ball, they should be able to avoid the upset.
However, if they fail to take care of the ball, WVU will gain life with every turnover, which could be enough to fuel a Mountaineer upset.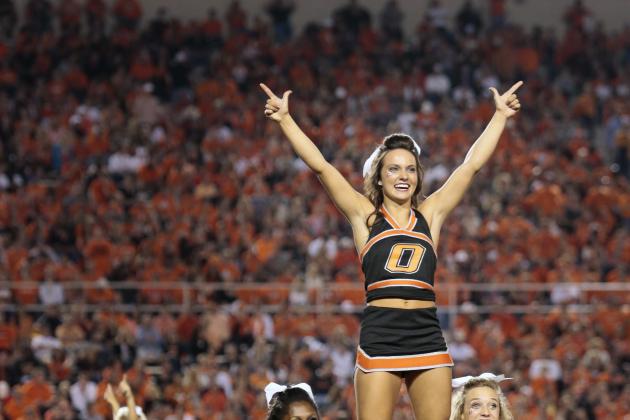 Brett Deering/Getty Images

Oklahoma State, the No. 2 total offense in the nation, is too much for West Virginia's maligned defense.
WVU did improve defensively last week, but OSU is a whole different offensive monster than the Frogs.
After three straight demoralizing losses, there is no telling where the Mountaineers are at mentally. Meanwhile, OSU has a great chance of proving it is still a Big 12 contender after a loss to one of the nation's best in Kansas State.
Randle and the OSU run game will pick up steam early at home, opening up the Cowboys' passing game. Despite its revolving door at quarterback, the Oklahoma State passing game has a big day against the porous WVU secondary.
Defensively, OSU will be able to slow down the WVU offense. Justin Gilbert, Brodrick Brown and the Cowboy secondary contain the banged up Mountaineer receiving corps and do enough to keep Smith out of his rhythm.
Right now, the Cowboys just look better than West Virginia on both sides of the ball—and that will ring true on Saturday in Stillwater.
Prediction: Oklahoma State 48, West Virginia 35