Chicago Cubs: Projecting Each Top Prospect's Timetable to the Majors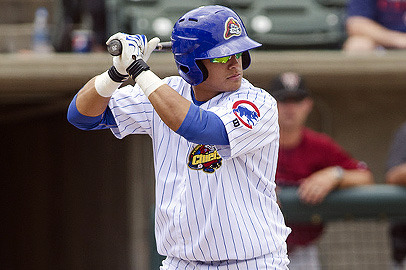 SS Javier Baez // Courtesy of MiLB.com
In addition to the countless league-wide prospect rankings that I will be publishing this offseason, I will also be mixing in team-specific coverage with profiles on highly-regarded prospects as well as more all-encompassing analysis of prospect pools.
Last week, I discussed how the Cubs' farm system could have them in the playoff mix within the next five seasons. Well today, I thought I'd expand on those initial thoughts by breaking down the organization's top 10 prospects with an emphasis on predicting each player's respective estimated time of arrival (ETA) in the major leagues.
So, here's my take on the Chicago Cubs' top 10 prospects headed into the 2013 season.
Begin Slideshow

»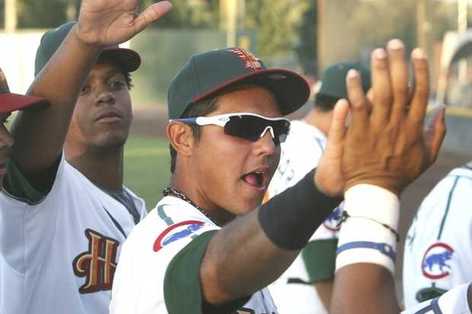 Courtesy of idahostatesmen.com
Position: IF (More projectable at second base)
Age: 19
What to like: Potential plus hit tool has already impressed at lower levels; emerging power should be slightly above-average in big leagues; short, compact swing with quick, loose wrists; extra-base threat at the plate; speeds plays up due to instincts and aggressiveness; solid-average defender with decent arm who should find a home on the right side of infield.
ETA: 2016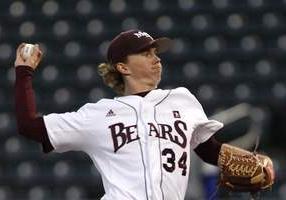 Courtesy of collegebaseball360.com
Position: RHP
Age: 21
What to like: Tall, wiry right-hander leaves room for projection, though there are somewhat significant injury concerns; plus fastball has late, arm-side life; throws plus curveball harder than normal with impressive pace and shape; arsenal more advanced than most realize with solid-average changeup and fastball variations; will benefit from a full season in 2013.
ETA: 2015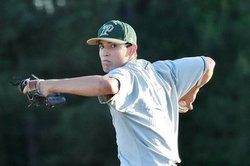 Courtesy of baseballinstinct.com
Position: RHP
Age: 20
What to like: 2011 bonus baby has upside of No. 3 starter; fastball should be easy plus after mechanics are cleaned up; gets good tilt on pitches thanks to high arm slot; though inconsistent; flashes plus downer breaking ball; athletic right-hander just needs experience.
ETA: 2017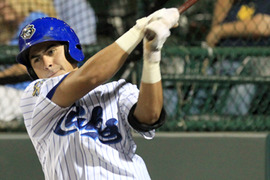 Courtesy of MiLB.com
Position: 3B
Age: 21
What to like: Plus defensive third baseman; excellent glove with range and natural actions at hot corner; instinctual first step and looks comfortable at position; above-average bat speed yields hard contact; sound approach with steadily improving plate discipline; slightly above-average power potential; should start to move quickly in first full season with new team.
ETA: 2014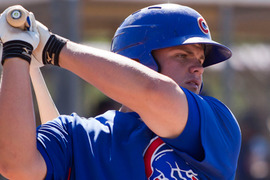 Courtesy of MiLB.com
Position: 1B
Age: 19
What to like: He may be a bad body guy at 6'0", 250 pounds, but dude can absolutely mash; plus-plus raw power; potential for above-average to plus hit tool due to compact left-handed stroke; direct bath path; comfortable using the whole field without sacrificing power; bat will have to carry him to the big leagues.
ETA: 2015
Ralph Freso/Getty Images

Position: OF
Age: 24
What to like: Hard-nosed defensive center field with plus speed and ability to play all three outfield positions; present raw power though it leads to excessive swing-and-miss; comfortable coaxing walks; hit tool will dictate true potential.
ETA: 2013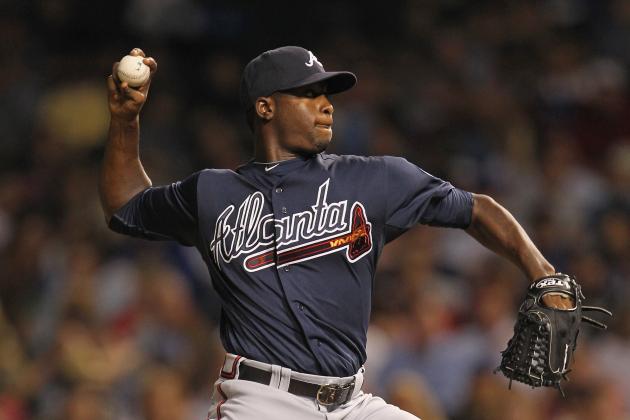 Jonathan Daniel/Getty Images

Position: RHP
Age: 21
What to like: Upside unchanged despite missing all of 2012 after undergoing Tommy John surgery; plus fastball with clean and fast arm action; should be mid- to upper-90s out of 'pen; above-average to plus breaking ball; solid-average changeup is there if he needs it; commands arsenal well.
ETA: 2013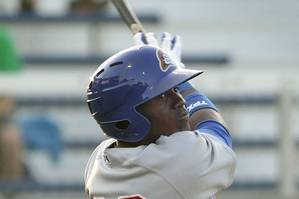 Courtesy of dailyherald.com
Position: OF
Age: 20
What to like: Effortless plus power thanks to plus bat speed and physically-strong nature; has a feel for the strike zone and solid approach; plus arm strength and speed ideal for future in right field; could move quickly if he continues to adapt ahead of schedule.
ETA: 2015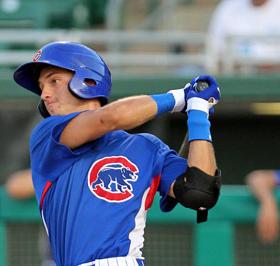 Courtesy of ESPN.com
Position: OF
Age: 18
What to like: Potential five-tool talent; projects to have plus hit tool and at least above-average power; excellent defensive centerfielder despite not possessing elite speed; mature for age could get him to the big leagues quickly; strong work ethic with plus makeup.
ETA: 2016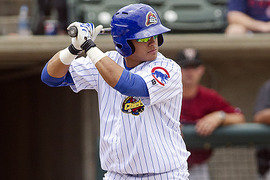 Courtesy of MiLB.com
Position: SS (3B if he outgrows position)
Age: 19
What to like: Plus-plus bat speed; plus raw power; outstanding hand-eye coordination allows for consistent hard contact; moves well at shortstop despite thicker lower half; plus arm strength; aggressive on basepaths.
ETA: 2015