Heading into the season, the Indiana Pacers tweaked their bench by bringing in the likes of D.J. Augustin, Gerald Green and Ian Mahinmi with the hopes of advancing even further in the NBA playoffs.
However, the key to Indiana's offense, Danny Granger, is expected to miss approximately three months (per ESPN.com) as he nurses his left knee. Granger just had an injection in his knee and this is clearly devastating news for Pacers fans.
Without Granger, other Pacers will need to step up, but so far, nobody has truly embraced the role of elite scorer and leader. This void must be filled if Indiana intends to compete without Granger in the lineup.
Paul George clearly has the potential to be a star in this league, but has struggled as the alpha dog in this Indiana offense. Averaging a double-double per game with 14.0 PPG, 10.5 RPG and 3.8 APG, all of which are career highs, is very impressive. However, an alarming 4.5 turnovers per game suggest that George can't do it alone and will need some help from the rest of the Pacers offense.
Max contract center Roy Hibbert hasn't played up to his monumental deal so far, averaging just 8.8 PPG and 7.8 RPG. These stats are somewhat misleading, as Hibbert disappeared against the San Antonio Spurs but played significantly better in his other three games so far.
He will eventually hit his stride and his numbers will improve. But for now, he is not exactly running out of the gate.
The Pacers could use some help, especially without Granger. Free-agent swingman Mickael Pietrus could provide that necessary lift to keep this team afloat until the reemergence of Granger.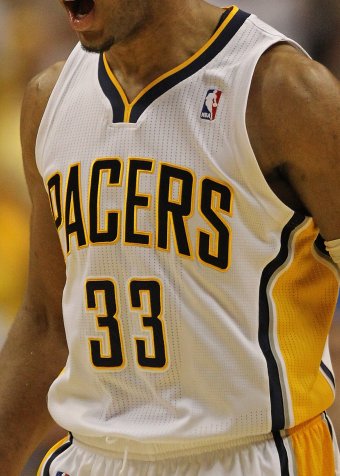 Jonathan Daniel/Getty Images
The team has reportedly contacted Pietrus (per the Indianapolis Star) in the aftermath of the Granger news.
Pietrus would provide an excellent wing defender for Indiana. Throughout his career, he has also proven that he is capable of knocking down shots from three-point range.
This aspect of Pietrus' game would benefit Indiana's offense immensely, as it would allow the Pacers to space the floor and provide more open looks. By spacing the floor, Pietrus would be able to limit the pressure on Paul George and Roy Hibbert to carry the load.
By forcing defenders to respect Pietrus' outside shot, they may be able to draw defenders outside of the paint to actually benefit Hibbert and power forward David West, which could also create lanes for guards like George Hill to penetrate.
As a veteran, Pietrus also has played his fair share of playoff games, both with the Boston Celtics last year and previously with the Orlando Magic. His experience, combined with a lighthearted attitude, could also benefit the Indiana locker room.
The Pacers could likely ink Pietrus to a veteran minimum contract, which could prove to be a bargain, as he would be expected to play big minutes with the absence of their most prolific scorer.
Overall, this would be a low-risk maneuver for a team looking to cope with a significant wound in the loss of Granger. By adding depth and experience, the Pacers really have nothing to lose.