Grading the Top 10 College Football Offenses Heading into Week 11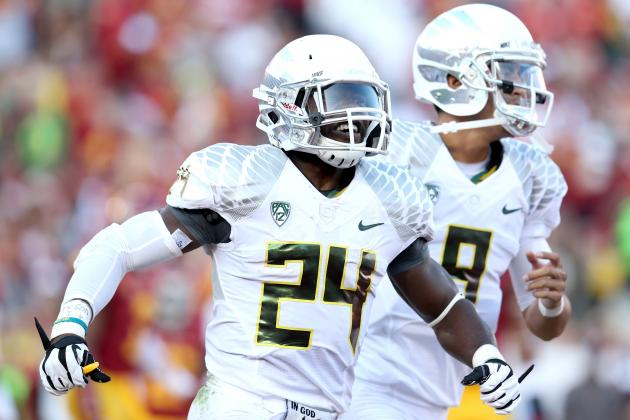 Stephen Dunn/Getty Images

Offenses are getting more creative and more explosive every year, and 2012 has seen some of the biggest offensive outbursts in history.
But of course, all offenses have their ups and downs, and some aren't always clicking heading down the stretch, while others are just heating up.
For this list, I took the 10 teams with the most yards per game this season and looked at how they're trending, giving them a final grade going into Week 11.
Begin Slideshow

»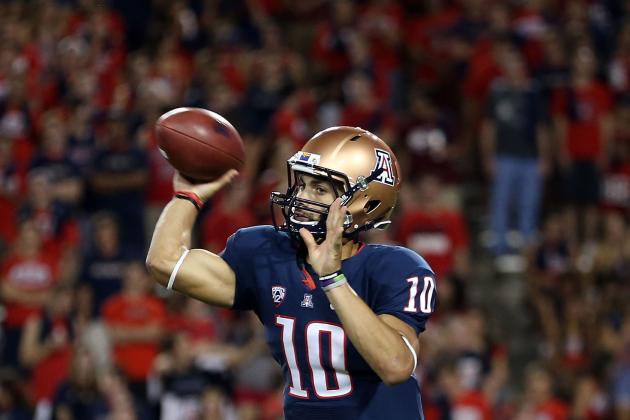 Christian Petersen/Getty Images

YPG: 520.7, Grade C+
The Wildcats have been very streaky so far this season, and right now, it looks like they're trending back downwards after a 39-36 upset over USC two weeks ago.
Last Saturday, coming off the huge win against USC, the Wildcats went out and got embarrassed by UCLA, 66-10.
They're a tough team to grade because of how inconsistent they've been. They beat Oklahoma State and put up 58 points against them, they have the win over USC, but then they have the UCLA blowout loss and got shut out against Oregon.
Fortunately, they're playing Colorado this week, so head coach Rich Rodriguez can work out the kinks and try to get his team back in gear.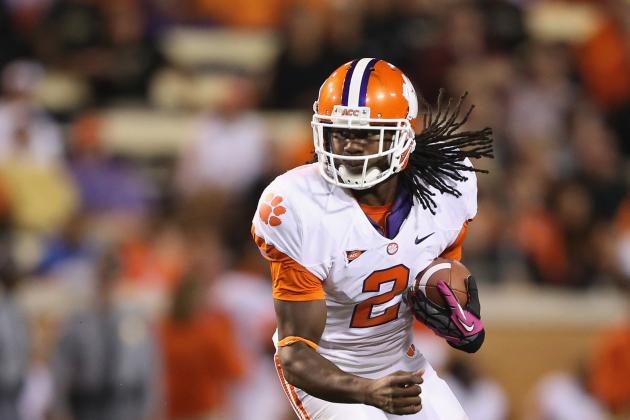 Streeter Lecka/Getty Images

YPG: 522.4, Grade B-
Clemson is hard to grade because it plays in the ACC, which features a bunch of really soft defenses. There's no denying Clemson's talent; however, the combination of Tajh Boyd, Sammy Watkins, DeAndre Hopkins and Andre Ellington is lethal.
But it hasn't been tested too much, so even though its numbers are impressive, one has to wonder what it'd do against better competition.
Its final game of the regular season is against South Carolina, where it'll either silence doubters or prove to be pretenders.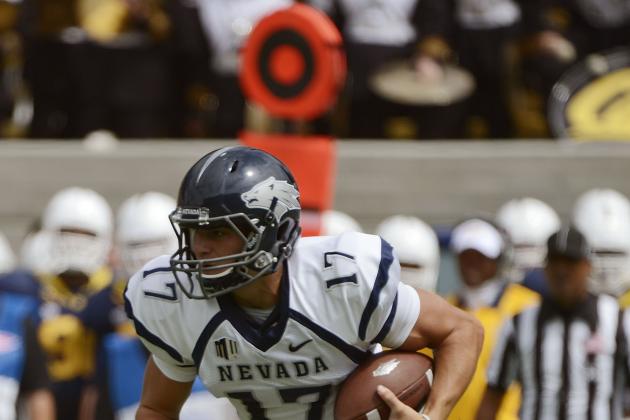 Thearon W. Henderson/Getty Images

YPG: 523.2, Grade: B-
Nevada's rushing attack is what drives this offense. Led by one of the best running backs in the country, Stefphon Jefferson, the Wolfpack hammer the ball down opponents' throats and wear them down.
Quarterback Cody Fajardo is a capable runner himself, racking up nearly six YPC on 111 attempts so far. Combined with Jefferson, who has 1,341 yards, Nevada has a scary good running game.
I'm also impressed by Nevada's consistency. It hasn't scored less than 31 points in a single game this entire season. The only thing holding it back from a better grade is its relatively weak competition.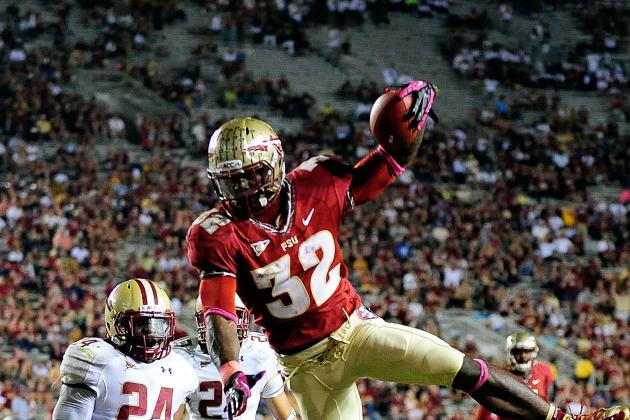 Stacy Revere/Getty Images

YPG: 524.6, Grade: B
Florida State is in the same boat as Clemson here. Great talent, puts up big numbers, but play against average defenses in the ACC.
Another big similarity to Clemson is that it faces its best competition in the last game of the season, against Florida. It'll have the chance to prove its worth then against the Gators.
The Seminoles get the slight grade advantage over Clemson because of how they've absolutely dominated a few games. Just as an example, they outscored Wake Forest and Boston College by a combined 103-7 total. That's crazy.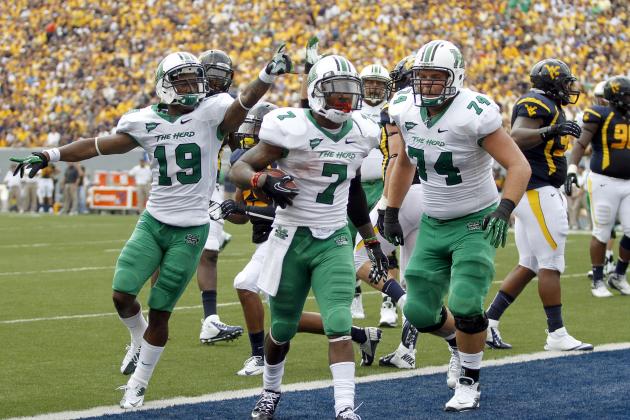 Justin K. Aller/Getty Images

YPG: 530.7, Grade: C
Marshall is less of an offense and more of an aerial attack. It is second in the nation in passing yards, but only 71st in rushing yards.
Rakeem Cato is a talented gunslinger, but its all-out passing attack is only effective because of their weak competition.
Plus, the only good out-of-conference game it played was against West Virginia, who has one of the worst defenses in the nation.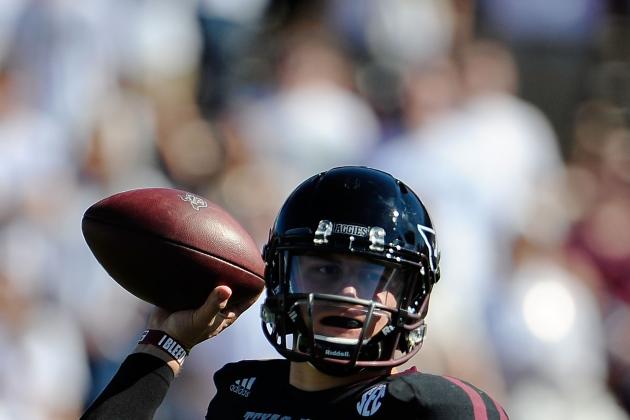 Stacy Revere/Getty Images

YPG: 559.6, Grade: A
Notice the huge jump in YPG from the previous five teams. Johnny Manziel, better called "Johnny Football," has been the surprise of the season in college football.
The redshirt freshman is the beginning and end of the Aggies offense. He has 2,527 passing yards, 922 rushing yards and 31 total touchdowns.
After slicing up Mississippi State for 38 points, A&M gets their biggest test of the season against Alabama. If Johnny Football can pull of the upset, he'll permanently cement his legacy in college football history.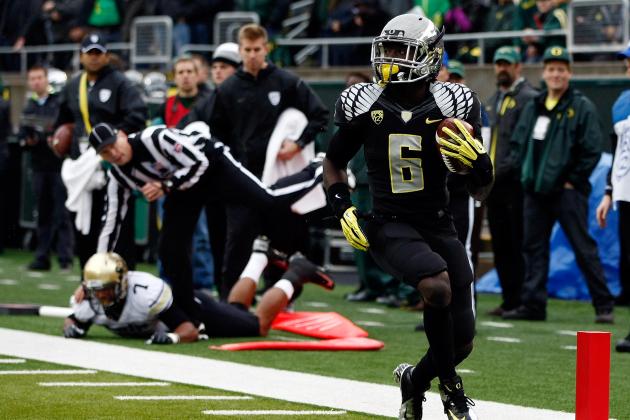 Jonathan Ferrey/Getty Images

YPG: 561.2, Grade: A+
Chip Kelly has done wonders in his time at Oregon, and this year's offensive juggernaut is proving to be one of the best, if not the best in college football history.
It runs a wide-open shotgun spread offense headlined by Marcus Mariota, De'Anthony Thomas and Kenjon Barner.
The Ducks average an absurd 54.3 points per game and have scored a combined 132 points in their past two contests, the most recent of which being a 62-point performance against USC. Cal doesn't stand a chance this Saturday.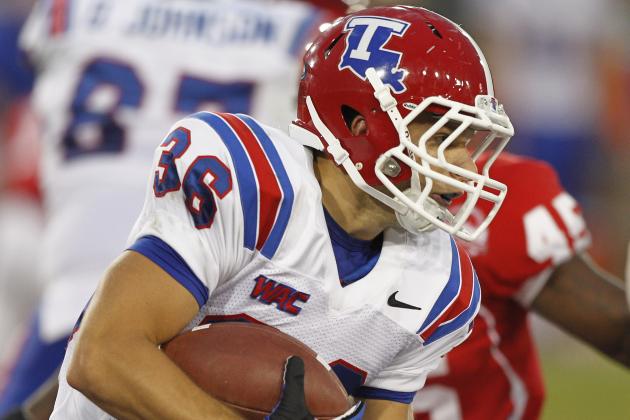 Bob Levey/Getty Images

YPG: 570.9, Grade: B+
Think about how good Oregon's offense is, and then think about the fact that this Louisiana Tech team has averaged about nine more yards and only two less points per game. Granted, their competition is weaker, but still incredibly impressive.
Their balance is what makes their attack so lethal. The Bulldogs are seventh in the nation in passing yards and 12th in rushing yards, making them doubly tough to stop.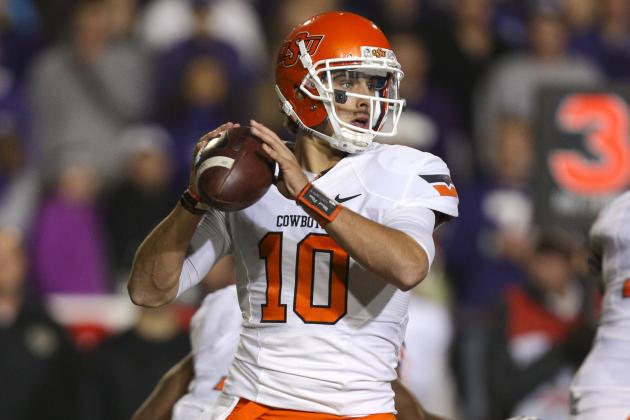 Ed Zurga/Getty Images

YPG: 575.9, Grade: A-
No Brandon Weeden and Justin Blackmon? No problem for this Oklahoma State offense. After losing their quarterback and top receiver last year, the Cowboys have still been producing at a ridiculous pace this season.
There's been some injury issues at quarterback, with starter Wes Lunt going down and being replaced by J.W. Walsh in the third game of the season, who got hurt himself. So then when Lunt got hurt against Kansas State this past week, Clint Chelf had to come in and pick up the slack.
Even with this revolving door situation, they still have managed to come up with the third most passing yards in the country. Pretty impressive stuff given the circumstances.
Cooper Neill/Getty Images

YPG: 581.5, Grade: A
If this was a team grade, it would be much lower because of how bad Baylor's defense is. But it's still managed to have a decent season because of their dominant offense.
After losing Robert Griffin III and Kendall Wright to the NFL, nobody thought Nick Florence and Terrance Williams would fill in their shoes so well.
Remember how many YPG Arizona had at the start of this list? About 520. Baylor averages nearly 60 more yards per game than the Wildcats, who were 10th in the entire country. It's mind-blowing how easily the Bears move the ball.