The Complete Guide to Every Knock on the 2012-13 Boston Celtics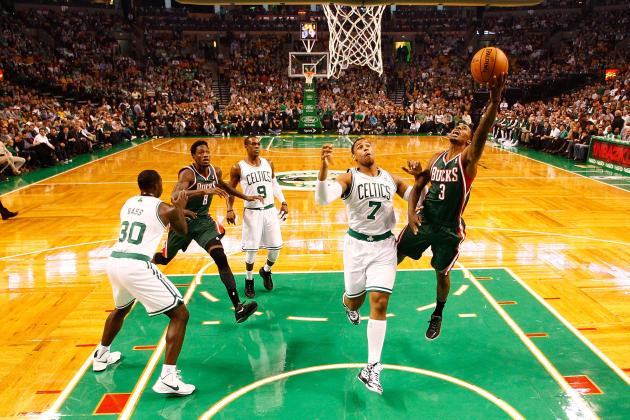 Jared Wickerham/Getty Images

Of the top four or five contenders for the 2012-13 NBA title, the Boston Celtics are the easiest to knock.
The Los Angeles Lakers, Miami Heat and Oklahoma City Thunder all have several legitimate NBA superstars. For a team that has claimed continuity over the past five seasons, the Celtics have several new new faces on their bench.
And after Boston's lackluster start, nay-sayers have a lot of ammo. Most of the criticisms are warranted.
But I'm going to attempt to play devil's advocate and defend this Celtics team.
What knocks are you hearing? Let's see if we can dispel some of them together.
Begin Slideshow

»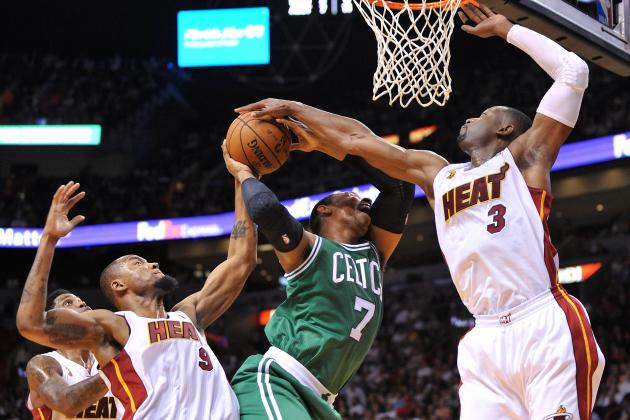 Steve Mitchell-US PRESSWIRE

One of the most common knocks you will hear about the 2012-13 Boston Celtics is their lack of size.
Overall, this is a small team. They may have some size at individual positions, but for the overwhelming majority of the players, they are undersized.
The starting lineup features either Brandon Bass or Jared Sullinger at the power forward position. Both players are undersized there. Bass stands at 6'8" and Sullinger isn't a great deal taller. Should Avery Bradley return to the starting unit after his recovery from shoulder surgery, Boston will boast a backcourt that is generously listed at just 6'1".
The Celtics make up for most of their size deficiencies with intense and unified team defense. Still, as the Eastern Conference gets bigger and better, how long can the Celtics go without picking up true NBA size?
Outside of Kevin Garnett, the useful size in Boston is very limited.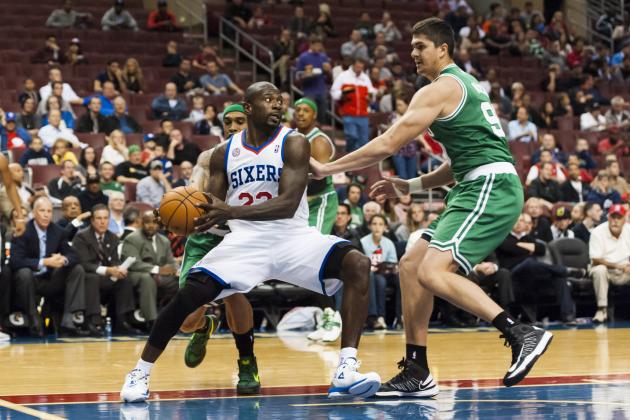 Howard Smith-US PRESSWIRE

The Celtics don't have enough interior size. On top of that, behind Kevin Garnett there is very little talent.
For all the depth the Celtics were boasting of prior to the season, Doc Rivers has been using Brandon Bass, Jared Sullinger and even Jeff Green to spell Garnett at center.
Rivers continues to claim Darko Milicic, Chris Wilcox and Jason Collins are not injured and cleared to play, but they remain buried on the bench. This reeks of a lack of confidence in these reserves. At least one of them is going to have to play significant minutes to give Garnett a rest. Wilcox made a brief appearance in a game against Washington and played well.
This is a legitimate knock. If Garnett goes down, there is little to nothing behind him that can help this team through a season.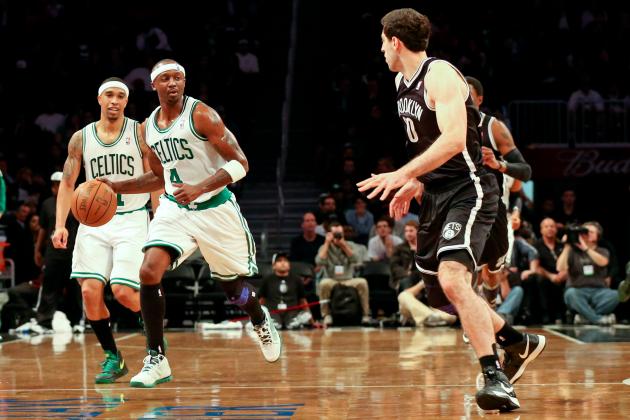 Anthony Gruppuso-US PRESSWIRE

Yes, the Celtics have 12 players who have started for teams in the NBA. They also have two Sixth Man of the Year winners.
That is a lot of depth. However, you can only play five guys at a time. It's great to have depth to deal with injuries and other regular-season scenarios, the problem arises in the postseason. When the minutes of your stars increase, the value and effectiveness of a deep bench can be nullified.
The prime example is the replacement of Ray Allen. When healthy, as he is proving in Miami, Allen is a valuable asset and still a top-notch shooting guard. The Celtics did well to replace him with Jason Terry and Courtney Lee. That duo is more valuable than Allen. Unfortunately, they don't play together. Only one of the two is out there at a time, and neither measures up to Allen by himself.
The same idea applies to the Brandon Bass, Jared Sullinger, Jeff Green situation. All three can help the Celtics, but only one or two can be on the floor at once, and only one in crunch time.
Depth will help this older team through the regular season and alleviate some injury concerns, but in the end there are only so many minutes to go around.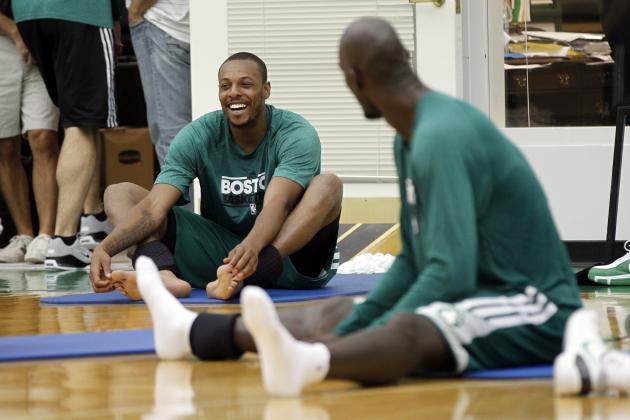 Greg M. Cooper-US PRESSWIRE

This will be a knock until Kevin Garnett and Paul Pierce retire.
As a whole, Boston's teams is a fairly youthful group, except when the average age of the top seven or eight players is considered. Then you realize that the Celtics are once again an older team.
This is an 82-game season with probably a lengthy playoff run in store. That's an extra 16 games on the legs of Pierce and Garnett. Doc Rivers should be able to get Pierce sufficient rest, but that is only if Jeff Green steps up. Green is still an enormous question mark.
Can Rivers get Garnett enough rest, though? So far, through four contests, Garnett is averaging just more than 30 minutes per game. That is on the high end of what Rivers wants for the regular season, especially against competition like the Washington Wizards and Milwaukee Bucks.
Pierce's knee failed to hold up after the condensed schedule of 2011-12, and his presence in the postseason was severely diminished. If he isn't able to produce at an elite level offensively and hold up his end of the bargain defensively on LeBron James/Carmelo Anthony/Danny Granger types, the Celtics are in trouble.
Pierce could only manage 15 points per game in the four losses to Miami in the Eastern Conference Finals. That simply isn't enough. If age hampers him again, all the depth in the world won't get Boston by the Heat.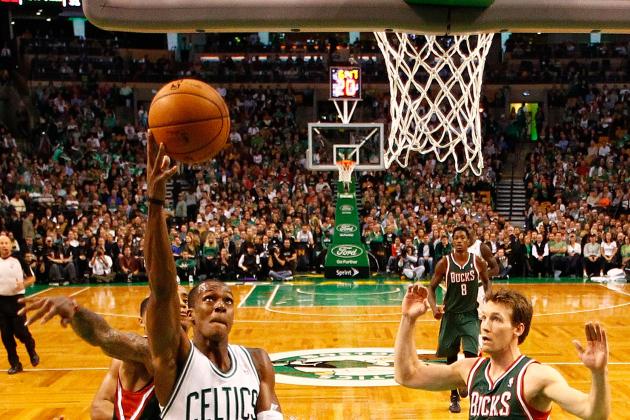 Jared Wickerham/Getty Images

As I mentioned in the title slide, most true title contenders have several top-level superstars.
The Miami Heat have two and sometimes three, the Oklahoma City Thunder now have two, and the Los Angeles Lakers have two-plus. Even teams like the Los Angeles Clippers and maybe even New York Knicks and Brooklyn Nets have two. San Antonio can fall into either category.
The Boston Celtics are a slightly different breed. Rajon Rondo is probably the only player the league considers an elite superstar. Paul Pierce and Kevin Garnett were once at that level and can still be at times, but not consistently, nor for enough minutes.
The way the NBA has trended in recent years, you seem to need two or more marquee superstars to win a championship. Miami has its big three, while the Dallas Mavericks had Dirk Nowitzki and a few guys who could rise to that level in different spots.
Rondo's counterparts may be of the same style of Nowitzki's, but with Nowitzki the difference lies in the offense. Nowitzki was capable of scoring 30-plus points each night, no matter what anyone else on his team was doing. Rondo doesn't have that capability. He still relies on teammates to finish off his greatest offensive skill, passing.
To win the title over Miami, Los Angeles or Oklahoma City, Garnett and Pierce have to be at a consistent level with Rondo over a seven-game series.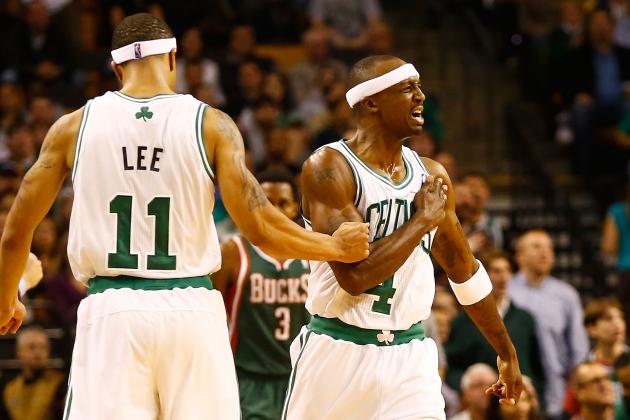 Jared Wickerham/Getty Images

This is the biggest knock early in the 2012-13 season.
The Celtics have a highly touted set of reserves and a new starter in Courtney Lee who just haven't produced yet. A lot was made about the talent Danny Ainge was able to bring in to rebuild on the fly. However, nothing has panned out just yet.
The Celtics are 2-2, with narrow, back-to-back wins over the lowly Washington Wizards, playing without their two best players. The benches of Washington, the Miami Heat and Milwaukee Bucks have run wild on the Celtics' group.
The Boston bench has been outscored in each game, with only Jason Terry starting to come on of late. This struggle has further facilitated the move of Jared Sullinger to the starting lineup. The move places a capable scorer in Brandon Bass on the second unit, and it has proved successful thus far.
Courtney Lee has been inserted into the starting shooting guard spot, taking the role of Ray Allen or Avery Bradley last season. He is averaging just six points per game, while shooting 22 percent from distance and 43 percent from the field.
The background of this knock is obvious; the Celtics return only four players, (excluding Bradley) from the 2011-12 season and only three remain from the 2007-08 championship team. That is a lot of turnover for a team that preaches lineup consistency as a major strength. However, it could be a weakness this season, as so much turnover occasionally leaves lineups on the floor who have never played together.
This leads to trust issues and confusion in roles, neither of which is good for Boston.
Greg M. Cooper-US PRESSWIRE

The Boston Celtics' early defensive struggles could be simply explained away by the absence of Avery Bradley.
Boston is allowing just less than 100 points through four games, as opponents are shooting better than 46 percent from the field and 39 percent from deep.
Courtney Lee has been unimpressive and Jason Terry has emerged as the shooting guard at the end of close games. Neither of those developments are good for the team's defense.
So the knock here is that Boston fans are putting too much faith in a 21-year-old coming off double shoulder surgery after just 105 career games. What Bradley showed the NBA in 64 regular-season and 10 playoff games in 2011-12 is blinding fans to the risks here.
Were there no name recognition and a player was presented to you with those career attributes and double shoulder surgery, would you feel the same way about Player X's immediate future?
Bradley had the surgeries just five months ago. Even though it is pretty clear the Celtics miss his perimeter defense, his return to form isn't a guarantee.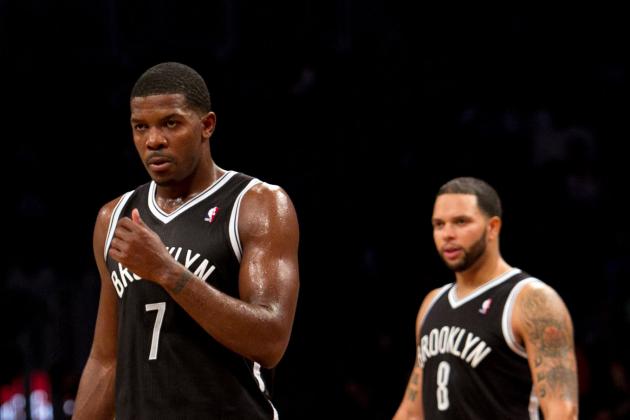 Debby Wong-US PRESSWIRE

This is not so much a knock on the Boston Celtics as a team, but their chances for contention in the Eastern Conference.
The point is hammered home every year about just how important it is to be a top-four seed in the postseason. The Celtics have earned that perch every season since Kevin Garnett arrived. However, 2012-13 appears to be the field's best chance to unseat them.
The New York Knicks are already proving their mettle with an undefeated start to the season. They boast three-straight double-digit wins, one over the Miami Heat and two against the Philadelphia 76ers. Carmelo Anthony looks to be playing some of the best basketball of his career, and that could jeopardize the Celtics' divisional hopes.
Similar to the Celtics, the Brooklyn Nets have had a sluggish start to the season. Still, they are much improved and can potentially challenge for the top spot in the division if their newcomers mesh faster than those in Boston.
The Toronto Raptors looked to be playing excellent early-season basketball prior to Kyle Lowry's injury. With him running the offense, the Raptors appear to be a dangerous team. They, too, have new faces who need time to transition into the flow of the game.
The jury will remain out on the 76ers until Andrew Bynum makes his initial appearance. Right now it is difficult to consider them much of a threat. However, if and when Bynum is ready to play, he instantly transforms them into a dangerous team. With him at center, Philadelphia could challenge for the Atlantic Division crown.
The teams of the Atlantic have all improved from a season ago, and thus losing the top-four seed in the East is a legitimate concern for the Celtics.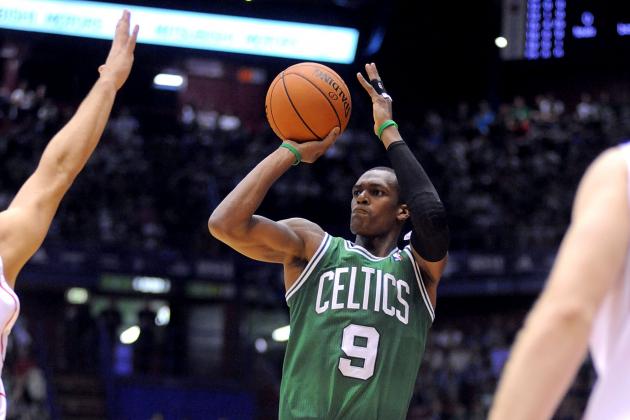 Roberto Serra/Iguana Press/Getty Images

This issue is going to keep coming up. A knock you will consistently hear on Rajon Rondo and the Boston Celtics is that their point guard can't shoot.
This is a myth based in fact. Throughout his early career, Rondo has not been able to to hit outside shots. His defender has, in the past, been allowed to simply sag off him and obstruct passing lanes while doubling other players.
His free throw shooting has been downright atrocious for a starting guard in the NBA, and that has led to his shying away from contact at the rim.
However, in four games this season, this knock appears to be a myth. Rondo is shooting 57 percent from the field, including knocking down 3-of-7 threes. In four games, Rondo is shooting 14-of-25, or 56 percent from outside the painted area. He is taking more than six jumpers a game hitting them.
Rondo's free throw shooting is still something of a mystery. He has missed 5-of-12 attempts through four games, hitting on just 58 percent of his chances.
This is a small sample size, and this myth still may be valid, but it appears to be lessening in severity.