EPL Week 11 Predictions: Players Sure to Land in All-EPL Team for Week's Clashes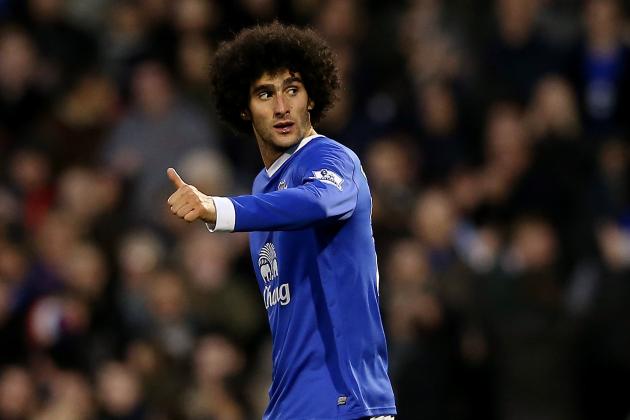 Scott Heavey/Getty Images

The English Premier League's giants are continuing to battle at the top of the table, and Chelsea's reign over the world's most popular league has ended. As always, teams will be looking for fantastic individual performances to help earn favorable results.
Manchester United took over the top spot in the table, as Robin van Persie helped lift his new club over his old one. Later that afternoon, the Blues failed to take full points against Swansea and the balance of power shifted.
Arsenal's loss to United kept them on the outside looking in at the top four, and the race for Champions League spots will be fascinating. At the bottom of the table, Reading, Queens Park Rangers and Southampton continue to face the impending doom of relegation.
Chelsea will face a surging Liverpool as they try to regain the top spot, while a showdown from Manchester City and Tottenham is the other marquee match. Here are the players who will be in top form during these matches, and all the other contests this weekend.
Begin Slideshow

»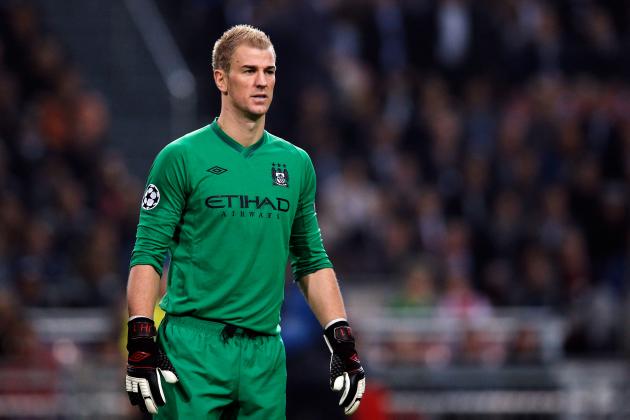 Dean Mouhtaropoulos/Getty Images

Only Arsenal has conceded fewer goals that Manchester City this season, and this would not be the case if Joe Hart was not between the posts for the reigning champions.
The Englishman has remarkable instincts and is capable of making incredibly athletic saves. His ability to constantly get his hands on shots that seem destined for the back of the net has helped City win several games throughout his tenure with the team.
Against Liverpool this weekend, City will face an impressive group of attacking players when taking on Tottenham. While the Citizens should dictate this match, Hart will be called upon, and as he has done so consistently, he will deliver.
Expect to see a sprawling Hart to frustrate Spurs strikers throughout this match.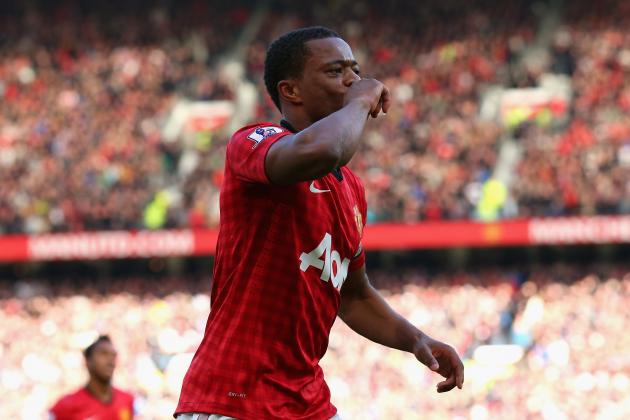 Alex Livesey/Getty Images

It was not too long ago that Patrice Evra was considered one of the world's premier left-backs. That is no longer the case, but Sir Alex Ferguson has not wavered in his support for the Frenchman.
Evra has remained a fixture in Manchester United's starting 11, and he has been aggressive and effective in recent matches.
His defending has been top-class, and he has been dangerous when making runs up the sidelines. Despite his diminutive stature, he has even scored on headers twice in his last four league matches.
This will give him loads of confidence heading into United match against Aston Villa. The veteran defender will ensure that his side remains focused and determined to put Villa away early and maintain their position atop the table.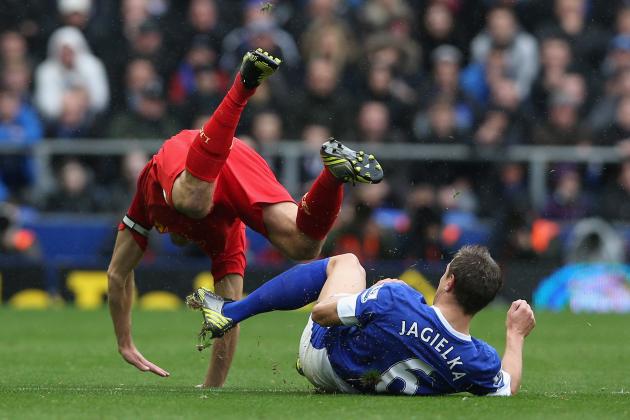 Clive Brunskill/Getty Images

Everton have continued to look like one of the Premiership's best sides, and Phil Jagielka is still doing a fine job anchoring the Toffees' back line.
The Englishman's fine play has earned him a significant amount of attention both from Premier League fans and Roy Hodgson, and his defending has been superb during Everton's surprisingly successful campaign.
He will go up against a Sunderland attack that has produced just six goals in league matches this season, which is the fewest in the EPL. However, Steven Fletcher is always a threat to find space in dangerous areas if Jagielka loses focus.
The Everton centre-back will remain stuck in throughout all 90 minutes while his side earns three more points and keeps a clean sheet.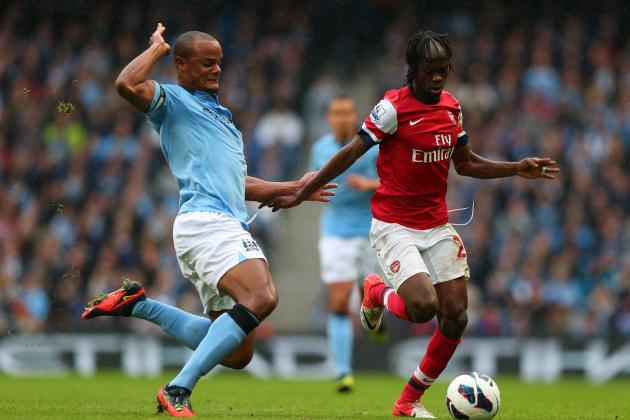 Alex Livesey/Getty Images

Tottenham has no shortage of attacking players it can throw at Manchester City this Sunday, and the back line will need to be at its best for Roberto Mancini's side.
Responsibility for leading that defensive effort will fall to Vincent Kompany, and he will not only need to play at a high level himself, but will also have keep the defense organized and in position to deal with Spurs' creative forward players.
Kompany has remains one of the finest centre-backs in the Premiership, and he is certainly up to this challenge.
His top-class tackling and ability to lead his teammates will be a decisive factor in an impressive performance for City this weekend.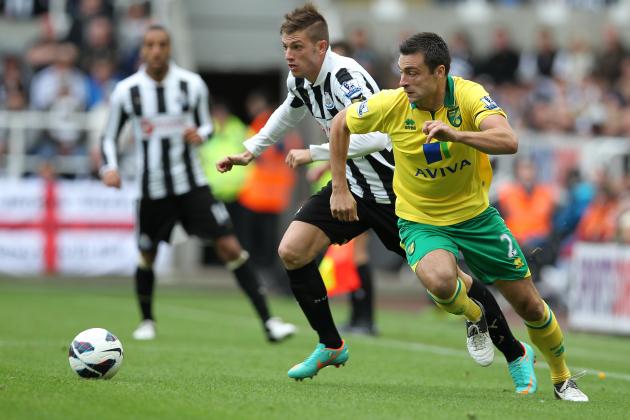 Ian MacNicol/Getty Images

Russell Martin has been an excellent player for Norwich City this season, but he was to miss time due to a back injury. However, Sky Sports (via Fox Sports) reports that he is recovering well and may be on the pitch this weekend.
A return to the lineup will be an incredible boost both for Martin and the Canaries as they attempt to extend their unbeaten streak to four matches while also attempting to earn a victory for the third time in this stretch.
Having a talented player like Martin who can contribute on both ends of the pitch will be the boost the Canaries need to take down Reading and continue building a buffer between their place in the table and the relegation spots.
With a healthy Martin, the Canaries' recent run will continue.
Mike Hewitt/Getty Images

Arsenal was certainly not expecting to be tied with Fulham in the table when entering this match, but after 10 fixtures, each team has come away with 15 points.
The Gunners must improve going forward this season, and they will be looking at Lukas Podolski to be an important part of their attacking plans for the remainder of the campaign.
The German international has two goals and two assists this season and was able to record an assist in Arsenal's Champions League draw with Schalke. He will be looking to make a similar impact against Fulham this weekend.
This London derby will be a test for Arsenal as they try to prove that they are head and shoulders above mid-table teams like the Cottagers, and Podolki's attacking prowess will help the Gunners pass with flying colors.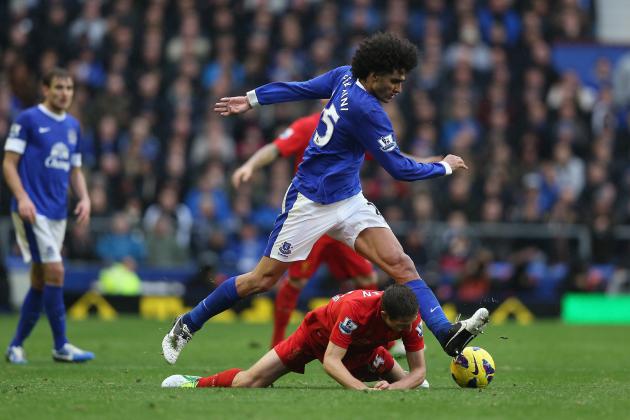 Clive Brunskill/Getty Images

Everton's success this season has been heavily influenced by Maroune Fellaini's ability to terrorize opposing defenses.
Premier League defenders are accustomed to overpowering attacking players, but there are extremely few back-line players in the EPL who have a size or a strength advantage of the Belgian.
Fellaini has five goals and two assists in league matches this season, and when looking at his height and hair, it is abundantly clear that he is not sneaking by defenders.
He is a constant presence and is drawing increasingly more attention from opposing teams, but still managing to be extremely effective. Fellaini's play in the center of the pitch will be far too much for Sunderland to handle this weekend.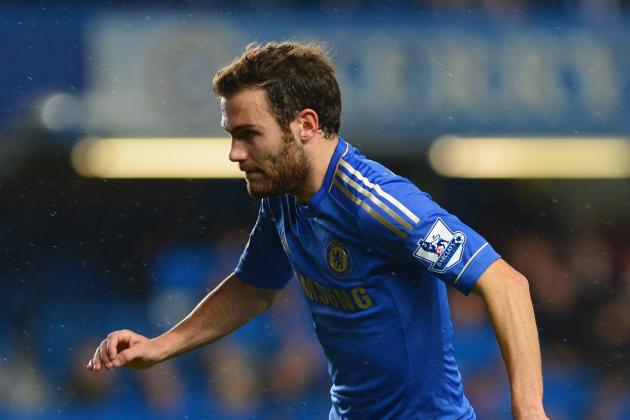 Shaun Botterill/Getty Images

Two patterns have emerged in the Premier League this season that lead to easy predictions. The first is that an attacking player will take advantage of the comedy of errors that has been Southampton's defense, and the other is that Juan Mata—when healthy and on the pitch—will be on one of the most impressive players in England.
The Spanish international has either scored or set up one of his teammates in seven of his last eight matches. He has proved to be equally dangerous as a scorer or a distributor and has six goals and six assists during this stretch.
He has been magnificent with the ball at his feet. Whether he is playing the ball through impossibly tight windows, embarrassing defenders with a fancy piece of dribbling or unleashing a powerful shot with pinpoint accuracy, Mata has delivered magic in every one of his recent performances.
Roberto Di Matteo played him in the Blues' Champions League match against Shakhtar Donetsk, and he will be ready to continue wowing spectators this weekend against Liverpool.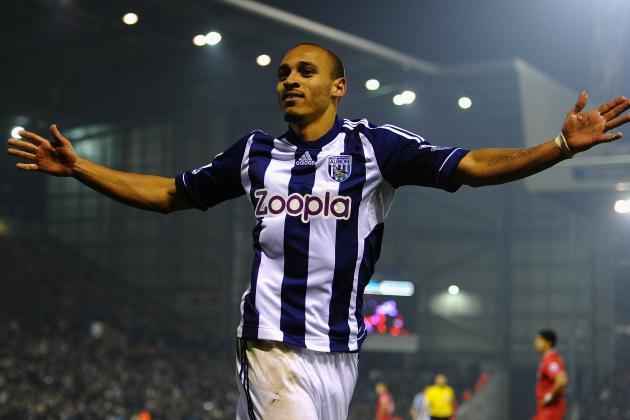 Laurence Griffiths/Getty Images

Next to Everton, West Bromwich Albion's fine start has been the most surprising development of this Premiership season.
The Baggies are currently tied with Tottenham and Everton with 17 points, and these three clubs trail only Manchester United, Chelsea and Manchester City. The defense has been superb while the attack has not been as consistent, but when West Brom has success going forward, Peter Oemwingie is often involved.
With three goals and two assists this season, he has been impressively productive on the right flank, and his fine form will help his side continue its success this weekend against a weak Wigan defense.
There will be space for Odemwingie, and he will take full advantage of it.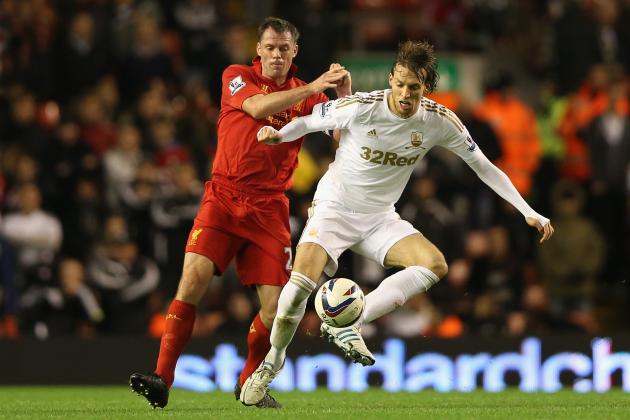 Clive Brunskill/Getty Images

Swansea has been able to rely on Michu this season to be an efficient goal-scorer. He has stood out among the many new faces for the Welsh side, and he has six goals from 24 shots this season.
Michu has proven that if he gets opportunities, he will score goals. Against a porous Southampton defense, he will certainly get his chances.
The Saints have allowed an astonishing 28 goals this season. In EPL fixtures, they have no clean sheets and have conceded multiple times in all but one match.
Southampton has no chance at containing Michu, and the Spaniard will be the next player to benefit from the Saints' inept back line.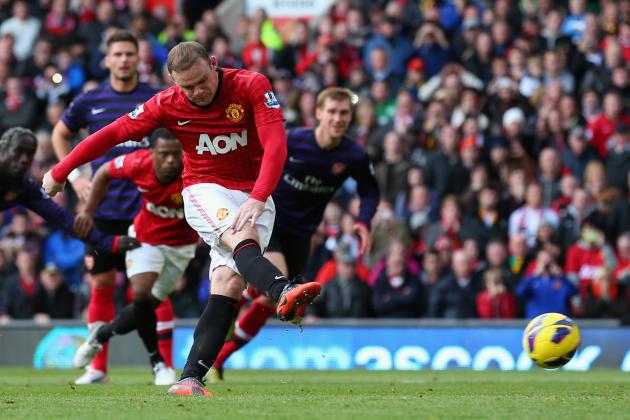 Alex Livesey/Getty Images

Wayne Rooney has built a reputation as one of the Premiership's most lethal goal-scorers, but with the arrival of Robin van Persie, the Manchester United star has reformed his role.
Through this point in the season, Rooney has found the back of the net only twice, but he is tied for the league lead with five assists. In addition, van Persie is currently the EPL's leading scorer with eight goals.
Rooney has proved that he can be extremely dangerous when moving to an attacking midfielder role and letting van Persie play centre-forward. He has always been a superb distributor, but the positions he has been playing in this season have taken full advantage of his passing skills.
However, he can still finish at a world-class level. Against a struggling Aston Villa side, Rooney will create goals for both himself and his teammates.