6 Reasons John Daly Will Not Win Again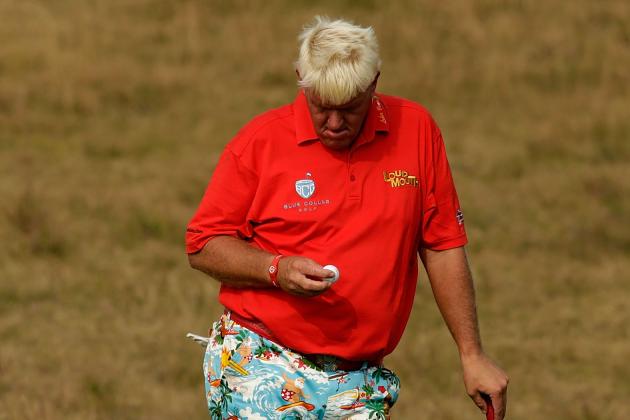 Scott Halleran/Getty Images

John Daly has been one of the most intriguing figures in golf throughout his career.
He has been his own man and has never followed the prescribed course to success on the PGA tour.
That's both a positive and a major negative.
Sports fans love a competitor who does things his own way and doesn't follow a script. However, when a golfer's personal plan makes his off-the-course pursuits his top priority, he's going to waste his talent.
That's exactly the case with Daly. He has acknowledged his many demons with great frequency and has pledged to work on them, but his human failings have severely impacted his career.
It's unlikely he will ever win again on the PGA tour.
Here are the reasons why that's the case.
Begin Slideshow

»
A golfer has to work on his game every day.
He wants his best attributes to get even stronger, and he wants to build up his weak points.
Daly doesn't seem to want to do that. It takes discipline to put up with disappointment and failure and not let them wreak havoc.
In the video above, Daly walked off the course after hitting his shot into the water.
A more consistent golfer would not have been done in by such an error.
That's not the case with Daly.
Those who aren't golf fans may say that you don't need to be in great condition to play, and that golf may not even qualify as a sport.
That's a ridiculous supposition.
While golf does not require the conditioning level of basketball, football or hockey, you have to walk 18 holes during a round of golf, and not maintaining a high conditioning level will impact a golfer's mental acuity and physical consistency on the course.
Golfers who try to play while out of shape are hurting themselves badly. Daly's lack of conditioning has always been obvious (see shirtless video above) and it seems to indicate a lack of respect for himself and his profession.
It will keep him from winning again.
John Daly has had a lot of interests outside the world of golf, and many of them have taken him away from the practice tee, where he could work on his game and get better.
Daly likes to drink, party and gamble, something that he has freely admitted over the years.
He also doesn't like to practice.
When he appeared on the "Howard Stern Show" (video clip above; 1:45-2:30 mark), he said that the more he works on his game, the worse he gets.
That's an immature attitude that has kept him from developing his immense talent and becoming a consistent and winning golfer.
When John Daly is at his best, he can drive the ball as far as anybody and can compete with the best golfers in the world.
However, when he is struggling on the course, Daly does not have the desire to keep working on his game.
It seems that if success comes his way, he'd be happy with that, but if it doesn't he'll just find something else to do.
Whether it's eating, drinking, partying or gambling, he doesn't care. He wants to be happy and have fun.
If it includes excelling on the golf course, great. If it doesn't, that's great, too.
The first thing that strikes golf fans who watch John Daly play in person or on television is how hard he swings his driver.
That club-head speed at impact results in great distance on his tee shots. Daly averaged 306.7 yards off the tee in 2012. That ranked ninth among all PGA touring pros.
But while most golfers learn that its not about distance or club-head velocity, it's accuracy that counts.
Daly hasn't gotten that lesson.
Daly's drives hit the fairway 55.78 percent of the time. That ranked 160th on the tour.
That's not going to lead to success.
We are not talking about John Daly's physical talent or his ability. He's got that in abundance.
However, he has not developed his golf skills.
According to his results, Daly is simply an ordinary player. He ranked 158th at reaching greens in regulation, 128th in sand saves and 51st in strokes gained while putting.
He earned $488,500 in 2012, ranking 143rd in earnings.
Compare that to the numbers that measure his physical ability like club-head speed, ball speed, smash factor and launch angle, and Daly ranks with golf's best players.
However, when it comes to competing for four rounds in a pro tournament, his skills are not there.