Most Overrated Coaches in Sports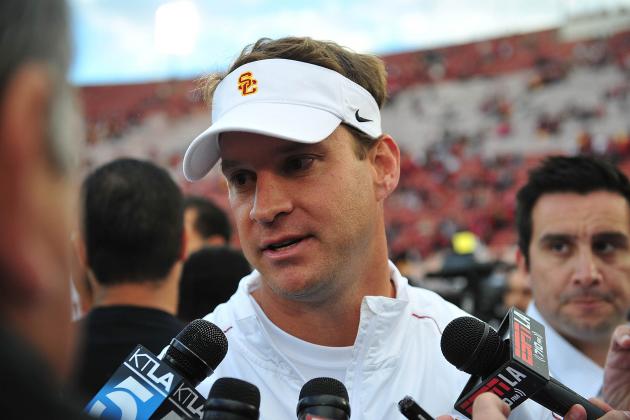 Gary A. Vasquez-US PRESSWIRE

The legacy of a coach is scripted with the ink of victory, as production always breeds respect.
Sometimes the masses can fall in love with a coach following either a brief period of dominance or repeated guarantees of success. Some can't help but label him a savior.
But history has taught us that a coach can only live up to so many expectations.
Here are the coaches who either haven't fulfilled expectations or can't possibly live up to the unfair pressures placed on them.
The most overrated coaches in sports.
Begin Slideshow

»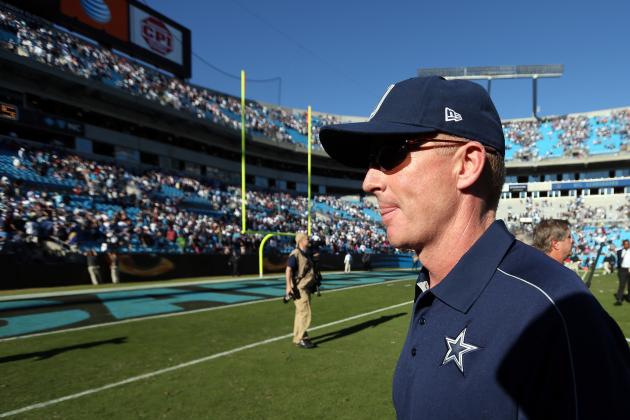 Streeter Lecka/Getty Images

Several seasons ago, when Wade Phillips' seat was getting steamier with every defeat, former backup quarterback Jason Garrett was the "brilliant" offensive coordinator waiting for his impending promotion.
Three years later, sitting at an unspectacular 16-16 as head coach, Garrett has shown the football world that when it comes to ineptitude, he is the full package.
Laughable clock management and late play calls are only hints to how incapable Garrett truly is as a leader of men. He appears indecisive, shy and unable to inspire. Perhaps Jerry Jones should take over as coach since he does essentially every other task in Dallas.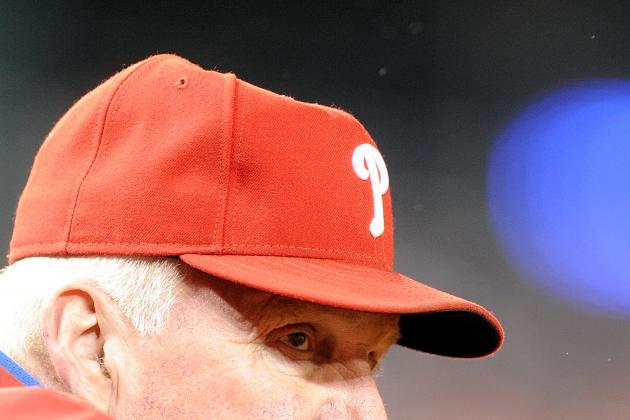 Greg Fiume/Getty Images

With a record of 947–759, Charlie Manuel almost looks like a certain savior on paper. But excluding his lone World Series title in 2008, the Phillies manager has underachieved with some of the most talented units in baseball.
To put things into perspective, when a former NLCS and World Series MVP is your fourth starter, a lengthy postseason run is expected.
Manuel may be nearing an end with Hall of Famer Ryne Sandberg waiting in the wings.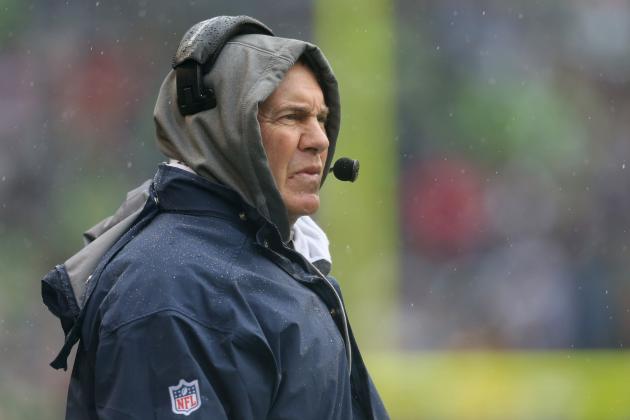 Otto Greule Jr/Getty Images

Now bear with me here...
Veins were popping all around the New England area when word got out that Bill Belichick was voted by players as the second-most overrated coach in the NFL. Let's be clear, the man is a legend and never fails to breed success.
However, he seems to have lost his defensive touch in recent years. Once considered a defensive mastermind, Belichick has watched his Patriots allow 120 touchdown passes since the start of the 2008 season, more than any team but the Detroit Lions during that time. His yearly collection of atrocious defensive backs continues to be the Achilles' heel of an otherwise flawless team.
Don't mistake overrated for unsuccessful. But Belichick doesn't seem the revolutionary he once was, if only on defense. Although clearly he doesn't have to be.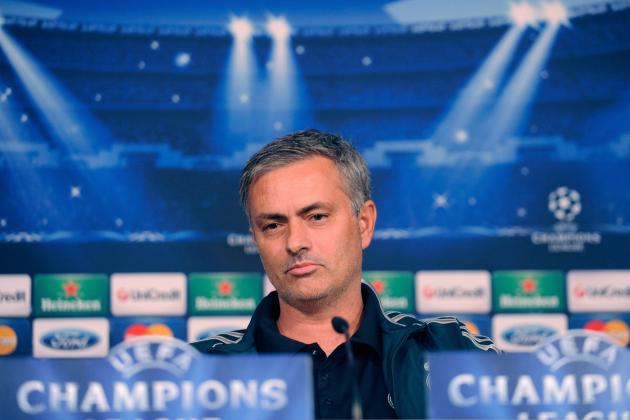 Denis Doyle/Getty Images

His tactics are questioned, his approach controversial, but Jose Mourinho can clearly win. Although with such players as Arjen Robben, Glen Johnson, Shaun Wright-Phillips and Joe Cole having horrendous years under him, we're not completely sold on Mourinho's classless act.
Arrogance was a refreshing change at first, but after years of taunting and belligerent dismissal of anyone else, Mourinho has proven that even a 69.06 winning percentage won't keep criticism buried under the rug for long.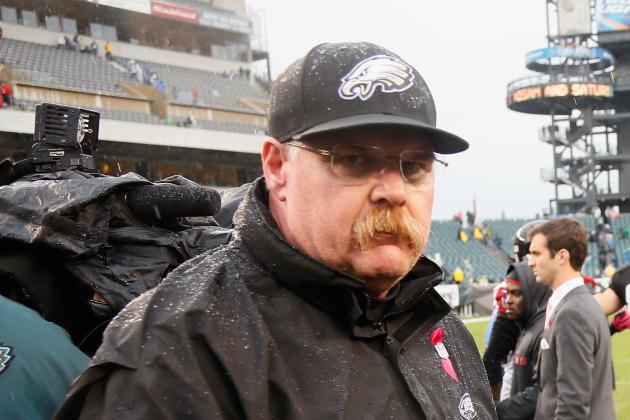 Rob Carr/Getty Images

After leaving Monday night with 447 yards and only one touchdown, including 105 rushing yards and no touchdowns in the first quarter, it seemed the Eagles were losing a grip on their season—as if that wasn't clear two weeks ago when they fired defensive coordinator scapegoat Juan Castillo, a move they're likely regretting.
After four consecutive NFC championship appearances from 2001-2004 that led to nothing (except the latter leading to a Super Bowl loss), Reid had to deal with the controversial combination of Donovan McNabb, Terrell Owens, Michael Vick, DeSean Jackson, Asante Samuel and Vince Young. We can almost empathize.
Either way, despite an overall career record of 139-93-1, Reid doesn't seem the man for the job in Philly anymore. Someone hit the reset button and let him get a fresh start on another sideline.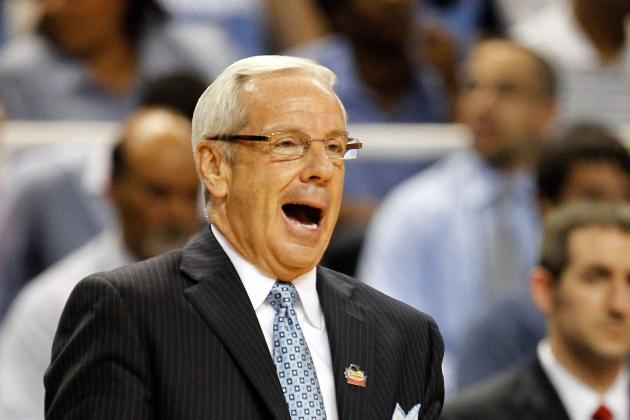 Streeter Lecka/Getty Images

UNC's Roy Williams is a hero on the collegiate hardwood. Seven Final Fours and two national championships is enough to get your name spray-painted somewhere in Chapel Hill.
But the question remains: who couldn't win at Kansas and UNC? Remember, it was previous coach Matt Doherty who was responsible for bringing in Rashad McCants, Ray Felton and Sean May, the players who led that championship run—not that Williams didn't mold them into stars.
Dare we call the iconic halo hovering above his head a bit excessive? Williams' .801 win percentage is screaming for justice.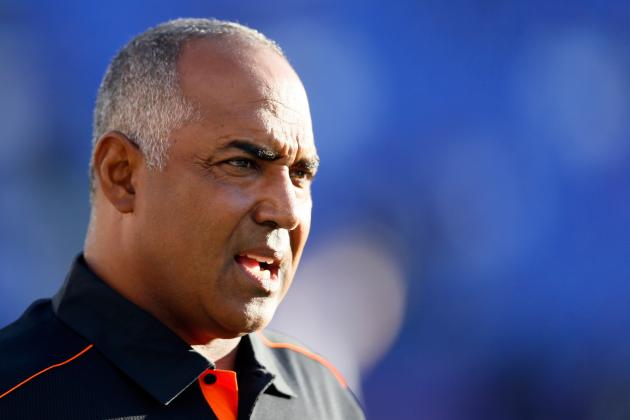 Rob Carr/Getty Images

It's hard to consider the Bengals coach even moderately rated, yet he always has a job, so he has to be revered at least mildly. However, currently sitting at 72-79, Lewis is clearly still feeding off the 2009 Coach of the Year award he won following a 10-6 season.
Since then, he's gone 4-12, 9-7 and (so far this year) 3-5, respectively, with a loss in last year's wild-card game the only mark during that span. While he often brings in stellar talent, it's Lewis' questionable game management and leadership skills (like letting wide receivers run the team) that taint his reputation.
Until he wins a postseason game, Lewis' seat will be burning up.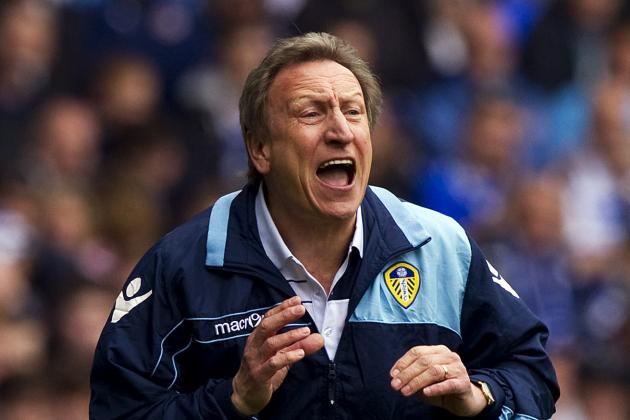 Ben Hoskins/Getty Images

In managing 13 teams throughout his post-playing career and achieving promotion with seven of them (he took Notts County, Sheffield United and Queens Park Rangers to the top tier of English football), 498-win, 415-loss Neil Warnock, now the manager of Leeds United, garnered quite the worldwide reputation as a brilliant winner.
People fail to realize, however, that underneath the fiery persona (he's often seen ranting endlessly over referee calls), Warnock is a subtle phony. While coach of the Queens Park Rangers, Warnock heavily criticized El Hadji Diouf for allegedly trash talking Jamie Mackie as he lay on the pitch with a broken leg following a physical dispute.
"I think he will be the first to go and good riddance...I hope he goes abroad because I won't miss watching him...He is a nasty little person," said Warnock.
This past August, following the aggressive rant, he signed Diouf to Leeds. So much for all that one-in-a-million talk.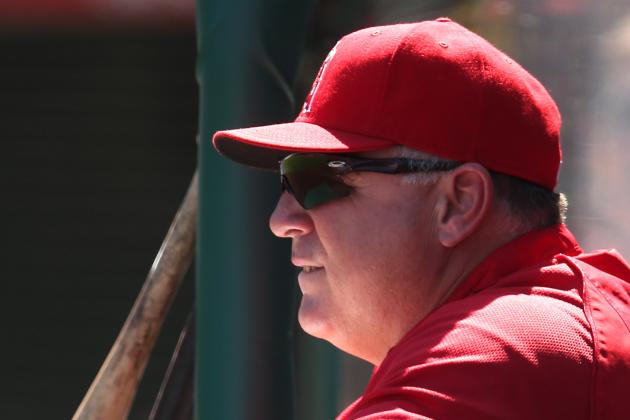 Stephen Dunn/Getty Images

Former catcher Mike Scioscia is annually considered among the best managers in baseball. The Angels ringleader is a strong game-planner whose teams are flawless both in the field and at the plate. But while he's the first manager to reach the playoffs in six of his first 10 seasons, Scioscia often seems most concerned with staring relentlessly at the home-plate umpire following every single pitch, as seen here.
Many expected the 2012 Albert Pujols-led Angels to impersonate the '27 Yankees. Despite help from 21-year-old future MVP Mike Trout, they failed to make the playoffs.
The question remains: Were his earlier Angel clubs outperforming expectations and his current clubs underachieving? Or is this decline simply concerning one-run games, and the resulting success rate in those clutch situations? Some believe it's the latter.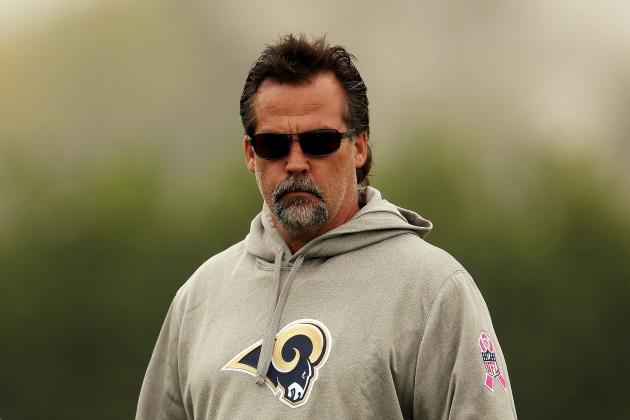 Scott Heavey/Getty Images

Remembered best for leading the '99 Titans to the Super Bowl, where they were one inch from tying the game in the waning moments, Jeff Fisher remains a high-profile NFL name. But take away three dominant 13-3 seasons, and 142-120 Fisher is a sub-.500 coach.
Add those daunting stats to his playoff record of 5-6 (three wins of which came in 1999), and it seems Fisher might not be worth the full $7 million he began receiving annually from the Rams this year.
Fisher's a nice guy whose sunglasses and trademark mustache cloud us from the truth that he's merely solid.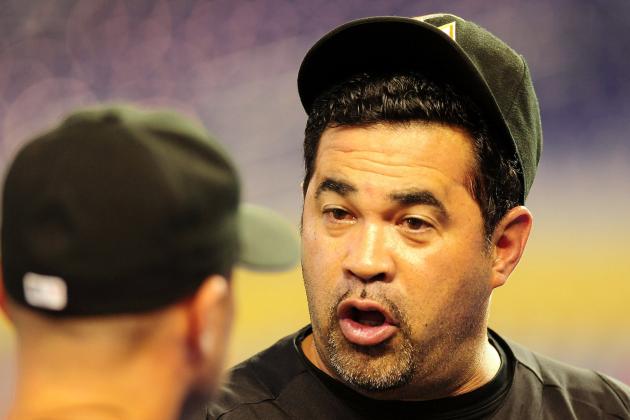 Jason Arnold/Getty Images

Former shortstop Ozzie Guillen was first thrust into the spotlight following his 2005 World Series win, which was the White Sox's first American League pennant since 1959 and their first World Series win since 1917.
During prosperous times, his brash and eccentric rants were enjoyed. But the path hasn't been bright for the fiery Venezuelan since he engaged in a dispute with Chicago general manager Ken Williams that evidently forced his move to Miami. Comments about a love for Fidel Castro put Guillen immediately on the hot seat in the Cuban-filled community.
After one frustrating year with the Marlins, Guillen was dropped. But he'll be back.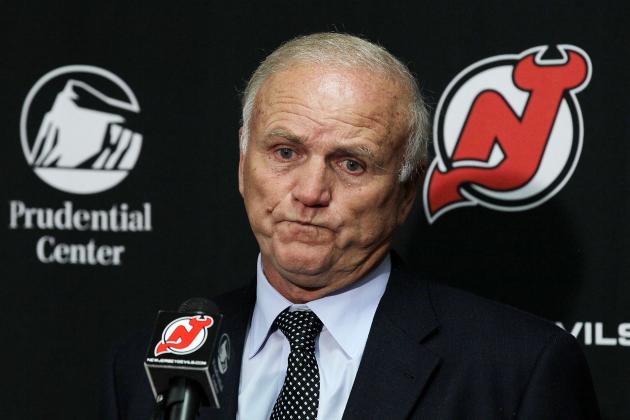 Jim McIsaac/Getty Images

With 617 wins and a Stanley Cup under his belt, Jacques Lemaire would seem a legend in the hockey world. But while he's regarded as one of the best teaching coaches around, his defensive-minded system rubbed many of fans the wrong way because it took the score-happy dream out of hockey.
The neutral-zone trap was his trademark, but only in New Jersey did his scheme work (only finishing first in the Northwest once in eight years with the Wild).
After coming back to the Devils on an interim basis during the 2010-2011 season and narrowly missing the playoffs, Lemaire retired. New Jersey reached the Stanley Cup Final the following year. Lemaire now works as a special assignment coach for the Devils.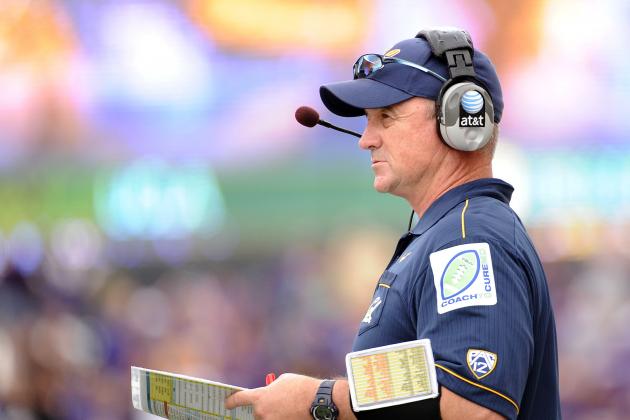 Harry How/Getty Images

A team that was 1–10 during the 2001 season, the worst in Cal's history, suddenly went 7–5, their first winning football season since 1993, a year later under hard-nosed newcomer Jeff Tedford. He was instantly labeled one of college coaching's rising stars.
But, after a few years of success and a conference title in 2006, his Golden Bears began to crumble. Since '06, when Cal finished first, Tedford's Bears haven't finished better than fourth.
They currently sit at 3-7 in 2012, which is unacceptable under the highest-paid state employee of California (as of 2011).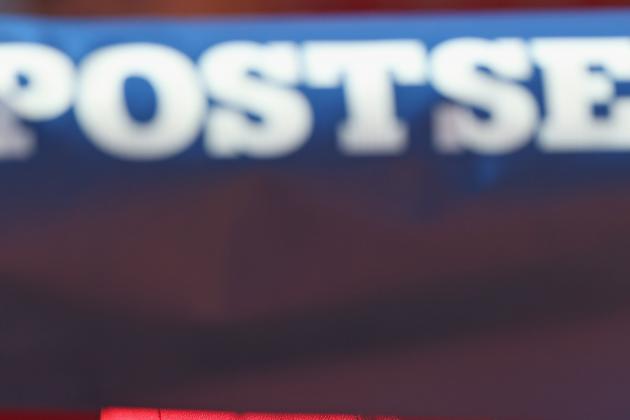 Jonathan Daniel/Getty Images

While among the most beloved babysitters in Major League Baseball, Reds manager Dusty Baker has always had trouble with tactical aspects of the game.
The old-school ringleader, known as a player's manager, doesn't seem to believe in new-school sabermetrics or anything sensible. Allow Baker's own quote to detail his approach...
"I think walks are overrated unless you can run... If you get a walk and put the pitcher in a stretch, that helps. But the guy who walks and can't run, most of the time they're clogging up the bases for somebody who can run."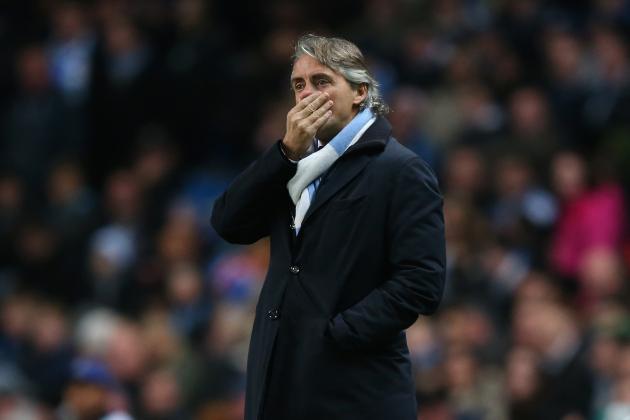 Alex Livesey/Getty Images

While the scarfed man has enjoyed a career graced by domestic success, his record in Europe is no fluke.
As he prepares for what seems like another early Champions League exit, Roberto Mancini can look back on his questionable resume. The Italian manager has never led a side beyond the competition's quarterfinals in six tries (with City and Italian clubs Lazio and Inter Milan), and seems out of his league in major play.
On the other hand, a round of applause for guiding Manchester City to the its first Premier League title in 44 years.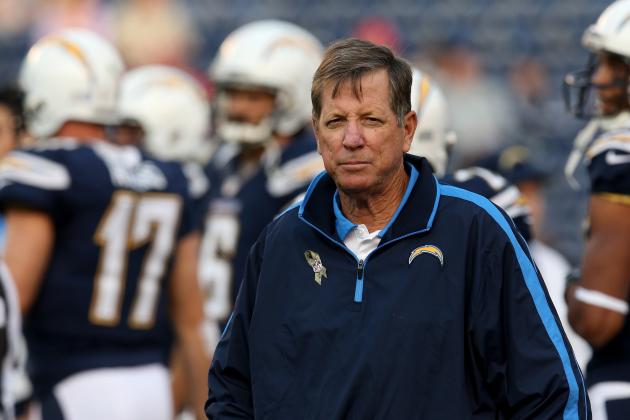 Stephen Dunn/Getty Images

Chargers coach Norv Turner must have the most confused rump in sports. From piping hot to chilly, his coaching seat is always changing temperatures. But maybe that's because he's coached the most games in NFL history among head coaches with an overall losing record. Turner is consistently average.
Only in San Diego, however, has the supposed offensive genius found statistical success (52-35 so far).
But since leading his crew to late-season playoff runs in his first three seasons, Turner has turned his stale team into a perennial question mark—just enough wins to provoke optimism, and just as many crucial defeats to deflate his clinging-to-life reputation.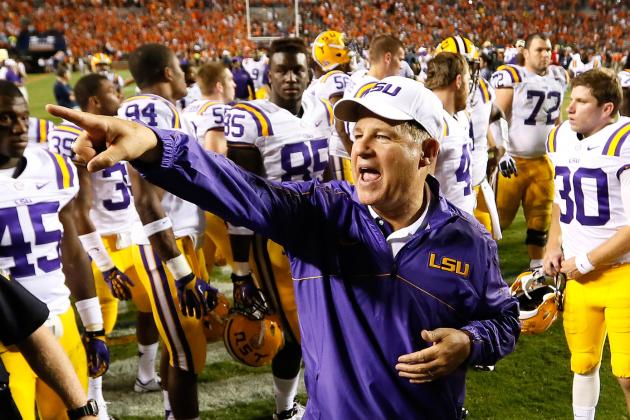 Kevin C. Cox/Getty Images

With 110 wins, a national championship and an affinity for literally eating grass on his resume, what's not to love about the so-called Mad Hatter? Perhaps it's his inability to make halftime adjustments, as shown brilliantly during his Tigers' shutout defeat in this year's BCS Championship Game against the Tide.
While he did win the 2008 BCS National Championship Game, his future looks bleak after he pulled the pressure on the Tide during the waning moments of this year's rematch on November 3, as a result allowing them to drive for the winning touchdown, 20-17.
Joe Sargent/Getty Images

Forget overrated, sexy Rexy is simply overexposed. Call him what you will—brash, self-assured, fearless, a foot soldier. The man can coach, is beloved by his players and has a nose for the football (from the sideline, of course).
But like his father, the great Buddy Ryan, Ryan has racked up just as many Super Bowl guarantees as playoff appearances. After two consecutive AFC championship runs, Jets fans were like puppets to Ryan's bravado. Now, following an 8-8 disappointment, listening to his overly confident statements is like swallowing six saltine crackers without water—difficult.
His seat continues to heat up.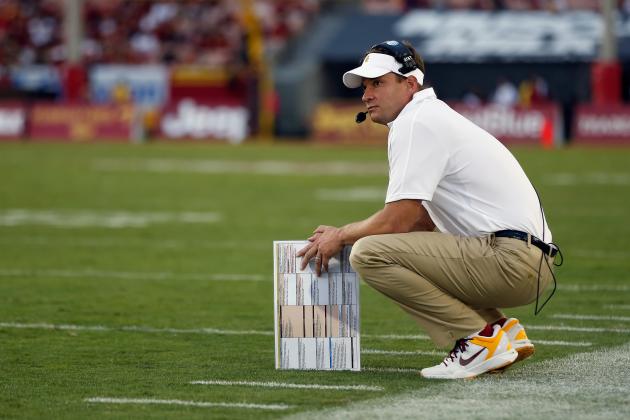 Jeff Gross/Getty Images

Perceived as a young and energetic go-getter who appeals to college athletes, Lane Kiffin is instead a brilliant salesman.
His unspectacular 31–16 record in college and brief 5-15 NFL trainwreck both detail plenty of expectations and not much production. He does provide hope for young kids out there with nothing to bring to the table.
Oh yes, you've got a shot too.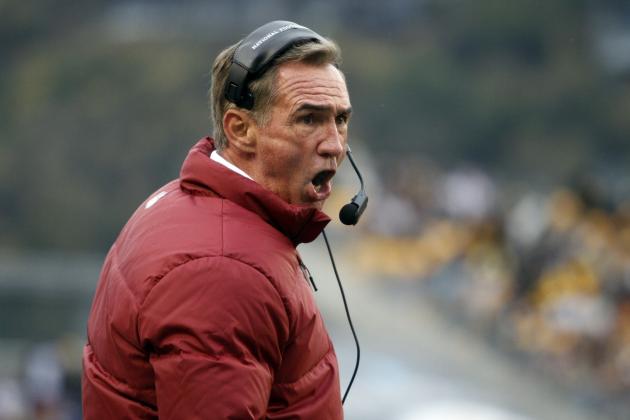 Justin K. Aller/Getty Images

Revered ringleader of the Broncos' back-to-back Super Bowl clubs of 1997 and 1998, Mike Shanahan now finds himself in D.C. turmoil. And considering his early years with the Raiders were unsuccessful, should we be surprised?
While he certainly has a keen ability to turn any routine tailback into an effective bruiser with his zone-blocking scheme, Shanahan is truly still benefiting from John Elway's final years. He's been somewhat quiet in the NFL ever since.
Follow me on twitter for more shenanigans. Follow @z_pumerantz