Tim Thomas: 6 Reasons He Will Never Return to the Boston Bruins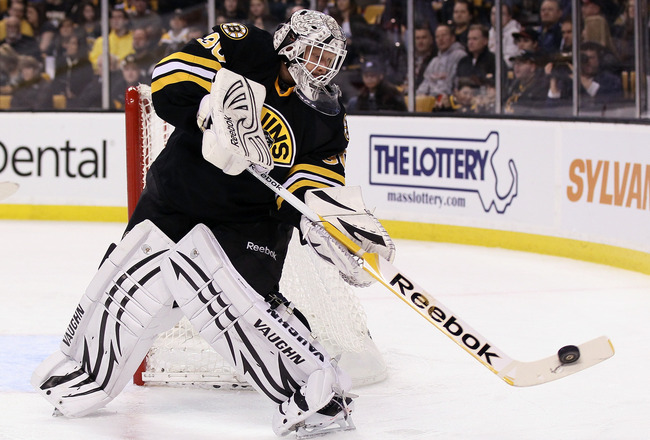 Elsa/Getty Images
In June, Boston Bruins goalie Tim Thomas announced via Facebook his intent to sit out the 2012-13 season, despite having just one year remaining on his contract. The controversial decision brings Thomas' career into extreme doubt.
In his Facebook statement, Thomas reiterated that he "will continue to train using the ARP/POV system." This seemed, at the time, to be a poorly guarded attempt to imply that he would likely return to the NHL in 2013. However, based on the evidence, it may have been little more than a plug for his training team.
These days, Thomas and the Boston Bruins would both be best served by permanently parting ways. Thomas has had a brilliant career and can now walk away from the game with class.
Here are several reasons why he will never play another game for the Boston Bruins.
Advanced Age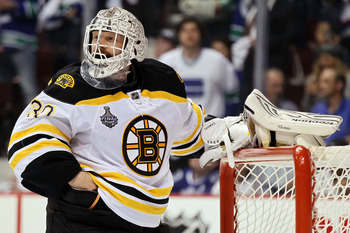 Elsa/Getty Images
Thomas turned 38 years old in April. Despite the fact that he is undoubtedly the best goaltender in his age-group, his brilliance in net cannot last forever.
Last season, Thomas finished 10th in the NHL in save percentage and a disappointing 13th in goals-against average, just one year after finishing first in both categories. Although Thomas managed a career year at age 37, in 2010-11, winning the Vezina Trophy and the Conn Smythe Trophy, it is evident that such elite performance is not sustainable.
Last season, the average age of the NHL's top 10 goaltenders in terms of save percentage was 29.9. That number drops down to 28.125 if you only consider the top eight, which excludes Thomas and the 36-year-old Miikka Kiprusoff.
No one in the top eight is currently over the age of 30.
The only goalie older than Thomas to finish in the top 30 in save percentage was 15th place finisher Johan Hedberg, who played just 27 games as he backed up the legendary Martin Brodeur in New Jersey.
The 40-year-old Brodeur has clearly lost a step in his old age, saving just 90 percent of shots in 2011-12, despite leading his team to the Stanley Cup Finals.
Although Thomas did not become a regular NHL goaltender until 2005, he has played professionally since 1997, having spent significant time in Sweden, Finland and the minor leagues.
The time is nearing when Thomas is no longer fit to be an NHL starter. No one enjoys watching legends decay. Thomas should spare his fans and his body from the pain of an over-extended career.
Lack of Commitment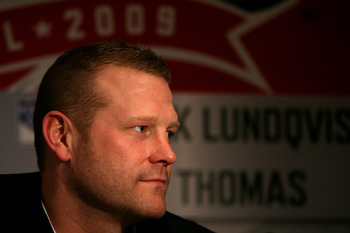 Bruce Bennett/Getty Images
Thomas is no longer willing nor able to sufficiently commit himself to NHL success. The constant grind required to be an elite goaltender is no longer worthwhile to the aging Thomas, whose priorities have clearly shifted.
In the announcement of his sabbatical, Thomas said the following:
The singleminded focus that is necessary to accomplish a dream of this magnitude entails (by necessity) sacrifice in other areas and relationships in life.
At the age of 38, I believe it is time to put my time and energies into those areas and relationships that I have neglected. That is why at this time I feel the most important thing I can do in my life is to reconnect with the three F's.
Friends, Family, and Faith.
Thomas cannot simply drop the single-minded focus he refers to and pick it up again after a year away. Playing at the NHL level requires constant dedication, and although he will continue to physically train, his words imply that he has lost the necessary mental commitment.
The hunger and drive that carried him to glorious heights in the past now seems absent. Thomas no longer exhibits the maniacal competitiveness that he has been know for in his time as a Bruin.
If his heart is no longer in the game, then he should certainly walk away.
There Is Nothing Left to Prove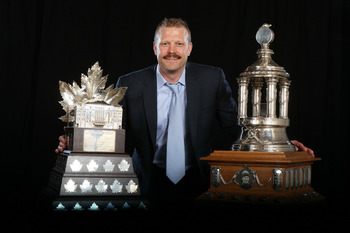 Jeff Gross/Getty Images
Used to playing the underdog role, Thomas has run out of things to prove in his NHL career. He has achieved every available goal, and there is simply nothing left to motivate him.
Thomas is a four-time All-Star, and he has garnered four NHL awards. He has twice won both the William M. Jennings Trophy, for backstopping the team with the fewest regular-season goals allowed, and the Roger Crozier Saving Grace Award for leading the league in save percentage. In 2009 and 2011 he was given goaltending's highest honor, the Vezina Trophy.
Thomas' greatest achievement came in the 2010-11 postseason when he was given the Conn Smythe Trophy, as MVP of the playoffs, and hoisted the Stanley Cup.
Even before gaining NHL glory, Thomas won major awards in Finland. As an SM-Liiga rookie in 1998, he won the Urpo Ylönen Trophy, given to the best goaltender in Finland's top league. The same award was later given to future NHL goaltenders Kiprusoff, Kari Lehtonen and Niklas Backstrom. During the 2004-05 lockout, Thomas returned to Finland to play with Jokerit and was rewarded with the Lasse Oksanen Trophy as the SM-Liiga's best player, two years before establishing himself as the Bruins starter.
Thomas made a career out of overcoming obstacles. After graduating from the University of Vermont in 1997, Thomas spent eight years working towards a steady job in the NHL.In seven seasons with the Bruins, he has proved himself again and again.
Now that everything on Thomas' checklist of goals has been crossed off, there is nothing left to fuel him in the future.
The Comeback Stigma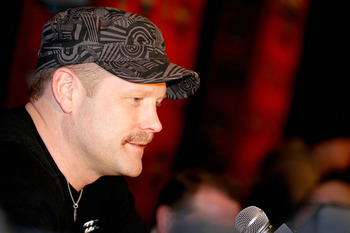 Gregory Shamus/Getty Images
By sitting out for a season, Thomas enters retirement limbo. If he returns to the NHL, he will inevitably join the oft-criticized group of constantly wavering athletes who simply cannot decide when to call it quits. The stigma that comes with comeback indecision has tarnished many established legacies, and Thomas would be smart to protect his from similar harm.
The Brett Favre saga should provide an important lesson to the Bruins goalie. According to NBC Sports, the NFL legend began considering retirement while playing for the Green Bay Packers in 2002. He retired for the first time in 2008, before returning to play for the New York Jets. A subsequent retirement and return saw him join the Minnesota Vikings.
In the end, speculation about Favre's potential retirement or return dominated NFL offseason headlines for the better part of a decade. In the end, Favre's final seasons severely damaged his legacy.
Once seen as an infallible hero in Green Bay, Favre became a villain as he changed his mind again and again. Favre's final three seasons played in New York and Minnesota, saw his skills deteriorate and did a terrible disservice to his tremendous career.
MLB pitcher Roger Clemens suffered much of the same criticism when he continually nullified his retirements. Like Clemens and Favre, Thomas has accomplished incredible things in his career. He ought to recognize that little good can come from a return, and hopefully he will decide that it is not worth the risk to his reputation.
The Rise of Tuukka Rask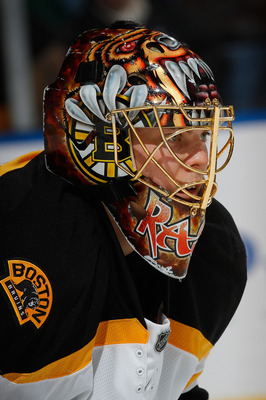 Paul Bereswill/Getty Images
Tuukka Rask was acquired from the Toronto Maple Leafs via trade at the 2006 Draft. Since then, the talented young Rask has consistently pushed Thomas with excellent play in net. Rask has always been labelled as Boston's goaltender of the future, and now his time to usurp Thomas has finally come.
Rask first made a claim to Thomas' job as a rookie in 2009-10. A poor start from Thomas, who was coming off of his first Vezina-winning campaign, gave Rask an enormous opportunity. In his first NHL season, Rask grabbed the Bruins' starting job and led the league in both save percentage and goals-against average.
Thomas rebounded the following year with the best season of his career, as he claimed a number of awards and helped bring the Stanley Cup to Boston.
Rask has been rock solid as Thomas' backup for the past two seasons. Over three seasons with Boston, he has career 2.20 goals-against average and has saved 92.6 percent of shots.
All signs point towards Rask becoming an elite goaltender in the very near future. Rask is the future of the Boston Bruins, and the team must give him the reigns now if they do not want to risk derailing his development.
If Thomas returns to the Bruins he may find himself stuck on the bench behind a future star. Thomas has no reason to play second fiddle these days and is better off walking away.
The Bruins Are Moving on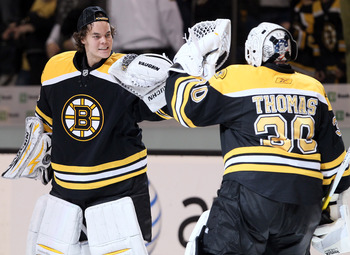 Elsa/Getty Images
Aside from the Bruins clear commitment to Rask, Thomas is no longer worth their while. They are actively moving on from the Tim Thomas era, and have no interest in welcoming him back.
First of all, Thomas left the Bruins on the hook for his $5 Million cap hit in 2012-13. Considering the fact that Boston has the league's smallest amount of cap space, according to capgeek.com, Peter Chiarelli will do everything in his power to offload Thomas' contract.
Teams looking to reach the salary cap minimum may beg to take on Thomas' contract, which expires next summer. If the salary cap is lowered under a new CBA, then the Bruins will face even more pressure to deal Thomas. If he is traded, it will close the door on a possible return to the Bruins in a lockout-shortened season.
Come next summer, the cash-strapped Bruins will likely be unwilling to re-sign their former star, especially considering Rask could be due for a huge pay day, as he is currently signed to a one-year deal.
Considering Thomas walked out on the $3 million he was set to earn this season, money is of little concern come free agency. Money seems to be all that is left to gain for Thomas if he looks for work next summer, so it's hard to imagine that Thomas would consider moving to a new city.
Without an opportunity to return to Boston, it is surely time for Thomas to call it quits for good.
Keep Reading

Boston Bruins: Like this team?