NFL Week 10 Preview: Biggest Stories and Games to Watch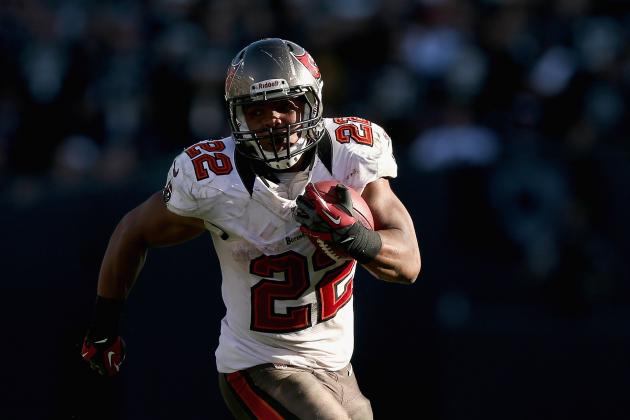 Ezra Shaw/Getty Images

Coming into Week 10 of the 2012 NFL season, we have already seen countless captivating storylines.
From the off-the-field inspirational story of Indianapolis Colts head coach Chuck Pagano to whatever is happening with the Philadelphia Eagles, we have seen stories akin to both a Disney movie plot and the late-night basic cable stuff you should never, ever show your children.
With a ton of great games on display this week, some of those storylines will continue to carry over while new ones will be created with the results on Sunday.
For that reason, here is a look at both the top contests and storylines as teams head into Week 10's slate of games.
Begin Slideshow

»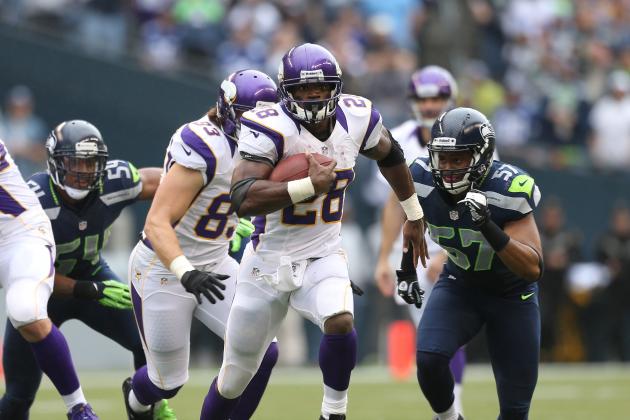 Otto Greule Jr/Getty Images

Where: Hubert H. Humphrey Metrodome in Minneapolis, MN
When: Sunday, Nov. 11 at 1:00 p.m. ET
Watch: Fox
Already losers of three of their last four games, the Minnesota Vikings will likely walk into Sunday's contest without Percy Harvin due to an ankle sprain.
Though some Vikings fans may put this game under protest due to Harvin's injury, that ultimately won't help the team's playoff chances come Week 17.
Minnesota also seems to be getting the Detroit Lions at the absolute worst time. Perhaps the NFL's most disappointing team through four games, the Lions came back from their Week 5 bye a resurgent bunch.
While everyone will look at the team's NFL-leading passing attack, it's actually been the defense that has led Detroit back to relevancy. The Lions are coming into Week 10 with the seventh-ranked defense in the NFL, giving up just 320.5 yards per game thus far.
Considering the unit ranked 23rd last season, Jim Schwartz has to be happy with his team's progress at becoming a powerhouse on both sides of the ball.
With Harvin's injury and Christian Ponder continuing to revert to rookie season form, it's impossible to take the Vikings on Sunday. Look for the Lions to win and do so in relatively fine form.
Score Prediction: Lions 27, Vikings 13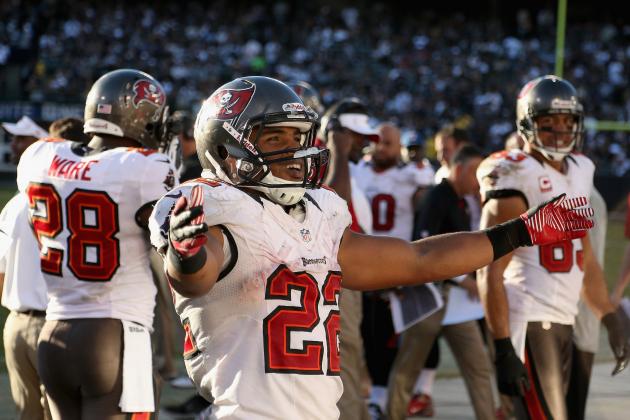 Ezra Shaw/Getty Images

Where: Raymond James Stadium in Tampa Bay, FL
When: Sunday, Nov. 11 at 1 p.m. ET
Watch: CBS
Eyes will be laser-focused on Tampa Bay Buccaneers running back Doug Martin after his scintillating performance in Week 9. The rookie back rushed for 251 yards and four touchdowns against the Oakland Raiders, working his way into the hearts of fantasy football owners and Bucs fans across the world.
That performance spurred Tampa's 42-32 victory over Oakland and almost single-handedly kept the team rolling among the NFL's hottest clubs.
Following a 1-3 start where the offense looked anemic, the Bucs have been on a surge as of late. Behind Martin and quarterback Josh Freeman, Tampa Bay has evened its record to 4-4 and has scored 36 points per game over those four contests.
Meanwhile, things haven't gone so swimmingly of late for the San Diego Chargers. The team has lost three of its last four games, as head coach Norv Turner and quarterback Philip Rivers seem to be playing their way out of jobs.
With recent history pointing in their favor, I'm taking the Bucs here. While San Diego's defense is far superior to Oakland, it's still a unit with massive deficiencies, as evidenced by their No. 20 ranking in Football Outsiders' DVOA metric.
Bucs stay hot, Chargers stay cold and all is right with the world.
Prediction: Buccaneers 31, Chargers 21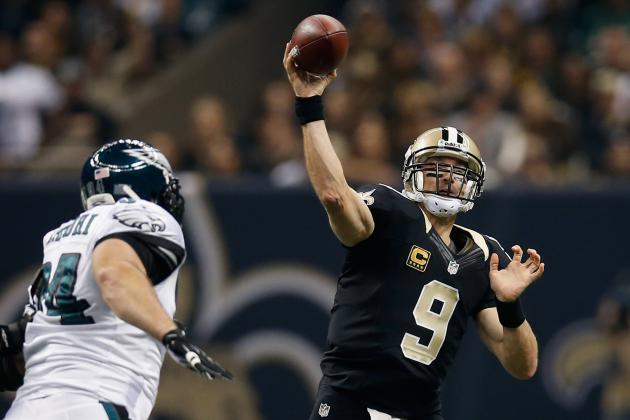 Chris Graythen/Getty Images

Where: Mercedes-Benz Superdome in New Orleans, LA
When: Sunday, Nov. 11 at 1 p.m. ET
Watch: Fox
With an undefeated record, the Atlanta Falcons have to be respected like the best team in the NFL, even though most astute observers don't believe that is the case.
Led by midseason MVP candidate Matt Ryan and receivers Julio Jones and Roddy White, the Falcons have revamped their formerly conservative offense, becoming one of the league's most explosive teams in the process.
Nonetheless, nearly every measurement that we look at exposes Atlanta as a very good, but not great, team. Sure, they rank fifth in the league in pass efficiency, but that's seemingly negated by a 30th ranking running attack (per Football Outsiders).
As for the defense? It ranks smack dab in the middle, 16th in the NFL using both counting stats and advanced measurements.
On the other side of the field, the New Orleans Saints may just be figuring things out. The team abandoned its vanilla defensive schemes last week against the Philadelphia Eagles and sacked quarterback Michael Vick seven times in a dominating win.
Couple that with an offense that continues to surge, and things are starting to look up after a bleak beginning to the season. For that reason, I'm doing the unthinkable and picking the Saints to pull off an upset.
Prediction: Saints 31, Falcons 28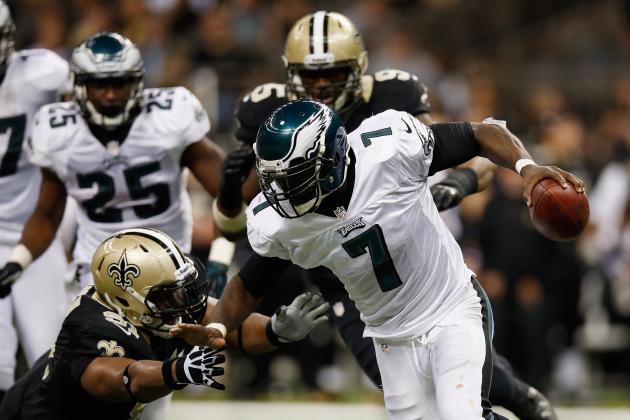 Chris Graythen/Getty Images

Where: Lincoln Financial Field in Philadelphia, Pa.
When: Sunday, Nov. 11 at 4:25 p.m. ET
Watch: Fox
Of the Week 10 matchups, only one comes with an infinite amount of wrestling analogies and it will happen in Philadelphia.
You could call this a "Loser Leaves Town" match, considering a loss may cause Andy Reid or Jason Garrett to lose their job. Or you could call it a Hell in a Cell match because, well, that's what it probably feels like to play for the Eagles or Cowboys at this juncture.
Either way, one of these two teams will be able to chalk up their season after Sunday's matchup. A 10-6 record looking like the minimum requirement to get into the NFC playoffs, so whichever team loses will be facing a near impossible road.
With that considered, you have to just go with the lesser of two evils here and pick the Cowboys.
Though they have certainly underperformed, no team in the NFL has faced a harder schedule than Dallas thus far.
The Cowboys will finally get a reprieve from that gauntlet of top teams on Sunday, as they take on an Eagles team that has been atrocious on both sides of the ball lately. Philadelphia's offensive line cannot protect a struggling Michael Vick and Reid still seems to think abandoning the run is a good idea.
I imagine this game will be close, but all signs point to Dallas winning.
Prediction: Cowboys 24, Eagles 21
Frederick Breedon/Getty Images

Where: Soldier Field in Chicago, Ill.
When: Sunday, Nov. 11 at 8:30 p.m. ET
Watch: NBC
Obviously the best game of Week 10, it's very possible that we could be seeing a Super Bowl preview in Chicago on Sunday Night.
The Houston Texans spent most of the first half looking like the NFL's best team before a 42-24 drubbing by the Green Bay Packers in Week 6 made everyone take a long, long look in the mirror. You know, before the Texans went right back out and eviscerated the Baltimore Ravens the following week and everything was right with the world.
For the Chicago Bears, this season has been about constantly exceeding all expectations. A defense that was assumed old and washed up is the NFL's best by an astounding margin. In fact, the scoring race between the Bears defense and Jacksonville Jaguars team may come down to the wire.
However, there's only one problem with Chicago: inconsistency on offense—especially in the passing game.
Jay Cutler has done his best all season to avoid debilitating turnovers and has done so with the exception of a four interception game against the Green Bay Packers. But he's done so by stripping some of the aggressiveness that made him one of the most explosive quarterbacks in the NFL.
The Bears playing at home gives me some hesitation, but the Texans are the more complete team (ninth on offense, second on defense, per Football Outsiders) and should establish themselves as the NFL's best team on Sunday.
Prediction: Texans 24, Bears 14